Angels sweep twin bill, pass Twins in race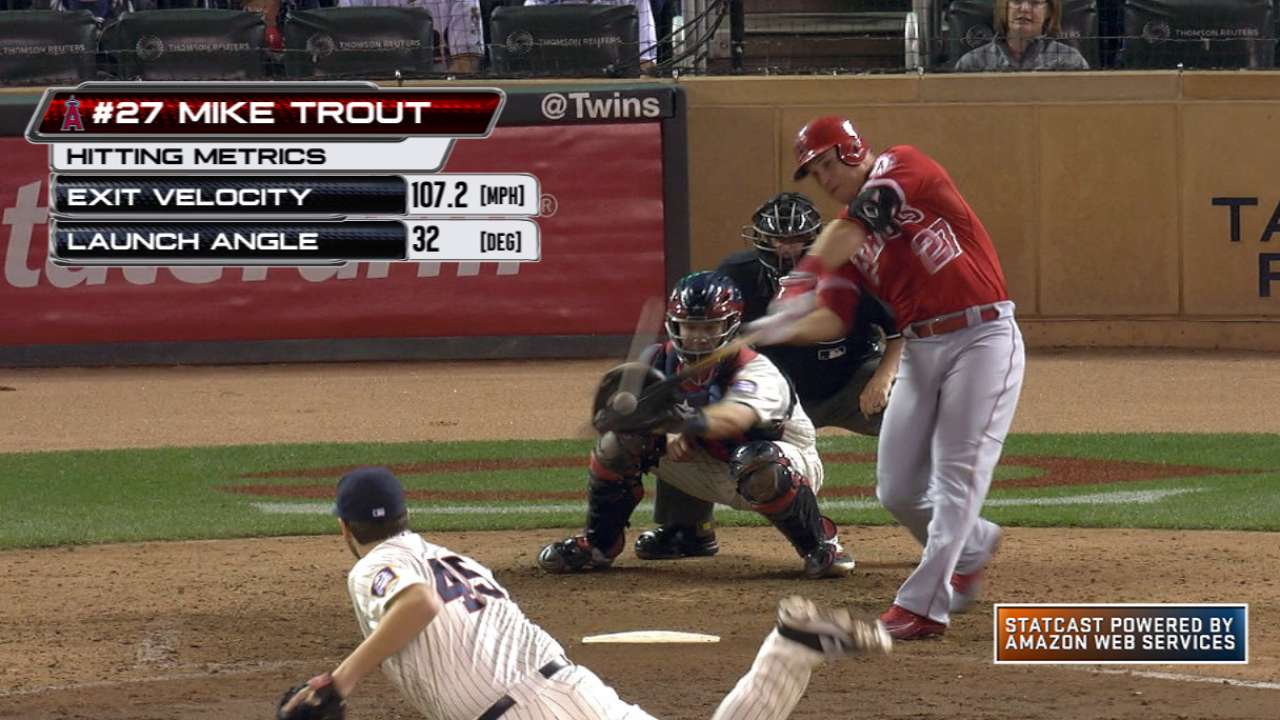 MINNEAPOLIS -- Albert Pujols broke out of the longest hitless streak of his career, going 2-for-4 with two RBIs in the Angels' 5-2 victory over the Twins in the second game of Saturday's doubleheader. The doubleheader sweep moved the Angels a game ahead of the Twins in the race for the second American League Wild Card spot and gave Minnesota its fifth consecutive loss. The Angels now trail the Astros by 1 1/2 games for the second Wild Card spot and the Twins trail by 2 1/2 games.
"We know that we control our own fate from here on out with the teams that we play from here until the end of the season," Angels starter Garrett Richards said. "Where the chips fall, the chips fall. We can't really worry about what everybody else is doing."
Pujols snapped his 0-for-25 streak in the fourth inning with a single and in the sixth, he delivered a two-run double to break a scoreless tie. The Angels added onto that with a bloop single from David Murphy and two solo home runs. That was more than enough offense for Richards, who gave up just five hits and two runs in 8 2/3 innings.
"His stuff was electric tonight and once he harnessed it tonight -- early on his ball-strike ratio wasn't great, but his pitch count was down," manager Mike Scioscia said. "He was able to get through some innings and really I think reserve some stuff to pitch deeper in the game. He just couldn't get the 27 outs, but he got close."
Twins starter Mike Pelfrey, who hadn't started a game since Sept. 9, didn't record a 1-2-3 inning in his outing and left in the seventh after Angels catcher Chris Iannetta homered to lead off the inning.
Phil Hughes, typically a starter, made his first appearance out of the bullpen this season for the Twins, and pitched the final two innings. He gave up a solo home run to Mike Trout, his 39th of the season. It was the 29th home run that Hughes has allowed this season.
"We were a little short right-handed this game. You get Trout and Pujols right out of the chute when you haven't been out in the 'pen, it's a tough order," Twins manager Paul Molitor said. "It seemed like he got in a little better groove there, with some good fastballs and cutters. We're still trying to figure out where he's going to slot in here, if and when. I wasn't going to force it, but we kind of needed to do it in that situation."
MOMENTS THAT MATTERED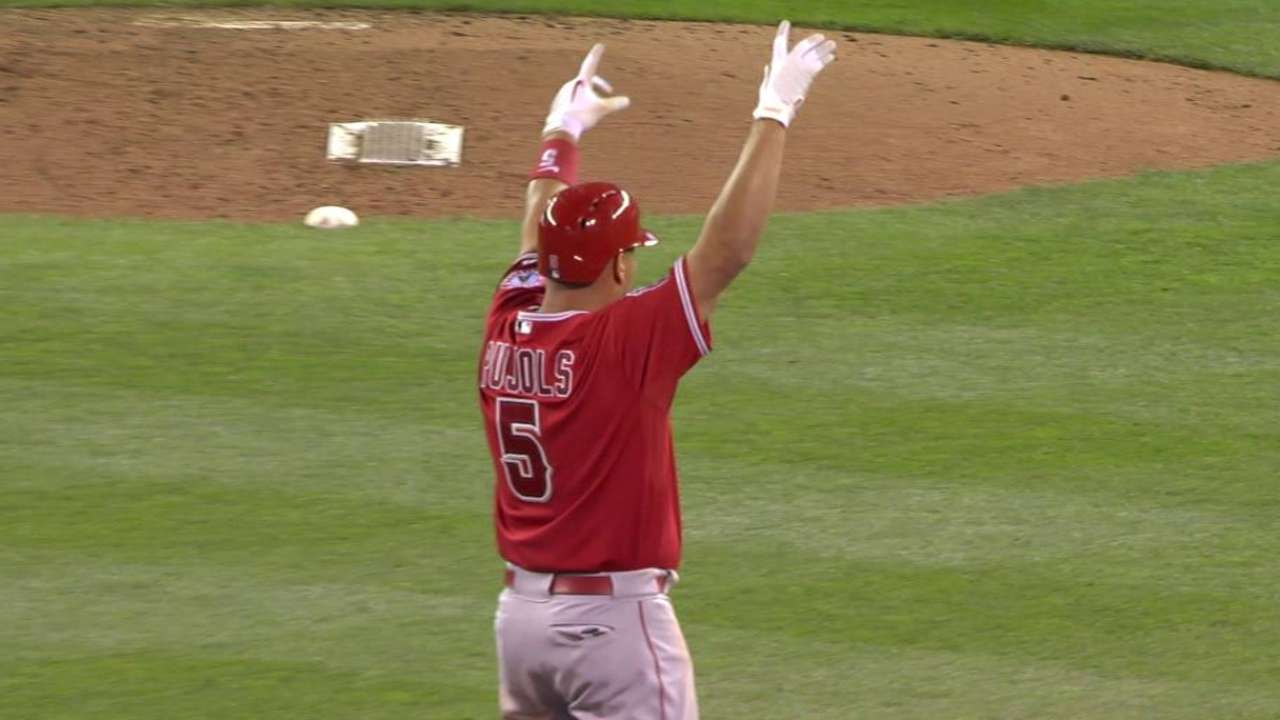 Angels finally break through: The Angels had no problem getting guys on base against Pelfrey, putting one apiece on in each of the first five innings. The problem? The Angels couldn't get a guy to second. That changed in the sixth, when Los Angeles got a pair of one-out singles ahead of a two-run double to the gap by Pujols. Murphy then dropped a bloop single into center, scoring Pujols and turning a scoreless game into a 3-0 Angels lead.
"I think toward the end of August, people were getting frustrated. The emotion was starting to turn over, but as we talked about awhile ago, it's silly and it shouldn't make sense, but sometimes you turn that page on that calendar," closer Huston Street said. "You look over there and you see Trouty and him kind of leading the charge with his bat. Albert getting the hits tonight, Albert's hits have been super clutch for us. I think we're doing the clutch things in the big moments that we weren't doing in August." More >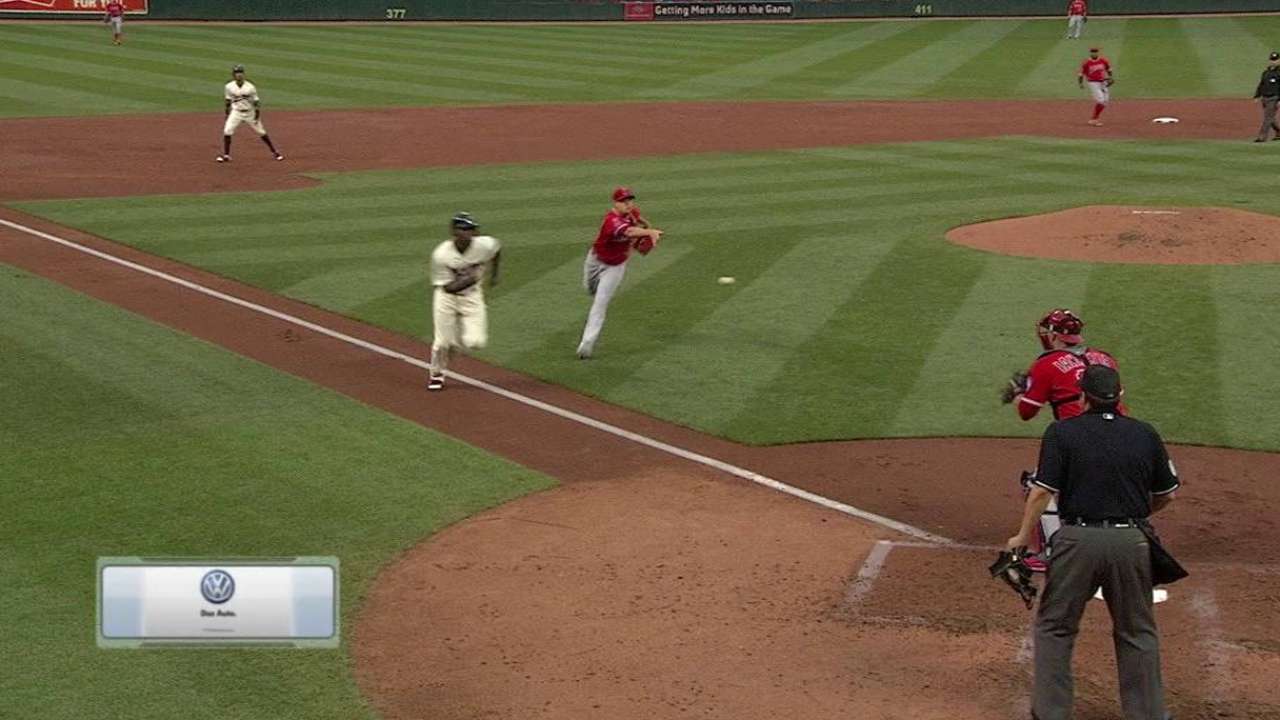 Early opportunity gone awry: The Twins didn't have many opportunities to break through against Richards, with perhaps their best chance coming in the second inning. After Torii Hunter led off with a walk, Eddie Rosario pushed a single through the hole between first and second. Eduardo Nunez sacrificed both runners into scoring position with just one out, but Hunter was erased on a sharp comebacker to the mound by Chris Herrmann before Byron Buxton's flyout to shallow center ended the threat.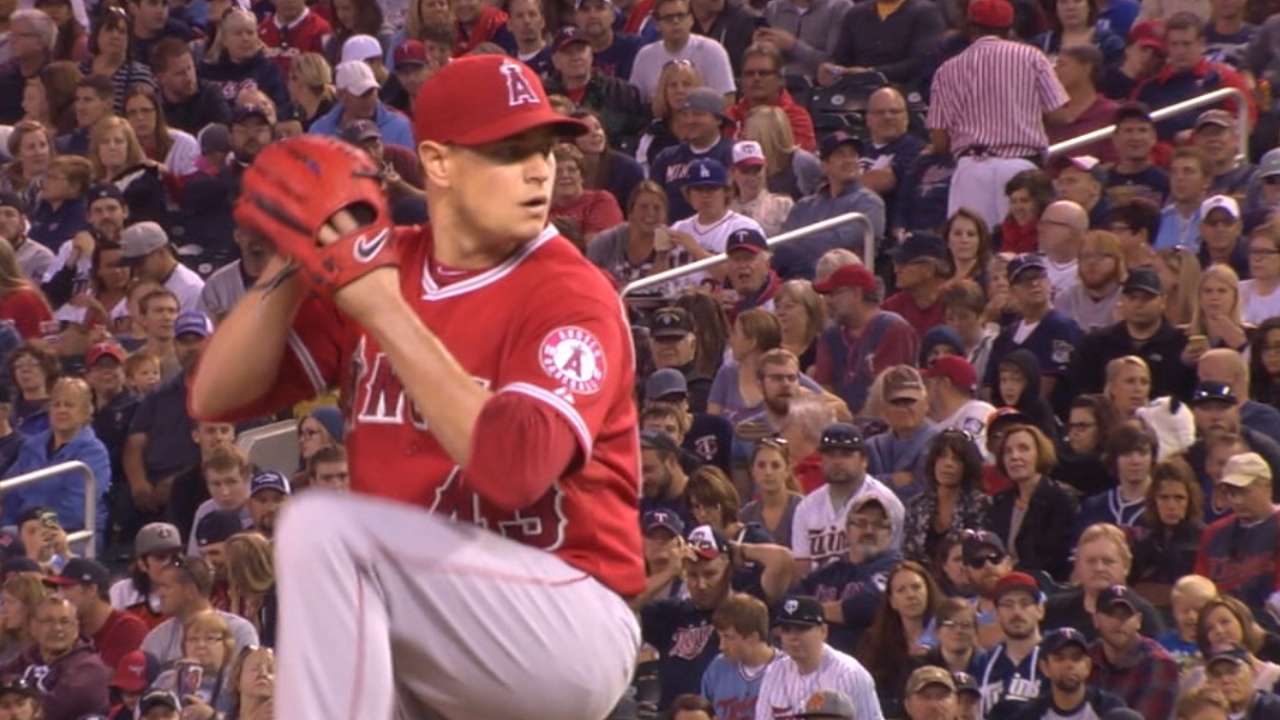 Richards sharp in victory: After a 12-inning affair in the first game, Richards did his part to help preserve the bullpen, just missing out on his second complete game of the season. At one point, he sent down 13 consecutive batters in his 14th win of the season, a new career high. Richards ran into trouble in the eighth, loading the bases with two outs before getting Trevor Plouffe to ground out to end the threat. After Richards got into a jam in the ninth, closer Street came on and nailed down a one-out save.
"Early on I didn't really have a feel for my slider but that kind of came along as the game went," Richards said. "Curveball was there from the beginning and the fastball was there from the beginning so I was able to mix those pitches and get guys out."
Pelfrey good early, struggles late: Pitching for the first time in 10 days, Pelfrey looked good early, scattering four singles and a hit batter during his first five innings. A pair of double plays helped keep his line clean until the sixth inning when the Angels ambushed the veteran with a pair of one-out singles and a two-out, two-run RBI double by Pujols. A solo homer by Iannetta to lead off the seventh ended his night after allowing four runs on nine hits in six-plus innings of work. He struck out one and walked none, dropping to 6-10 on the season with the loss.
"I felt OK, the stuff was OK, I don't think command was that good," Pelfrey said. "I put myself in bad counts and obviously made a mistake to Pujols there. He hit that double and made me pay for it."
WHAT'S NEXT
Angels: Matt Shoemaker will get the start as the Angels go for the four-game sweep in the finale, beginning at 11:10 a.m. PT on Sunday. Shoemaker, who hasn't pitched in a game since Sept. 1, missed two starts with a right forearm strain. He's 7-9 with a 4.31 ERA in 24 games this season.
Twins: The Twins will wrap up their four-game series with the Angels on Sunday afternoon at Target Field at 1:10 p.m. CT with right-hander Tyler Duffey taking the mound. Duffey is 3-1 with a 3.72 ERA in seven outings in the big leagues this season, including a 3-0 mark with a 2.45 ERA over his last six appearances. Duffey has never faced the Angels.
Watch every out-of-market regular season game live on MLB.TV.
Betsy Helfand is an associate reporter for MLB.com and Dan Myers is a contributor to MLB.com. This story was not subject to the approval of Major League Baseball or its clubs.