Lyles faces live hitters for first time since injury
Rockies righty will put in work over winter to get ready for spring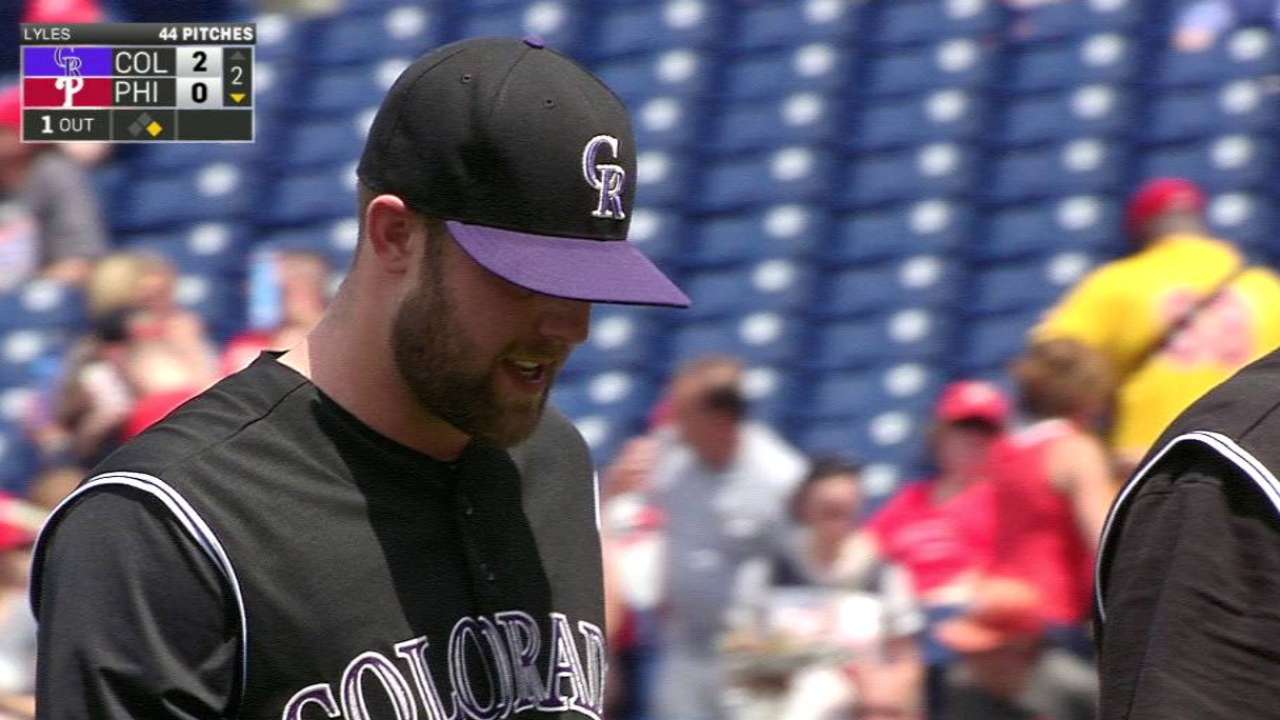 DENVER -- Rockies right-hander Jordan Lyles took a big step in his rehab Saturday, pitching a simulated game and facing live hitters for the first time since going on the disabled list in June. Lyles had season-ending toe surgery on June 10.
"He did a great job," manager Walt Weiss said of Lyles' simulated game. "No issues. He commanded the ball really well. Usually that first time out against hitters you're spraying the ball all over the place, but Jordan threw strikes and looked real good."
Lyles started the season as the No. 2 starter in the Rockies' rotation, and he posted a 2-5 record with a 5.14 ERA through 10 starts, spanning 49 innings in April and May, before going on the DL on June 1 with a sprained left toe. He pitched 126 2/3 innings over 22 starts with the Rockies in 2014, posting a 7-4 record with a 4.33 ERA while missing two months of the season with a fractured left hand.
"We're going to try and get him probably around 40 innings somewhere this winter," Weiss said. "Whether it's the Fall [instructional league or Domincian instructional league] is still to be determined. ... We want to add to his workload a little bit. You want him coming to Spring Training and having a normal spring. He'll be able to do that if he's able to get some innings this winter."
Lyles came to Colorado with Brandon Barnes in the offseason trade that sent Dexter Fowler to Houston after the 2013 season. He pitched parts of three seasons with the Astros, topping out at 141 2/3 innings when he made 25 starts and two relief appearances in 2013.
Owen Perkins is a contributor to MLB.com. This story was not subject to the approval of Major League Baseball or its clubs.