Reds weigh options with Hamilton's injury
Center fielder could be shut down to rehab right shoulder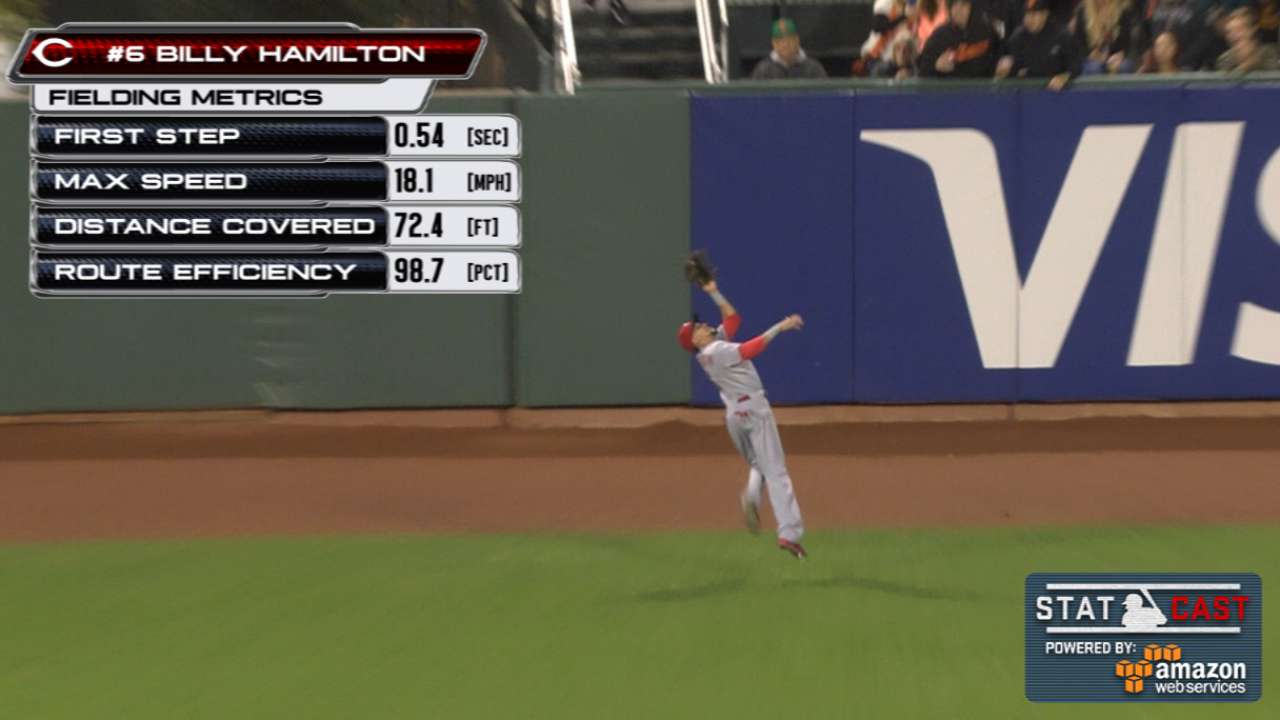 MILWAUKEE -- After receiving the MRI results on Billy Hamilton's injured right shoulder, the Reds are facing a decision on the status of their center fielder for the remainder of the season.
Reds manager Bryan Price said what the MRI showed was "not a great result" as far as Hamilton returning to the everyday lineup in the near future.
"The MRI came through," Price said on Saturday. "I'm not a doctor so I don't have all the details, but I do know that it is not a great result in the sense that he's not going to be back in our lineup playing center field in the next couple of days."
With just two weeks left in the season, the Reds must now decide whether to use the speedy Hamilton as a pinch-runner for the final two weeks or shut him down to focus on rehab.
"He has a shoulder injury. We know that," Price said. "As far as if it can be satisfied while he continues to play -- you hate to shut the kid down if he can help us in any way, shape or form. But in the same respect, if he has to do a concentrated rehab, staying active to try to play kind of counteracts his ability to invest completely in his rehab."
Hamilton, who leads the Major Leagues in stolen bases with 57, is a unique player in that he can impact games for the Reds with just one particular skill.
With Cincinnati chasing a postseason berth in 2013, Hamilton came up from Triple-A and stole 13 bases in September.
"He was an unbelievable presence on our team," Price said. "He influenced a lot of games simply as a pinch-runner. It was a phenomenon. We're not in the same situation. We're not chasing a playoff spot, but we all care here and we want to win the remaining games we have on the schedule. I'd love to have him back to be able to utilize him, even if it is just as a pinch-runner."
Hamilton initially injured his shoulder in August. He missed 20 games before returning Sept. 8. He aggravated the injury Monday in San Francisco and has only pinch-ran once since.
Worth noting
• After missing seven games with a right hamstring injury, Reds catcher Brayan Pena took the first step toward a return to the lineup by pinch-hitting against the Brewers on Friday.
"I think he could catch if need be," Price said. "I'd like to see him as the third catcher until we are a little bit closer to being 100 percent on that hamstring. But I will absolutely be utilizing him as a pinch-hitter and an emergency catcher."
• Reds reliever J.J. Hoover was unavailable Friday due to shoulder soreness, but Price doesn't consider it to be serious. With Hoover out, Sam LeCure and Manny Parra combined to pitch the eighth inning in Cincinnati's 5-3 win.
Andrew Gruman is a contributor to MLB.com. This story was not subject to the approval of Major League Baseball or its clubs.