Wilhelmsen provides stability at back end of 'pen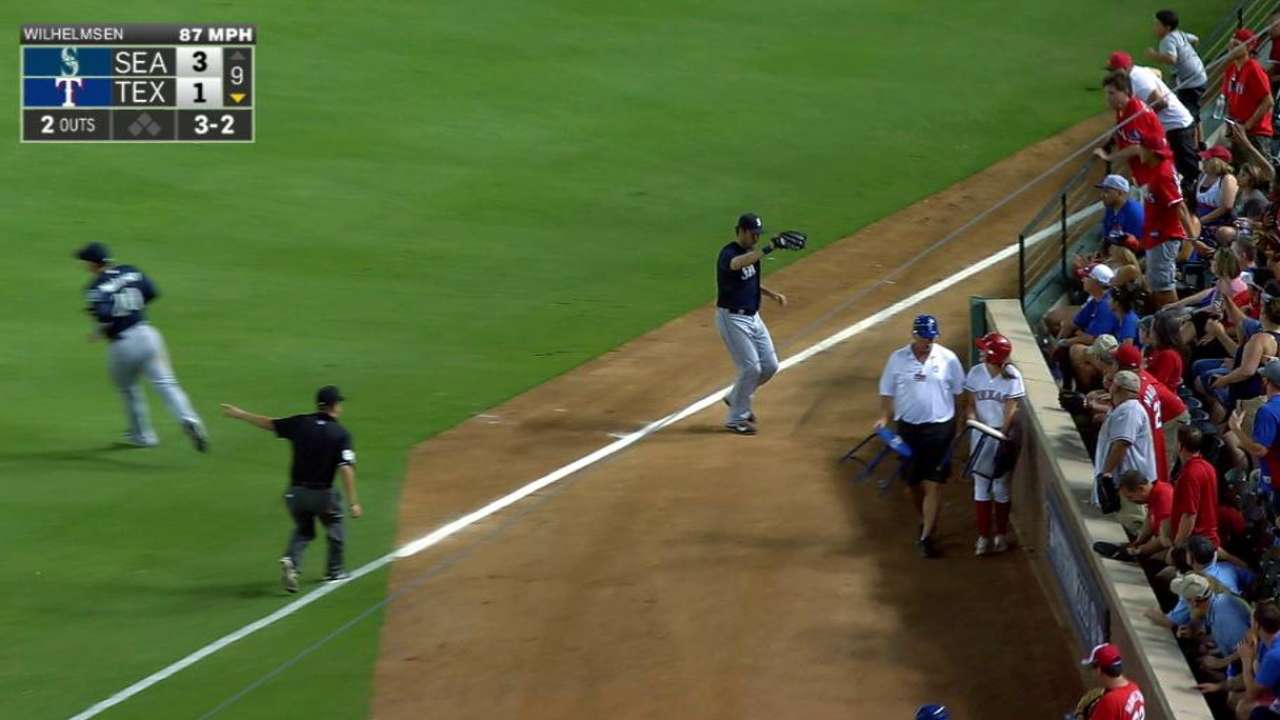 ARLINGTON -- One of the major reasons for the Mariners' late-season improvement has been a bullpen that finally had its scoreless streak snapped at 22 innings in Saturday's 10-1 loss to the Rangers, a mark that stands as the sixth-longest stretch in franchise history.
And the biggest factor in the September surge from the formerly beleaguered bullpen has been Tom Wilhelmsen's successful return to the closer's role. Wilhelmsen is 10-for-10 in save situations since taking over as the ninth-inning man on Aug. 23, with no runs, eight hits, two walks and 12 strikeouts in 12 2/3 innings over his 11 appearances.
"I feel great," Wilhelmsen said. "This is exactly what I wanted, and I still do. I want it very bad."
Wilhelmsen lost the closer's job midway through the 2013 season, but now has 66 career saves, sixth most in Mariners history, and that experience is paying dividends, according to manager Lloyd McClendon.
"He's been there before. He's done it," McClendon said. "He's had an opportunity to do it again, and he's taken the bull by the horns and is doing it quite well."
While Wilhelmsen has solidified the relief corps and allowed others to fall into better spots, he hasn't salvaged the bullpen by himself. Rookie Carson Smith has pitched much better now that he's back in a setup role, Danny Farquhar has been much better since returning from Triple-A Tacoma this month, veteran lefty Joe Beimel has returned to health and rookie right-hander Tony Zych has filled a gap as a September callup.
• Farquhar finishing season on a high note
Seattle's bullpen ERA of 1.33 in the first 16 games of September, going into Saturday, was the best in the Majors. The Mariners are still just 22nd of MLB's 30 teams for the season at 4.05 after having the lowest ERA in the Majors last year at 2.59.
"It's always fun to win, no matter what," Wilhelmsen said. "That's what we all want to do. That's what we've been trying to do the whole time. It just hasn't happened as early as we'd like, but we can't dwell on that. We just have to go out and do what we do and believe in ourselves."
The return of Farquhar has certainly helped.
"Danny has been lights out since he came back up, so that's really good to see," said Wilhelmsen.
And after considerable shuffling of the deck, the Mariners relievers finally seem to be settling into a comfortable combination with Wilhelmsen at the back end. The tumultuous season has led to one interesting oddity. According to MLB Network research, with Wilhelmsen's next save, the Mariners will become the first team in MLB history with three relievers with 13-plus saves in a season between Fernando Rodney (16), Smith (13) and Wilhelmsen.
Worth noting
• Roenis Elias, who struck out Shin-Soo Choo in the seventh inning on Friday as the only batter he faced, will continue being available in the bullpen for now before rejoining the rotation Wednesday in Kansas City. Elias will have gone 10 days between starts after pitching 5 1/3 innings against the Rockies on Sept. 12.
• Since Aug. 15, the Mariners have averaged 5.16 runs per game, the third-best mark in the AL and sixth best in the Majors. Toronto has the top mark in that span at 6.47.
Greg Johns is a reporter for MLB.com. Follow him on Twitter @GregJohnsMLB, read his Mariners Musings blog, and listen to his podcast. This story was not subject to the approval of Major League Baseball or its clubs.