Kinsler celebrates 2 walk-off wins in 1 game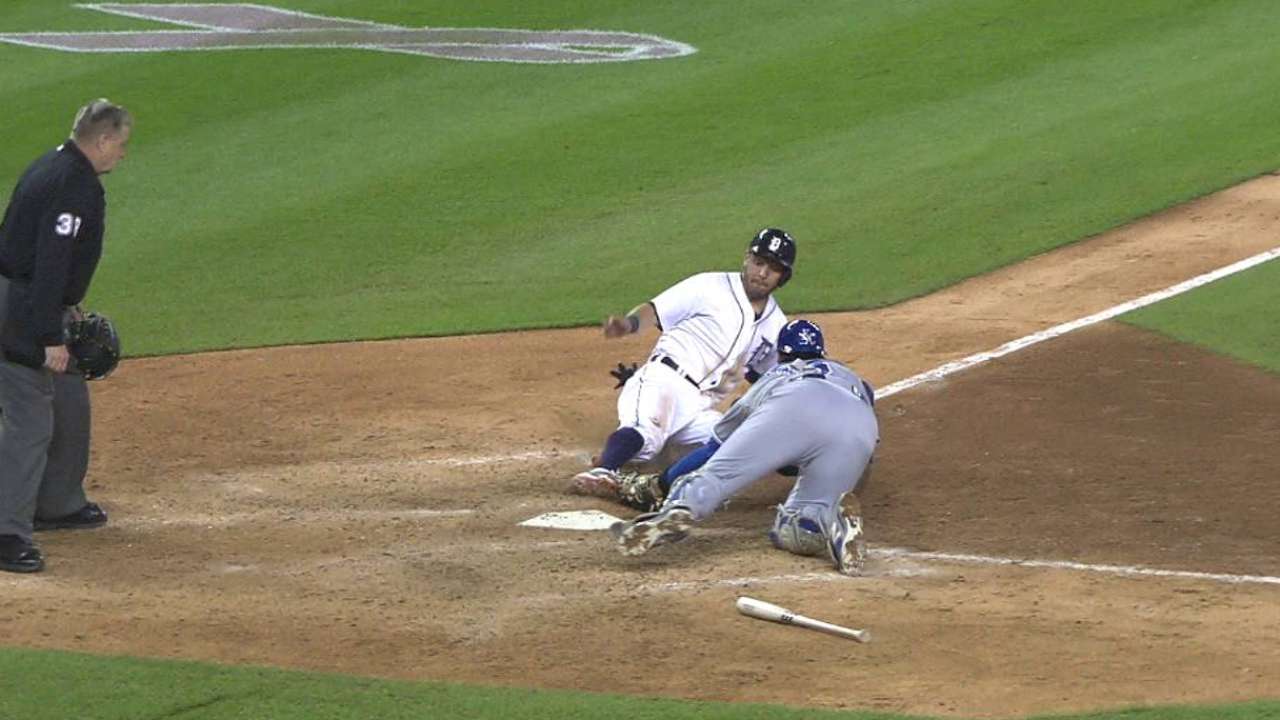 DETROIT -- Ian Kinsler might have become the first player to have two walk-off celebrations in the same game. Replay overturned the first. His 11th-inning home run, on the other hand, was undeniable.
"I mean, it was guaranteed. It went over the fence," Kinsler said after his blast sealed the Tigers' 6-5 win over the Royals on Saturday night at Comerica Park. "The game was over right there, so you know there's no reviewing that one."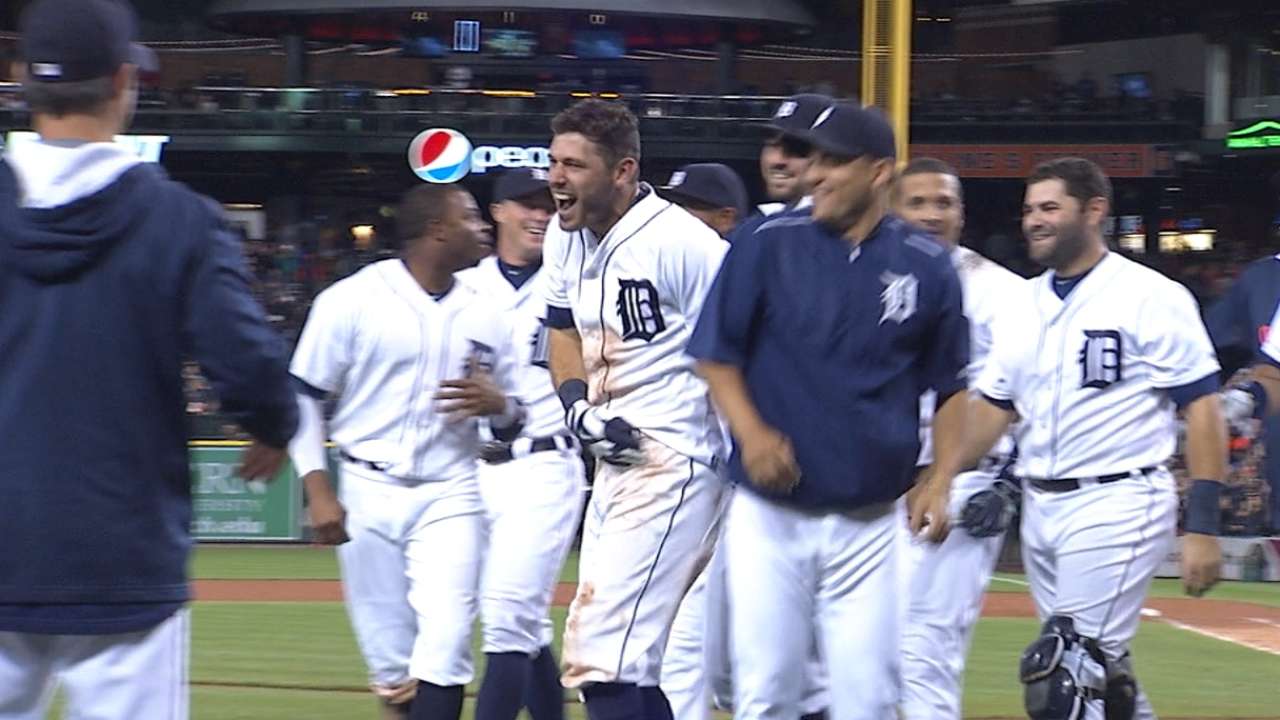 Kinsler thought he had scored the winning run in the ninth inning on an Andrew Romine sacrifice fly. After a crew-chief review, catcher Salvador Perez was ruled to have applied the tag to Kinsler's foot for a game-saving out, adding to the back-and-forth of a game that saw four lead changes from the seventh inning on.
Kinsler's single, a hit-by-pitch to Miguel Cabrera and a Kinsler steal of third put the potential winning run on base with none out. Luke Hochevar stared Kinsler back to third on a J.D. Martinez comebacker, but cost himself any chance at a double play, keeping the sacrifice fly in order.
Romine hit Hochevar's next pitch on a line to center fielder Jarrod Dyson, whose off-line throw home took a bounce, but Perez corraled it and got in position for a tag.
Home-plate umpire and crew chief Gary Cederstrom ruled Kinsler safe, and the Tigers bolted out of the dugout in celebration of their fourth straight win.
Perez objected.
"I got him," Perez said. "I had to reach back, but I got his foot [with the tag]."
Royals manager Ned Yost wasn't sure, but he didn't want to lose the chance.
"I couldn't tell at first," Yost said. "I couldn't see. We had Wak [bench coach Don Wakamatsu] on the phone trying to get a read on it, and I'm just glad the umpires didn't take off really quick on it.
"On the other hand, I didn't want to run them down and have it not be something we reviewed. But I just told them to hold on."
Yost used his challenge earlier in the inning on Cabrera's hit-by-pitch. However, he could ask Cederstrom to have the replay crew in New York take a look.
"Gary absolutely has to [look at it]," Tigers manager Brad Ausmus said. "He can't let the game end on that if it's something that should be looked at. I was angry at the time because from what I saw on the big screen, it didn't look like he was tagged. It wasn't until before we started the next inning that I was able to go downstairs [and look at it]. Perez's glove, maybe the width of a hair, you could see it hit the toe of Kinsler's cleat."
Replay officials saw the same.
"I thought I beat it," Kinsler said. "When I came in from the inning, they showed the web of his glove move."
Suddenly, the Tigers -- who had breathed a sigh of relief for salvaging the win -- had to gear up to play some more.
"It's definitely a huge downer," Ausmus said. "You go from one extreme to another. It's probably most difficult for Romine because he's got Gatorade all over his shirt."
Kinsler came back up two innings later and opted to trot around the bases instead. He hadn't homered since taking Royals rookie reliever Miguel Almonte deep in his Major League debut on Sept. 1 in Kansas City. Almonte, who retired the Tigers in the 10th, came back out for the 11th and hung a curveball that Kinsler sent out to left.
"You don't want to play extra innings," Kinsler said. "You want to win it now. It would be nice to win in nine, but it's always nice to be on this side of the game."
Jason Beck is a reporter for MLB.com. Read Beck's Blog, follow him on Twitter @beckjason and listen to his podcast. This story was not subject to the approval of Major League Baseball or its clubs.