Nelson rejoins Brewers 2 days after scare
Pitcher hopes to just have start pushed back; 'I feel great'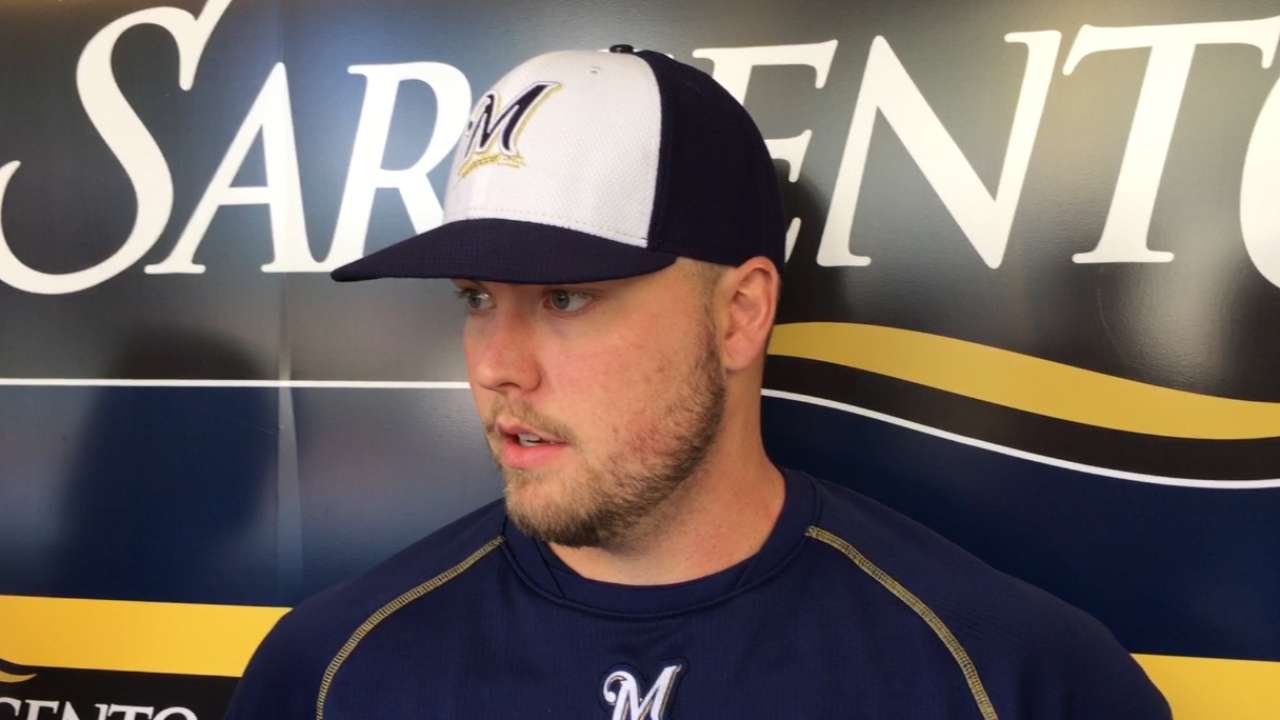 MILWAUKEE -- Brewers pitcher Jimmy Nelson was released from the hospital on Saturday and returned to work with barely a bump on his head to show for the line drive that knocked him out of a start two days earlier in a scary moment at Miller Park.
Nelson will undergo follow-up tests on Monday, after which the Brewers will make a decision about his next start. He will not pitch on Tuesday in Chicago as scheduled, said manager Craig Counsell, who plans to cover that game with a series of Brewers relievers. But Nelson, saying he felt "great," hopes to pitch in the days that follow.
"I guess genetically I have a hard head or something," Nelson said, adding later, "My mom says it came from her side of the family."
A few jokes aside, Nelson said he was well aware of the severity of his situation. He was hit in the right side of the head by line drive that left Cardinals outfielder Tommy Pham's bat at 108 mph, and doctors expressed surprise, Nelson said, that he did not suffer any skull fractures or show any signs of a concussion. A CT scan did reveal a dime-sized bruise on his brain, which prompted his doctors at Froedtert & the Medical College of Wisconsin to keep Nelson hospitalized for two nights as a precaution.
After another CT scan on Saturday morning showed the bruise had not increased in size, doctors granted Nelson his release. He was to refrain from all activity until a follow-up appointment Monday.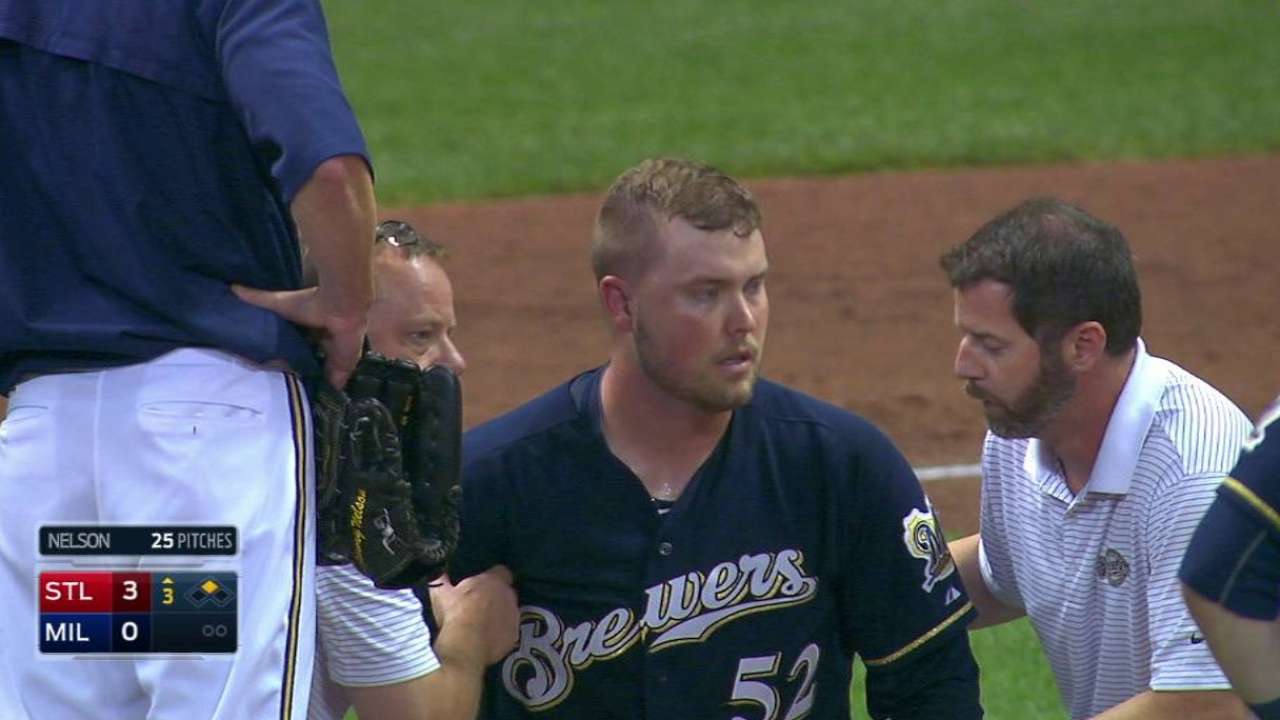 As for when he'll pitch again, Nelson said, "that's up to the doctor on Monday. All that will be relayed to our medical staff here, which does a great job, and we'll all sit down with Counsell and [pitching coach Rick Kranitz] to figure it out from there. But physically, I feel great.
"We'll hash it out on Monday after the doctor's appointment, but I'm hopeful that it's not like a start skipped. I hope it's just pushed back a day or two. The main goal is to make sure this is stable and I'm good to go."
Nelson said he'd seen replays of the line drive, and lamented the location of his slider to Pham. Nelson expressed no hesitation about returning to the mound.
"There's not going to be any loss of confidence or anything," Nelson said. "I just really want to get back out there."
Nelson felt lucky he was not more seriously injured.
"I was lucky I was able to turn my head a little bit," he said. "It got me right above the ear area. A couple inches further up is your temple area, and that's a totally different story."
Good to see @Jimmy_J_Nelson back at the ballpark today! pic.twitter.com/X01yWYNpog

— Milwaukee Brewers (@Brewers) September 19, 2015
Adam McCalvy is a reporter for MLB.com. Follow him on Twitter @AdamMcCalvy, like him on Facebook and listen to his podcast. This story was not subject to the approval of Major League Baseball or its clubs.