Gregerson returns to Astros after son's birth
Closer watches first child born on FaceTime on way home before competitive fire brings him back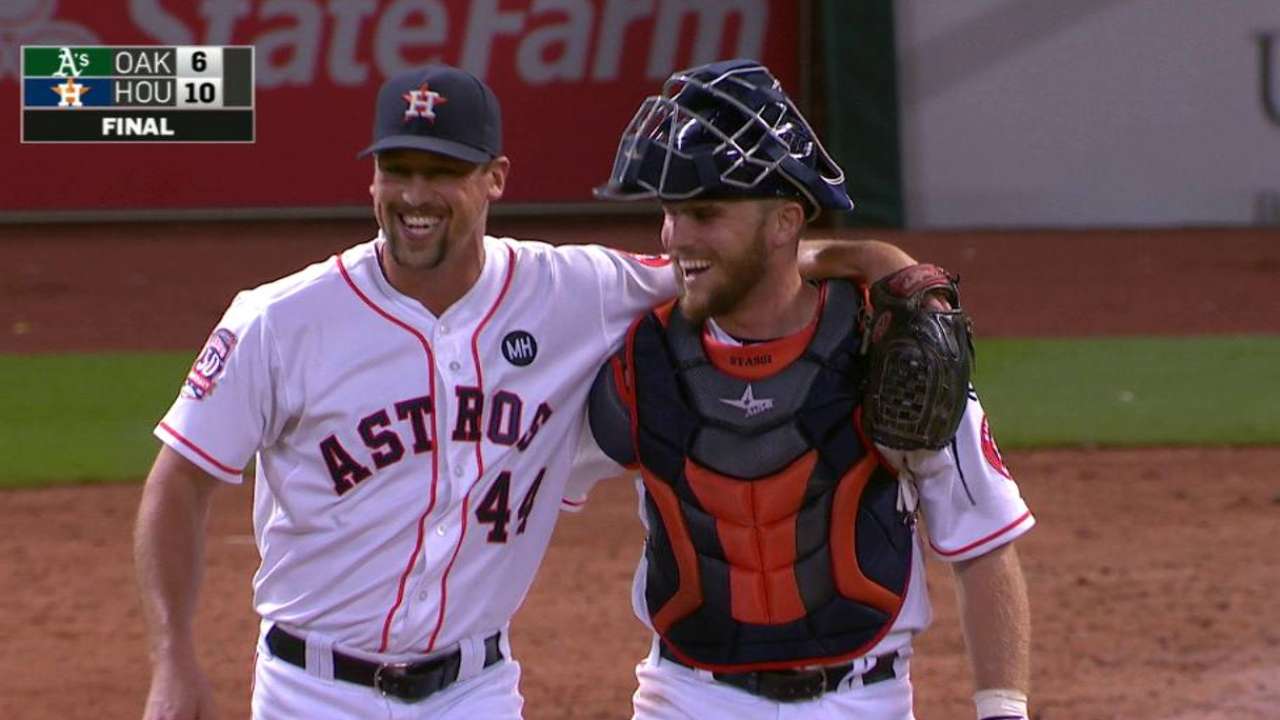 HOUSTON -- It's been a whirlwind week for Astros closer Luke Gregerson, who rejoined the team for Saturday's game against the A's after missing three days due to the birth of his first child.
And he was summoned right away to close the Astros' thrilling, come-from-behind 10-6 win.
Gregerson left the field in Arlington during pregame warmups prior to Wednesday's game against Texas, but he didn't quite arrive by the time of the birth.
Instead, he watched his son, Logan John, being born via FaceTime on his phone from an airport before making it home.
"He's just the cutest little kid," Gregerson said. "... It's a feeling parents understand, an amazing feeling to hold your own child in your hands, especially a boy for me. I've always wanted a boy to go out and play baseball with him."
Gregerson felt the pull of family when he thought about rejoining the club so soon. He even told his wife that he almost felt like staying home.
But the veteran knew he was needed back as soon as possible, with the Astros reeling of late.
"The other side, the competitive baseball side kind of [won out]," he said. "I've been doing this forever, even before I thought about having kids.
"This is something I have a lot of passion in. This is definitely where I want to be right now. I definitely want to help these guys win ballgames. Hopefully, we can turn this around and do just that."
The bullpen has struggled in recent games, though the Astros didn't have a ninth-inning lead in Gregerson's absence. Also, manager A.J. Hinch noted, the bullpen's struggles haven't been across the board.
Instead, Gregerson is another fresh arm and an experienced option rather than a cure-all for the relievers.
"We don't have an epidemic as a bullpen," Hinch said. "We just need a total group performance, and Luke adds to that."
Chris Abshire is a contributor to MLB.com. This story was not subject to the approval of Major League Baseball or its clubs.