Maddon, Rondon ejected after Cubs' 3rd HBP
Cardinals' Matheny, Belisle ejected Friday for hitting Rizzo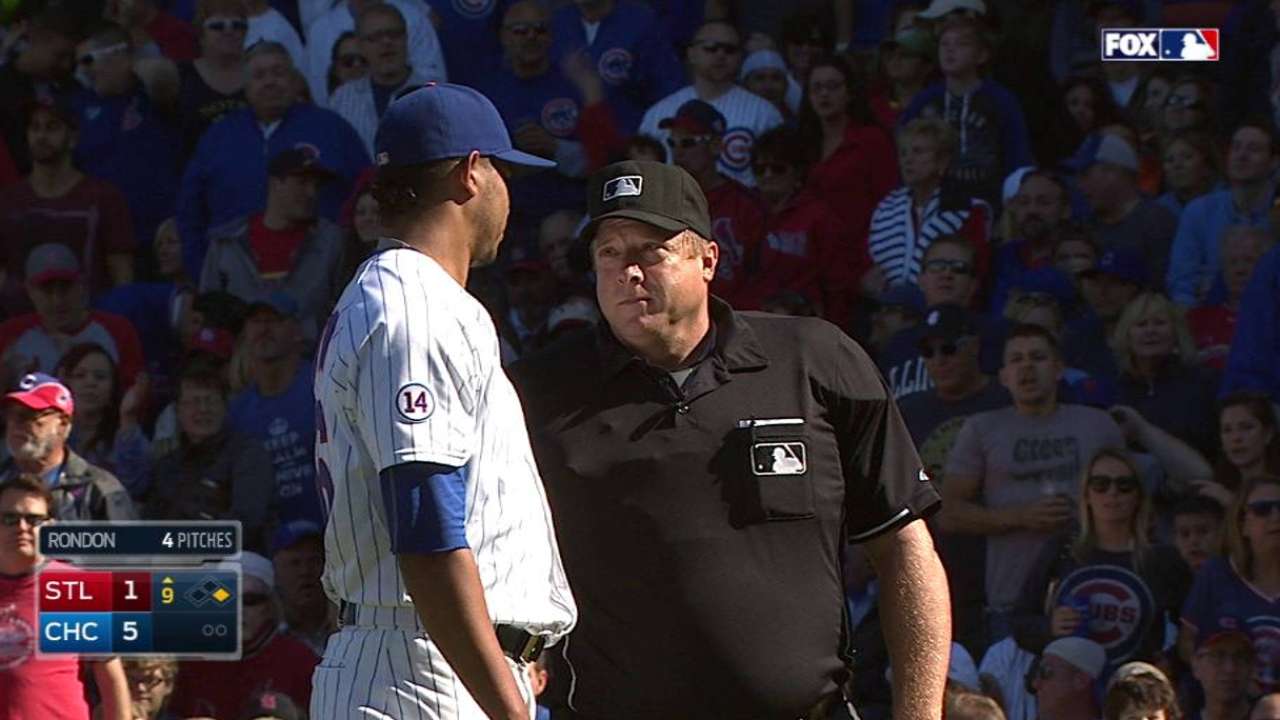 CHICAGO -- Hector Rondon says his focus was on ending Saturday's game, but he hit Cardinals pinch-hitter Greg Garcia with a pitch, and that ended his outing after four pitches plus revived bad feelings between the NL Central rivals. The Cubs went on to win, 5-4.
Round 1 was Friday. Cubs starter Dan Haren plunked Matt Holliday in the helmet in the fifth, which prompted a warning to both benches. Cardinals pitcher Matt Belisle and manager Mike Matheny were then ejected after Anthony Rizzo was hit by a pitch in the seventh.
Round 2 was Saturday. St. Louis' Kolten Wong was plunked twice, and he threw his bat in disgust after Fernando Rodney hit him with a pitch in the eighth. Home-plate umpire Bruce Dreckman then issued a warning. Rondon knew that, but came inside too far on Garcia and hit him. Both Rondon and Cubs manager Joe Maddon were tossed.
"That's an interpretation by the umpires," Maddon said. "Obviously, we're not trying to [hit anyone]. The umpires had the ability to exercise their own baseball acumen and judgement in that moment. There's a lot of pressure coming from the other side to do what eventually did happen.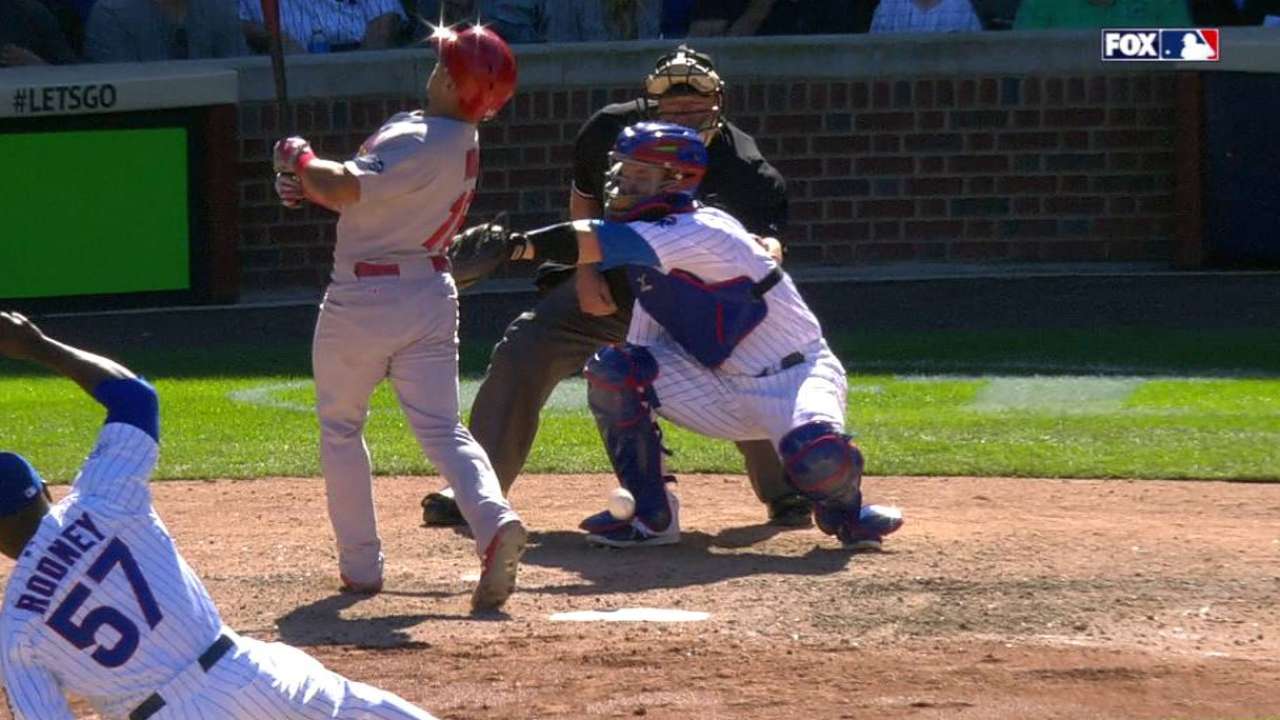 "I'm not going to pass judgement," Maddon said. "I'm a very non-judgemental person, actually. Probably because it worked out in our favor."
The Cubs held on for the win as the Cardinals left the tying run on base. Rondon was aware of the warning.
"In that situation, you want to finish the game," Rondon said. "The umpire came to me and said to me, 'I know it's not on purpose, but you have to go out and take it.'"
Cubs versus Cardinals is a great rivalry, and having both teams close to securing playoff spots has increased the intensity. Maddon stressed that Rondon's 1-2 fastball simply came inside too far.
"I know nobody wants to believe me -- you're not going to believe me, all the Cardinal nation," Maddon said. "God bless you, you're not going to want to believe me, and I get it. There's no way for me to sit here and even attempt to ameliorate your concerns. None of that was intentional, it just happens, it's part of the game. Go ahead, lay it on me, man, I'm OK with it."
Maddon did try and keep Rondon in the game.
"I said, 'I really trust you guys to make a good judgement in this moment,'" Maddon said. "Obviously, you know what's going on, obviously, you have to totally understand that was not intentional. The fact that Fernando [Rodney] had hit [Kolten Wong] the inning before, I think that's where that came from in the ninth inning."
The two teams have one more game on Sunday.
"I know [Sunday] is going to be a tough game for us and for them," Rondon said. "We'll try to be careful. we don't want to hurt anybody."
Carrie Muskat is a reporter for MLB.com. She writes a blog, Muskat Ramblings. You can follow her on Twitter @CarrieMuskat and listen to her podcast. This story was not subject to the approval of Major League Baseball or its clubs.