Ausmus appreciates Verlander's bulldog approach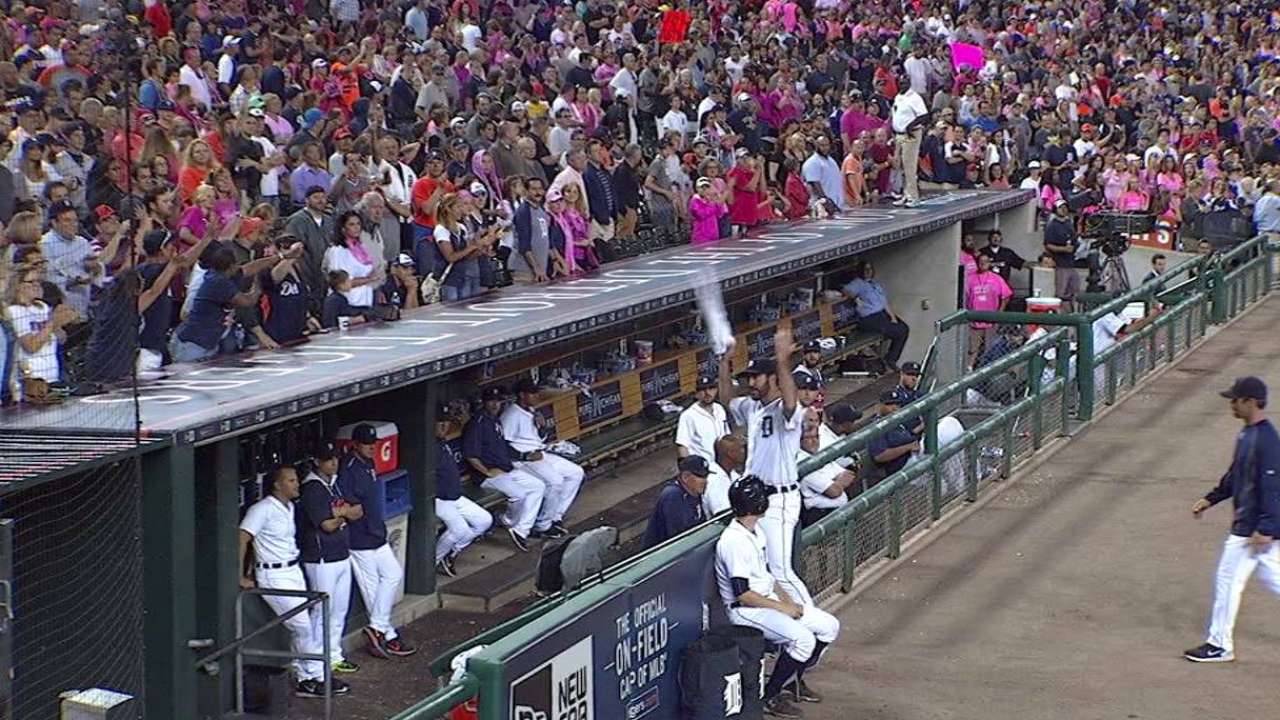 DETROIT -- On the same night former Tigers pitcher Max Scherzer had a fiery exchange on the mound with Nationals manager Matt Williams, to stay in his start, Justin Verlander had a statesmanlike response in support of his skipper Brad Ausmus as he exited Friday night's game against the Royals, even chiding fans for booing as reliever Alex Wilson entered with two outs in the ninth.
To Ausmus, there's a value in both personalities, and a nuance to handling them.
"Sometimes, I want to know how they feel," Ausmus said. "And sometimes, I don't care. Sometimes it's time to make a move."
Ausmus didn't see Scherzer's mound exchange, but he read about it. To Ausmus it sounded familiar, because he saw it last year.
Ausmus kept Scherzer in for one more batter last June against the Red Sox and saw David Ortiz burn him for an RBI double. It made no difference in the eventual outcome, but it was a scrutinized decision because of the larger question of how Ausmus would handle a star-studded pitching staff.
"That's just Max," Ausmus said of Friday's reaction. "Max has done that with me. He's emotional on the mound. When he wants to stay in, he's very emphatic about it. He wasn't yelling at Matt Williams about anything. ...
"Sometimes with guys like that, you'll go out and ask them how are you doing. They're at 100-some pitches, end of the season, they might be tiring, and you just want to get a feel for if they're OK. And with Max, it's very easy, Max is very honest with you. If he wants to be in, he's going to be emphatic and emotional about it. And if he thinks he's done, he's going to say, 'I've kind of emptied the tank here.' Talk about a mountain out a molehill."
In contrast, Verlander admitted the obvious on Friday night, that he'll always tell a manager he wants to stay in the game, no matter how he feels.
"I'm never going to take myself out of a game," he said. "I'm going to be honest with the manager and let them know how I feel. I felt good [Friday]. But I'm never pleased to come out."
They're two different personalities that require different approaches. Ausmus said he appreciates both.
"I think there's upside to both of them," he said. "It's nice to have a guy be honest, but it's also nice to have a guy who wants to be in the game for 27 outs, which is kind of a lost mindset nowadays."
Ausmus did not have such a discussion on Friday because he had already made his decision, not wanting Verlander to face Salvador Perez one more time given the career numbers.
"Last night, it was a no-brainer, time to make a move," Ausmus said. "There's been times when I've gone out there to Justin to make sure he's OK [if] his pitch count's up a little bit, see if he's tired. Now with Justin, you know he wants to stay in for 27 outs, so you have to kind of take what he says with a grain of salt, parse through it and figure out what he really said."
Jason Beck is a reporter for MLB.com. Read Beck's Blog, follow him on Twitter @beckjason and listen to his podcast. This story was not subject to the approval of Major League Baseball or its clubs.