MLB.com Columnist
Phil Rogers
Russell's amazing stop shows off Cubs' potential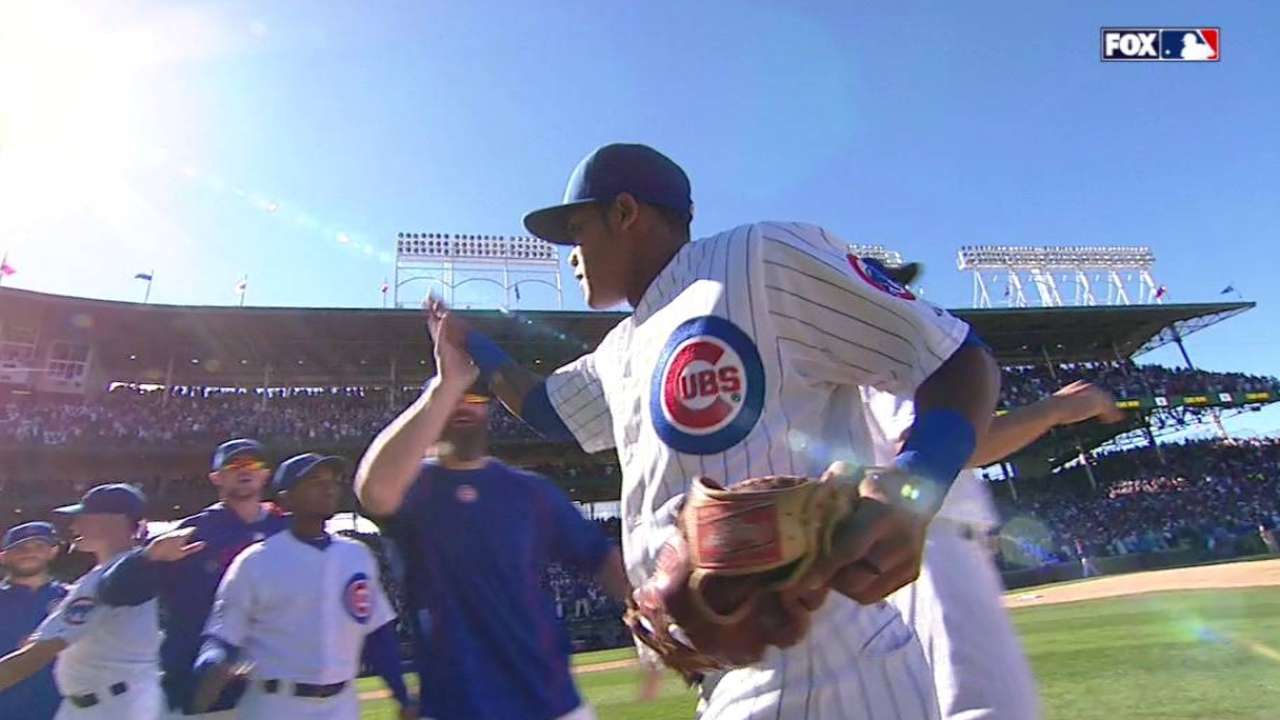 CHICAGO -- Any more doubt about how dangerous the Cubs can be in October?
There shouldn't be if you witnessed Addison Russell leave his feet and launch his 200 pounds toward the route of the ball speeding off Stephen Piscotty's bat in the ninth inning of Chicago's 5-4 win, especially not if you were one of the lucky 40,994 at Wrigley Field.
"Play of the year,'' Anthony Rizzo said after the victory.
Sure, this was just one play in one game. But it was so much more.
Even if you already view Russell's game-ending force play as the most magical moment in the best game during an enchanted season, it still stands for so much more.
It stands for everything the Cubs have done this year, and everything they will do for the next 10 years. Joe Maddon said it was one of the best plays he's seen given the circumstances, and you'd have a hard time arguing that given Russell's split-second reaction.
"That was a base hit the minute it left the bat,'' Maddon said. "He just willed his glove on that ball at the end of it. That would be just anticipation, being in the moment, just totally being focused, not worrying about an at-bat or anything else that happened over the last 24 hours. He was just in the moment, and that was what permitted him to make that play.''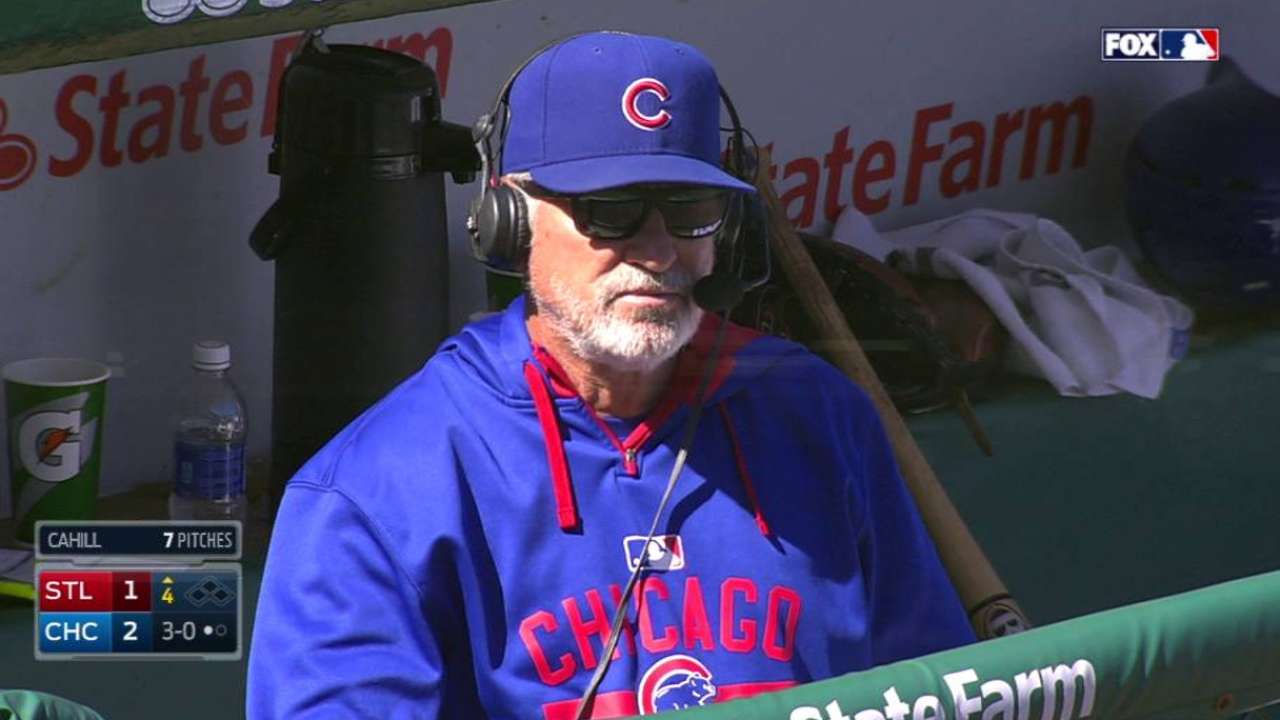 There was so much noise in the ninth inning that even Wrigley's ivy seemed to be rocking. The best players block out the crowd and slow down the game in their minds, but even the ultra-talented Kris Bryant marveled that Russell was able to grab the ball and shovel it to Javier Baez for a force.
Russell had barely broken a sweat until then, coming off the bench as a defensive replacement in the eighth inning.
"To sit the bench for eight innings and then come in and make a play like that, you just can't make these things up," Bryant said.
Theo Epstein, Jed Hoyer, Jason McLeod and their scouts long ago identified 21-year-old Russell as the guy they wanted in the middle of their infield in tough games, and somehow Epstein convinced Billy Beane to trade him for Jeff Samardzija. Maddon, the manager the Cubs wooed at a trailer park in the Gulf of Mexico, made sure Russell was on the field when he needed to be, even though Saturday was supposed to be an off-day.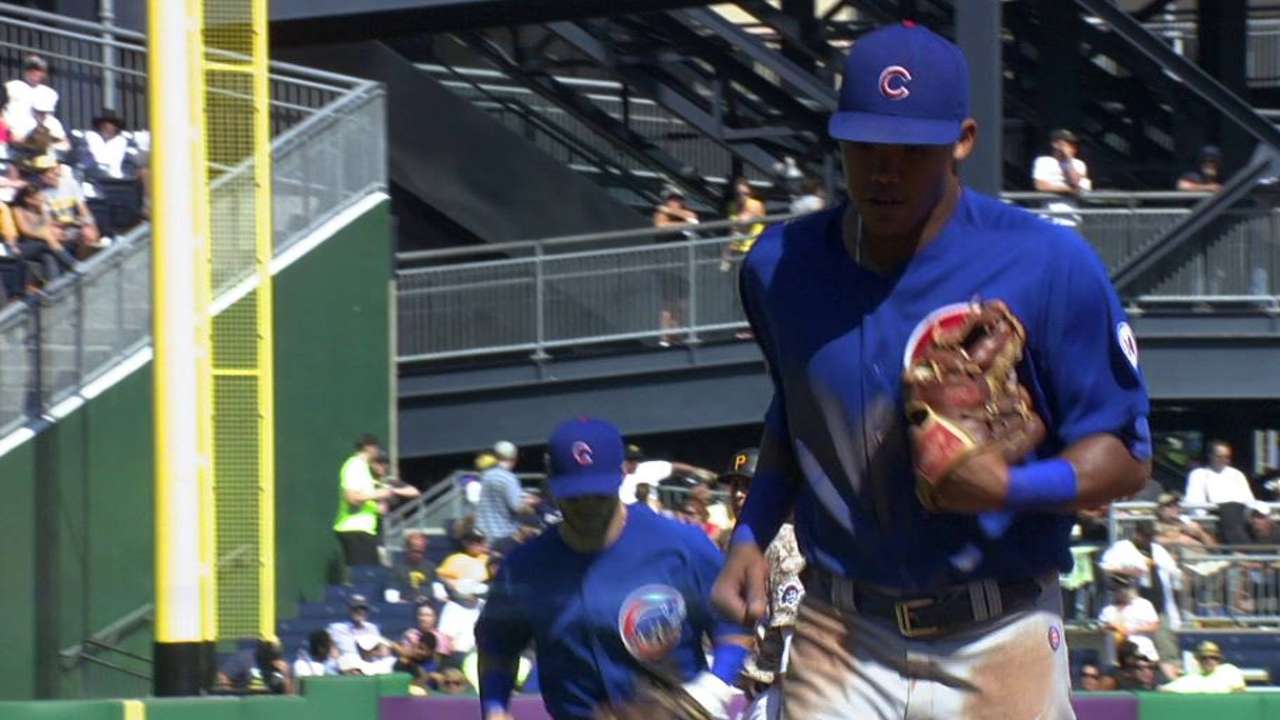 This is the way it works for a franchise that is doing things the best way, and the results have started to tell the story. The Cubs have moved to 26 games over .500, climbing within five games of the Cardinals, and literally nipping at the heels of the Pirates for the first National League Wild Card spot (Note: They'll be tied if the Dodgers win tonight).
There was a reasonable chance the Cardinals would show their class with a winning rally in the ninth after Hector Rondon was ejected for hitting Greg Garcia with a pitch. But in the end, after a Matt Carpenter homer and back-to-back singles from Tommy Pham and Jason Heyward, Pedro Strop and Russell restored order, in the nick of time.
"We didn't hold onto [leads like that] early in the year,'' Maddon said. "That's the difference between then and now. Early in the year, we were not able to hold on against these guys late … I said early in the year they were out-experiencing us, and now we're catching up in that regard. Give them credit because they fight to the last straw, and I do respect that. But our guys came out ready to play today.''
You would not expect a shortstop with 128 games of big league experience (and only 372 as a pro) to be a key to turning a corner for a young team. But the Cubs have played at their highest level since Aug. 7, when Russell moved over from second base to replace Starlin Castro as the primary shortstop.
"If you put a clock on him, he's not going to be the fastest guy on the team -- not nearly the fastest guy on the team,'' Maddon said. "But when it comes to quick lateral movements, he's among the best I've seen in awhile.''
You didn't have to tell the Cardinals' Piscotty. He had seen it first hand on his way up to St. Louis.
"He made a great play,'' said Piscotty, who is hitting .308 since his midseason promotion from Triple-A. "I knew I hit it well and near him. I know how athletic a shortstop he is. I played against him a bunch in the Minor Leagues. Tip your hat, he made a great play."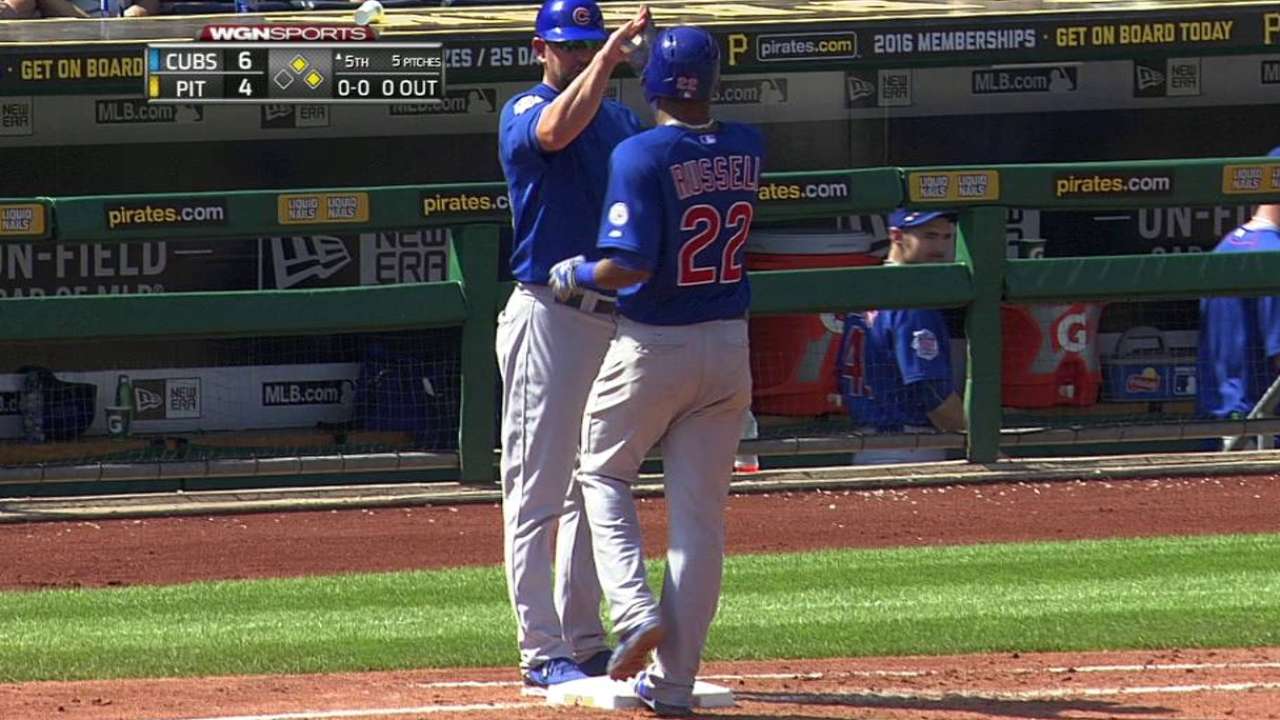 Maddon is brilliant in his ability to get the most out of his players. He's creative in using platoons to get production from all his players, but Epstein, McLeod and the Cubs' scouts place the most value on complete players, the kind that contribute in every facet of the game.
Russell, who is hitting .241 with 13 homers, certainly qualifies. He has often gone unnoticed among Cub newcomers Kyle Schwarber, Jorge Soler and Bryant, the latter of whom Maddon ordained as the NL's Rookie of the Year after he hit his 25th home run Saturday.
Russell's certainly not a camera hog. He had showered and headed out of the clubhouse before reporters were allowed in after his big moment.
That's OK. Actions really do speak louder than words.
Russell's diving stop -- a play good enough to deserve its own name -- is going to get replayed over and over as the Cubs head toward the postseason for the first time since 2008. You'd say it would be a fine place to start the season highlight reel, but who knows what he's going to do next?
Like a young Derek Jeter, the kid's got game. And he knows how to use it.
Phil Rogers is a columnist for MLB.com. This story was not subject to the approval of Major League Baseball or its clubs.