Girardi calls on parade of pitchers to secure Yanks' win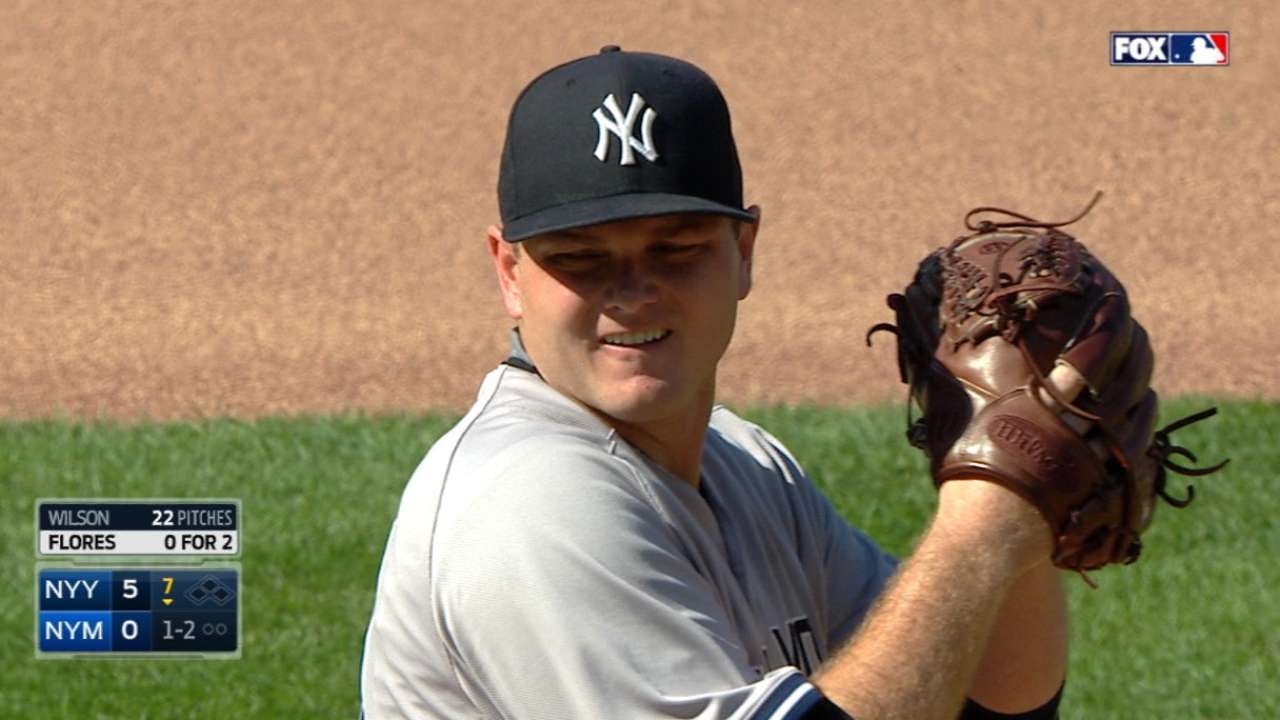 NEW YORK -- A five-run lead in the ninth inning is usually not the occasion to fire up a carousel of relievers, but with expanded September rosters and so much at stake, Yankees manager Joe Girardi is not apologizing for using the tools at his disposal.
Girardi became the first Major League manager to use seven pitchers in a shutout victory of five runs or more, calling on three hurlers -- James Pazos, Chris Martin and closer Andrew Miller -- to lock down the final three outs of Saturday's 5-0 victory over the Mets.
"This is a game you can't afford to give away," Girardi said. "I worry about winning the games that we're supposed to. I think those are the games you have to worry about."
The Yanks' first call to the bullpen came after starter Michael Pineda threw 86 pitches over 5 1/3 innings. Girardi said that he didn't want Pineda to see Daniel Murphy a third time; Justin Wilson walked Murphy but then struck out the next four hitters he faced.
In Girardi's estimation, Wilson was spent after 30 pitches, and rookie right-hander Caleb Cotham was summoned for Kevin Plawecki, who struck out to end the seventh. Girardi said that he liked the matchup there, then leaned on Dellin Betances in a perfect eighth inning.
"Dellin and Justin have had arguably some of the heaviest workloads in baseball, but they're both up for it," Miller said. "These games are almost easier to pitch in because you have adrenaline."
Girardi said that if wins were not at such a premium, he would likely have stayed away from Betances.
"If it's not this time of the year, probably not," Girardi said. "The idea of using Betances there is where they are in the lineup, and if he can shut it down, maybe you don't have to use a [guy like] Miller. It almost worked -- but not quite."
With Pazos and Martin warming, Girardi said he called to the bullpen and said that if two batters got on, Miller was coming in. His reasoning was it would give Miller a two-batter leash to keep the tying run from coming up.
Michael Cuddyer and Wilmer Flores reached on two-out infield singles off Martin, prompting Miller's entrance. No wiggle room was necessary, as Miller induced pinch-hitter Travis d'Arnaud to ground into a fielder's choice.
"Two runners on, I know it's not technically a save situation, but I had a day off and I told Joe I'm ready whenever he wants me," Miller said.
As for what this could mean for the bullpen's availability early next week in Toronto, Miller said that even if he pitches on Sunday, he'd expect to be available on Monday. Girardi said he'll deal with that after the Yanks go through customs.
"Hey, we've got to take it a day at a time," Girardi said. "We'll worry about that then. Sometimes you don't necessarily need the guys in certain games, so it's day to day right now."
Bryan Hoch is a reporter for MLB.com. Follow him on Twitter @bryanhoch, on Facebook and read his MLBlog, Bombers Beat. This story was not subject to the approval of Major League Baseball or its clubs.