Vote Marlins for 2015 Esurance MLB Awards
Hechavarria among 13 nominees for Best Defensive Player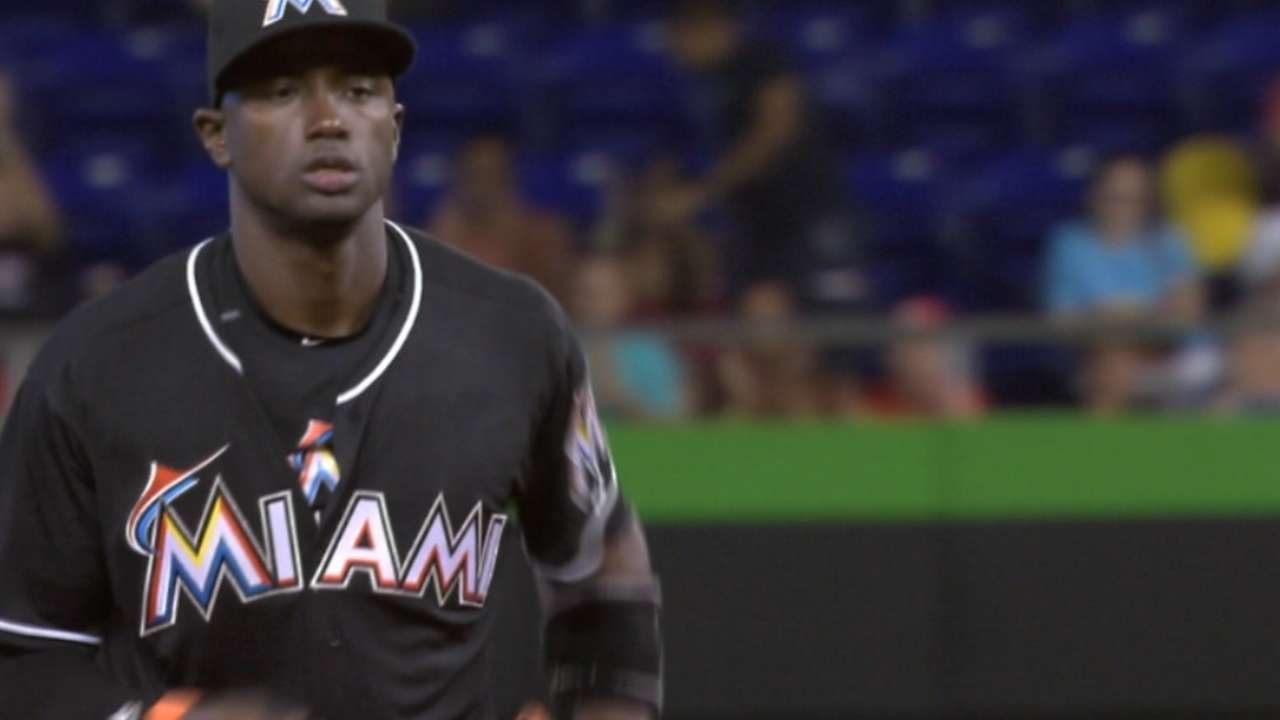 MIAMI -- "El Perro," Spanish for "the dog," is inscribed on Marlins shortstop Adeiny Hechavarria's glove. Based on his stellar play in the field, it's only fitting the 26-year-old Cuban native is among the top dogs in the Majors in defense.
His standout play hasn't gone unnoticed. Hechavarria is one of 13 nominees for the 2015 Esurance MLB Award for Best Defensive Player. The Marlins have 10 other nominees in the 2015 Esurance MLB Awards, recognizing everything from Giancarlo Stanton's tape-measure home runs to Dee Gordon's slam-dunk interviews.
In his third season with the Marlins, Hechavarria has elevated his game at the plate and in the field. In the field, the Marlins believe he is Gold Glove Award-worthy. His defensive metrics have ranked among the top shortstops in the National League. The Best Defensive Player Award includes players from all positions.
"In my opinion, he's the best shortstop in baseball," Marlins general manager Dan Jennings said. "Every night, people that watch us see something he does, and you just go, 'Wow!'"
Hechavarria enjoyed a breakout season, but he ended up missing the final month after straining his left hamstring on Sept. 2.
In 130 games, his slash line was .281/.315/.374. In the field, he was sensational, posting a 15.8 Ultimate Zone Rating (UZR), with nine defensive runs saved, according to Fangraphs advanced defensive metrics. Hechavarria committed just nine errors and had a .984 fielding percentage.
The Esurance MLB Awards annually honor Major League Baseball's greatest achievements as part of an industry-wide balloting process that includes five components, each of which accounts for 20 percent of the overall vote: media, front-office personnel, retired MLB players, fans at MLB.com and Society for American Baseball Research (SABR) voters.
Individual awards will go to the Best Major Leaguer in addition to the winners in the following categories: The Best Everyday Player, Starting Pitcher, Rookie, Defensive Player, Breakout Player, Bounceback Player, Manager, Executive, Social Media Personality and postseason performer.
Winners will also be recognized for the year's best offensive play, defensive play, Moment, single-game performance, Social Media Post, Celebrity Fan, Fan Catch, Interview, TV call, radio call, Player-Fan Interaction, Video Board Moment and Trending Topic.
Hechavarria is up against some tough competition. Other Best Defensive Player nominees are: Nolan Arenado (Rockies); Lorenzo Cain, Salvador Perez and Alcides Escobar (Royals); Buster Posey and Brandon Crawford (Giants); Yadier Molina (Cardinals); Kevin Kiermaier (Rays); Kevin Pillar and Josh Donaldson (Blue Jays); Andrelton Simmons (Braves); and Manny Machado (Orioles).
Jennings said the start of Hechavarria's career reminds him of when longtime MLB great Omar Vizquel broke into the big leagues. Jennings noted Vizquel needed a few seasons before his offense developed.
"All of a sudden, as he grew as a player, he developed into Omar Vizquel," Jennings said. "He's was a perennial All-Star every year."
Voting will remain open through 11:59 p.m. ET tonight by visiting mlb.com/awards. Winners will be announced live on MLB Network and MLB.com on Nov. 20.
The Marlins are up for several other awards as well. Dee Gordon, a.k.a @FlashGJr, is a nominee for Best Social Media Personality. His Twitter account unearthed the Marlins' nominee for Best Social Media Post, a photo of Stanton eating a Kit Kat bar unlike any other person would.
@Giancarlo818 you need to start respecting the rules sir. pic.twitter.com/IvkUAphhJv

— Dee Gordon (@FlashGJr) June 1, 2015
Candy-eating habits aside, Gordon and Stanton are each up for a Best Play award -- Gordon showcasing his speed and Stanton flashing his power, naturally.
Gordon is nominated for his inside-the-park home run, a 14.241-second sprint around the bases that clocked in as the fastest in the Majors this season. Stanton, meanwhile, crushed a home run all the way out of Dodger Stadium in early May, a tape-measure shot that traveled a projected 475.8 feet, according to Statcast™.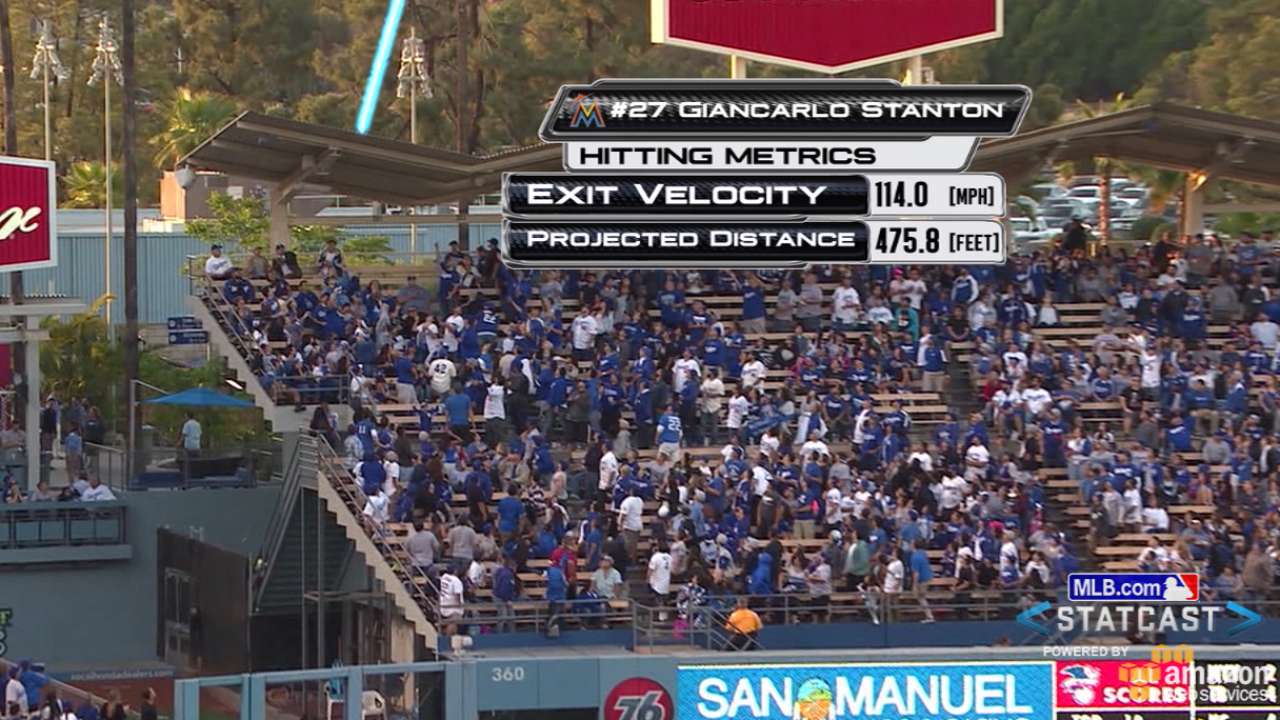 Another one of Stanton's homers resulted in the Marlins' nominee for Best Fan Catch. Stanton drilled a homer 478 feet to dead center field, and a fan at Marlins Park caught it with his bare hand.
Right-hander Jose Fernandez is a nominee for this year's Best Player-Fan Interaction, earning the nod for personally shaving a fan's head for charity at Marlins Park. The fan had refused to cut his hair or shave his face until Fernandez returned from Tommy John surgery.
The Marlins have two nominees for the season's Best Trending Topic. First is Ichiro Suzuki's pitching debut, a long-awaited event that took place in Game 162. Second is Marcell Ozuna's towering home run in August, a true moonshot that bounced off the top of the left-field foul pole after reaching a maximum height of 118.4 feet, according to Statcast™.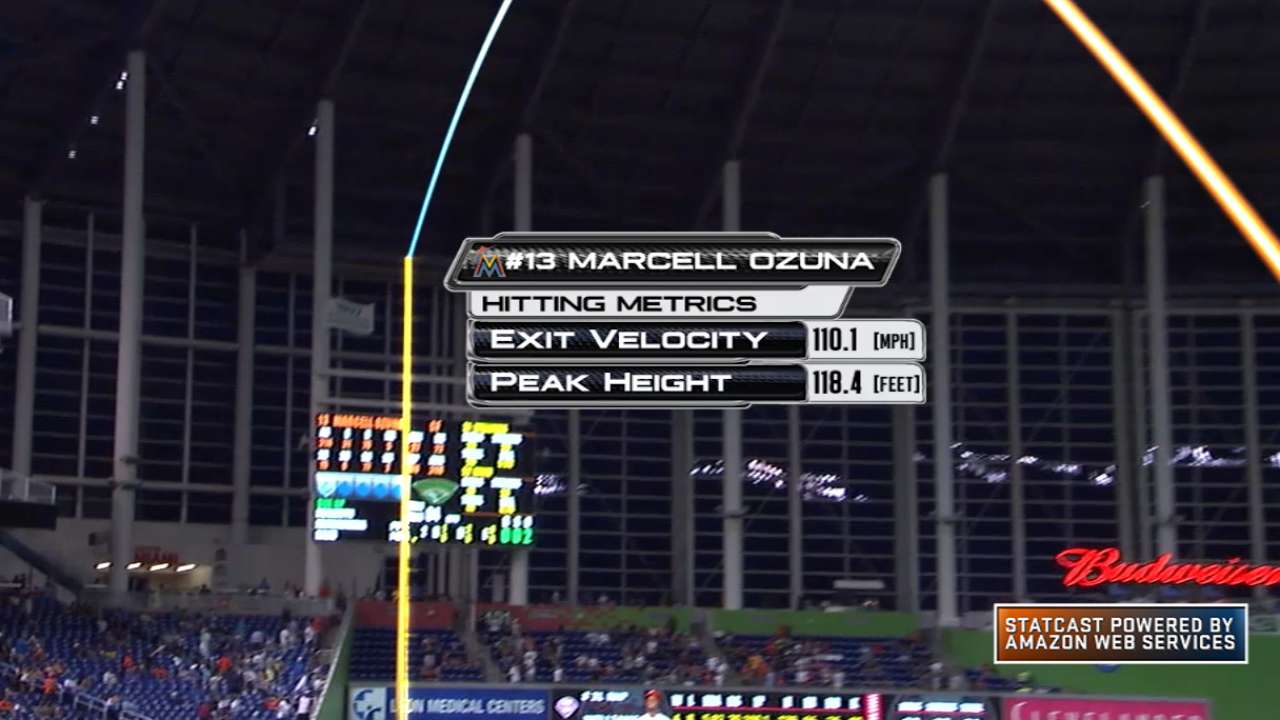 Finally, the Marlins have two candidates for this year's Best MLB Interview. Lemon, a dog, earned consideration for snarling toward the microphone during "Bark in the Park" day in Miami.
Gordon also received a nod for stealing the show during a postgame interview with Christian Yelich. Pitcher Mat Latos held up a basketball net behind Yelich, and Gordon soared out of the dugout to dunk over his teammate.
Joe Frisaro is a reporter for MLB.com. He writes a blog, called The Fish Pond. Follow him on Twitter @JoeFrisaro and listen to his podcast. This story was not subject to the approval of Major League Baseball or its clubs.