MLB.com Columnist
Barry M. Bloom
Long wait for healthy Pineda may finally be over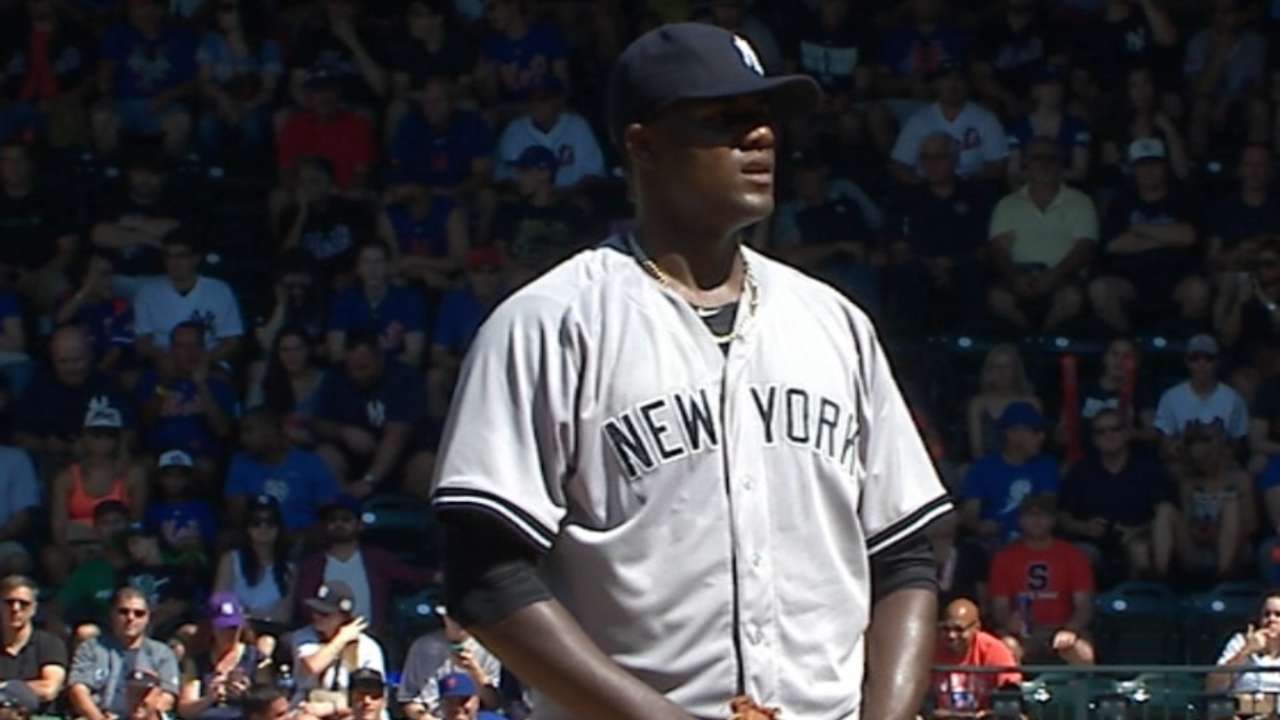 NEW YORK -- Despite occasional moments of brilliance, the Yankees have waited four long years, through incessant arm and shoulder injuries, for the real Michael Pineda to emerge.
And on Saturday, the right-hander was right on the money when he was needed most -- in a 5-0 victory over the Mets at Citi Field.
These are pressure games, no doubt, with a playoff spot within grasp, and the Yankees need pressure performances from their top pitchers, particularly Pineda.
"You're making it sound like he's had a horrible year, but he's pitched pretty decently for us," manager Joe Girardi said. "The injuries are part of the game. We felt that, if we could get him on the mound, he would help us. And he's done that."
Well, yes and no. It was only a week ago when Pineda was given a 4-1 lead over the Blue Jays at Yankee Stadium and, in the blink of an eye during the fifth inning, Ben Revere and Edwin Encarnacion homered to tie the score.
The Yankees lost that first game of a makeup doubleheader, and they have been sliding further behind the first-place Jays in the American League East ever since.
"That's a pretty good offense you're facing, too," Girardi said about Pineda in the Toronto game. "They've done that to a lot of people this year."
They're also hanging on for dear life for the home seed in the AL Wild Card Game presented by Budweiser on Oct. 6.
The Mets have a seven-game lead in the National League East and are no offensive slouches, either, at this point in the season. Thus, no one could blame Girardi for whisking Pineda out of the game with one out and runners on first and second in the sixth, even though he'd tossed only 86 pitches.
At that juncture, homers from Carlos Beltran and Brian McCann had staked Pineda and the Yankees to the 5-0 lead. Still, the Mets opened up their half of the sixth with a pair of singles. Girardi played a hunch and left Pineda in to face Yoenis Cespedes, who swung and missed at three consecutive pitches. That was enough.
"Just the at-bats he had against [Daniel] Murphy before, I thought it was time for a change," said Girardi, who wound up having to go through six relievers to ice the win.
Actually, Murphy had previously hit two grounders off Pineda, the second one glancing off the pitcher for an infield hit. It was Murphy's sixth-inning homer off Masahiro Tanaka on Friday night that wound up sending the Yankees on to defeat.
Perhaps that image remained with Girardi. Perhaps the fact that Pineda missed most of August with a flexor strain in his right forearm was an attributing factor, too.
In any event, Pineda was gone for the afternoon, and he was a little perplexed by his manager's move. Asked if he was upset to be removed from the game that early, Pineda said:
"I was a little sad because I love pitching. You always want to go out to the mound. Joe has control of the situation and it's his decision, so I'm fine with it. Still, I was a little surprised to see him come out [to the mound]."
Waiting for Pineda has been a way of life since the Yankees obtained him from the Mariners in a Jan. 23, 2012, trade that sent catcher Jesus Montero to Seattle.
Pineda had right shoulder surgery and missed the entire 2012 and '13 seasons. When he finally returned last year, it was with a flourish, until he injured the same shoulder again and missed three months. He was 5-5 with a 1.89 ERA, but was limited to only 13 starts.
Pineda's injury was certainly one of the major factors that caused the Yankees to miss the second Wild Card spot, nabbed by the A's, by only four games.
This year, he's now 11-8, but his ERA has ballooned to 4.10 and he's allowed 18 homers in 24 starts. Girardi attributes that problem to inconsistency in throwing and locating his slider. But Pineda says that's no big deal. And this year's injury was just a blip on the radar screen.
"A couple of years ago, I had shoulder surgery, so coming back was not easy," Pineda said. "I worked hard so I could get back to pitching, and this year, I've thrown the ball really good. I had a little injury, but I'm still pitching, so this year is a great year for me. We're fighting and I'm helping the team."
It's all in the eye of the beholder, of course. Even with his fits and starts, Pineda has been better for the Yankees than Montero has been for the Mariners. Montero has played in 201 big league games since the trade, and only 31 this year when he's batted .217.
Pineda has been tantalizing at times, to which his 16-strikeout performance against the Orioles on May 10 can attest. The Yankees are hoping that's the real Pineda, just like the one who pitched into the sixth inning unscathed against the Mets on Saturday.
Barry M. Bloom is a national reporter for MLB.com and writes an MLBlog, Boomskie on Baseball. Follow @boomskie on Twitter. This story was not subject to the approval of Major League Baseball or its clubs.