Rizzo, Maddon ready to move on from HBP
Cards' Belisle ejected after hitting Cubs first baseman on Friday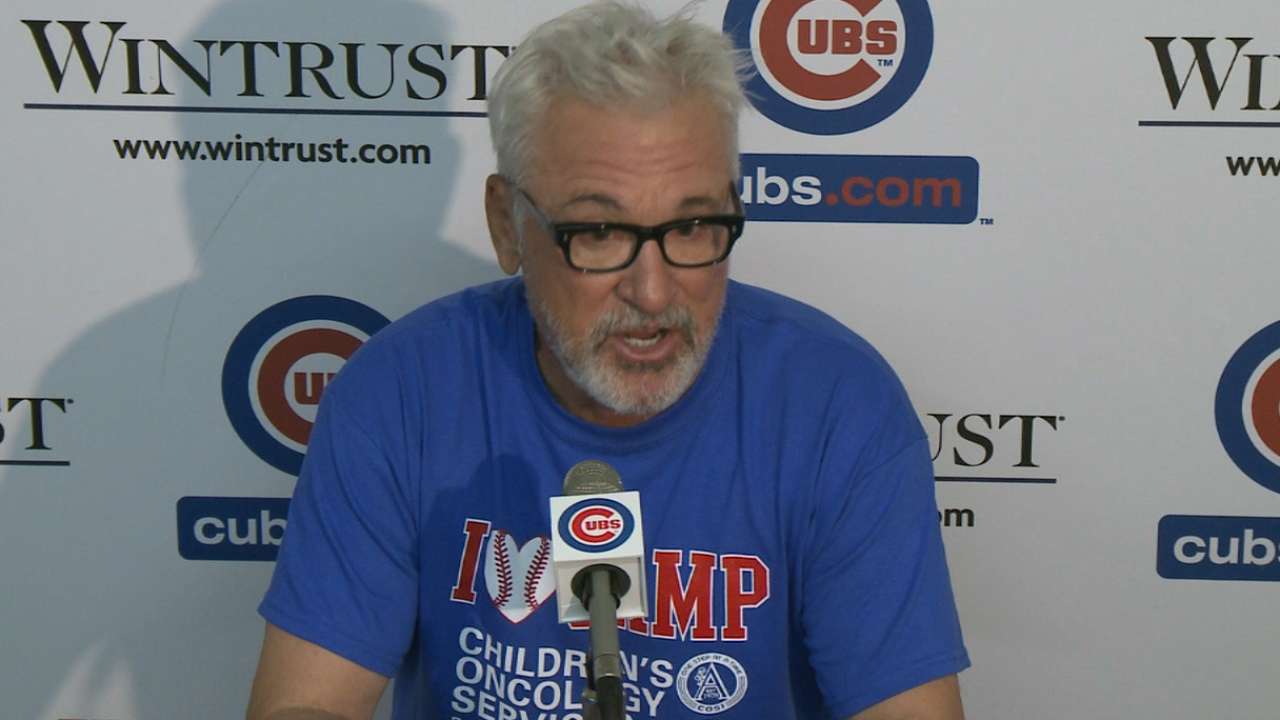 CHICAGO -- Anthony Rizzo had gotten plenty of warnings from his teammates, so he wasn't surprised when the Cardinals' Matt Belisle hit him with a pitch in the seventh inning on Friday. But on Saturday, both the Cubs' first baseman and manager Joe Maddon felt the incident was over, and it was time to move on.
The Cubs felt Belisle plunked Rizzo in response to Dan Haren hitting Matt Holliday with a pitch in the fifth inning. Home-plate umpire Dan Bellino had warned both benches after Holliday was hit, and both Belisle and St. Louis manager Mike Matheny were ejected when Rizzo was hit.
"Obviously, in that moment, I want to kill someone, because I know it's intentional," Rizzo said. "We didn't hit Holliday on purpose there. Thankfully, he's all right. I assume he's all right. In the moment, you want to go out and strangle someone, but it's not necessary right now, especially the position we're in. We have a good opportunity today to put a lot of pressure on Pittsburgh tonight. So we gotta take care of business today."
The Cubs won, 8-3, on Friday, and the win, coupled with the Pirates' loss to the Dodgers, moved Chicago within one game of Pittsburgh in the National League Wild Card standings.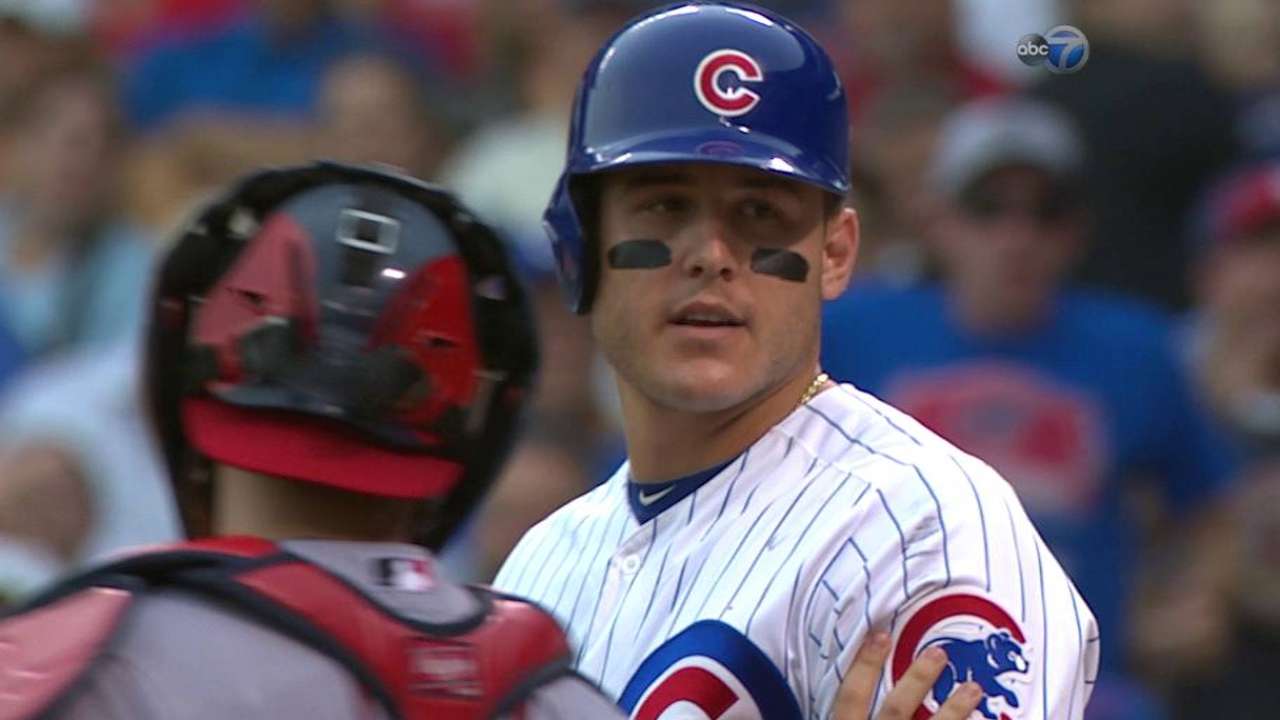 Maddon is ready to turn the page.
"As far as I'm concerned, it's over with," Maddon said. "Today is Saturday. Keeping with the mantra, I want us to play well on Saturday. ... It's all about playing well today. I said what I wanted to say [on Friday], and as far as I'm concerned, it's over. Let's just play good, solid baseball. I want our guys to keep doing what they have been doing."
After the fifth, Haren warned Rizzo that the Cardinals may retaliate, as did some of the other Cubs.
"It was just a perfect scenario [in the seventh]. We had two outs, we're up five or six, they have a guy warming up," Rizzo said. "It was kind of obvious. I'm just happy it was low."
• Maddon adds flavor to Cubs-Cards rivalry
When the Cubs were in Pittsburgh last week, Rizzo said they were talking about players and what a nice guy Belisle is.
"It's just so funny it worked out like that," Rizzo said.
Rizzo has hit 30 homers and been hit a Major League-leading 29 times.
"It was low, and at least they didn't get me hard," Rizzo said. "It's what they do. It's what teams do, and I'm used to getting hit. One more, and I'm 30/30."
Ron Hunt holds the single-season modern day record, having been hit 50 times in 1971 with Montreal. Despite Rizzo being hit so many times, the Cubs have not retaliated.
"You've guys have seen me get 29 times this year, and we have not thrown at one person each time," Rizzo said. "There was another incident this year where we feel like they had intentionally thrown at me, and we didn't do anything about it. It's just certain teams do it to take care of things different ways. You never want to see anyone get hurt. Guys get hit by pitches, it's part of the game, but you don't ever want to see guys get hurt."
Carrie Muskat is a reporter for MLB.com. She writes a blog, Muskat Ramblings. You can follow her on Twitter @CarrieMuskat and listen to her podcast. This story was not subject to the approval of Major League Baseball or its clubs.