Bucs put selves in early hole with costly error
LOS ANGELES -- In the course of their 87 wins, the Pirates have done a lot of remarkable things. But their most remarkable achievement could end up being something to make them blush.
The Bucs, whose expertise at fundamentals such as baserunning and defense has been debated all year, lead the Majors in errors by a wide margin -- and error No. 114 played a significant role in Friday night's 6-2 loss to the Dodgers.
Historically, teams that lead in errors are not postseason threats, but that's the mold the Pirates are trying to break.
Manager Clint Hurdle frequently laments "not taking care of the ball," and there was another instance in the first inning when the Pirates gift-wrapped the Dodgers' first run with Zack Greinke on the mound with a wild throw from catcher Chris Stewart as he tried to nab Justin Ruggiano at third base as he and Chase Utley attemped a double steal.
Ruggiano appeared doomed as Stewart, getting a perfect look with the left-handed hitting Adrian Gonzalez at bat, leaped up from his crouch and unleashed his throw. But the ball wound up in left field and Ruggiano scored the 62nd unearned run allowed by the Bucs, who finished last season with a total of 109 errors.
"I had a fine grip on the ball," Stewart said of the throw that sailed over Aramis Ramirez's outstretched glove. "I just threw it away. I missed a running target [Ramirez] and did get it to third. It was a strong throw, it just didn't go to the base."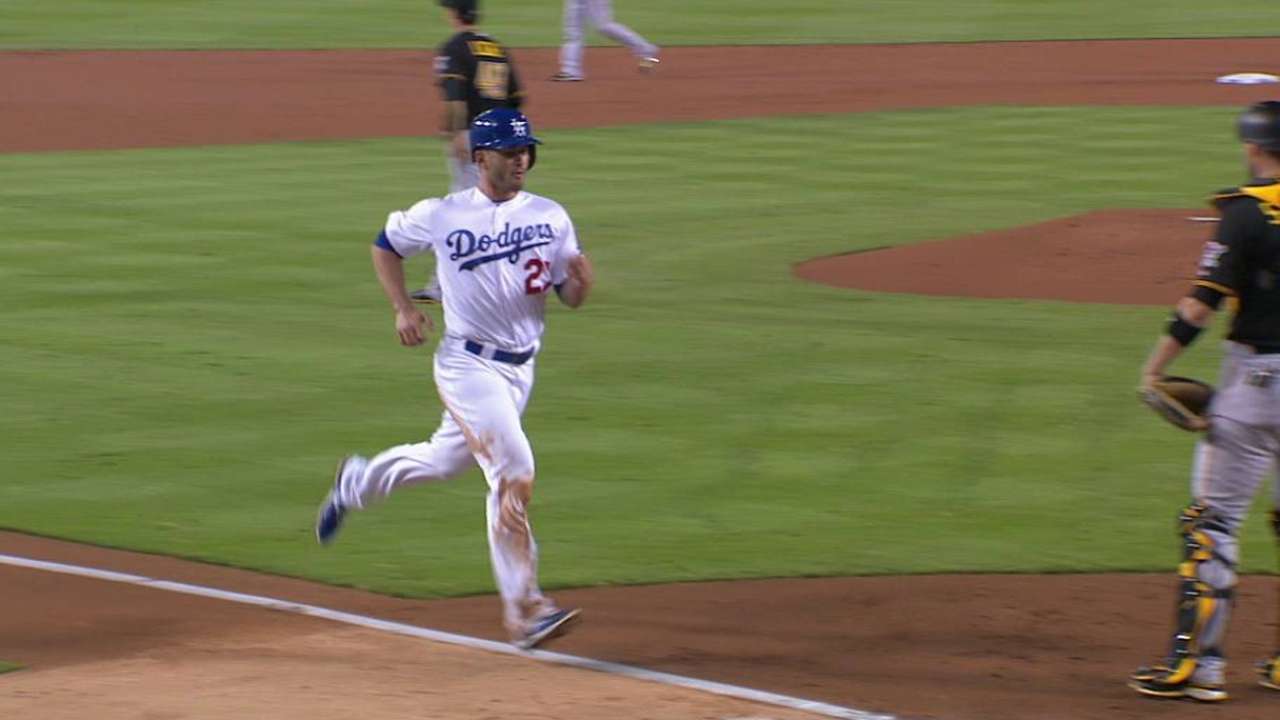 It was a sour start to lefty Jeff Locke's challenging evening.
"You know you're going to be in a tough game, because Zack has pitched great ball all year," Locke said. "It's not the way you want to see a run come in, but you've just gotta regroup and hit the reset button."
"He got a wrong mark in the first," Hurdle said in summing up Locke's night. "If we get the ball to the base, they probably don't score."
Touching all the bases
• First: Right-hander Brandon Cumpton underwent shoulder surgery on Thursday -- a subacromial decompression procedure -- that has stalled his comeback from Tommy John surgery on March 10. Cumpton, originally projected to return sometime during the 2016 season, now is not expected to be back pitching competitively for 13-15 months.
• Second: The Bucs are certain to break their franchise attendance record set last season. They would need to average only 23,272 for the final six-game homestand -- against the Cardinals and the Reds -- to top the record of 2,442,564.
• Third: Locke fanned four for a season total of 124 strikeouts, one shy of his career high during his All-Star 2013 season.
• Home: Friday night's unearned run meant the opposition had scored in the first inning in seven of the last nine games.
Tom Singer is a reporter for MLB.com and writes an MLBlog Change for a Nickel. He can also be found on Twitter @Tom_Singer and on his podcast. This story was not subject to the approval of Major League Baseball or its clubs.