MLB.com Columnist
Lyle Spencer
Greinke's comfort level on display in LA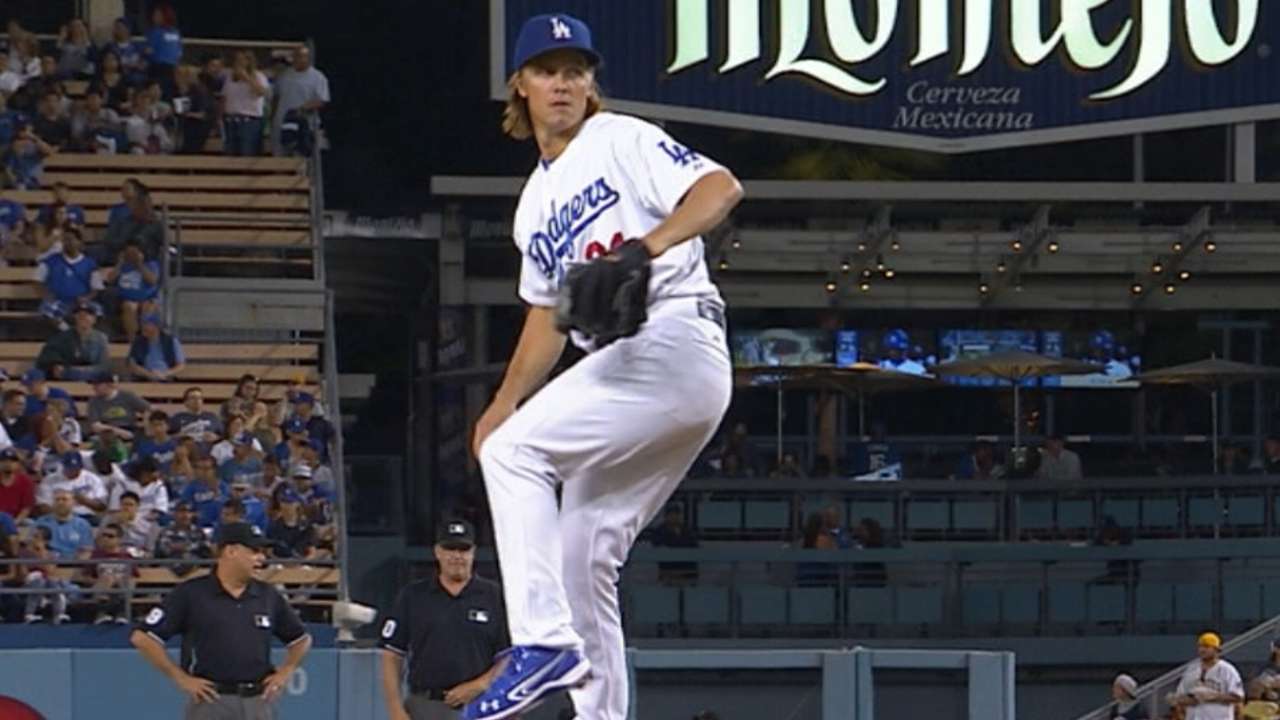 LOS ANGELES -- If Zack Greinke exercises an opt-out clause in his contract after the season and becomes an unrestricted free agent, he might want to consider that there's no place like home -- especially when that home is Dodger Stadium.
Reaching a career-high 18 wins in 21 decisions on Friday night in the Dodgers' 6-2 decision over the Pirates, Greinke solidified his National League Cy Young Award candidacy as his ERA actually rose slightly to 1.65, the best in the Majors. A career best by a substantial margin, it is not far removed from his lifetime ledger in Chavez Ravine.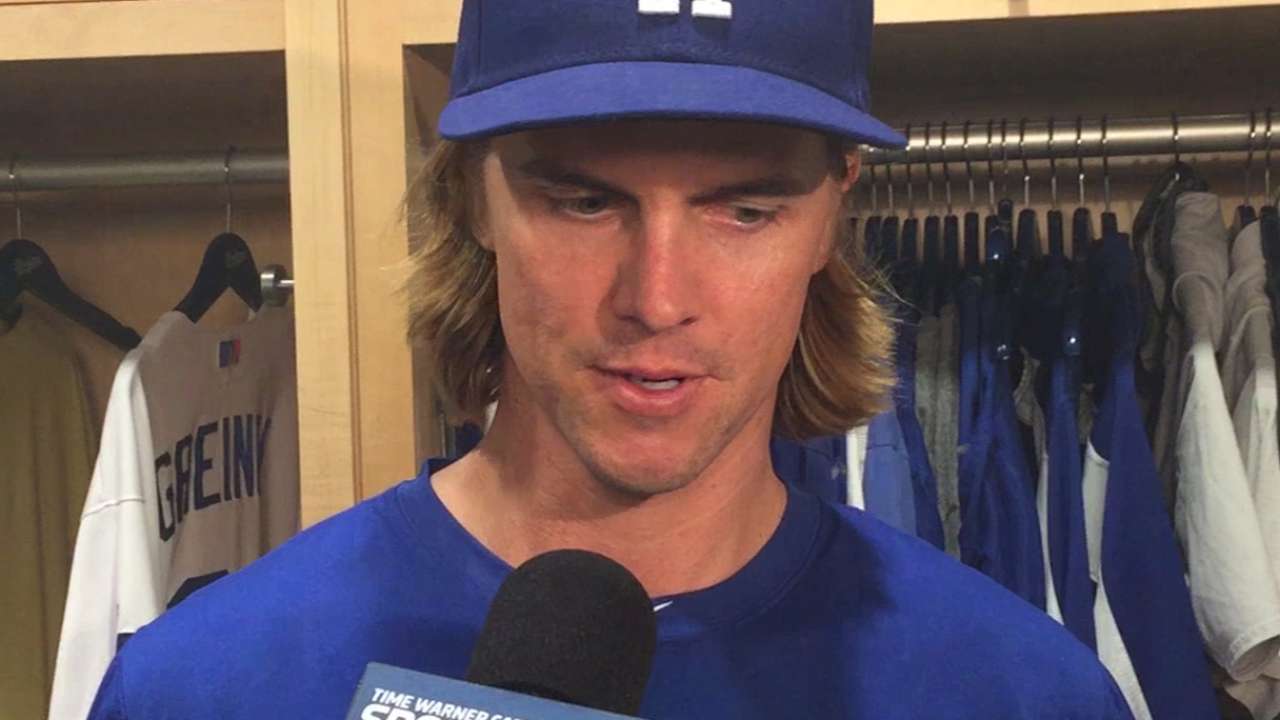 In 46 career outings in downtown L.A., covering 307 2/3 innings, Greinke is 28-5 with a 2.02 ERA. Among all ballparks in which he has made at least five appearances, only his 1.57 ERA in seven games in San Diego's Petco Park is better.
"I pitch good at home," Greinke said. "I'm just more comfortable. Sometimes on the road things aren't as comfortable.
"Our defense has been solid. There's not a weak link in our defense. Balls that should be caught are caught. It makes it easier when things go as planned."
Greinke retired 11 in a row after delivering a first-pitch fastball with one out in the fourth that Neil Walker lifted over the wall in center for his 14th home run, cutting the Dodgers' lead in half. Rookie sensation Corey Seager followed with a two-run blast on another first pitch in the bottom half, providing breathing room for the co-ace.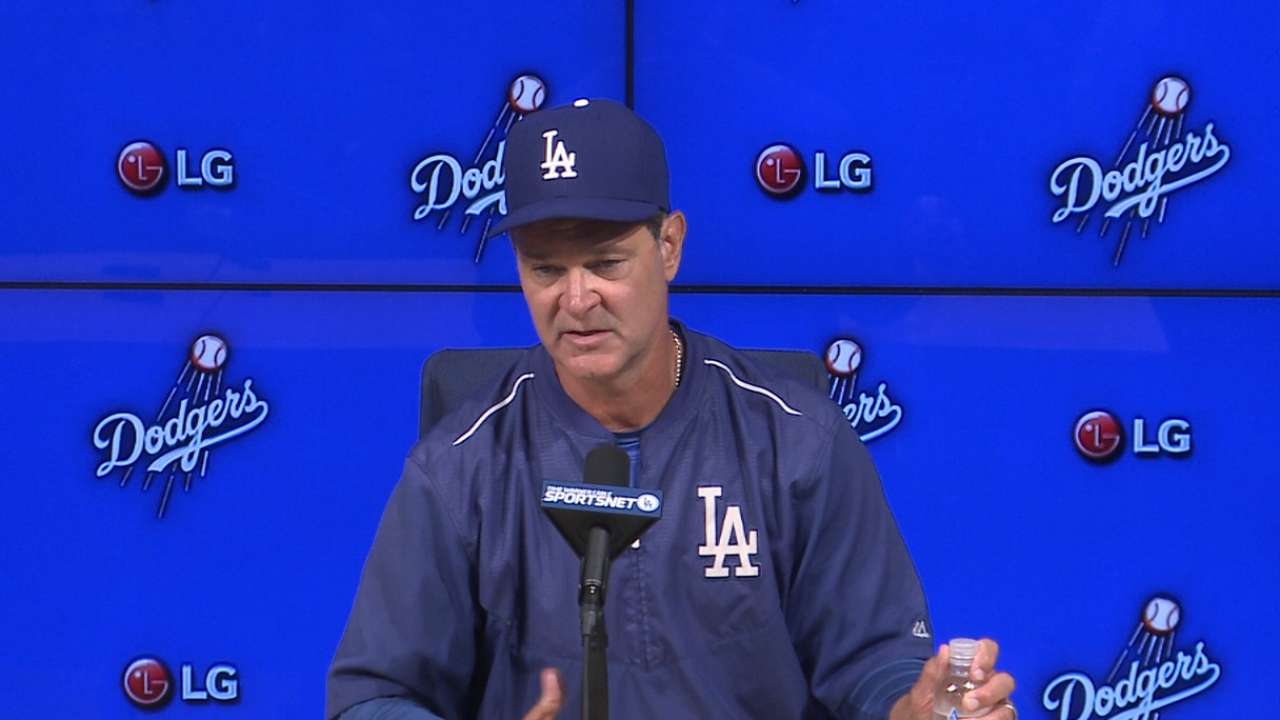 Acknowledging that Dodger Stadium historically has been "a pitcher's park," Dodgers manager Don Mattingly had a simple reason for Greinke's success in this yard: "Zack's just really good.
"He feels comfortable at home," Mattingly continued. "For us, this is his third year and he's been really good. You don't find many bad starts from Zack."
Greinke, 31, is 50-15 with a 2.31 ERA with the Dodgers, making 90 starts. In his first seven seasons with the Royals, he was 60-67 with a 3.82 ERA. At Kauffman Stadium, he was 36-29 (3.52) in 111 games and 91 starts.
An American League Cy Young Award winner in 2009, when he was 16-8 with a league-best 2.16 ERA, Greinke is improving with age, like a fine Cabernet.
"I'm more consistent than I've been ever," Greinke said. "That year [2009] I went through a rough month. I gave up six runs a couple of games in a row.
"A lot of good things have to happen [for an 18-3 season]. I had some bad games where we scored 10 runs. That helped out."
Bad is a relative term for Greinke, who has yielded three or more earned runs just six times in 30 starts.
While the Dodgers were reducing their magic number to eight for their third straight NL West title, the Pirates' fourth consecutive loss had their NL Wild Card lead shaved to one over the Cubs. The Cardinals' NL Central lead is five over the Bucs and six over the Cubs.
Complicating matters for Pittsburgh is the looming presence of Clayton Kershaw, the other half of the Dodger's historic duo, on the mound Saturday night. He opposes Francisco Liriano, who hopes to have more luck than fellow southpaw Jeff Locke in the series opener.
Locke's 96th and final pitch was slashed over center fielder Andrew McCutchen's head for a one-out double by Greinke in the seventh. This led to Adrian Gonzalez's two-run double off reliever Arquimedes Caminero.
In retrospect, given the lengthy nature of the half-inning and his pitcher scoring a run, Mattingly felt perhaps he should have lifted Greinke after seven innings.
"I felt good," Greinke said. "I just didn't make very good pitches, I guess. I don't know why."
Chris Stewart's second single and a full-count walk by pinch-hitter Michael Morse resulted in a second run charged to Greinke when Starling Marte delivered an RBI single off reliever Chris Hatcher.
Greinke didn't throw as many curveballs as usual, discovering that the Pirates were on it early. Andrew McCutchen laced a two-out double in the first but was stranded when Walker grounded out to Chase Utley, who had six assists at second base in the first five innings.
A winning catcher for the eighth time in his past 10 starts, A. J. Ellis called working with Greinke "a lot of fun." The right-hander likes to adjust on the fly, in contrast to Kershaw's go-for-the-gusto approach from start to finish.
"Clayton's kind of a bully, coming at you, coming at you," said Ellis, who contributed a single and walk in the No. 5 hole. "Zack's making adjustments, mixing and matching, being that mad scientist on the mound."
The potion, whatever it is, has some magic in it.
Lyle Spencer is a national reporter and columnist for MLB.com. Follow him on Twitter @LyleMSpencer. This story was not subject to the approval of Major League Baseball or its clubs.