Scoreboard watching not in Yankees' plans
Club focused on taking care of its own business, not checking on Blue Jays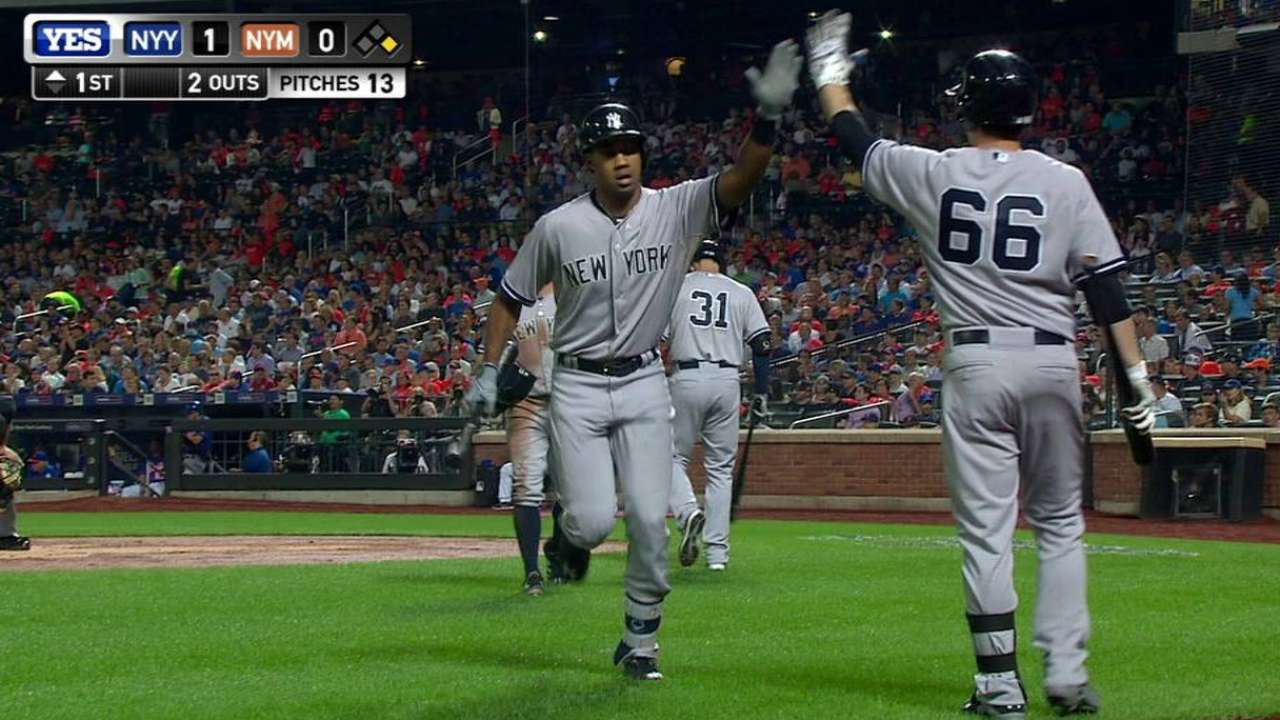 NEW YORK -- The Yankees have reached the point of their season where watching the out-of-town scoreboard holds little appeal. They have tired of checking in on what the division-leading Blue Jays are up to, knowing that they must take care of their own business for it to matter.
Friday's 5-1 loss to the Mets at Citi Field dropped the Yankees 4 1/2 games behind Toronto in the American League East, matching New York's largest deficit of the season. Though the Blue Jays-Red Sox score was prominently displayed above Brett Gardner's head in left field, he said that there was no reason to glance up.
"To be honest, I didn't look at the scoreboard one time all night," Gardner said. "I couldn't care less what they do. If we want to try to catch them and win the division, we've got to play really, really well. Tonight we didn't play good."
The Yankees do lead the AL Wild Card chase, which is a consolation prize that they'd prefer not to deal with. If the season ended today, they would host the Astros in the AL Wild Card Game presented by Budweiser at Yankee Stadium, which is better than going home but still reduces their entire season to one game.
"My thought? It should be the best of three," Yankees manager Joe Girardi offered before Friday's game. "You play Monday, Tuesday, Wednesday and then your next series starts Thursday, so the penalty for not winning your division is you're going to play five days in a row to start out if you don't win in two games."
That is not how Major League Baseball is set up, at least not here in 2015, and so the Yankees must deal with what is on the schedule. That comes in the form of Noah Syndergaard and Matt Harvey back to back for the rest of this weekend, to be followed by a crucial three-game showdown with the Jays at Rogers Centre.
"I'm just worried about us," Gardner said. "We've got to try to even the series up tomorrow. There's really not enough time left to lose series and win one out of every three or four games. We've got to go on a roll and pick things up and start playing better tomorrow."
The Yanks seemed to have something cooking in the ninth inning against closer Jeurys Familia, loading the bases with one out on a Dustin Ackley double, a walk to pinch-hitter Alex Rodriguez and a Jacoby Ellsbury infield single. Familia recovered to get Gardner to fly out to left and struck out Chase Headley.
"We need to win games. That's the bottom line," Girardi said. "We didn't score runs tonight. We had some chances early on and were able to come up with one [run] and that was it. But we need to win games and we need to focus on ourselves and take care of business."
Bryan Hoch is a reporter for MLB.com. Follow him on Twitter @bryanhoch, on Facebook and read his MLBlog, Bombers Beat. This story was not subject to the approval of Major League Baseball or its clubs.