Finnegan wins first look in Reds' rotation
Acquired in Cueto trade, lefty impresses with 5-inning start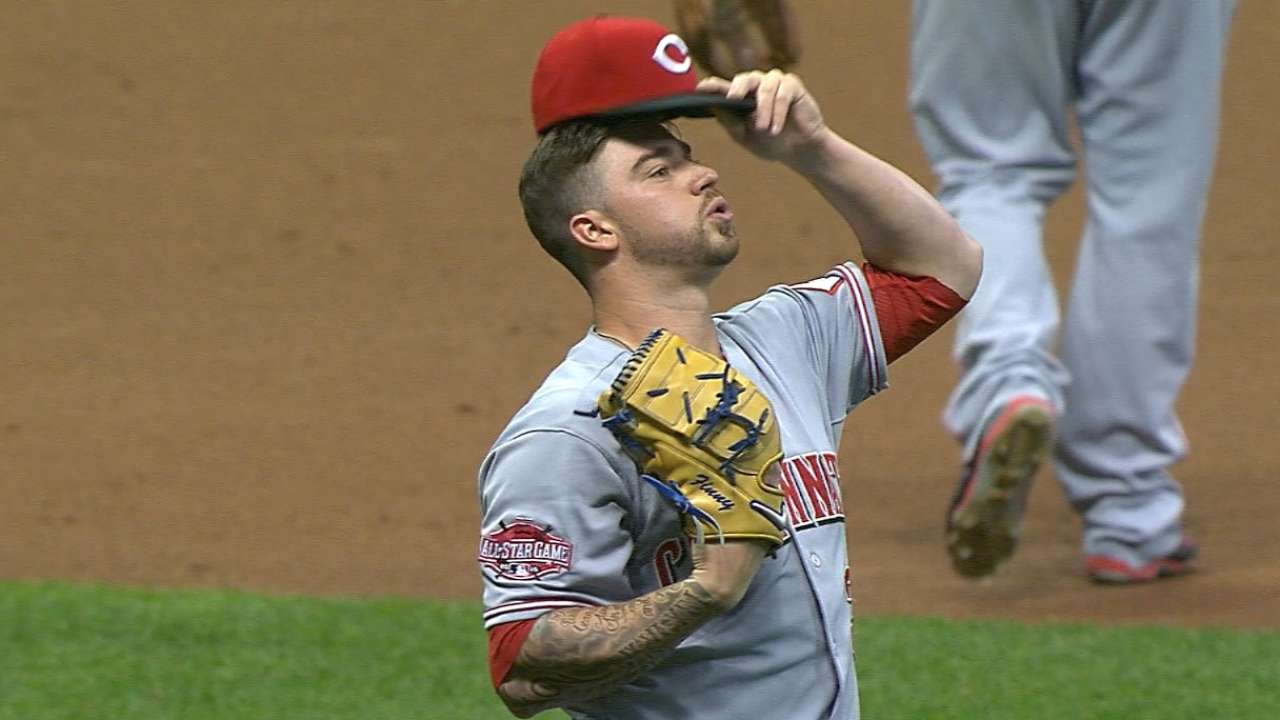 MILWAUKEE -- When you've already pitched in the World Series, what's there to making your first Major League start?
Transitioning from reliever to starting pitcher, Brandon Finnegan showed no signs of being nervous Friday night. He held the Brewers to one run over five innings in Cincinnati's 5-3 victory at Miller Park.
"You wouldn't have thought it was his first start," Reds catcher Tucker Barnhart said. "To be quite frank, I didn't know it was his first start. I thought he had one with the Royals."
Finnegan, who left the clubhouse without speaking to reporters, entered the start having shown he can have success as a reliever at the Major League level. But the Reds acquired Finnegan from Kansas City as part of the Johnny Cueto trade to use him as a starting pitcher.
As much success as Finnegan has had out of the bullpen, the 22-year-old has struggled as a starting pitcher in the Minor Leagues.
In eight starts for Triple-A Louisville, Finnegan was 0-3 with a 6.23 ERA.
With fellow rookies Raisel Iglesias and Michael Lorenzen reaching innings limits, it was Finnegan's turn to start, and the Reds were eager to see what he would do with the opportunity.
"For a young guy that a lot came quickly for last year, this still was a big steppingstone for Brandon," Reds manager Bryan Price said. "He did transition into the rotation for us in Triple-A and wasn't spot on as far as having immediate success as a starter. This was his best start since he's been in our organization."
Finnegan retired the side in order in the first inning before Brewers left fielder Khris Davis ambushed a first-pitch fastball for a leadoff home run in the second. Jason Rogers followed with a double, but Finnegan was able to strand him at third to keep the game tied at 1-1.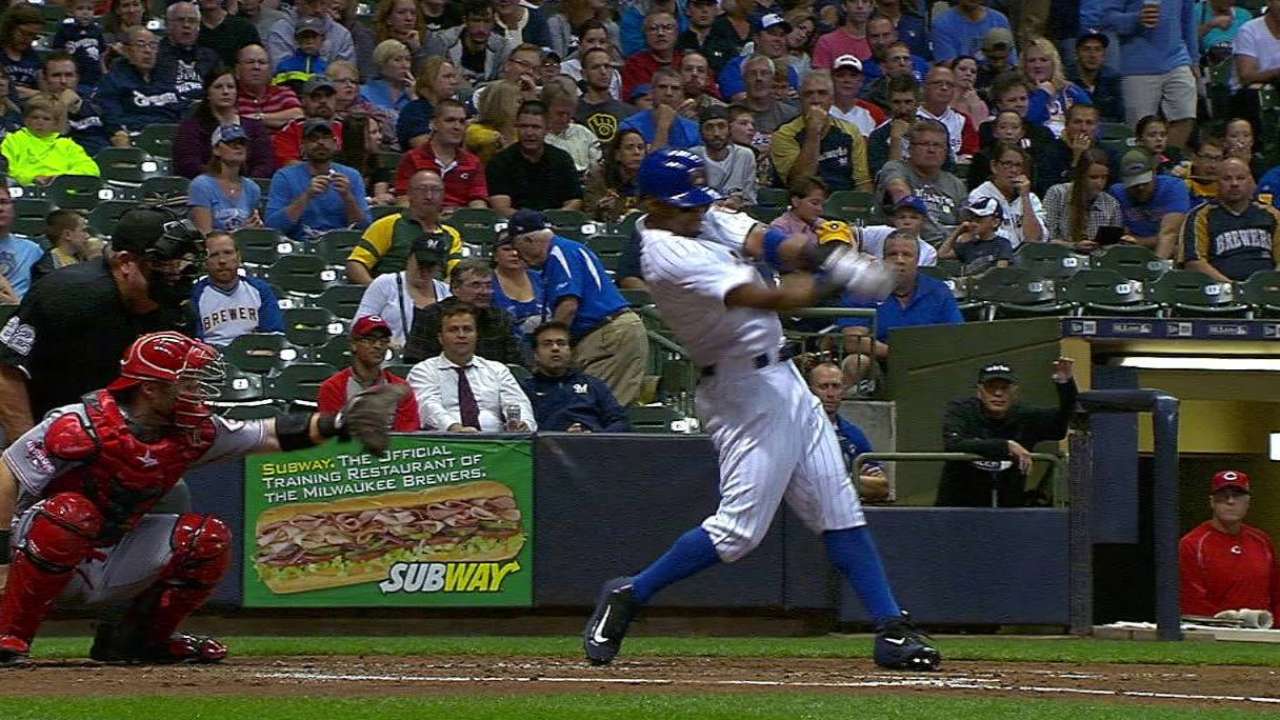 After an easy third inning, Finnegan ran into trouble in the fourth. A pair of walks gave the Brewers runners at first and third with one out. He ended up striking out the side to escape trouble.
Finnegan also made a fantastic diving catch on a ball Davis hit off one of the roof support cables in the fourth inning. The catch was for naught, as the ball was ruled dead by third-base umpire D.J. Rayburn because it hit the cable in foul territory.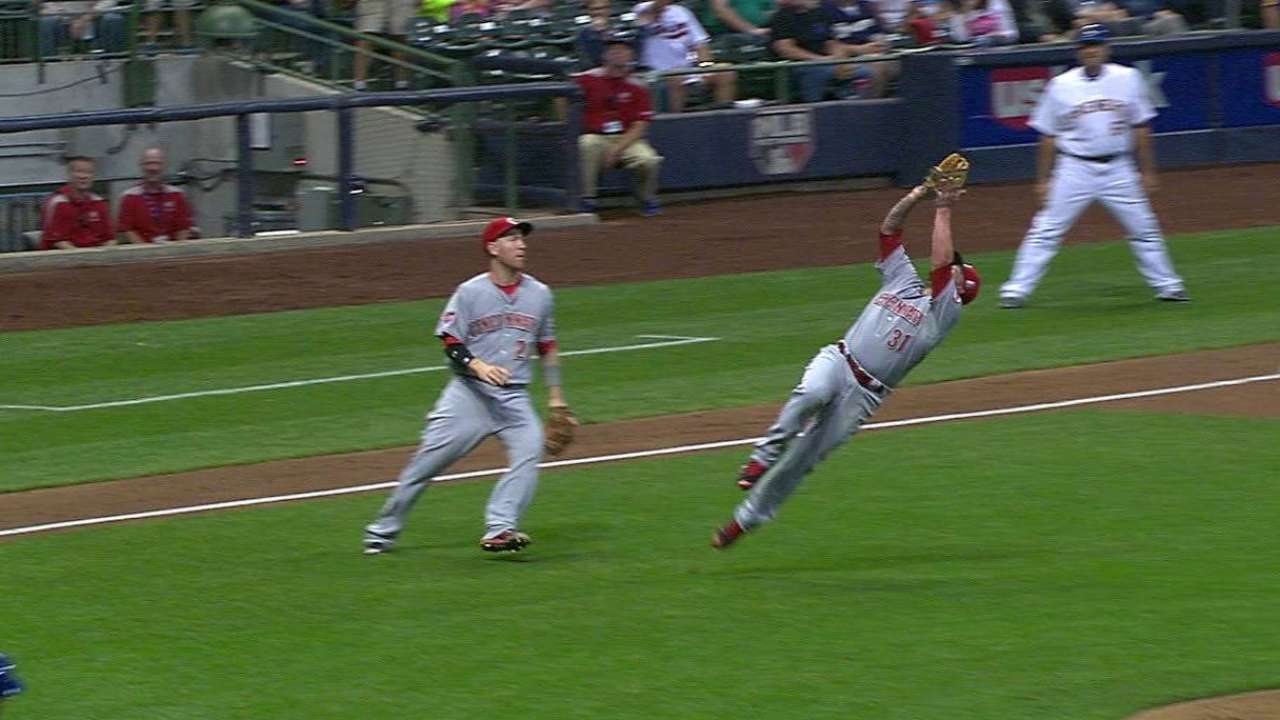 Price contemplated taking Finnegan out after the left-hander threw 30 pitches in the fourth inning, but he came back out for the fifth. Finnegan rewarded his manager for the faith by pitching a scoreless inning, working around a leadoff double by Martin Maldonado.
"He came out of that 30-pitch inning and said he really felt good," Price said. "We had relief pitchers ready if he got into any trouble in the fifth. He managed to work around that leadoff double and pitch beautifully. I was really happy to see that because I would have hated to take him out of the game with 60 pitches."
Because Finnegan has pitched out of the bullpen for a good portion of the year, he has enough innings left to allow him to stay in the rotation to potentially make three more starts.
"We all want him to start at this point in time in his career," Price said. "Because he had so much immediate success for a team that went to the World Series, it would have been real easy for us to pigeonhole him as a setup lefty or a situational lefty or closer. That serves a need as well, but we felt it was important we gave him this chance to start."
Andrew Gruman is a contributor to MLB.com. This story was not subject to the approval of Major League Baseball or its clubs.