Tanaka vows to be ready to face Blue Jays
Yanks ace throws 82 pitches vs. Mets, could start again on 4 days' rest Wednesday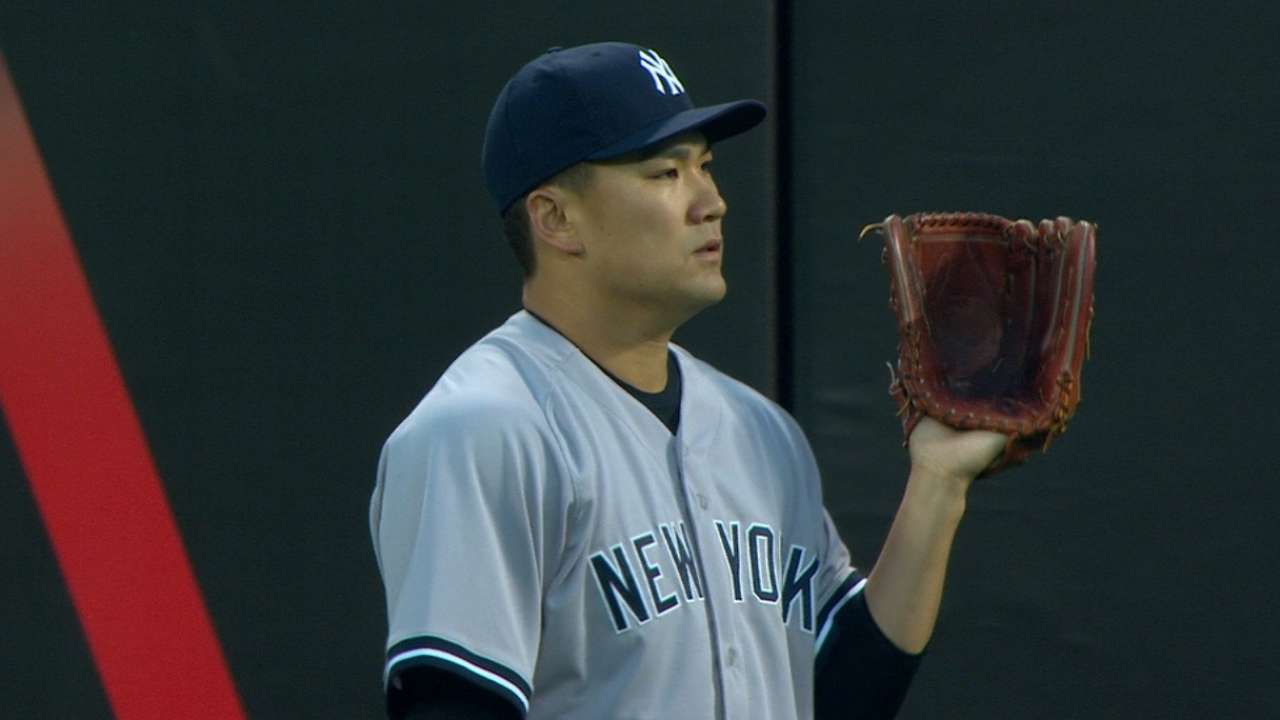 NEW YORK -- Masahiro Tanaka said that the rules of Interleague Play were the reason for an early hook in Friday's Subway Series opener, not concerned over his closely monitored arm, and the right-hander vowed to be ready should his team need him to face the Blue Jays in Toronto next week.
Tanaka permitted a pair of solo home runs over six innings in the Yankees' 5-1 loss to the Mets at Citi Field. Manager Joe Girardi sent Jacoby Ellsbury up as a seventh-inning pinch-hitter to end Tanaka's night after just 82 pitches, prompting speculation that he could come back on the regular four days' rest to face Toronto on Wednesday.
"I understand that they had to pull me out a little bit earlier today," Tanaka said. "But, yeah, obviously if they wanted me to go in five days, the fifth day from now, I'll be ready to go."
The Yankees have been cautiously giving Tanaka extra days whenever possible, mindful of the partially torn ulnar collateral ligament that interrupted his 2014 season. Friday marked Tanaka's second straight outing on four days' rest, something he has done just four times this season.
"To be honest, myself, I don't pay attention to the amount of days of rest," catcher John Ryan Murphy said. "But I think he looked unbelievable tonight. Everything from pitch No. 1, even from the bullpen, everything was really sharp, really good."
In an ideal world, the Yankees would permit Tanaka the extra rest which he believes helps him, but there are precious few days remaining on the schedule. Friday's loss dropped the Yanks 4 1/2 games behind Toronto with 16 to play.
Tanaka said that if there is a concern, it is with the spike in his home runs surrendered -- now 24. Tanaka said that location has been the problem, leaving pitches up to batters. Girardi said that if Daniel Murphy hadn't hit his sixth-inning homer, he probably would have let Tanaka hit for himself in the top of the seventh.
"I thought he threw the ball well," Girardi said. "The two mistakes, he left a split up to [Lucas] Duda and then he had a slider that backed up on him against Murphy. Like I said before the game, we'll see how he is in a couple of days and we'll go from there."
Bryan Hoch is a reporter for MLB.com. Follow him on Twitter @bryanhoch, on Facebook and read his MLBlog, Bombers Beat. This story was not subject to the approval of Major League Baseball or its clubs.