Astros' up-and-down 'pen takes another dip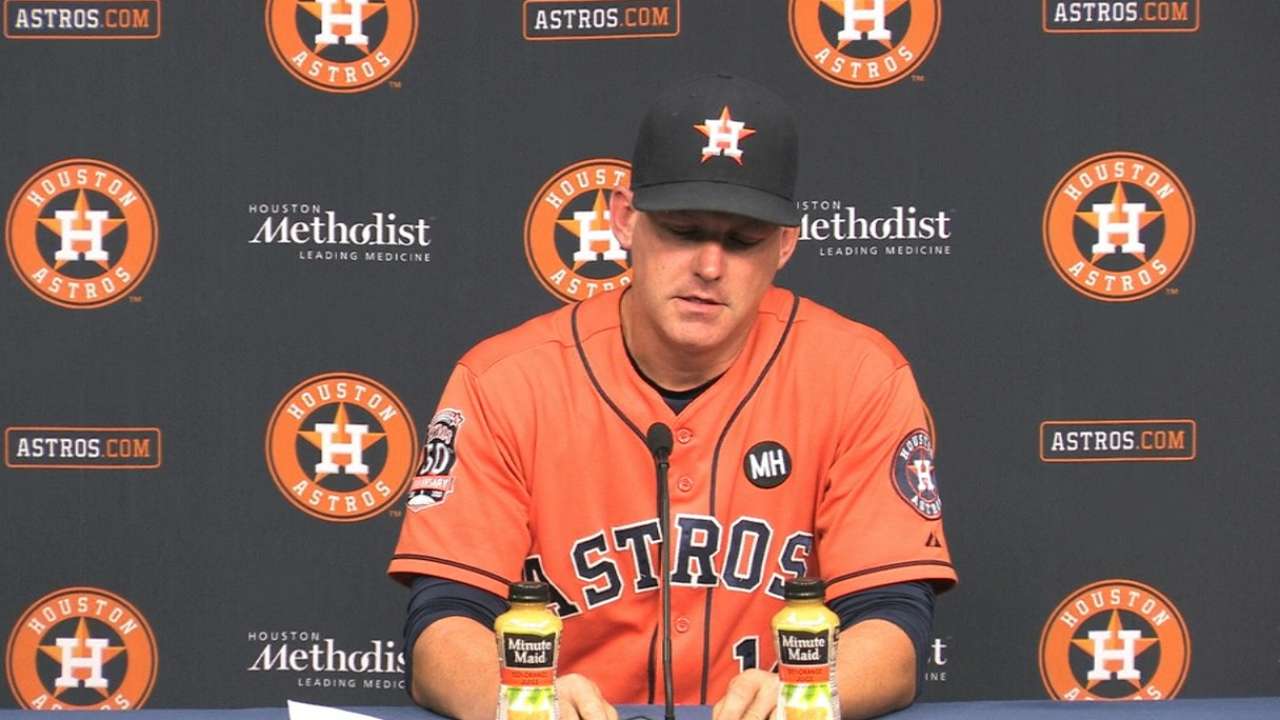 HOUSTON -- Out of all the Astros' bullpen arms, many of them young or lacking playoff experience, it was not supposed to be Pat Neshek with three September losses in relief.
Neshek suffered another setback on Friday, surrendering a two-run homer to Danny Valencia in the eighth that turned a one-run lead into a 4-3 loss.
"No disrespect to [Valencia], but that was just a terrible pitch," Neshek said of the two-strike slider that he hung to the A's third baseman, who is hitting .452 against the Astros this season.
Neshek's performance added to the Astros' bullpen woes this month, as the unit now has an ERA above 6.00 for September.
But it's Neshek who has been a part of six playoff teams and who was one of the most experienced members of the bullpen on Friday with Luke Gregerson away for the birth of his child and Chad Qualls likely being saved for a closing role in the ninth.
Yet there was Neshek, allowing four hits and watching a home run that could dramatically affect his team's playoff hopes fly into the left-field seats.
"That was about as mad as I've been on the mound my whole life," he said.
Considering Valencia's success against the Astros -- four homers and 11 RBIs in 10 games -- manager A.J. Hinch was asked if there was any thought to walking him.
"In that situation I think we can make a pitch with Neshek there against a right-handed hitter," Hinch said. "Those kinds of strategies can work, but you make your pitches and get the outs. We know there's ways to get him out, and we've gotten him out.
"He's not batting 1,000."
But Hinch understands the frustration when it comes to the ups and downs of the relief corps lately.
On Friday, Will Harris bounced back from a tough road trip to pitch a scoreless seventh, and fireballer Josh Fields struck out three in 1 1/3 innings.
But those successes sandwiched Neshek's eighth inning, which led to the latest in a string of losses for a team still holding down the second American League Wild Card.
"Collectively, it's someone different every night on both sides of the ball," Hinch said. "We've had five-plus months where guys have been exceptional at their job. Not just good, not just doing their part, but pretty exceptional.
"We've just picked a rough time to struggle."
Given his experience on playoff contenders in Minnesota, Oakland and St. Louis, Neshek was asked how the team could respond to another loss.
Surprisingly, he suggested scoreboard watching.
"Texas losing tonight helps," he said. "We're still close. Hopefully, we can get [the Rangers] back here and go for a sweep. I've seen crazy stuff happen in the last few weeks of a season. It's got to turn around here."
Chris Abshire is a contributor to MLB.com. This story was not subject to the approval of Major League Baseball or its clubs.