Morgan makes strides in performance vs. Braves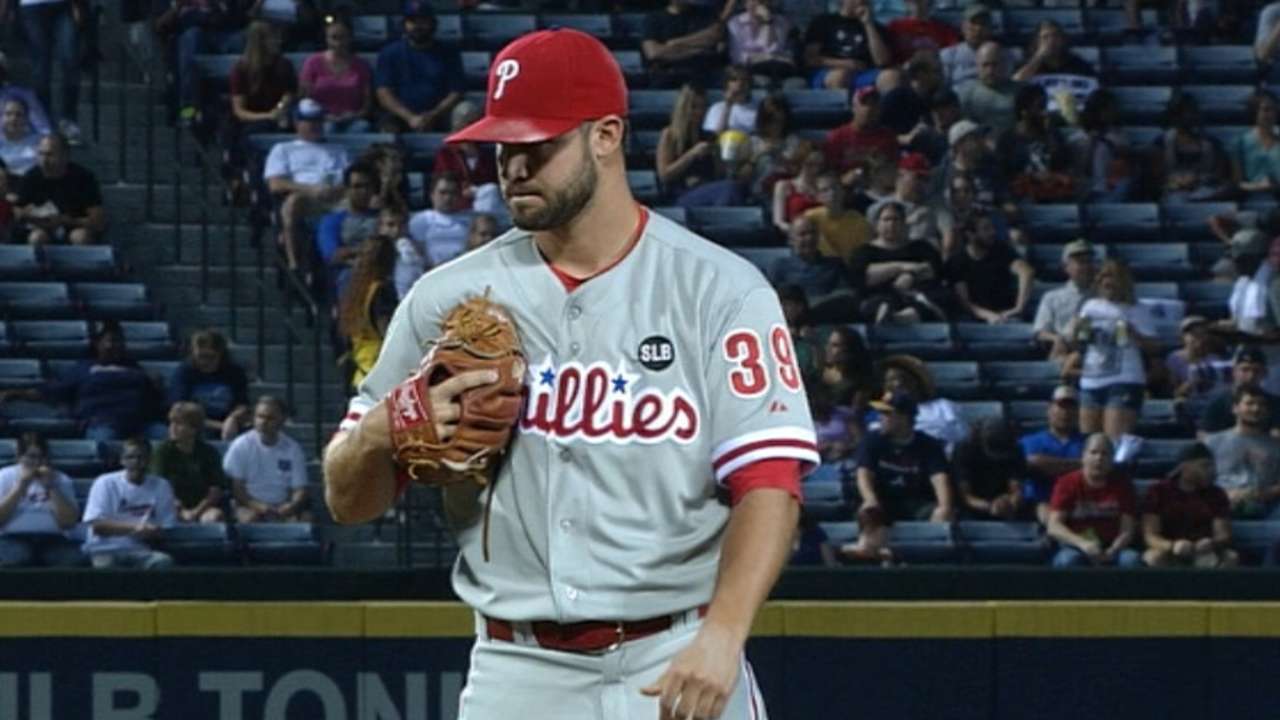 ATLANTA -- Adam Morgan put together one of those starts Friday that was good enough for a win. But, in a year of tough losses for the Phillies, the outcome did not go his way.
The Braves hung a loss on the Phillies' left-hander in a hard-luck 2-1 decision despite six better-than-good innings in which Morgan gave up only the two runs, didn't walk anyone and was so efficient that he needed just 70 pitches to get through his start.
He threw only 18 balls in his six innings, and zipped first-pitch strikes to the final 15 batters he faced. Over his last seven starts, he's struck out 24 hitters and walked only three. He's 2-4 in those games.
"He's been pitching very well. He could have a few more wins than he does," interim manager Pete Mackanin said. "We just got to drive some runs in."
Morgan (5-7, 4.48 ERA) wasn't perfect Friday, but he made maybe three mistakes that cost him:
He left a pitch over the plate that Adonis Garcia reached down and poked off the wall in right-center in the first inning, driving in a run.
In the fourth, he hung a changeup to Freddie Freeman, who held back on it just long enough to pull a soft double down the right-field line.
And, two pitches later, he hung a first-pitch slider to Cameron Maybin, who lined it into center to score Freeman.
Two or three mistakes in six innings of work, for almost anyone, is not too shabby. "It's not bad," Morgan said, "but I can do better."
Morgan clearly could have gone at least another inning, and maybe more than that, the way he was dealing. But in the seventh, trying to score a run, Mackanin chose to pinch-hit for his starter to lead off the inning. And that was Morgan's night.
"I always want to finish what I started. I still felt good," Morgan said. "But, you know, the manager pinch-hit for me at a good time and a time he felt was right. I can't argue with that."
After his 28th start of the season -- including 13 at Triple-A Lehigh Valley -- Morgan looks as if he has plenty left to give the Phillies as they head toward the finish line. He has thrown 152 2/3 innings between the Phils and the Minors in his first full season since coming back from Jan. 2014 left shoulder surgery.
He said Friday he expects the ball a couple more times before the end of the season.
"I'm happy with where I'm at," said Morgan, "but I'm not where I want to be at. I'm not exactly where I want to be."
John Donovan is a contributor to MLB.com. This story was not subject to the approval of Major League Baseball or its clubs.