Fuld flies through the air to rob Correa
Lawrie adds over-the-shoulder catch in big defensive night for A's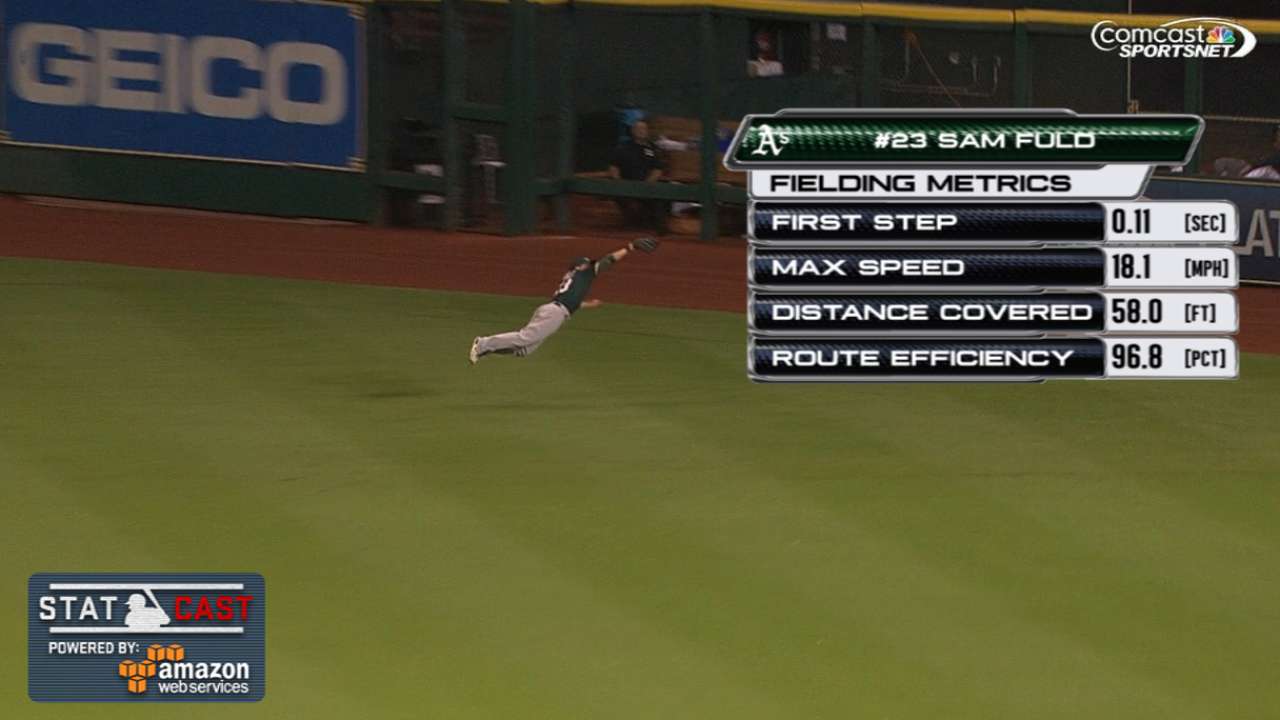 HOUSTON -- A's center fielder Sam Fuld always thinks there's a chance he can catch up to a ball hit near him, even if it's scorched at 106 mph off the bat of a rookie phenom.
In the third inning of Friday's 4-3 win, Carlos Correa launched a missile that was destined for the gap in right-center. And with two runners on and no outs in a 2-0 game, it was almost sure to break open a close game for the Astros, who began the night having lost four straight in a tight division battle.
But Fuld saved starter Felix Doubront from a potentially big inning, tracking Correa's drive and making a highlight-reel-worthy diving catch for the first out. Fuld ran to his left near the Astros' bullpen, flew into the air and dove at full extension to rob Correa of at least a double.
"A lot of those times, you just feel confident you have a chance at it, and you just don't know it until it gets there," Fuld said. "Felt like I had a good read on it, and I at least had a chance."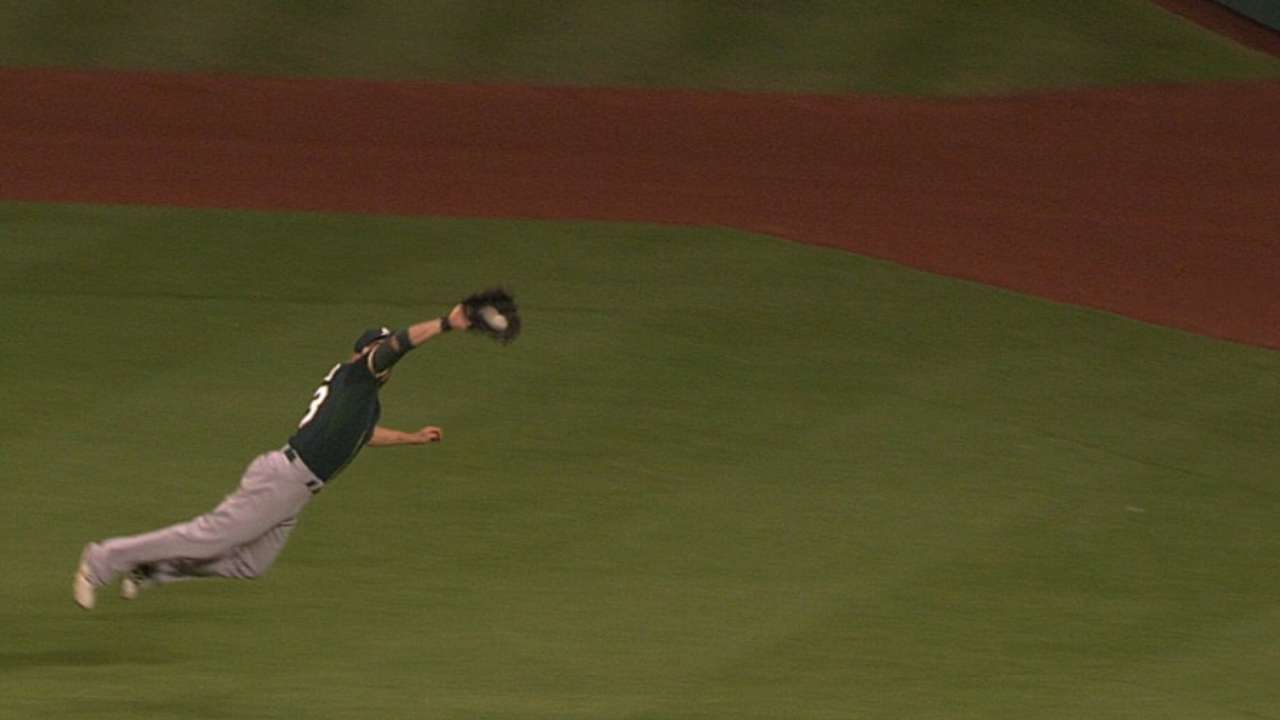 Jose Altuve tagged up and went to third on the play and eventually scored on Jed Lowrie's sacrifice fly to make it 3-0, but that was the only run allowed in the inning thanks to Fuld, who received a hearty ovation from the Minute Maid Park crowd following the catch.
Fuld's catch and an equally eye-popping sliding over-the-shoulder basket catch in short center field by second baseman Brett Lawrie to rob George Springer of a hit in the fifth were just parts of a stellar defensive night from Oakland, which seemed to be positioned perfectly every time an Astro struck a ball.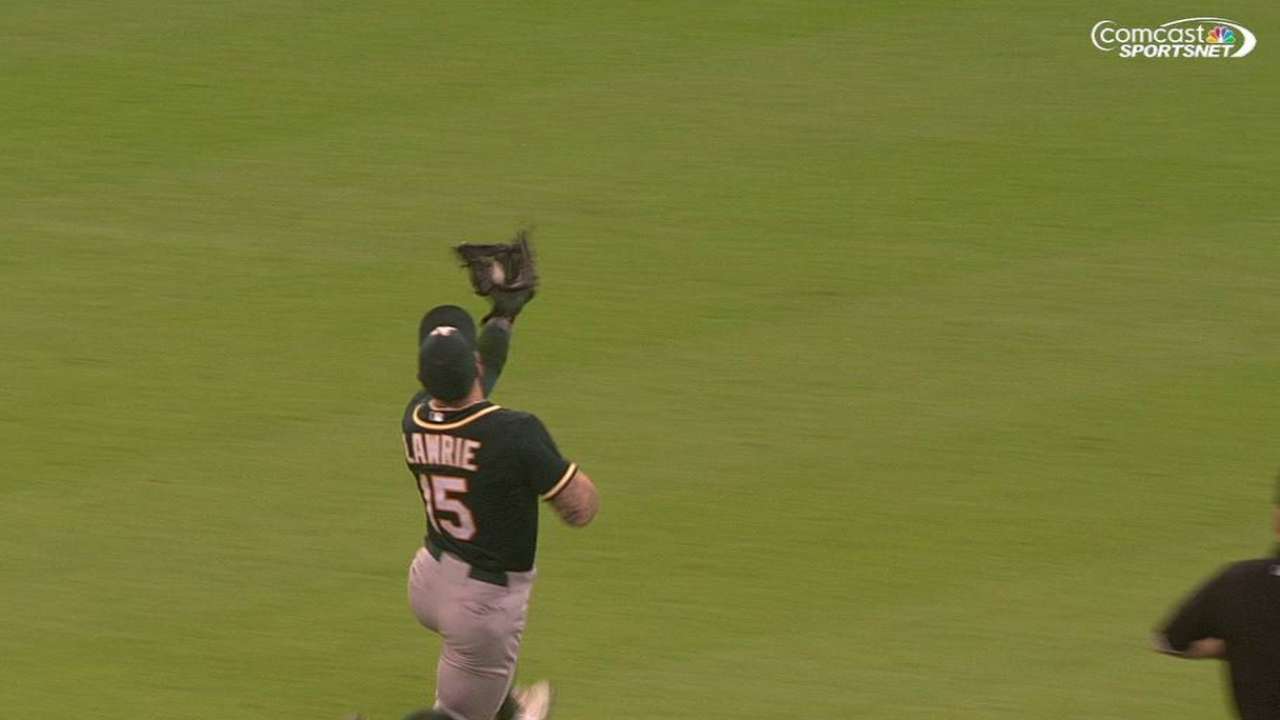 "We get accustomed to seeing it because [Fuld's] so great at it, but, I mean, it definitely changes the game," said Danny Valencia, who hit a go-ahead two-run homer in the eighth. "It keeps the runs down; it keeps the score down. If he doesn't make that play, there's a good chance we could still be playing or end up on the other side of it."
Fuld stayed on the ground for a few seconds after making the grab but said after the game that he is fine, a few scrapes on his left elbow the only damage from his hard fall, something A's manager Bob Melvin is accustomed to seeing.
"He makes so many good ones," Melvin said. "It's one of many. We're spoiled because we see him do it all the time."
Chandler Rome is an associate reporter for MLB.com. This story was not subject to the approval of Major League Baseball or its clubs.