Banister tossed after first of two costly close calls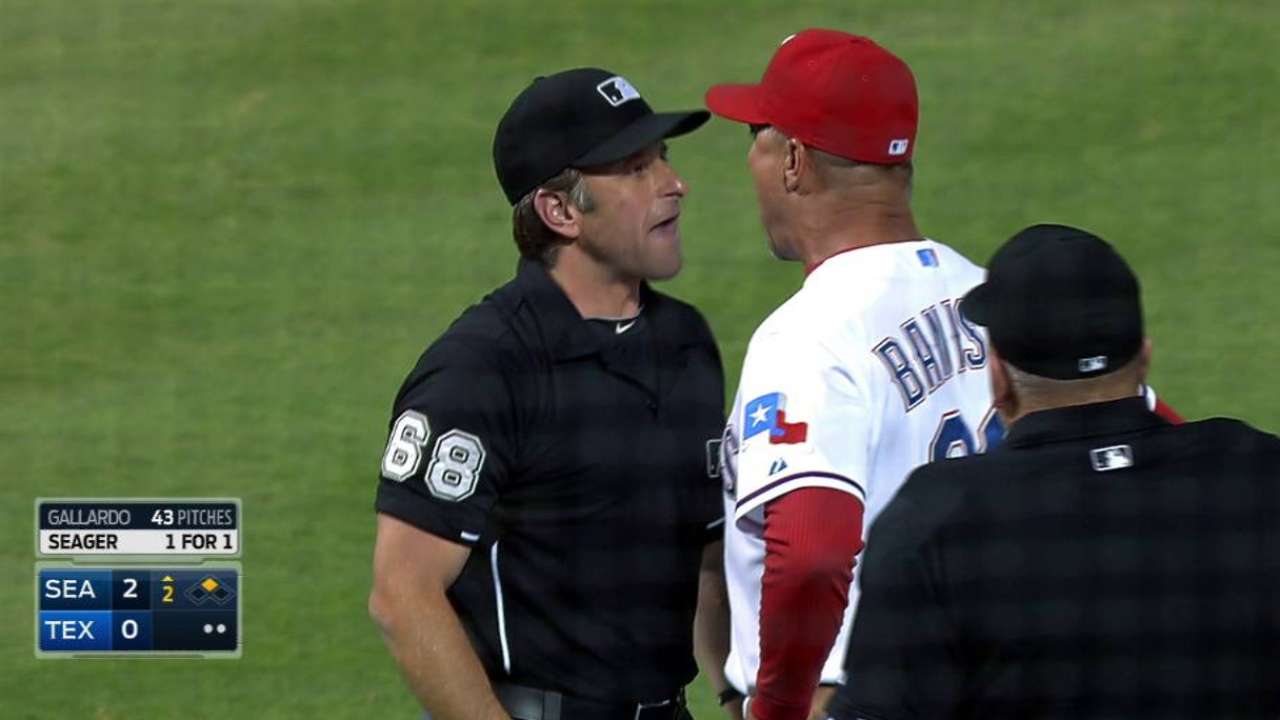 ARLINGTON -- A dispute over what constitutes a reviewable play led to manager Jeff Banister being ejected in the second inning of the Rangers' 3-1 loss to the Mariners on Friday night.
The dispute came on a two-run double by Ketel Marte off Rangers starter Yovani Gallardo that helped stake the Mariners to a 3-0 lead. Six Mariners pitchers combined to make that stand up, as the Rangers' offense wasn't at the same level as it was during a four-game sweep of the Astros.
"It's a loss. … It happens," designated hitter Prince Fielder said. "We just didn't score a lot of runs."
Marte's double was one of two disputed plays at third base that went against the Rangers at pivotal moments on Friday night. The other came in the eighth inning, when the Mariners were successful on a challenge after Adrian Beltre advanced to third on a wild pitch.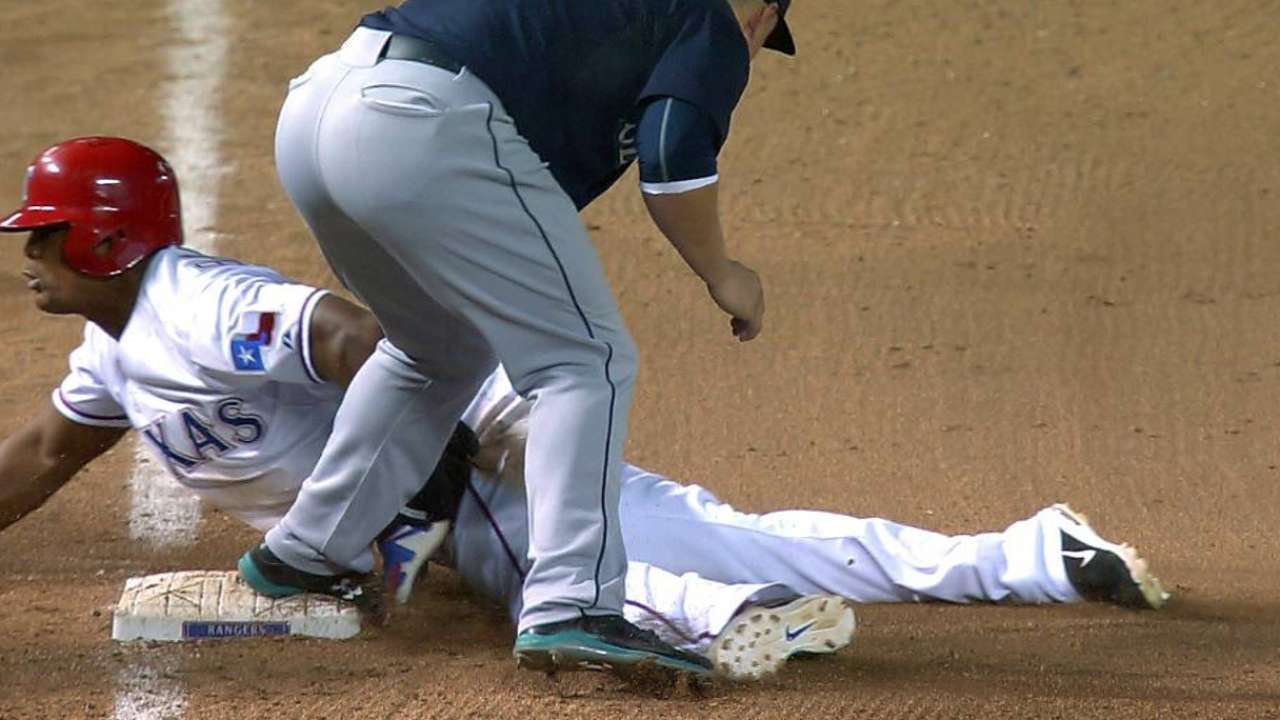 Also noteworthy was Josh Hamilton's return as a pinch-hitter. He was used in the ninth inning for the first time since Sept. 4 and exactly one week after having surgery on his left knee. Hamilton struck out against Mariners closer Tom Wilhelmsen.
"We knew he could be available today, so we got him out there," Banister said.
Banister was gone by that time because of what happened in the second inning.
With the game scoreless, the Mariners had runners at second and third with two out when Marte hit a bouncing grounder down the third-base line. The ball bounced over the bag and next hit the ground in foul territory. Third-base umpire Chris Guccione called it fair and two runs scored.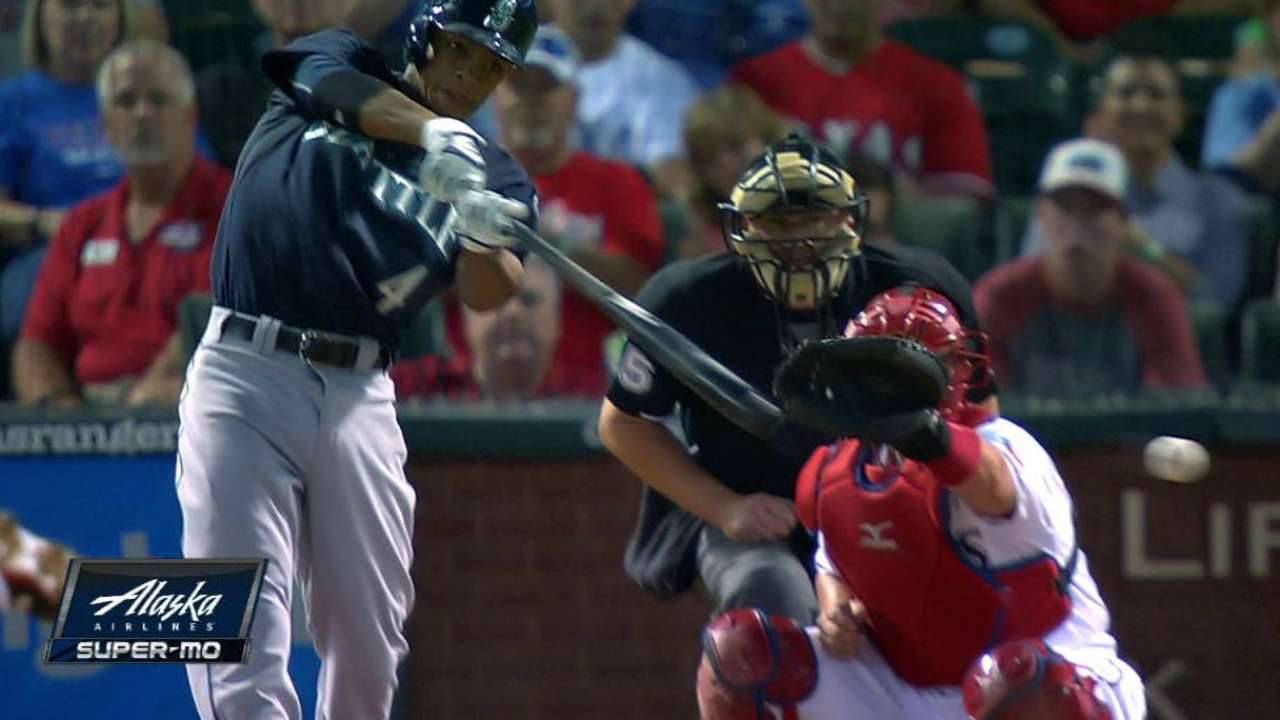 Banister went out to argue but could not challenge the play. According to the rules of replay reviews, among plays that can be reviewed are:
"Calls involving a decision regarding whether a batted ball was 'A FOUL BALL' … but only with respect to balls that first land at or beyond the set positions of the first or third base Umpire … balls that first land in front of the set positions of the first or third base Umpire shall not be subject to review."
But Banister said one exception to that rule being used is if the umpire has to move his feet to get out of the way or make the call. Banister said that makes the play reviewable.
"I know if a ball hits in front of the umpire and he doesn't have to move, it's not reviewable," Banister said. "But the way it has been explained to me, if the umpire moves his feet, it can be reviewed. It looked like he moved his feet to get out of the way."
Banister was vehement in making that point and ultimately received his fifth ejection. Mariners manager Lloyd McClendon had much more satisfaction with the review process in the eighth inning after Beltre led off with a walk against reliever Carson Smith and Fielder reached on an error. That put runners at first and second with the Mariners holding a 3-1 lead.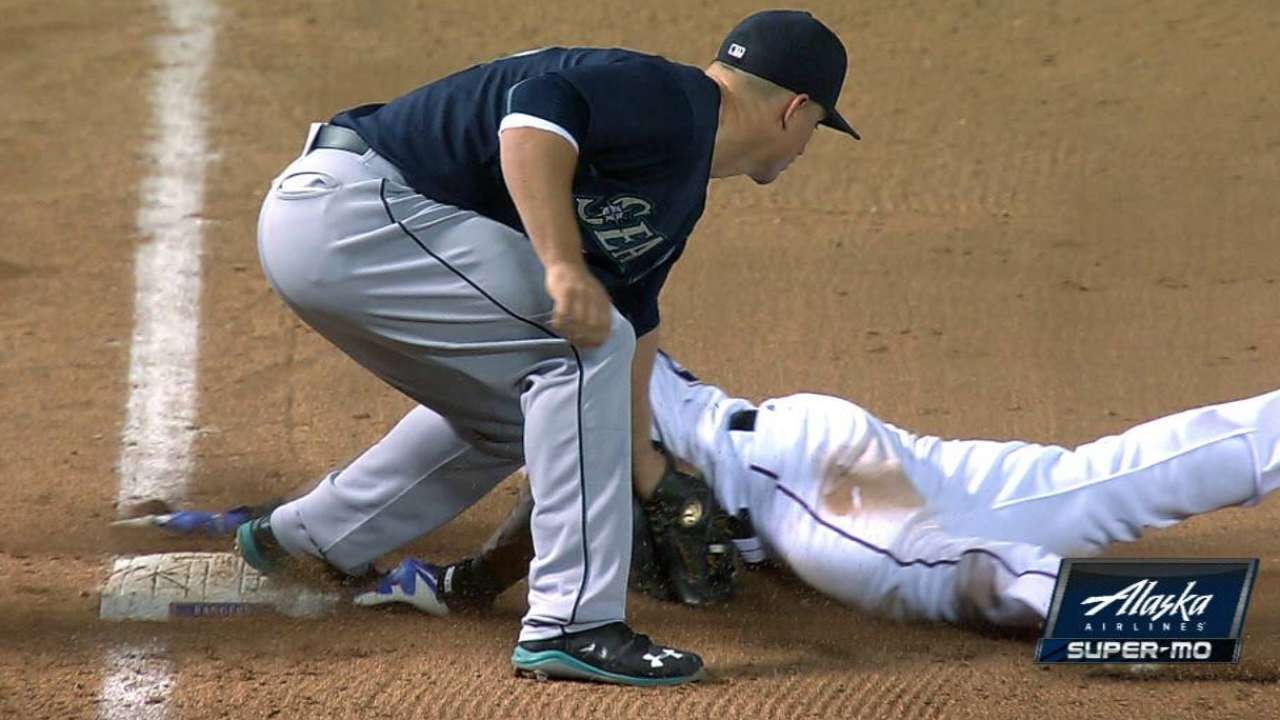 Smith's first pitch to Will Venable was in the dirt and blocked by catcher Jesus Sucre. It got far away enough for Beltre to break for third and, as he slid in head-first, he was called safe by Guccione, ahead of the tag by third baseman Kyle Seager.
But the Mariners asked for a review and Beltre was called out, with the official ruling from Replay Command Center being: "After viewing all relevant angles, the Replay Official definitively determined that the runner lost contact with the base during the slide and that the fielder maintained the tag throughout the play."
"With instant replay and super slow-mo, we're seeing things we weren't capable of seeing before," Banister said. "It's tough. It's a challenging call at third. A baseball player trying to make a baseball play. It's a tough call."
The Rangers' budding rally fizzled from there.
"They've basically told us if there's a tag, just keep it on them," Seager said. "I didn't know he came off. Sucre put the throw right on the money. It was pretty much as I caught it was touching him. So I didn't know if maybe when he slid he popped up a little. I didn't actually know that he'd come off."
T.R. Sullivan is a reporter for MLB.com. Read his blog, Postcards from Elysian Fields, follow him on Twitter @Sullivan_Ranger and listen to his podcast. This story was not subject to the approval of Major League Baseball or its clubs.