Hurdle sets course for season without Kang
'We need to play 27 outs now more than ever,' Pirates manager says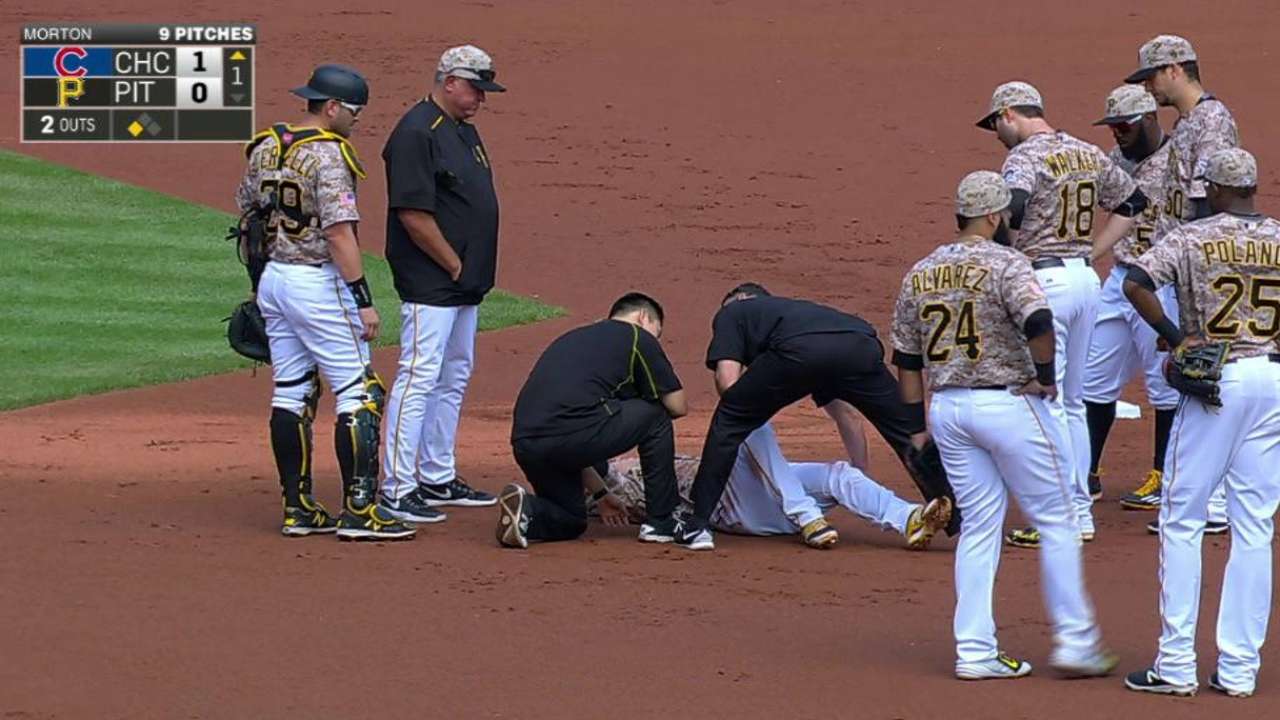 LOS ANGELES -- The Pirates' first day without Jung Ho Kang was a busy one for their manager.
Clint Hurdle tried to reach Kang in his Allegheny General Hospital post-op room, where he was recovering from Thursday night surgery for a fractured tibia and torn meniscus. Kang's sidekick and interpreter, H.K. Kim, repeatedly picked up the phone.
"Jung Ho is worn out, on pain medication. He's sleeping, resting. He's comfortable," said Hurdle, who plans to reach Kang on Saturday, when the Korean infielder will likely be surrounded in his hospital room by his family, en route to Pittsburgh on Friday.
Hurdle brainstormed lineups to compensate for the loss of Kang, who has been the primary left-side infielder since early July -- mixing time between third base and short during Jordy Mercer's absence -- and had hit .310 (14 doubles, 11 homers) since the All-Star break.
"I'm not headed to loading up the powder keg. I'm looking to lather up the glove," said Hurdle, meaning lineups that stress defense. "We need to play 27 outs now more than ever.
"It's hard; we've moved past [losing Kang for the rest of the year, including the postseason]. We found out how valuable he was through the injuries of other people. We now have an opportunity to find out how valuable other guys are in his absence. It's that 'next man up' mentality we've had ever since i've been here, and the so-what, now-what mentality also plays."
Should MLB change rule on takeout slides?
And Hurdle had to break the news on Kang to Christian, his 10-year-old son who has become tight with the man he idolizes. Christian did not take it well.
"He was blown up," Hurdle relayed. "That was the harder one for me. It wiped me out."
Kang's native Korea did not take the news well, either. The fans are reportedly irate over the Chris Coghlan slide that took Kang out at second, and out of action until possibly late-May of next season.
Plans were being made for live Korean telecasts, with native broadcasters, of postseason games involving the Pirates. Through Kang, South Korea has been annexed by Buccos Nation, and fans there were excited by the opportunity to see their native son on MLB's biggest stage.
Tom Singer is a reporter for MLB.com and writes an MLBlog Change for a Nickel. He can also be found on Twitter @Tom_Singer and on his podcast. This story was not subject to the approval of Major League Baseball or its clubs.