Homers help Yanks even Subway Series, gain on Jays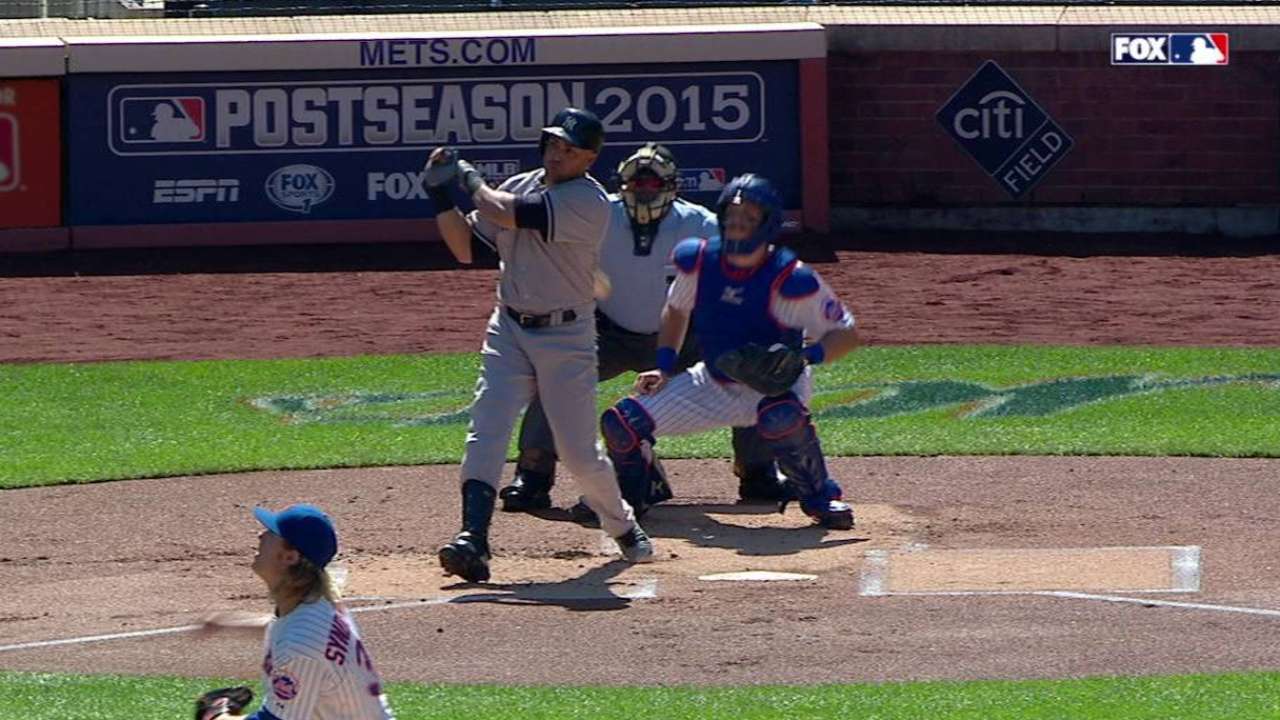 NEW YORK -- The Yankees apparently have no designs on ceding the American League East to the Blue Jays without a fight. Nor are the Mets going to steer completely clear of adversity en route to their first National League East title in nine years.
Rather than continue their downward spiral, the Yankees struck first and loudest in a 5-0 win over the Mets on Saturday, homering twice off Mets rookie Noah Syndergaard at Citi Field. They gained a game on the Blue Jays, who absorbed a 7-6 loss to the Red Sox, while the Mets gave a game back to the Nationals, who beat Miami, 5-2, and stand seven out with 14 to play.
"We feel like we have played consistent baseball since Day One," said Carlos Beltran, who hit a three-run homer in the first inning. "We are in the hunt to play in October. It's a great feeling, that I'm also capable of being able to turn the season around after a tough April."
Syndergaard was electric outside of two mistakes: Beltran's homer in the first inning and a two-run shot to Brian McCann in the sixth. Those made a winner out of Yankees starter Michael Pineda, who limited the Mets to four singles and a walk over 5 1/3 innings.
"I think we've been playing like this for a while," Yankees manager Joe Girardi said. "We've been close to Toronto, but they've got a little bit of a lead on us -- and we've been fighting and fighting. I think, in a sense, we've been playing playoff baseball for a while."
MOMENTS THAT MATTERED
Two big swings: The Yankees wasted little time pouncing on Syndergaard, as Jacoby Ellsbury and Brett Gardner started the game with singles to set up Beltran's three-run homer into the second deck in right field. McCann later cracked his 26th homer of the season, a two-run shot to right-center that provided Pineda with a commanding five-run lead.
"We know that they have a lot of guys on their club that can hit the ball out of the ballpark," Girardi said. "You know in that situation that one mistake is not going to beat you, so I thought it was big for us to score early like that."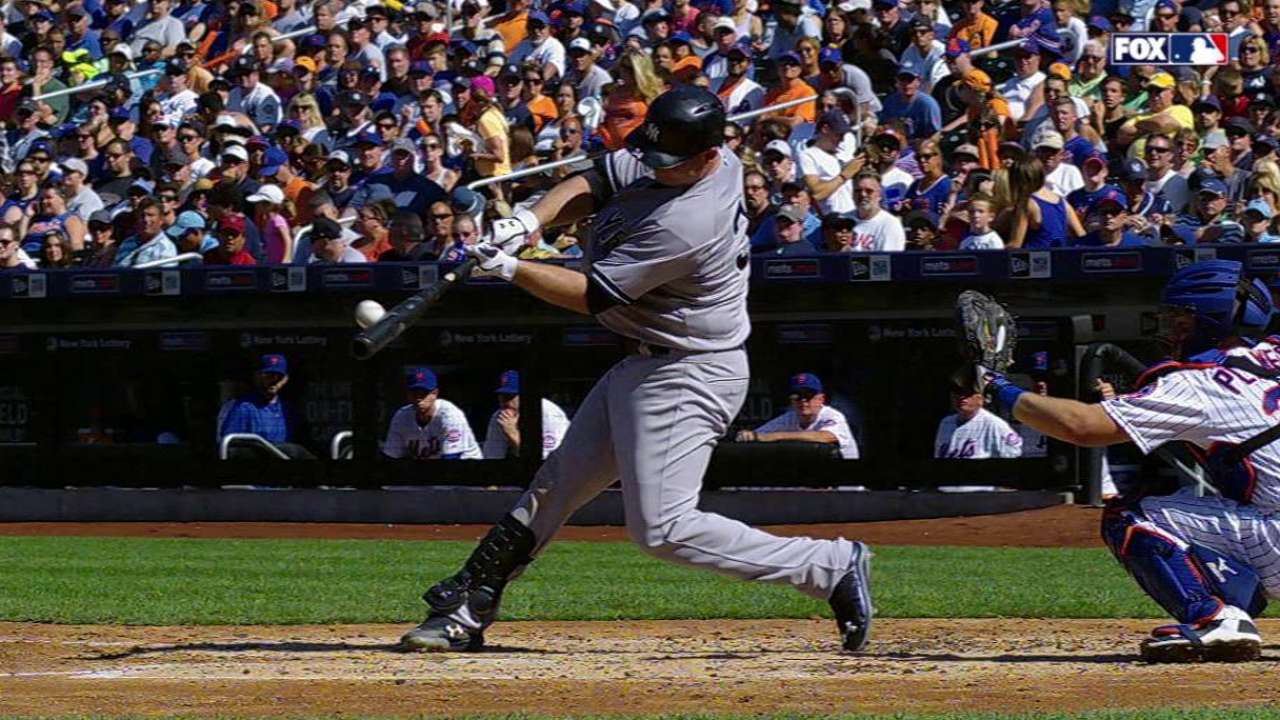 Leaving 'em loaded: The Mets managed to force Pineda out of the game in the sixth, but couldn't convert their finest rally of the afternoon into runs. Two singles and a nine-pitch Daniel Murphy walk loaded the bases with one out, but Justin Wilson struck out David Wright and Juan Uribe -- who was pinch-hitting for Lucas Duda -- in succession to leave them loaded. Yoenis Cespedes also struck out in the inning to deepen his offensive funk.
"I kind of always think strikeouts," Wilson said. "Once the bases got loaded, it's kind of the spot where you need one. My goal is to get ahead of guys and limit baserunners. You're looking for a ground ball at somebody or a punchout there."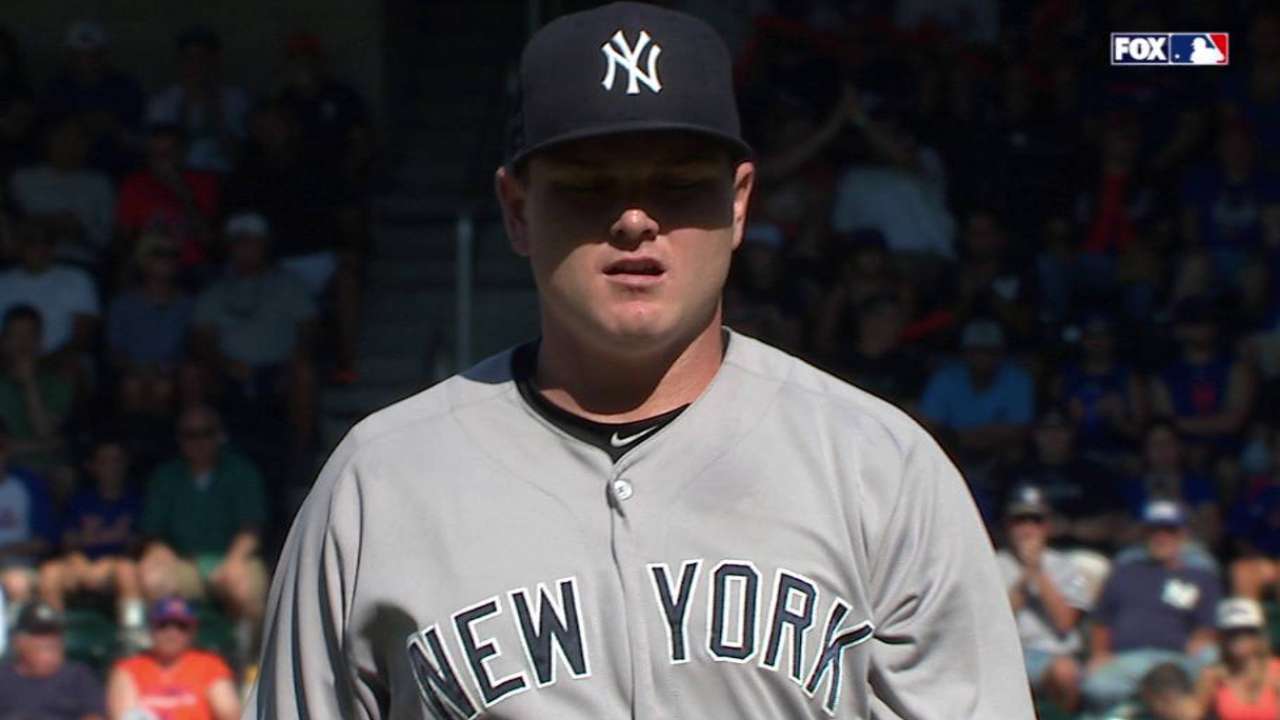 Mikey likes it: Pineda's slider was on point early, which the right-hander said is a tell-tale sign he is about to have a good afternoon. That was something Pineda seemed to lack in his last two starts against the Orioles and Blue Jays, each of whom knocked him around for four runs. Pineda limited the Mets to four hits over 5 1/3 scoreless frames, walking one and striking out four. That's a welcome sign for the Yankees, who will very much need Pineda down the stretch as they fight for playoff positioning.
"It's not easy [facing the Mets], so I threw pretty good pitches today," Pineda said. "My slider was working very good. I threw a couple of good changeups today. I try to go out there and do the best that I can, and pitch my game." More >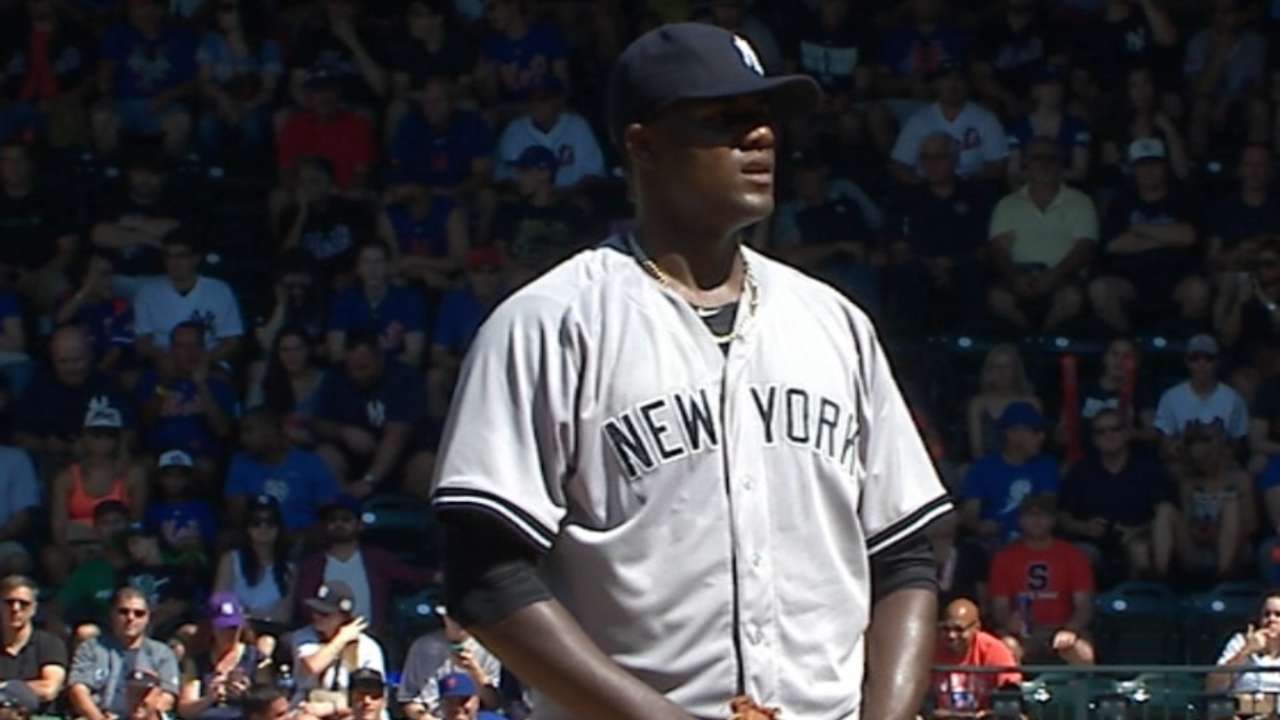 Five off Thor: Syndergaard looked to be in fine form for most of the afternoon, retiring 12 straight Yankees at one point and 16 of 17. But he caught too much plate with 100- and 98-mph fastballs to Beltran and McCann, respectively, accounting for all five runs against him. Syndergaard lasted six innings, striking out eight and walking none.
"It was my own fault," Syndergaard said. "I think I threw 98 percent fastballs the first inning. I could have been a little bit more selective with my pitches." More >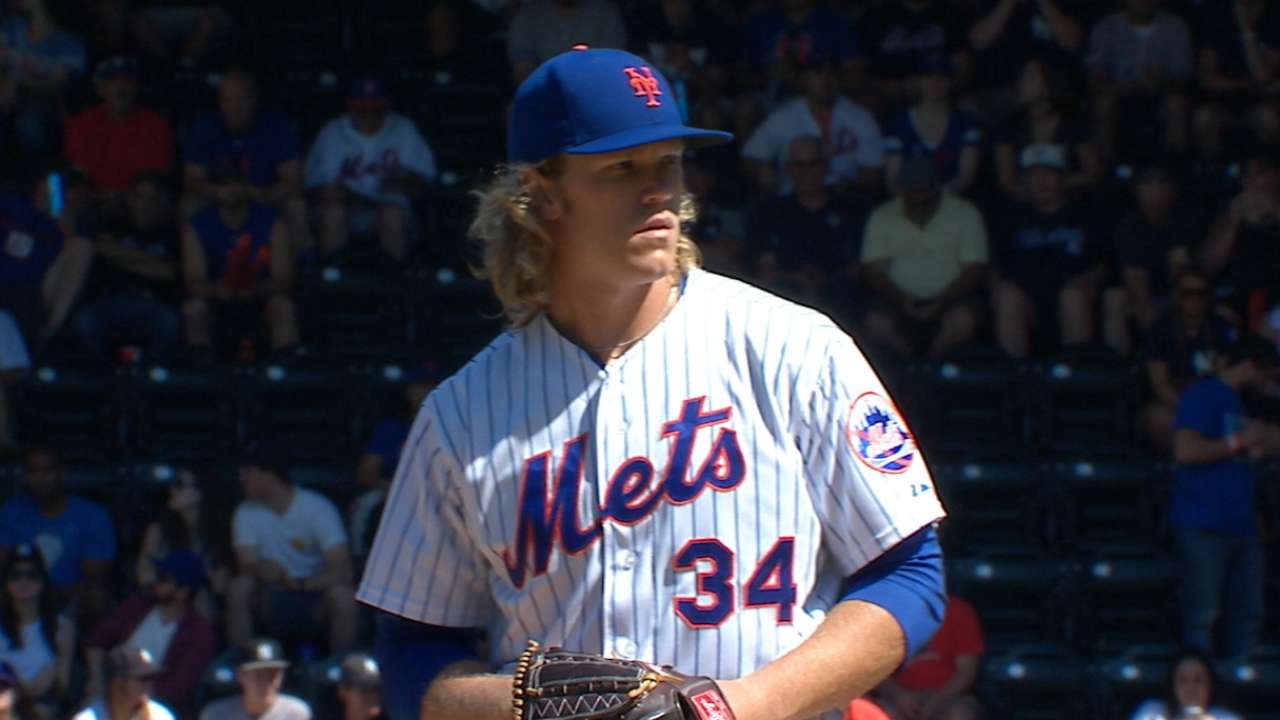 QUOTABLE
"You take a minute and check out the back of his baseball card. He's done things -- and is doing things -- that you don't count guys like that out. He got off to a little bit of a slow start, but he's going to be there [at the end of the season]. His numbers are going to be there at the end, and he's one of the best postseason players ever to play the game. He continues to put up great at-bats." -- McCann, on Beltran More >
SOUND SMART WITH YOUR FRIENDS
For the second straight day, the Mets welcomed their second-largest crowd of the season to Citi Field. It was their sixth sellout of the year, surpassing their five full houses in 2009 to set a single-season Citi Field record.
WHAT'S NEXT
Yankees: CC Sabathia (4-9, 4.93) has seen improvement since returning from the disabled list, and he credits his turnaround to a brace on his right knee, which he expects to use for the rest of his career. It allows the left-hander to pitch without fear of discomfort, something he wasn't able to do early this season. He last pitched on Sept. 14 at Tampa Bay, firing 6 2/3 scoreless innings in a no-decision. He'll take the hill on Sunday night at 8:08 ET.
Mets: Matt Harvey will return to the mound for what is sure to be an electrically charged Sunday night atmosphere at Citi Field. Harvey, who is likely to make two more starts after this one, will be on strict limits, as the Mets aim to keep him reasonably close to the 180-inning mark that has become such a point of contention between him and the team.
Watch every out-of-market regular season game live on MLB.TV.
Anthony DiComo is a reporter for MLB.com. Follow him on Twitter @AnthonyDiComo and Facebook, and listen to his podcast. Bryan Hoch is a reporter for MLB.com. Follow him on Twitter @bryanhoch, on Facebook and read his MLBlog, Bombers Beat. This story was not subject to the approval of Major League Baseball or its clubs.