Shoemaker will return to hill on Sunday
After throwing bullpen on Friday, righty cleared for start against Twins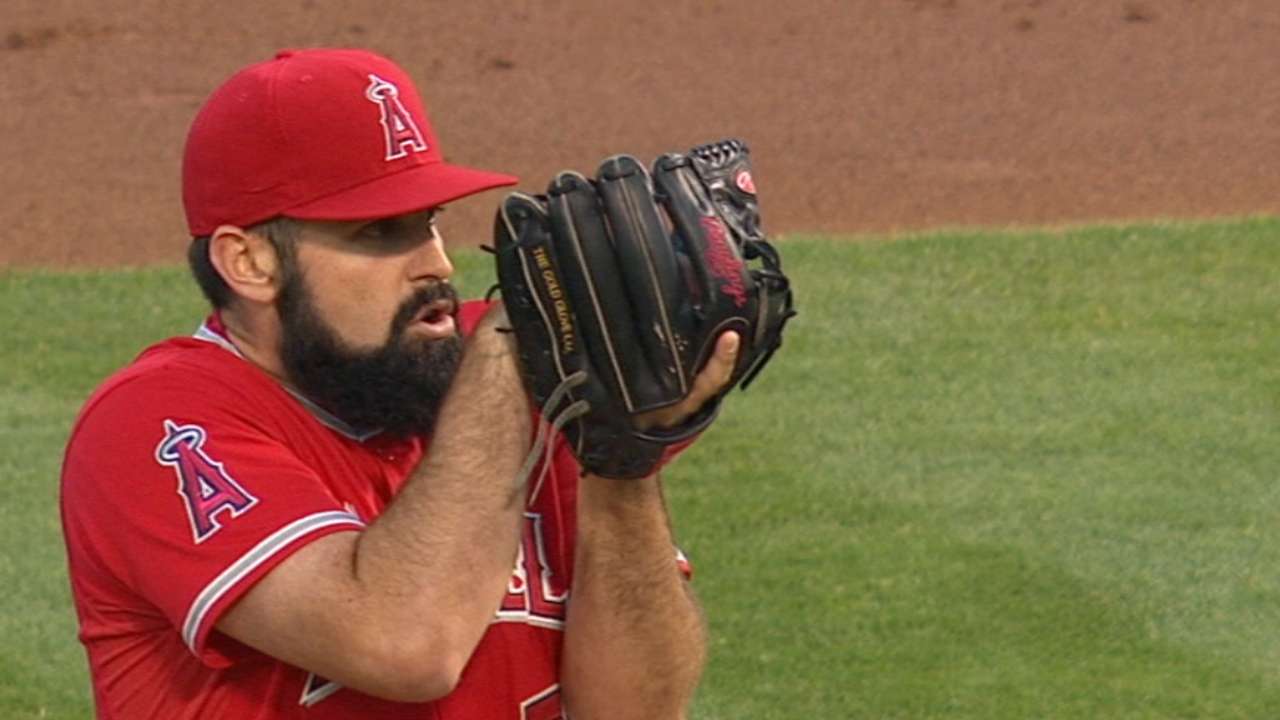 MINNEAPOLIS -- Matt Shoemaker will make his first start since Sept. 1 on Sunday after being sidelined with right forearm tightness. The righty threw a bullpen on Friday at Target Field and said he felt good.
Shoemaker said he threw a normal bullpen -- between 30 and 40 pitches -- and it went off without a hitch. Early on Friday, manager Mike Scioscia said he wanted to evaluate how Shoemaker was feeling on Saturday, but after Friday's game was postponed, Scioscia made Shoemaker's start official.
Shoemaker is 7-9 with a 4.31 ERA in 24 games this year. He threw about 35 pitches in a two-inning simulated game on Tuesday and seemed more than ready to return to help his team, which is behind the Astros and the Twins in the Wild Card chase.
"It's one of those things where we're in a tight playoff race. I just want to help this team out, do everything I can to help them win," Shoemaker said. "Not being able to play during some of that, it's frustrating, but at the same time, things happen. I'm just amped up to get back for sure."
Nick Tropeano has made two starts in his place, going 1-0 and giving up five runs in 9 1/3 innings. He got the win in his last start, giving up just two runs in five innings against the Mariners. Because of the doubleheader, the Angels will need a starter on Wednesday, which might be him.
Worth noting
• Albert Pujols, who was slated to play on Friday, has been battling pain in his right foot lately and is on an 0-for-20 skid, the second longest of his career.
"I think Albert has hit the ball hard at times. I think that he's in the lineup because we have confidence that he's going to bring a piece that we need to keep our continuity," Scioscia said. "Although you look at some numbers, maybe you look at his batting average, maybe not quite being what you would expect -- he's hit the ball hard."
• Starter Hector Santiago lasted just two-thirds of an inning in Thursday's game, tagged for five runs in a no-decision. He threw just 30 pitches in the start, and Scioscia said he would consider using him in relief over the weekend.
"Not probably one of your first choices, but if you needed to for extra innings or whatever, yes," Scioscia said. "We still need him to take his next start. Hopefully, be a little more effective. A lot more effective."
Betsy Helfand is an associate reporter for MLB.com. This story was not subject to the approval of Major League Baseball or its clubs.