A-Rod provides Yanks threat off bench vs. Mets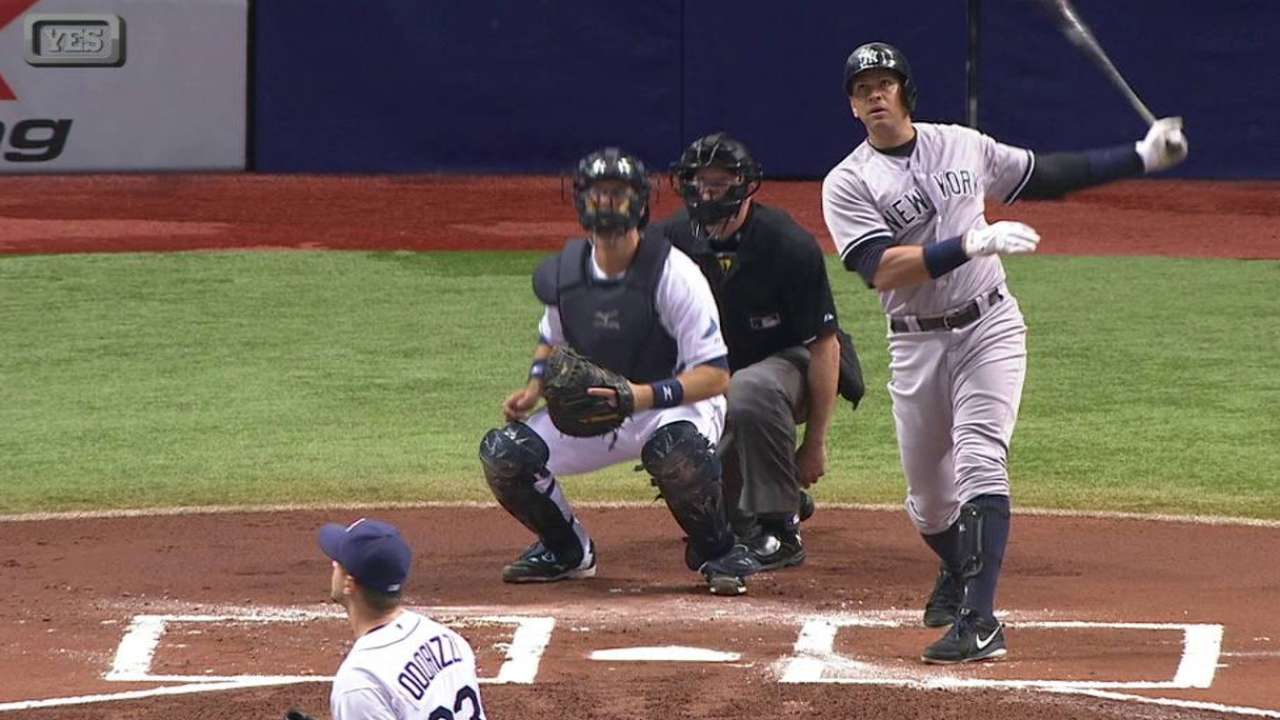 NEW YORK -- The Yankees' lineup is ideally constructed for American League play, especially since Alex Rodriguez accepted the idea of serving as a full-time designated hitter, which gives manager Joe Girardi some late-inning threats off the bench for this Subway Series at Citi Field.
In addition to Rodriguez, who is expected to serve as a pinch-hitter while receiving some unwanted rest during these Interleague contests, the Yankees fielded a lineup against Mets left-hander Steven Matz in Friday's 5-1 loss that lacked both Jacoby Ellsbury and Brian McCann.
"It's difficult, but we know that we also have a 17-game stretch here, too, that we have to worry about," Girardi said before the game.
Girardi said that the Yankees wanted to find a way to get lefty-crushing outfielder Chris Young in the lineup (he went 1-for-2 with a sacrifice fly), offering Ellsbury two consecutive days off with Thursday's dark day on the schedule. McCann is set to catch Saturday's afternoon game and again on Sunday evening.
"Your hope is that you don't have to use them. That's your first hope," Girardi said. "Then your next thought is that you use them in a spot they can do damage and change the complexion of the game."
Ellsbury pinch-hit for Masahiro Tanaka in the seventh inning and remained in the game. Girardi saved Rodriguez until the ninth, when he pinch-hit for Brendan Ryan and walked against Mets closer Jeurys Familia.
Girardi said that he toyed with using A-Rod to hit for Ryan in the sixth inning, but did not because Greg Bird was at third base and Didi Gregorius at first, with second base open.
"Even though it's second base, there is an open base and you could pitch around him," Girardi said. "And then you've got to take Tanaka out and he's throwing the ball extremely well, so we decided not to."
Rodriguez said that his bat seemed to show some life after being held out of the lineup during the Yanks' previous Interleague series against the Nationals and Braves, and with a big showdown against the Blue Jays coming up, he is hoping for the same effect.
"The system Joe's put in place has been incredible," Rodriguez said. "It seems like every time I have a little break, whether it's been Washington or Atlanta, I've had pretty good pop immediately after."
Worth noting
Right-hander Nathan Eovaldi said that he is scheduled to play catch on Monday at Yankee Stadium, the first time he will do so since receiving a PRP injection to treat inflammation in his right elbow.
The best-case scenario is that Eovaldi could be back on a mound within two weeks, potentially helping the Yankees out of the bullpen during the postseason.
"At first it was super sore," Eovaldi said. "After the PRP, it was worse than it was before it happened. But I don't know if it was the three days' rest or what, but afterward my arm felt good and back to normal."
Bryan Hoch is a reporter for MLB.com. Follow him on Twitter @bryanhoch, on Facebook and read his MLBlog, Bombers Beat. This story was not subject to the approval of Major League Baseball or its clubs.