Starlin's debut didn't have this: a curtain call
Cubs get breakthrough performance from second baseman, who homers twice and delivers 6 RBIs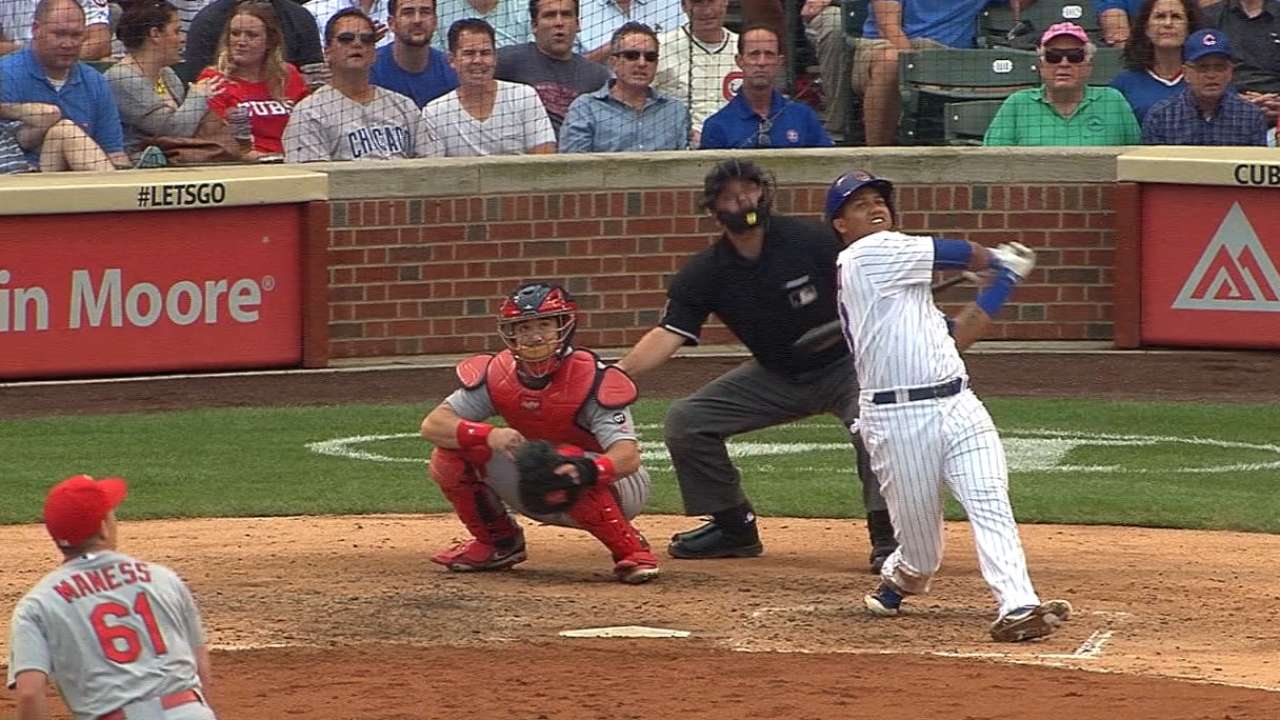 CHICAGO -- For the first time since he made his Major League debut on May 7, 2010, Starlin Castro drove in six runs in a game. And for the first time ever, he received a curtain call at Wrigley Field.
Castro, a three-time All-Star shortstop who was bumped from the lineup, then moved to second for spot starts, hit a pair of home runs and drove in six in the Cubs' 8-3 victory over the Cardinals on Friday.
Castro hit an RBI single in the first, a tiebreaking two-run homer in the fifth, and a three-run blast in the sixth. It was his third career multihomer game and first this year.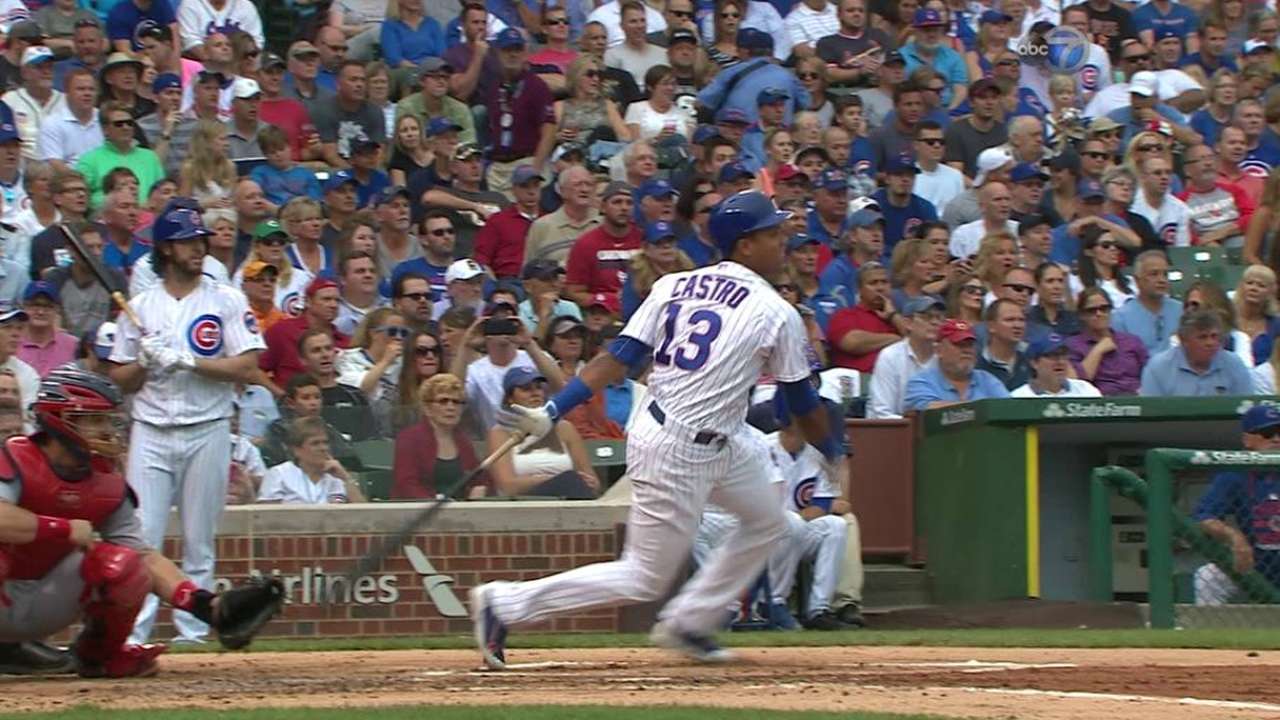 After the second home run, Castro stepped onto the field to tip his cap to the 40,846 fans at the ballpark.
"That's the biggest thing today," Castro said. "I have like six years here, and that never happened. That's my first time and I enjoyed it so much."
Castro has maintained a positive attitude despite being displaced at short by rookie Addison Russell, who took over on Aug. 7. Cubs manager Joe Maddon has stuck with Russell and inserted Castro at second in certain matchups.
It's paid off. Since Aug. 23, Castro was batting .388 with five home runs and 14 RBIs. He's now hit four home runs in his past nine games.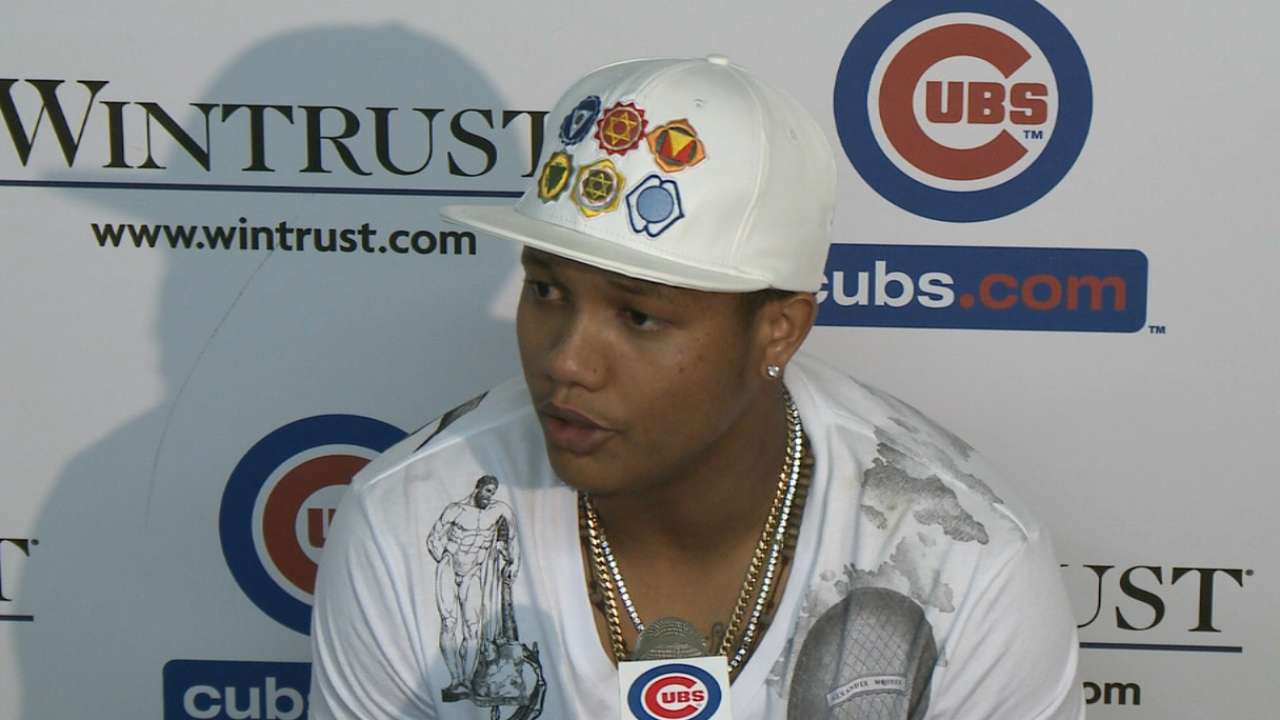 "The team is playing pretty good," Castro said. "I just try to work hard. I try to be here, in my mind, [thinking] I might play that day. Even if I'm not going to start, I think I might get in the game in the seventh or something like that. I just try to keep positive. I don't want to be the negative guy on the team, and try to be positive and keep winning games."
Maddon has noticed.
"This guy has not complained, cried, nothing," Maddon said. "He's just come out and gotten ready to play. When he doesn't play, he stays ready to play in the game. I've been nothing but impressed the whole time.
"It's a credit to him as a person, the fact that here's a guy who has been on the All-Star team a couple times, and he's been relegated to a different role and eventually does this in a very important game. Give him a lot of credit, not just a little."
Cubs hitting coach John Mallee and Castro also have put in time together to help the 25-year-old infielder, who was batting .236 when he was benched. Castro is now standing closer to the plate, and it's helped. He's also gotten strong support from his teammates. There's a good vibe in the Cubs' clubhouse as they inch closer to securing their postseason berth since 2008.
"It's unbelievable," Castro said. "We're the best group right now. We're coming every day with one goal. We help each other. We try to be one group, having fun and go on the field and give 100 percent."
Especially Castro.
"All credit to him -- it's not me, it's not anybody. It's all him," Maddon said.
Carrie Muskat is a reporter for MLB.com. She writes a blog, Muskat Ramblings. You can follow her on Twitter @CarrieMuskat and listen to her podcast. This story was not subject to the approval of Major League Baseball or its clubs.