Injured Saunders excited to cheer on Blue Jays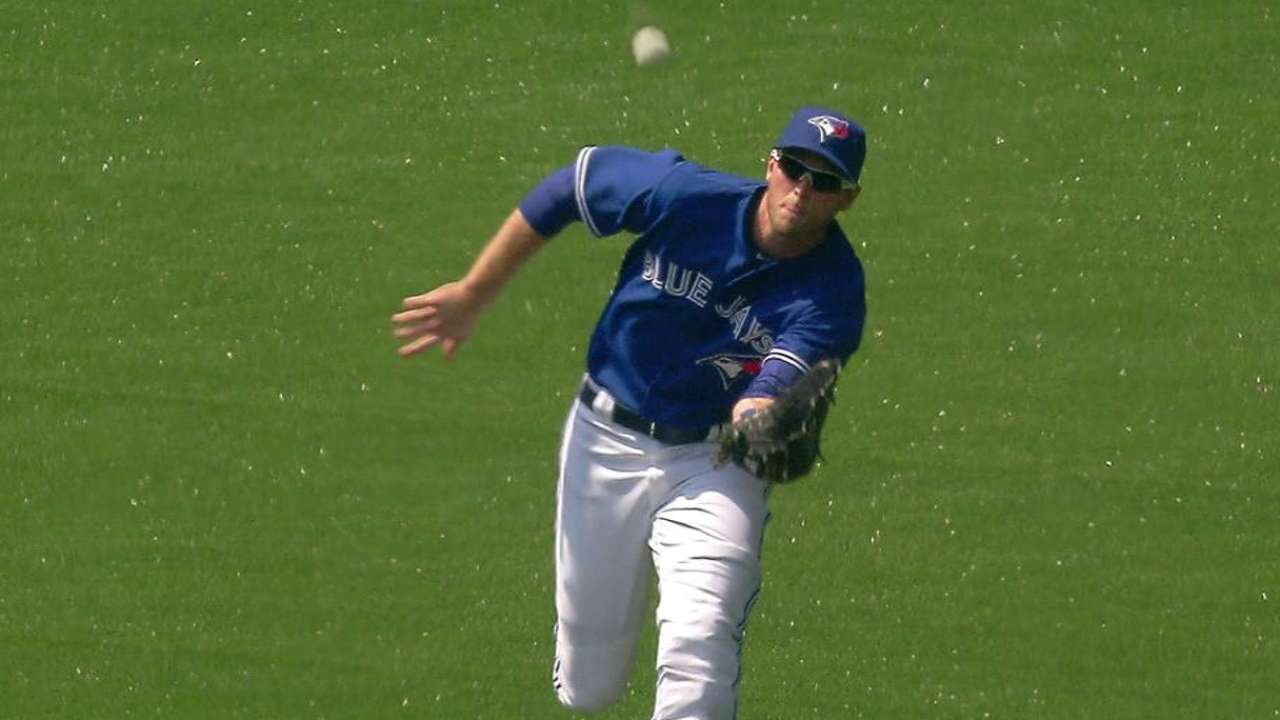 TORONTO -- Michael Saunders was back with the Blue Jays on Friday, but not in his preferred capacity. The outfielder, who's recovering from a bone bruise in his left knee, was shut down for the season in mid-August.
Saunders was back with his teammates at Rogers Centre ahead of the series opener against the Red Sox, but strictly in a cheerleading capacity.
"[The season] is over for me, but it's definitely not over for the Blue Jays. It's exciting. I was on the couch watching the guys every night. I was screaming at the TV," said Saunders, who will remain with the team throughout the remainder of the regular season and into the playoffs should the Blue Jays make it. "I was into it, I can't imagine what the country is feeling right now. For me, it's the next-best thing, being back with team, cheering on the guys, throwing my pom-poms on and doing whatever I can even though it's not on the field."
The 28-year-old had a difficult 2015. After suffering a torn meniscus when he stepped on a sprinkler head early in Spring Training, Saunders had surgery to remove 60 percent of the cartilage. He was thought to have recovered from that injury and rejoined the Blue Jays in late April after a rehab assignment.
Saunders struggled through name games with Toronto before he was diagnosed with a bone bruise in his left knee. What was supposed to be a six-week recovery ended up costing him the remainder of the season. Despite traveling a rocky road this year, Saunders said he's been reassured by doctors that he will make a full recovery from the injury and expects to be ready to go for Spring Training 2016.
"I tried to make it back, I was busting it down in Florida and finally realized my season was finished," he said. "It gave me peace of mind once I conceded the fact that I wouldn't be playing again this year. But all signs point to being 100 percent for Spring Training."
Saunders was acquired from the Mariners in an offseason trade for lefty J.A. Happ. The Victoria, B.C., native was supposed to be the team's everyday left fielder following the departure of Melky Cabrera, but that expectation was never realized. With Saunders on the disabled list, the Blue Jays leaned on a patchwork group of players to fill the void in left field until Ben Revere was finally brought over in a deal with the Phillies at the Trade Deadline.
Jamie Ross is an associate reporter for MLB.com. This story was not subject to the approval of Major League Baseball or its clubs.