Winkler excited to get shot to play for Braves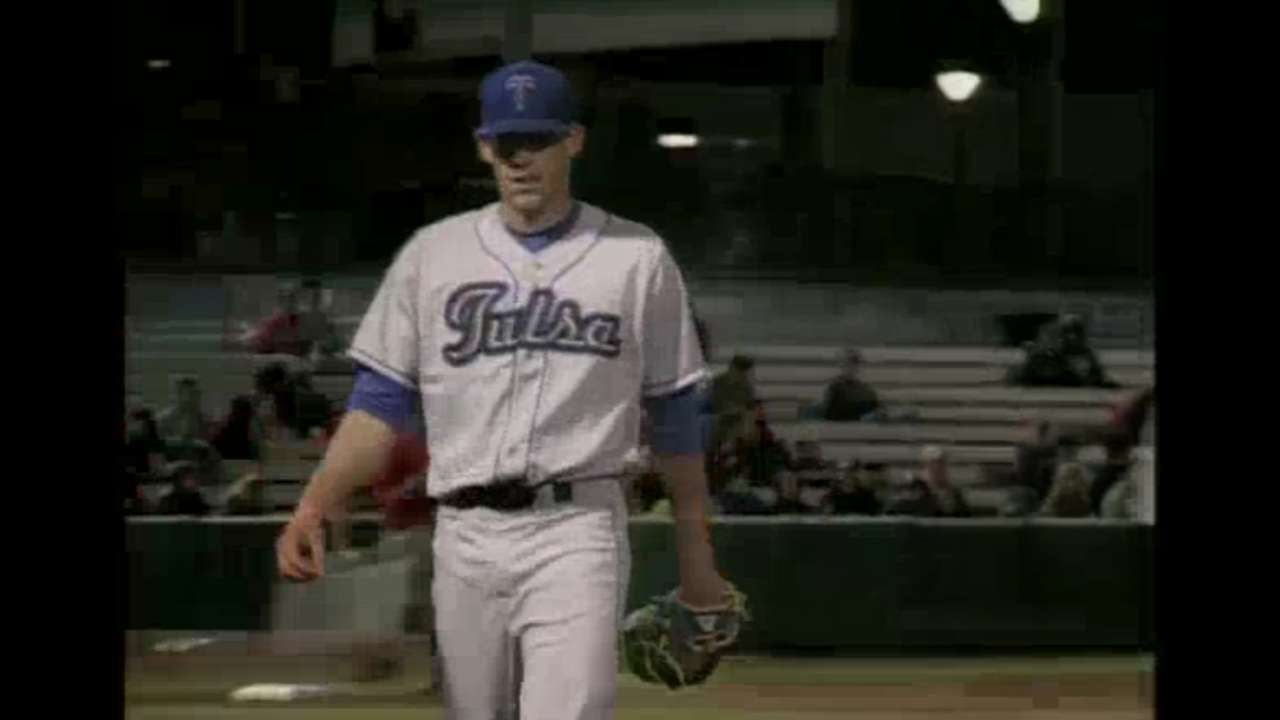 ATLANTA -- As the Braves coaching staff and front office members have watched Daniel Winkler play simulated games at Turner Field this week, they have struggled in their attempt to compare his unique sidearm delivery to any other pitcher they have ever seen.
"I was trying to think about that the other day and he doesn't really remind me of anybody," Braves manager Fredi Gonzalez said. "He leads and he's coming from a three-quarter push off the rubber. But if you look at his numbers in the Minor Leagues, they're pretty good numbers."
Winkler surrendered just 13 hits in 126 at-bats (.103 batting average) against right-handed hitters while producing a 1.41 ERA and 71 strikeouts over 70 innings for Double-A Tulsa last year. But when he was left unprotected by the Rockies, the Braves jumped at the chance to select him in the Rule 5 Draft, despite the fact that he was going to miss most of this season recovering from Tommy John surgery.
After spending the past five months working out at the Braves Spring Training facility in Orlando Fla., Winkler gained his first Major League promotion last week. This move was made to subtract from the amount of time he would be required to remain on Atlanta's active roster at the beginning of next year. But at the same time, it provided the 25-year-old right-hander to get a taste of what he will likely experience next season.
Because Winkler was selected in the Rule 5 Draft and was injured at the start of this year, the Braves would have been required to either keep him on their active roster for the first 90 days of the 2016 season or offer him back to the Rockies. That requirement has been reduced to 66 days because of the 24 days of service time he will collect this year.
"They brought up the idea of bringing me up here and I said, 'I'd love it just because I can get back there and compete and get my debut out of the way," Winkler said. "The only thing I need to worry about next year is making the team because I want to be a big part of the team in 2016."
Winkler was not medically cleared to pitch in games until Friday, when he completed the last of the three simulated games he has experienced over the last week. There is a chance he could make his big league debut as early as Sunday.
"I can't wait to get in a game," Winkler said. "It's just been killing me. I'm ready to get in there. "
Winkler believes an attempt to create more movement on his sinker might have steadily created the evolution of his unique delivery. Though he throws from a three-quarter or side arm slot, he throws every pitch feeling like he's throwing with a traditional overhand motion.
"I think just over the years, [my arm slot] just kind of got down there," Winkler said. "When I played outfield in high school, I'd throw overhand, but I'm still down here when I pitch. It's weird. It's just how I've done it. It works."
Mark Bowman is a reporter for MLB.com. Listen to his podcast. This story was not subject to the approval of Major League Baseball or its clubs.