Rios glad to contribute in Royals' stretch run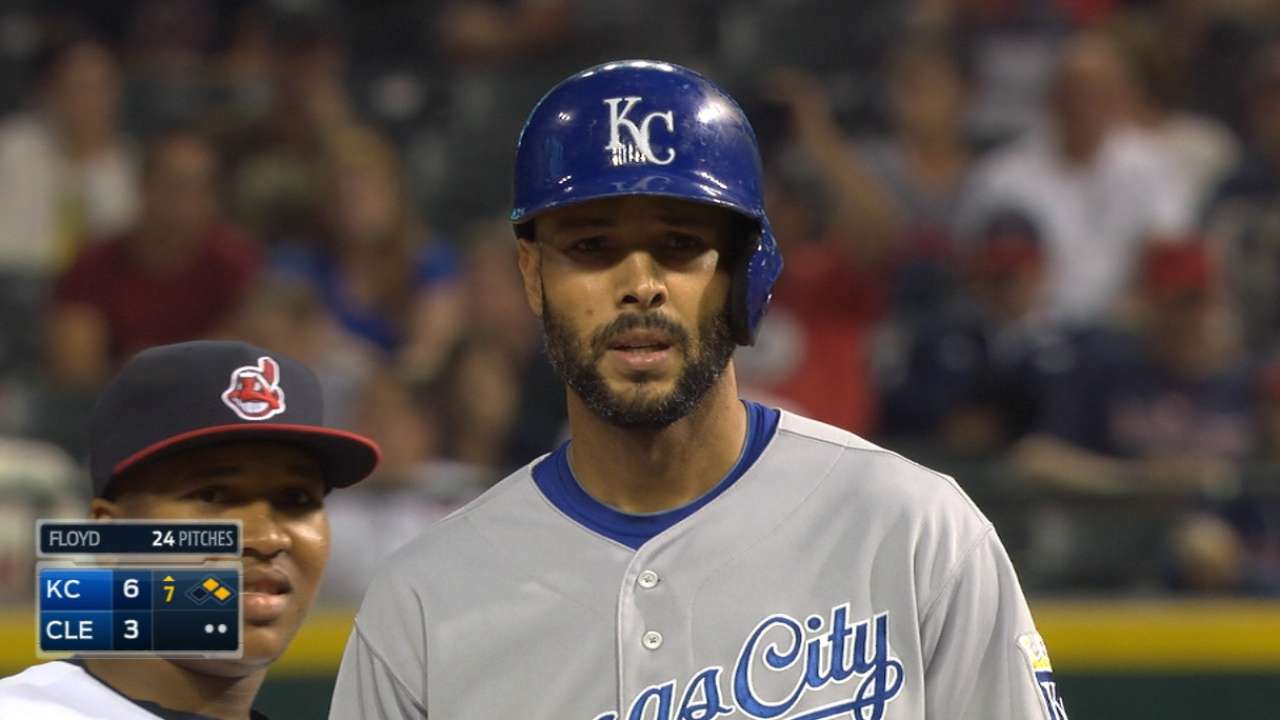 DETROIT -- It has been a strange couple of years for Royals right fielder Alex Rios, who has dealt with everything from ankle injuries to thumb injuries to a broken hand to chickenpox.
But these days, Rios' troubles seem far behind him. He is smoking hot at the plate -- riding a nine-game hitting streak and batting .413 on the road trip (12-for-29) with four doubles and two homers. He went 1-for-4 with a stolen base in the Royals' 5-4 loss in 12 innings to the Tigers on Friday night.
Over a longer stretch, Rios is hitting .330 with a .515 slugging percentage over his last 22 games.
For Rios, it's a relief to finally be contributing.
"It's refreshing to know you don't have to deal with any issues at the plate," Rios said. "Hitting is difficult enough when you're healthy. When you're dealing with stuff it becomes a bigger challenge.
"It's refreshing to have the success again now that I've had in the past. To be able to contribute is a great feeling."
Rios was having a terrific start in 2014 and was leading the American League in hitting with a .335 average in mid-June when injuries ravaged his season. After a strong Spring Training and first week of the regular season with the Royals this year, he suffered a broken hand on a hit by pitch.
"This year has been rough," he said. "I've had the injuries. These are not excuses, but I have felt I have not done enough. It's refreshing to be back."
Royals fans, at least those on Twitter, had been screaming for his benching for weeks, even months. But manager Ned Yost stuck with his veteran outfielder.
"It's easier to show that patience when you have a big lead [in the division]," Yost said.
But that patience has paid off, and Yost may have one issue settled for the postseason: His starter in right field.
"When I signed, I wanted to have a great year," Rios said. "So in that respect, I have felt I haven't done enough. But now it feels refreshing to be contributing."
Jeffrey Flanagan is a reporter for MLB.com. Follow him on Twitter at @FlannyMLB. This story was not subject to the approval of Major League Baseball or its clubs.