Pierzynski's single helps Braves walk-off Phillies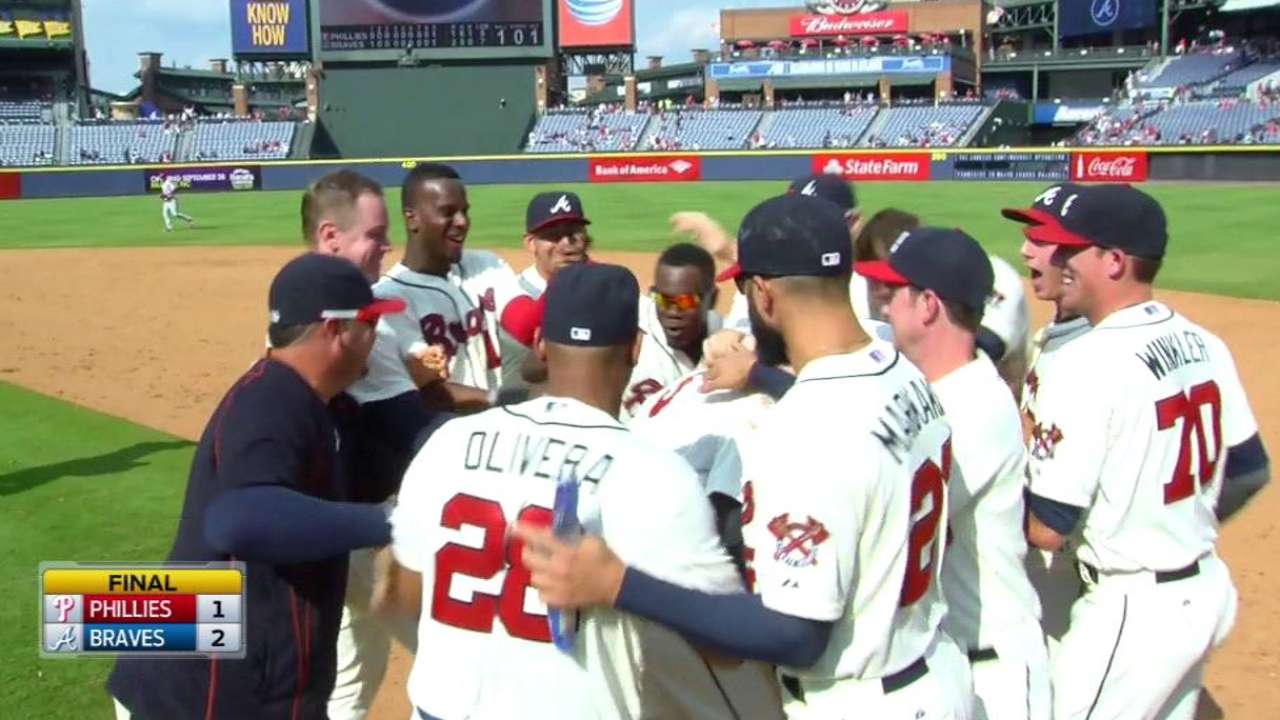 ATLANTA -- A.J. Pierzynski's walk-off single enabled the Braves to overcome a ninth-inning letdown and complete a three-game series sweep of the Phillies with a 2-1 win on Sunday afternoon at Turner Field.
Andrelton Simmons sparked the ninth inning rally when his one-out chopper drew a throwing error from third baseman Cody Asche. Simmons stole third base and scored when Pierzynski lofted his game-winning single off Luis Garcia to shallow center field.
"To win a game like that is good," said Pierzynski, who entered in the ninth after Christian Bethancourt was injured. "Winning another game [one-run game], especially after the way Julio [Teheran] pitched. To give it up the way we did and then win it the next [half] inning the way we did is fun."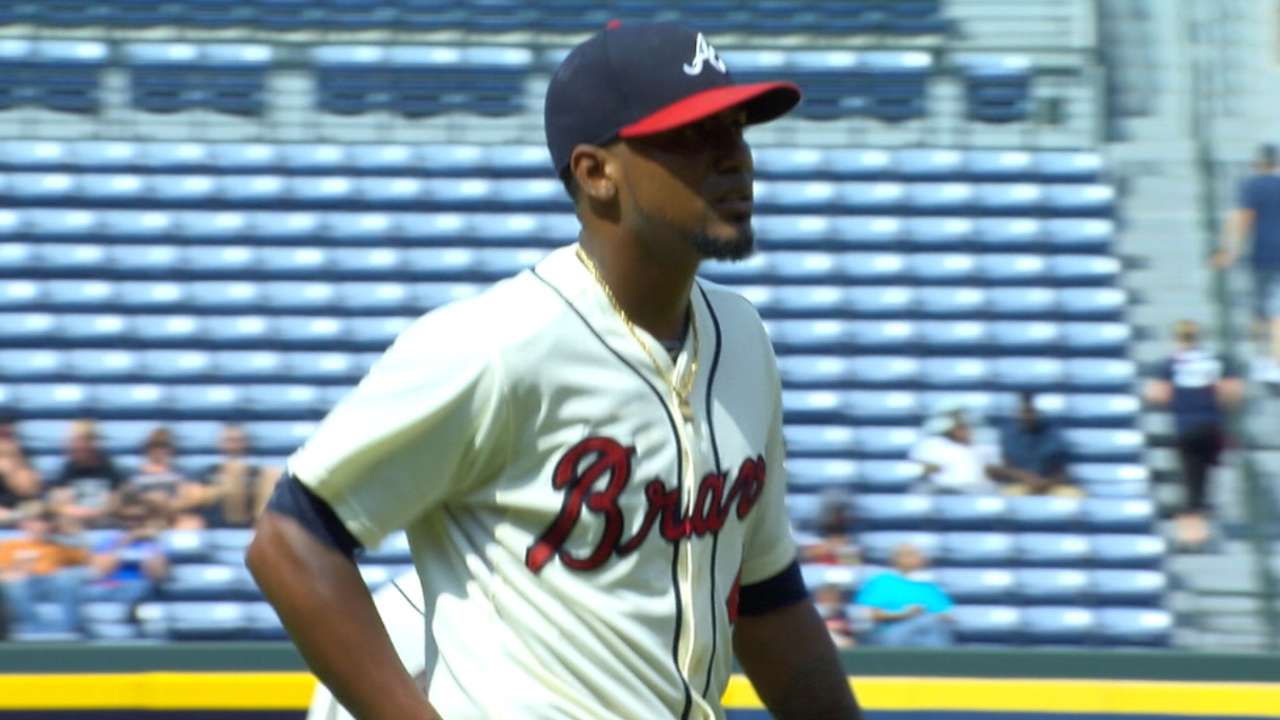 Braves starting pitcher Julio Teheran proved perfect through the first six innings and entered the ninth inning in search of his first shutout of the season. But after allowing consecutive one-out singles, he was replaced by Peter Moylan who surrendered a two-out, game-tying single to Andres Blanco.
Freddie Freeman's first-inning RBI single off Aaron Nola started the scoring for the Braves, who have now won three straight games for the first time since Aug. 6-8.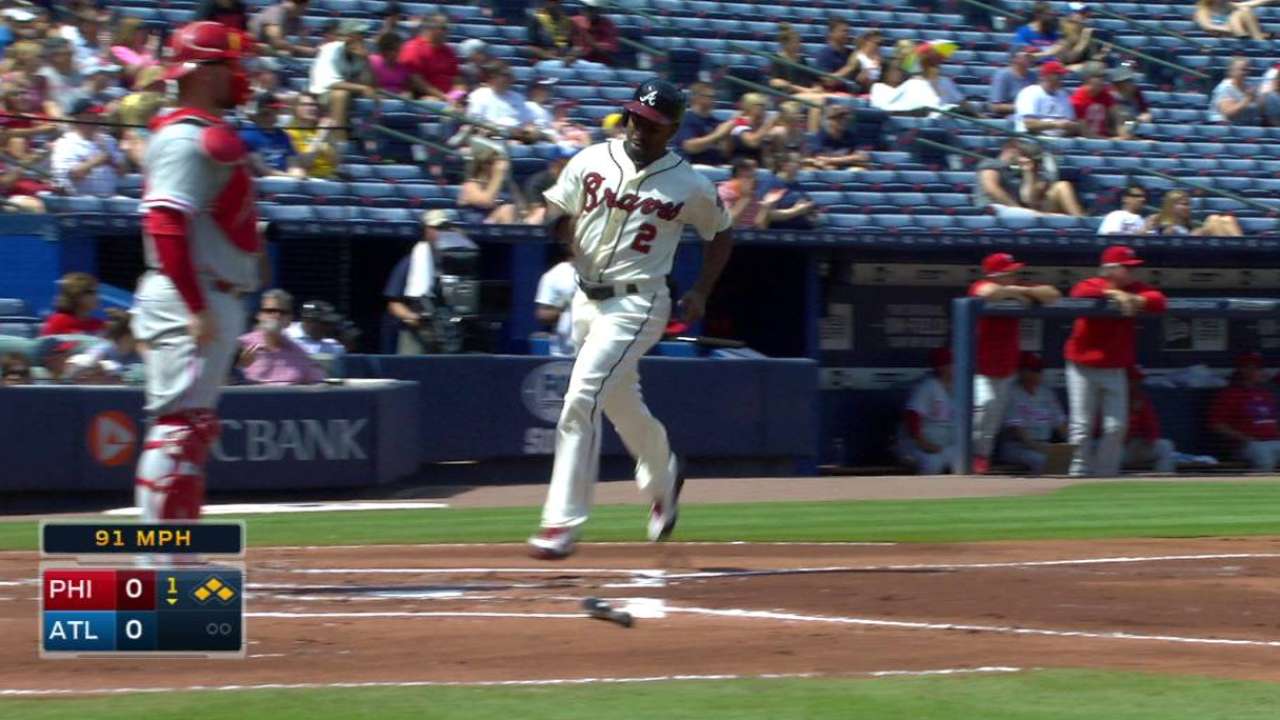 "We've been concerned about our starting pitching the whole season. Now we get three outstanding performances and we can't score a run," said Phillies interim manager Pete Mackanin, who got quality starts from Nola, Jerad Eickhoff and Adam Morgan in this series and lost all three games by a 2-1 score. "It's unfortunate, but we had a chance to win all three of these games."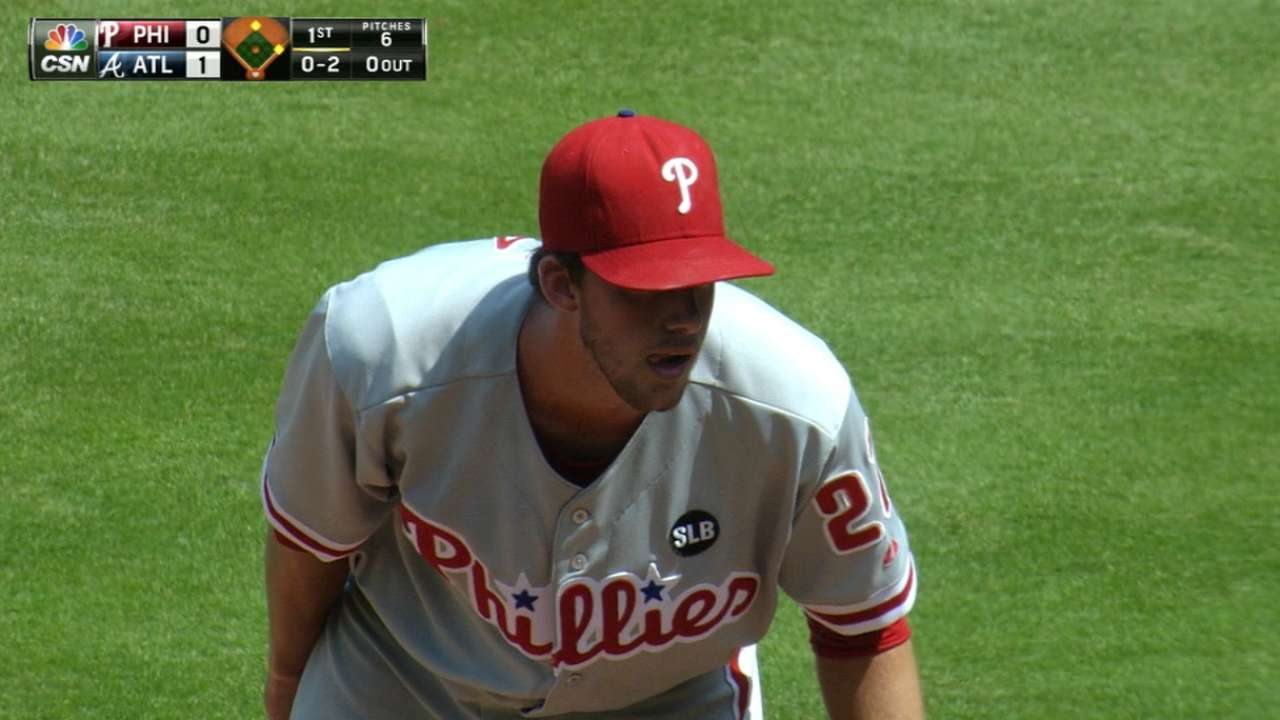 MOMENTS THAT MATTERED
Teheran's dominance: Braves outfielders accounted for just three of the outs Teheran recorded before his perfect game bid was erased by Freddy Galvis' leadoff single in the seventh inning. The Braves hurler pitched around two singles in the eighth, but he was lifted after surrendering consecutive one-out singles in the ninth. His bid for a scoreless outing was erased when Blanco recorded a game-tying single with two outs in the ninth off Moylan, who has now allowed three hits in four at-bats against left-handed hitters this year.
"That was a tremendous performance all the way there to the end," Braves manager Fredi Gonzalez said of Teheran, who has produced a 3.22 ERA in the 10 starts he has made since entering August with a 4.71 ERA. More >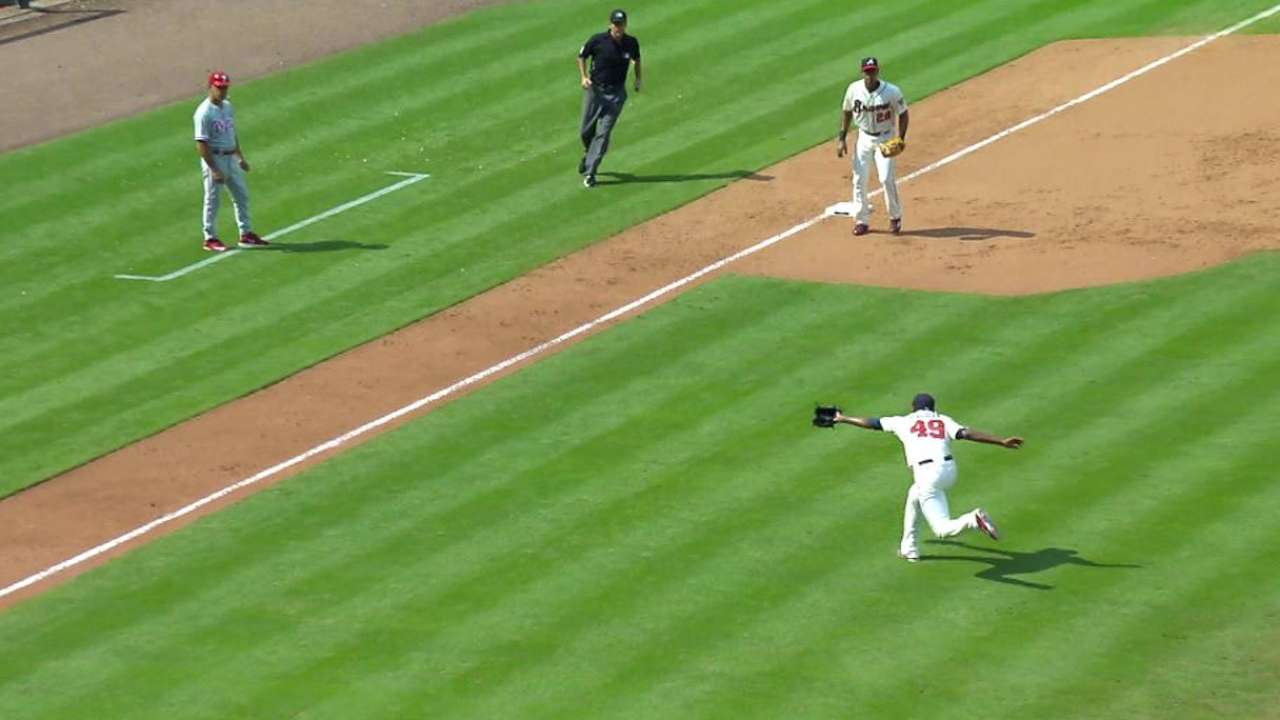 Botched bunt a killer: The Phillies, who scored just a single run in losing each of the first two games of this series, struggled against Teheran all afternoon. In the eighth, they finally got something going. After a leadoff walk to Blanco and a bloop single off the bat of Darin Ruf, Philly's Cameron Rupp came up against Teheran. The big catcher tried to lay down a bunt to advance the runners and popped it to Teheran, who turned and easily doubled Blanco off second. In 95 career games, Rup has never had a sacrifice hit. Asche singled after the double play, but pinch-hitter Darnell Sweeney struck out to end the threat. More >
Defensive contributions: Jace Peterson aided Teheran's effort in the first inning when he made a leaping grab to rob Odubel Herrera of a two-out base hit. Adonis Garcia also showed some range during the seventh inning when he raced toward the left field line to snare a Brian Bogusevic liner that could have resulted in a run-producing extra-base hit. Then, of course, Teheran aided his own cause when he skillfully got off the mound to grab Rupp's surprising sacrifice bunt attempt and begin the double play.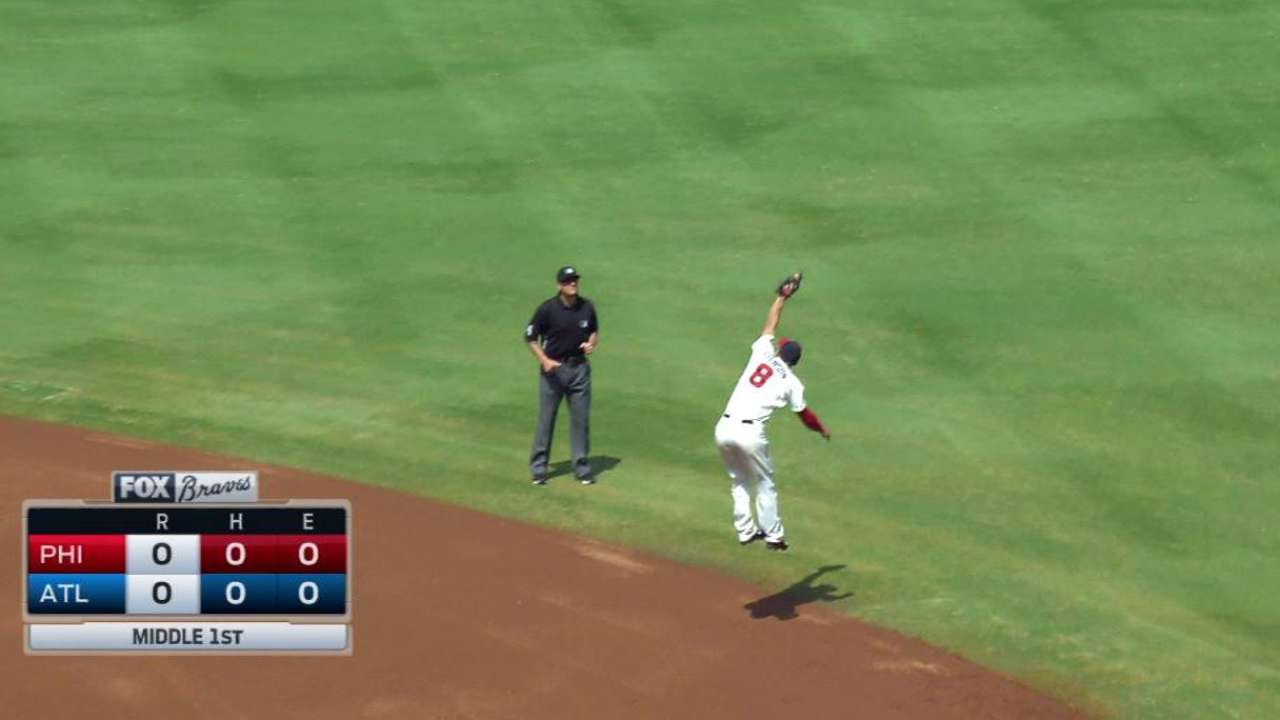 Nola's gem: Philadelphia's Nola had a bit of a rough start, allowing a first-inning run, but even that was barely his fault. Michael Bourn led things off for Atlanta with a slow roller that got past hard-charging Galvis, playing just his second game at second this season. The ball dribbled into right in what originally was scored an error, but later changed to a double. Freeman drove him in with a soft liner to left, but Nola settled down from there. After the first, he allowed just two hits and three walks. Mackanin said after the game that he expects Nola to make his next start, but the team still has to make a final decision.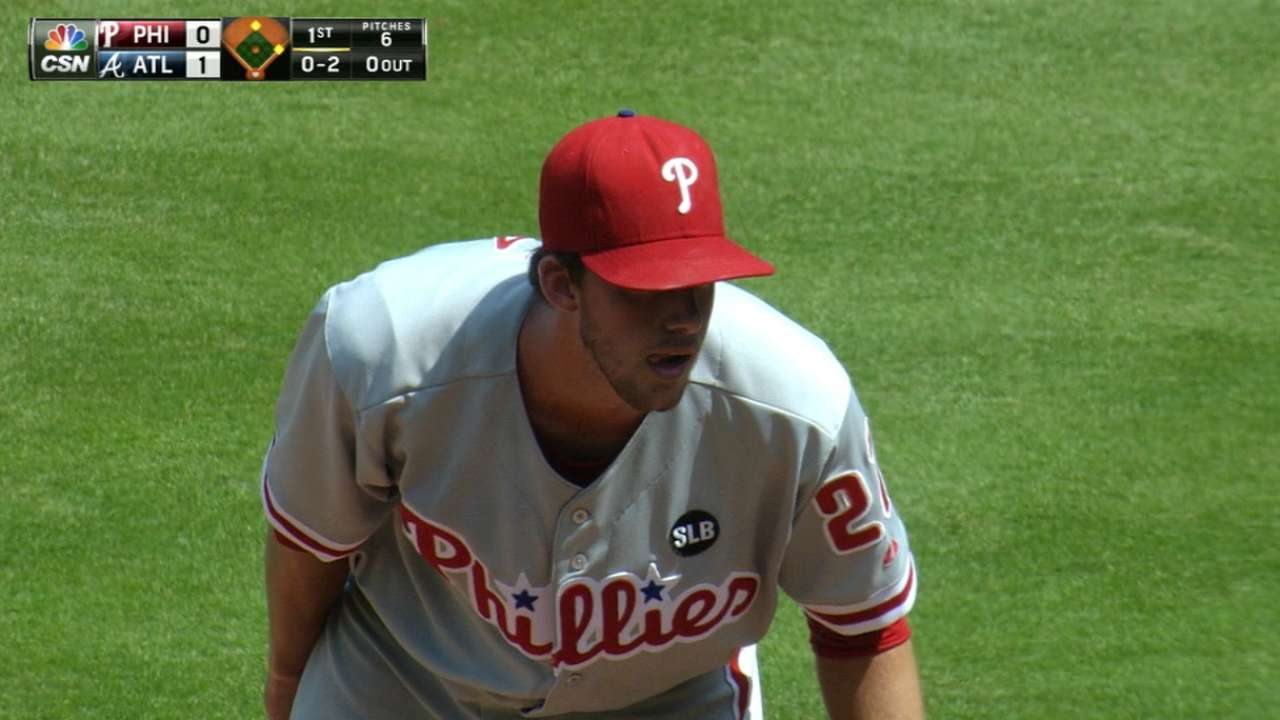 QUOTABLE
"You choose the way you're going to lose the game. I'm gonna lose it on a fly ball, I'm not going to lose it on a base hit up the middle." -- Mackanin, on his decision to play five infielders, and just two outfielders, against Pierzynski in the bottom of the ninth.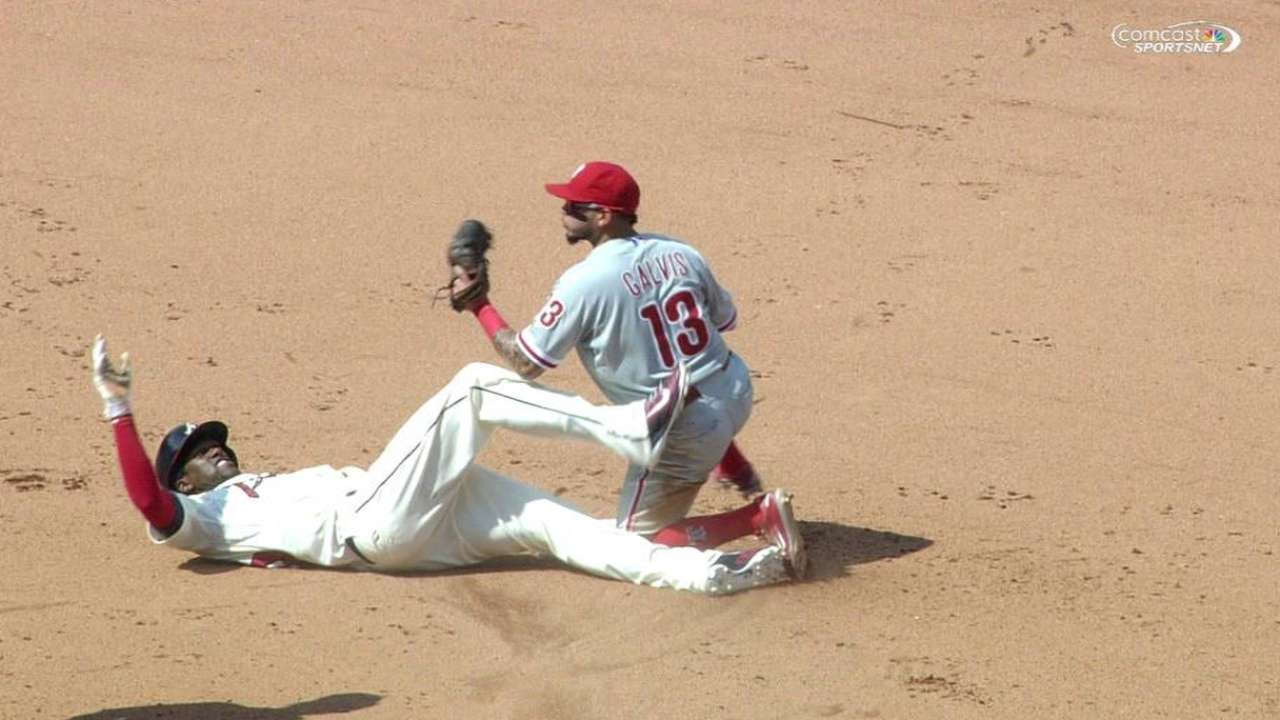 SOUND SMART WITH YOUR FRIENDS
The Braves won each of these three games against the Phillies with a 2-1 score. They are now 14-49 when scoring two runs or less this season and 27-17 in one-run games.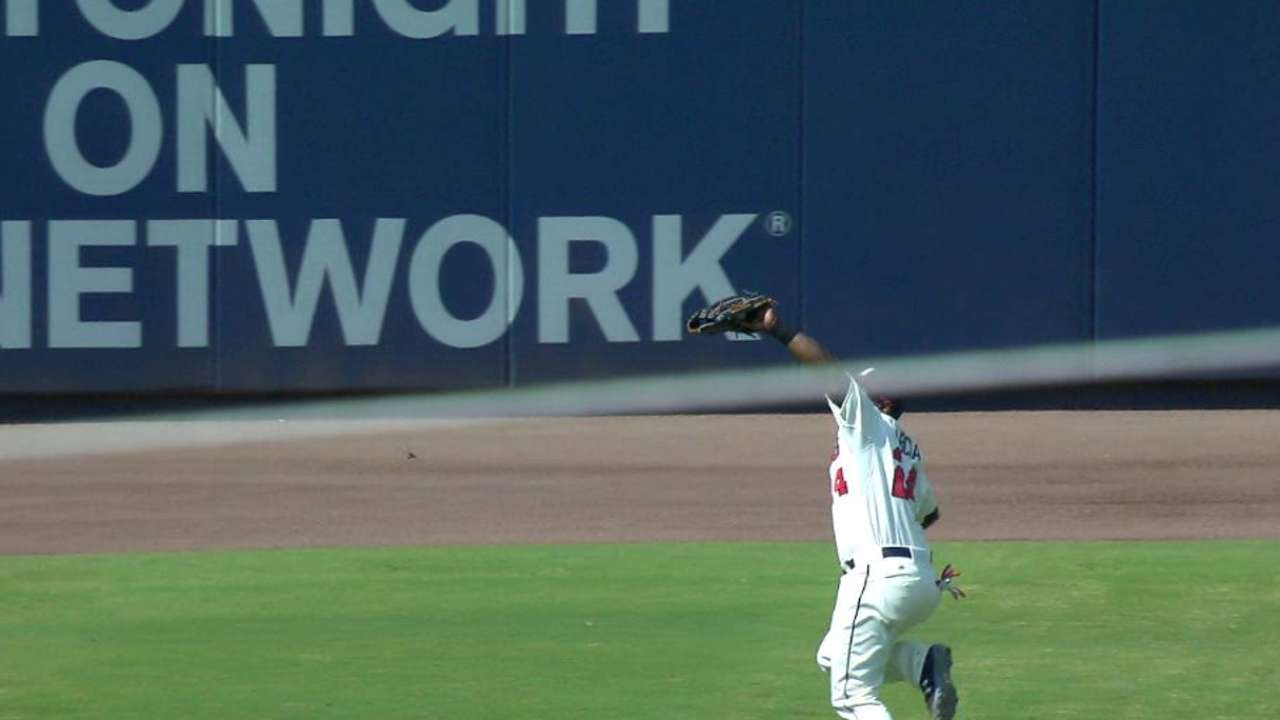 MAKING HIS POINT
Mackanin pulled Herrera from the game after the center fielder flied out weakly to left to end the Phillies' half of the fourth inning.
"He threw his bat after he flew out, and he didn't run hard. So I took him out of the game," Mackanin said.
Herrera, hitting .293 with a team-high 135 hits, was hitting .342 over his last 66 games before Sunday. But his manager said the rookie has been in a little funk lately, so when he failed to hustle, Mackanin took action.
"Boys play Little League, men play Major League Baseball. We will not pout, we will not feel sorry for ourselves," Mackanin said. "He had to learn a lesson. To me, he's been pouting for a few days, and I just want to make sure he gets the message. We're just not going to stand for it."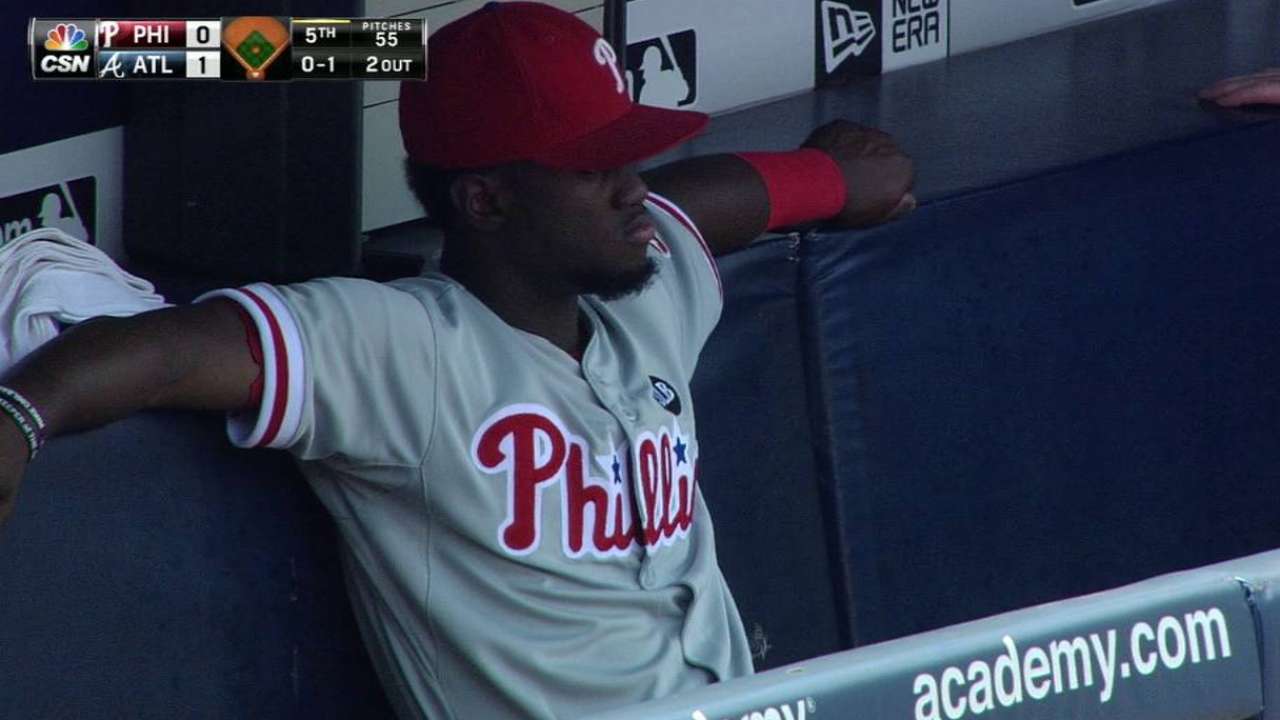 WHAT'S NEXT
Phillies: The Phils have an off-day Monday before they continue their road trip with three against the Marlins in Miami, starting Tuesday night at 7:10 ET. The Phillies haven't announced a starting pitcher. Miami has scheduled righty Tom Koehler (10-13, 3.90) .
Braves: Atlanta will travel to New York to open a three-game series against the Mets on Monday at 7:10 p.m. ET. Shelby Miller will take the mound and attempt to end a 22-start winless streak that dates back to May 23.
Watch every out-of-market regular season game live on MLB.TV.
Mark Bowman is a reporter for MLB.com. Listen to his podcast. John Donovan is a contributor to MLB.com. This story was not subject to the approval of Major League Baseball or its clubs.