Astros pay tribute to Hamilton
Players wear uniform patch, press box at Minute Maid Park renamed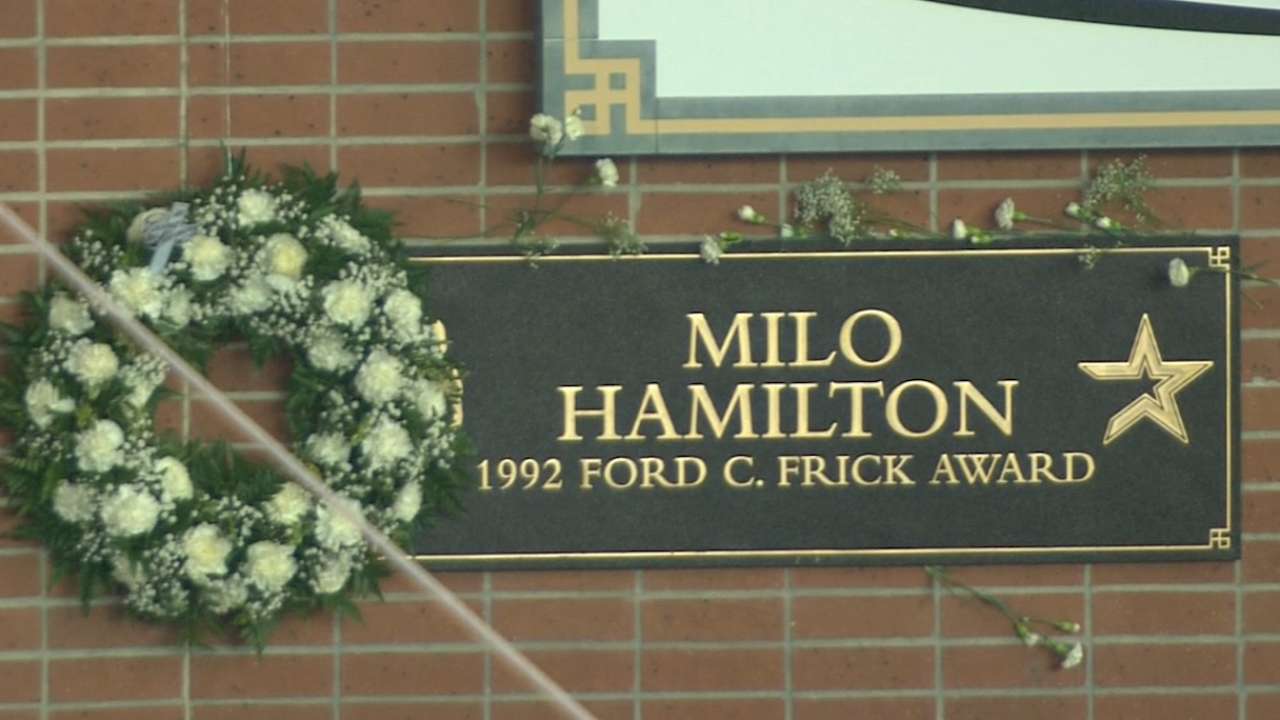 HOUSTON -- The memories of Milo Hamilton were everywhere in Minute Maid Park on Friday night.
The Astros wore a patch on their jerseys for the longtime radio announcer, who passed away on Thursday at the age of 88, and renamed the press box in his honor during a ceremony before the game against Oakland.
Hamilton called Astros games from 1985 to 2012.
"The impact one man has had on a city and organization and me personally -- he called every single one of my games," said Hall of Famer Craig Biggio of Hamilton, the recipient of the 1992 Ford C. Frick Award. "Baseball lost a great man, this city lost a great voice and I lost a really good friend."
• Hall of Fame broadcaster Milo Hamilton dies at 88
"Obviously, he was a great guy and he was very nice to me and everyone he came across," said Jose Altuve. "It's been sad, and it's an honor to have him on our jerseys. He's one of the greatest Astros ever."
• Justice: Milo's rise was a uniquely American story
"It's providing a way to pay our tribute to his contributions to not just our team, but to the sport of baseball," manager A.J. Hinch added.
Hamilton called games for seven Major League teams during his 60-year career and was the radio voice for Hank Aaron's 715th home run, Biggio's 3,000th hit, and Houston's first and only pennant title in 2005.
Friday's pregame ceremony was appropriately grand yet brimming with elegance, an apt summation of Hamilton's excitable style on the air.
"Milo was the heart and soul of our organization for more than 30 years," said club president Reid Ryan. "He told the stories of the Astros."
• Remembering Milo: Many share memories
Surrounded by a large adornment of flowers, a younger picture of Hamilton and the broadcaster's son, Mark, Ryan introduced a lengthy video on Hamilton's prolific career and life.
Set to Frank Sinatra's "My Way," the retrospective tastefully captured Hamilton's legacy in Houston and his greater contributions to the sport. It concluded with shots of the sign of the street outside the stadium named after him, a shot of Hamilton in the Minute Maid Park radio room and, finally, a view of an empty sun-drenched field from that very same booth, with only a lone microphone in the frame.
"Milo was class and a gentleman, and he was great at what he did," Biggio said. "He was a pretty big voice. ... He was just unbelievable at what he did."
Ryan announced that the patches honoring Hamilton will remain on the Astros' uniforms for the remainder of the 2015 season.
Hamilton's presence will now last well beyond that and through another generation of broadcasters and journalists who cover the Astros in the press box bearing his name.
Chris Abshire is a contributor to MLB.com. This story was not subject to the approval of Major League Baseball or its clubs.