Angels get boost from Trout when needed most
Center fielder hits two homers, makes run-saving grab to help club gain in Wild Card race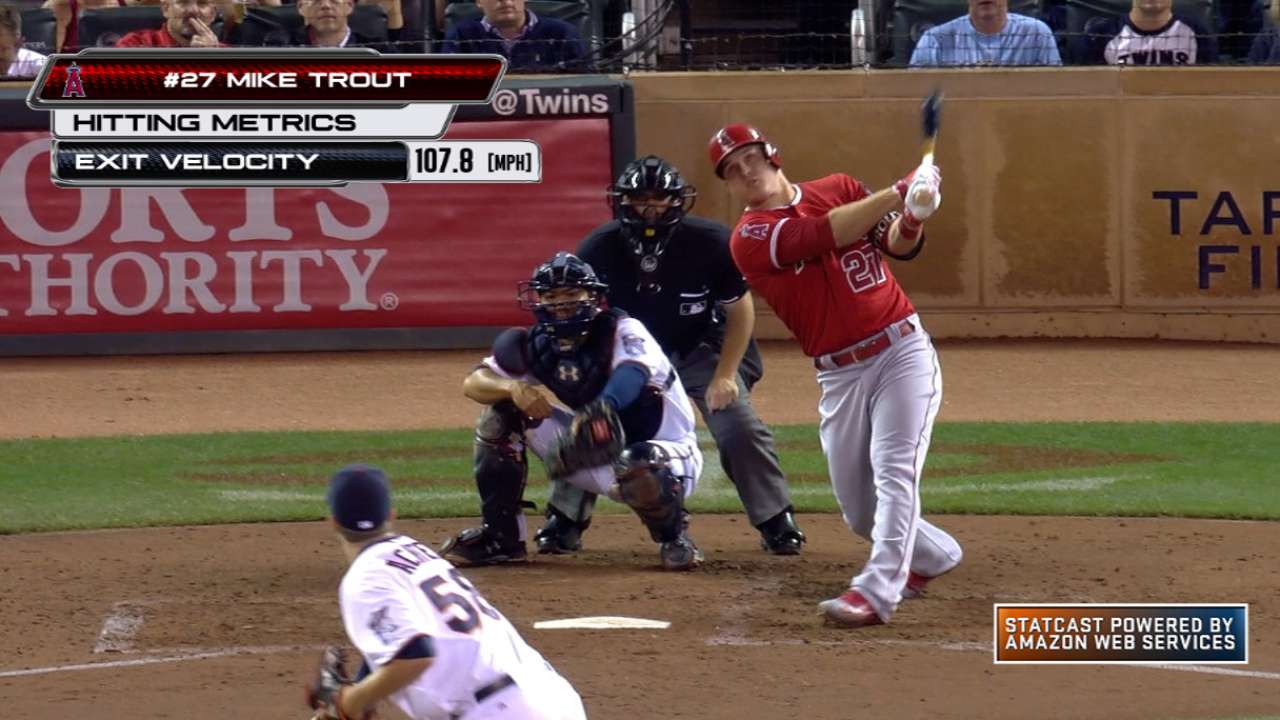 MINNEAPOLIS -- Shortly after Mike Trout hit two home runs and drove in five to lead the Angels to an 11-8 victory over the Twins on Friday, Angels manager Mike Scioscia cautioned that his team can't be a "one-trick pony," if it's going to keep winning.
But inevitably, the attention is going to keep coming back to Trout as the Angels chase after a postseason berth. And Friday, he delivered in a big way. Down by five runs in the first inning, Trout rallied his team back, launching a 2-0 pitch from Twins reliever A.J. Achter for a grand slam and giving the Angels a 6-5 lead.
"That was huge," catcher Chris Iannetta said. "There's a reason why he's the best player in the game."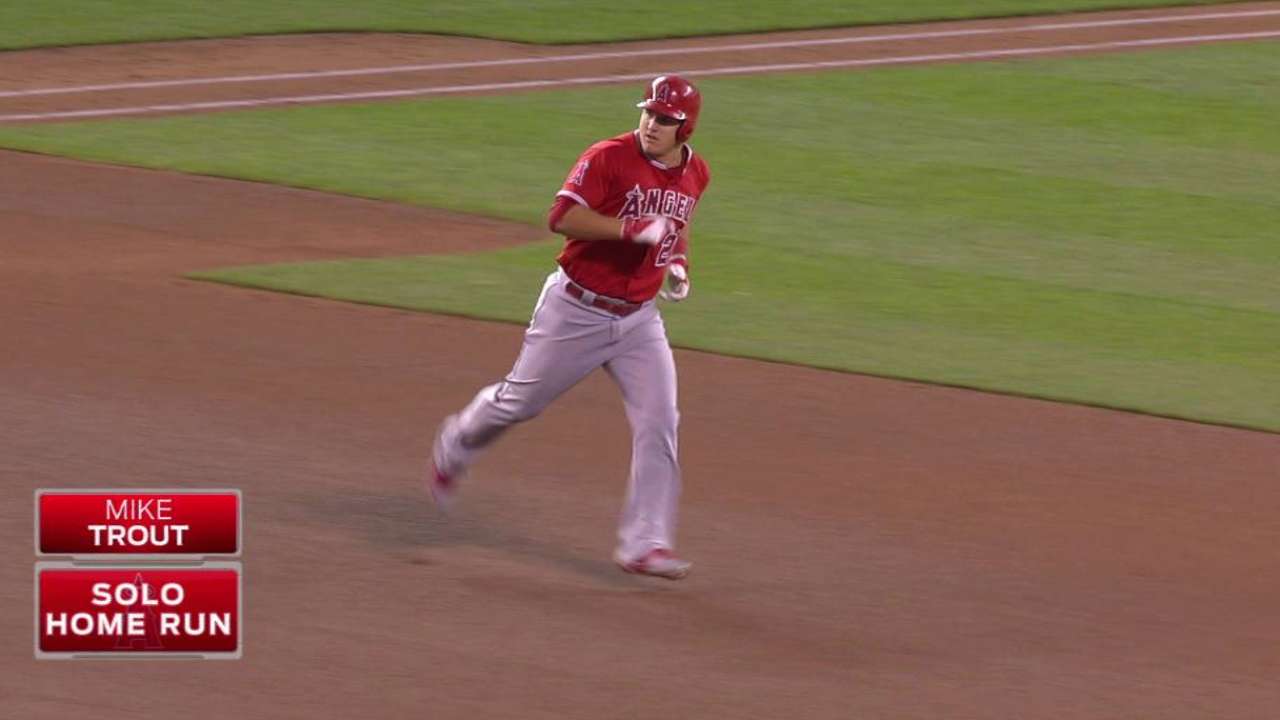 Trout added another home run in the fourth and just for good measure, he flashed his speed in the third inning, tracking down an Aaron Hicks gapper and potentially saving a couple runs to help preserve his team's lead. His 38 home runs are a career high.
His five-RBI performance enabled the Angels to move a game closer to both the Astros and the Twins in the Wild Card race. They trail the Astros by 2 1/2 games and the Twins by one.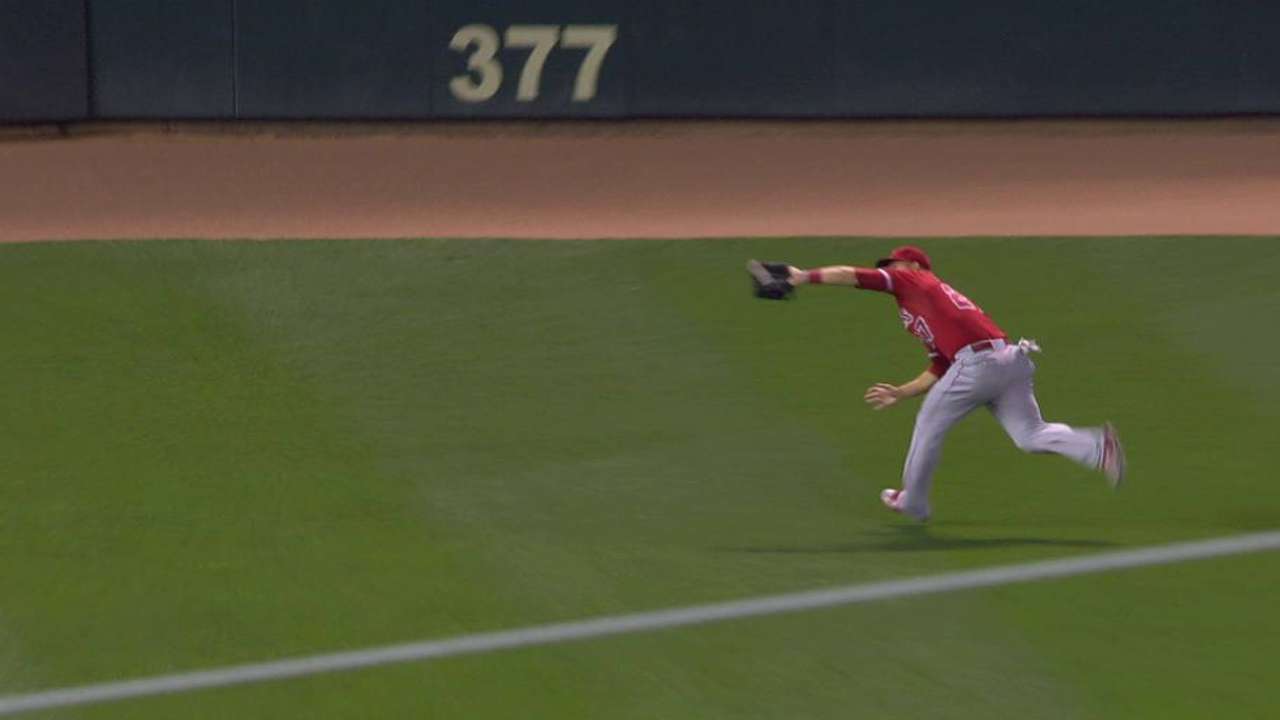 "We obviously told ourselves it was the second inning so we had a lot of game left and every game's going to be big down the stretch, so we needed this one," Trout said.
The Angels offense was more than just Trout on Thursday, with five players driving in runs and eight collecting hits.
"Mike does what Mike does and if the only thing we have going is what Mike's going to do, it's not going to happen for us," Scioscia said. "So we need to build off that. He's part obviously of the core group of our lineup, but we need nine guys that are swinging it and giving us chances to pressure other teams."
Trout struggled through August, finishing the month hitting .218 with just one home run and seven RBIs. But he's heated up lately, which is a good sign for a team trying to make a postseason run.
"There's a lot on his shoulders to be able to do the things that he does," Scioscia said.
Betsy Helfand is an associate reporter for MLB.com. This story was not subject to the approval of Major League Baseball or its clubs.