Kepler, Wheeler among 10 top prospect performers Thursday
Twins' No. 6 prospect hits two homers and drives in five, No. 25 doesn't allow a hit until the sixth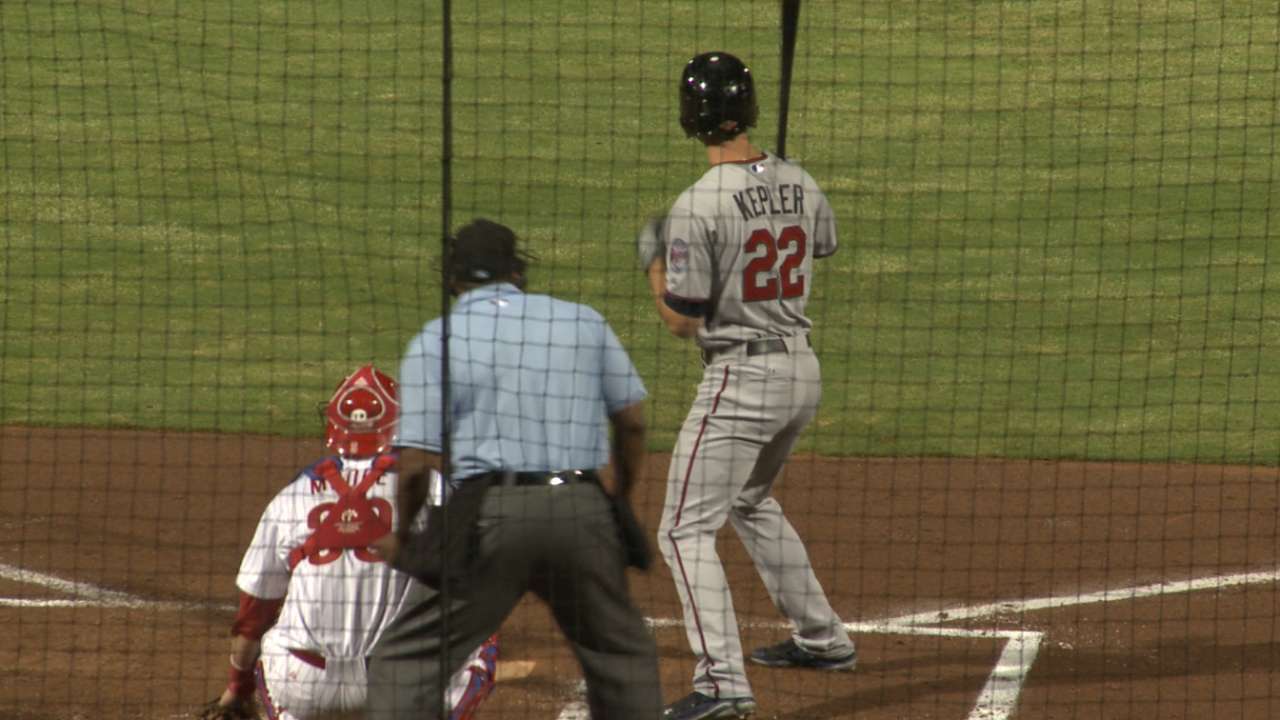 After opening the Southern League finals with a loss to Double-A Biloxi, Chattanooga bounced back on Thursday to beat the Shuckers, 6-1, and even the series.
Twins No. 6 prospect Max Kepler was the undisputed star of the game, accounting for five of Chattanooga's runs with a pair of clutch home runs as part of a 2-for-5 effort.
The 22-year-old outfielder gave the Lookouts an early lead with a solo shot to right field in the first inning, and he later blew the game wide open with a two-out grand slam in the fifth. The home runs were Kepler's first in six postseason games, and he also owns a .901 OPS with seven RBIs in that span.
Kepler was named MVP of the Southern League after he paced the circuit in on-base percentage (.416), slugging (.531) and OPS (.947) while also ranking second in batting average (.322). The Germany native tallied nine home runs, 34 doubles, 13 triples, 80 runs scored, 71 RBIs and 19 steals in 118 regular-season contests for the Lookouts, and he also walked more times (69) than he struck out (68).
In addition to his aforementioned MVP honors, Kepler also was recognized by MLBPipeline.com as the Twins' Position Prospect of the Year and earned a spot on its Prospect Team of the Year.
Chattanooga starting pitcher Jason Wheeler received more run support than he needed in the win, as the Twins' No. 25 prospect carried a no-hit bid into the sixth inning before allowing one earned run on three hits over his final two frames. The 24-year-old right-hander issued three walks and struck out five in the outing, throwing 65 of his 106 pitches for strikes. Wheeler has pitched well in both of his postseason starts for the Lookouts, posting a 1.39 ERA with 10 strikeouts over 13 innings.
The 2011 eighth-rounder opened the season at Triple-A Rochester, where he struggled to the tune of a 1-7 record, 6.58 ERA and 1.64 WHIP while working 78 innings (15 starts). Wheeler fared much better following a demotion to Chattanooga, as he closed out the regular season with a 3.92 ERA, 1.24 WHIP and 50 strikeouts over his final 59 2/3 frames (10 starts).
The rest of the 10 best performances from top Minor Leaguers
• Dodgers No. 18 prospect Chase De Jong pitched Class A Advanced Rancho Cucamonga to a 12-3 win over San Jose in Game 1 of the California League finals, yielding two earned runs over six innings. The 21-year-old righty surrendered three hits and two walks while striking out six in the outing. In two postseason starts for the Quakes, the 6-foot-4, 205-pounder has a 1.42 ERA, 0.87 WHIP and 14 strikeouts in 12 2/3 innings. Acquired from the Royals back in early July, De Jong impressed over his final nine regular-season starts, going 4-2 with a 3.02 ERA, .206 opponents' batting average and 48 punchouts in 44 2/3 innings.
• Indians No. 28 prospect Yandy Diaz continued to swing a hot bat for Triple-A Columbus, going 1-for-3 with a solo home run off of Pirates top prospect Tyler Glasnow in a 6-5 loss to Indianapolis in Game 3 of the Governors' Cup. It was his first home run in eight playoff contests, during which he's batting .276/.323/.448 with three RBIs and three runs scored. The 24-year-old third baseman appeared in just four games for Columbus before the start of the International League's postseason, although he did bat .315/.412/.408 with 25 extra-base hits, 55 RBIs and more walks (78) than strikeouts (65) in 132 games at Double-A Akron.
• Phillies No. 1 prospect (No. 5 overall) J.P. Crawford started the scoring with a sacrifice fly in the third inning and went 2-for-3 with a run scored and a walk as Double-A Reading defeated Bowie, 9-3, in Game 2 of the Eastern League finals. The 20-year-old shortstop has hit safely in all six playoff games, and he's batting .476 (10-for-21) with six runs in that span. Crawford's prospect stock continued to rise this season thanks to another impressive showing at a pair of advanced levels. Specifically, the 2013 first-rounder posted a .288/.380/.414 batting line with six home runs, 35 extra-base hits and 68 runs scored in 107 regular-season games between Class A Advanced Clearwater and Reading.
• Phillies No. 2 prospect (No. 55 overall) Jake Thompson, fresh off the best start of his career -- a three-hit shutout against Binghamton in the Eastern League semifinals -- picked up the win for Reading with seven innings of one-run ball, carrying a no-hit bid into the fifth inning before surrendering a single to Garabez Rosa to open the frame. The 21-year-old right-hander scattered four hits and three walks in the outing and struck out five, throwing 65 of his 97 pitches for strikes. Thompson has dealt for the Fightin Phils since coming over from Texas in the Cole Hamels blockbuster, going 7-1 with a 1.48 ERA, 0.92 WHIP and 47/16 strikeout-to-walk ratio in 61 innings spanning nine starts (including the postseason). During the regular season, the 2012 second-rounder was 11-7 with a 3.73 ERA, 1.27 WHIP, 42 walks (2.9 BB/9) and 112 strikeouts (7.6 K/9) in 132 2/3 innings (24 starts) between Double-A Frisco and Reading.
• Phillies No. 3 prospect (No. 59 overall) Nick Williams -- acquired from Texas along with Thompson in the Hamels deal -- also had a big game for the Fightin Phils, going 2-for-6 with a home run, two runs scored and two RBIs. The left-handed-hitting outfielder connected on a solo shot to open the fifth inning -- his third home run of the postseason -- and he also delivered an RBI single in his next trip to the plate as part of Reading's five-run sixth inning. Williams, 22, took a huge step forward this season during his first extended stay in Double-A, batting .303/.354/.491 with 17 home runs, 26 doubles, six triples and 55 RBIs over 119 regular-season games between Frisco and Reading. At the root of Williams' success was a vastly improved strikeout rate, as he fanned just 18.8 percent of the time this season after posting a 28.8-percent whiff rate in 2014.
• Phillies No. 17 prospect Andrew Knapp also had hand in Reading's victory, hitting a double in four at-bats while driving in a pair of runs to improve his series' RBI total to five. The 23-year-old, switch-hitting catcher quietly enjoyed a breakthrough campaign during which he batted .308/.385/.491 with 13 homers, 35 doubles and 84 RBIs in 118 games between Class A Advanced Clearwater and Reading. The California product is batting .261 with an .812 OPS in the postseason.
Pirates No. 3 prospect (No. 33 overall) Josh Bell helped Triple-A Indianapolis stave off elimination from the Governors' Cup with a 2-for-3 performance in which he recorded a double and RBI while also scoring a run. The 23-year-old first baseman has hit safely in all three games in the series, going 4-for-11 with a pair of RBIs and three runs scored. That Bell wasn't included among Pittsburgh's September callups doesn't detract from his impressive year, as he finished the regular season with a .317/.393/.446 batting line, seven home runs, nine triples, 24 doubles and 78 RBIs in 131 games between Double-A Altoona and Indianapolis.
• Rangers No. 10 prospect Yohander Mendez helped Class A Hickory clinch the South Atlantic League title Thursday, allowing one earned run over a season-high 5 1/3 innings in a 5-1 win over Asheville. The 20-year-old left-hander scattering nine hits and walked one in the outing, but he managed to avoid serious damage by striking out eight batters and stranding another eight on the basepaths. Mendez played a major role in Hickory's run through the playoffs, posting a 2.70 ERA with 13 strikeouts in 10 innings between two starts. However, the southpaw's performance during the postseason was merely a continuation of an eye-opening 2015 campaign during which recorded a 2.44 ERA and 1.09 WHIP, struck out 74 batters (10.0 K/9) and issued just 15 walks (2.0 BB/9) in 66 1/3 innings (21 appearances/eight starts) for the Crawdads.
Mike Rosenbaum is a reporter for MLB.com. This story was not subject to the approval of Major League Baseball or its clubs.