Twins search for resolve with much at stake
Veteran Hunter knows club can rebound with postseason berth in reach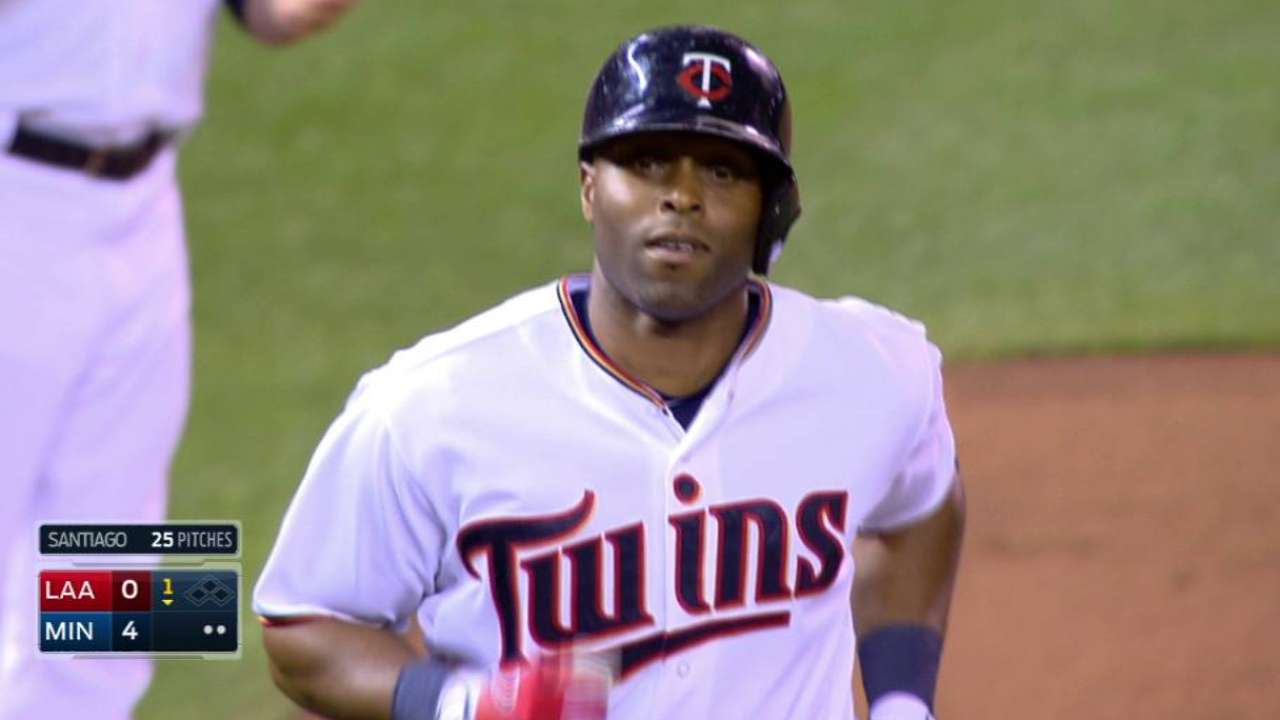 MINNEAPOLIS -- After their heartbreaking loss to the Tigers in 12 innings on Wednesday, Twins manager Paul Molitor held a brief meeting with his players to tell them not to have any self-pity and to move forward.
The message appeared to be received early in Thursday's game against the Angels, as the Twins jumped out to a five-run lead in the first inning, only to see it unravel with an 11-8 loss at Target Field. It handed the Twins three straight defeats for the first time since Aug. 17-19, when they were swept by the Yankees in New York, while the last time it happened at home came from July 25-29.
The Twins, though, remain 1 1/2 games behind the Astros for the second American League Wild Card spot, as Houston was swept in a four-game set by the Rangers. And veteran outfielder Torii Hunter said he believes there's still plenty of fight left in the Twins this season.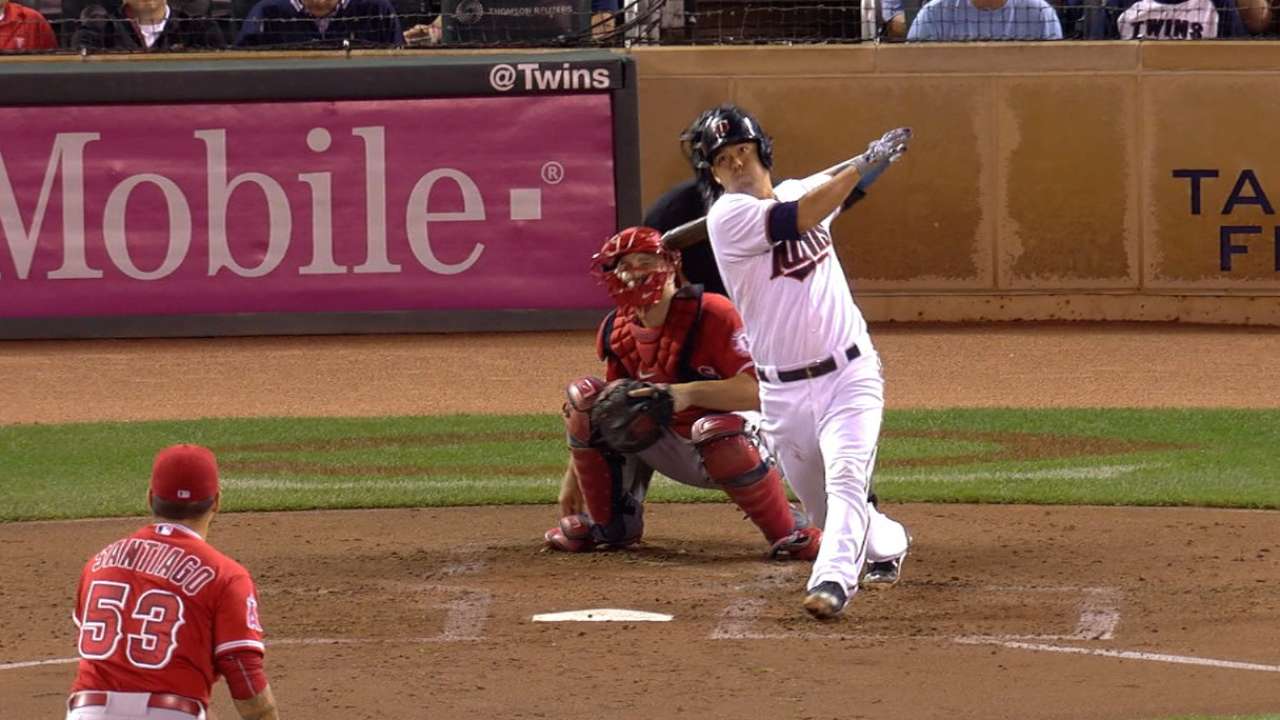 "As far as we've come with everybody ruling us out, playing in September for something, there's no self-pity," Hunter said. "We're excited. We're happy. I don't care what game you're playing, when you lose, you don't like it. But you gotta have amnesia because you play every day. And that's what we're gonna do. Come back tomorrow and try to bounce back. We're still in the thick of things."
But as Hunter conceded, it was another tough defeat for the Twins, who jumped out to the five-run lead on his three-run blast in the first. Angels lefty Hector Santiago recorded just two outs before being pulled, but Twins lefty Tommy Milone only went 1 1/3 innings.
"It's tough to swallow," Hunter said. "You jump out early and you have five runs and all heck broke loose after that. I guess you could say we were upset, but we tried to show some fight and some push and that's what baseball is all about. You have to keep fighting and keep playing and that's what we did, but they just ran away with it."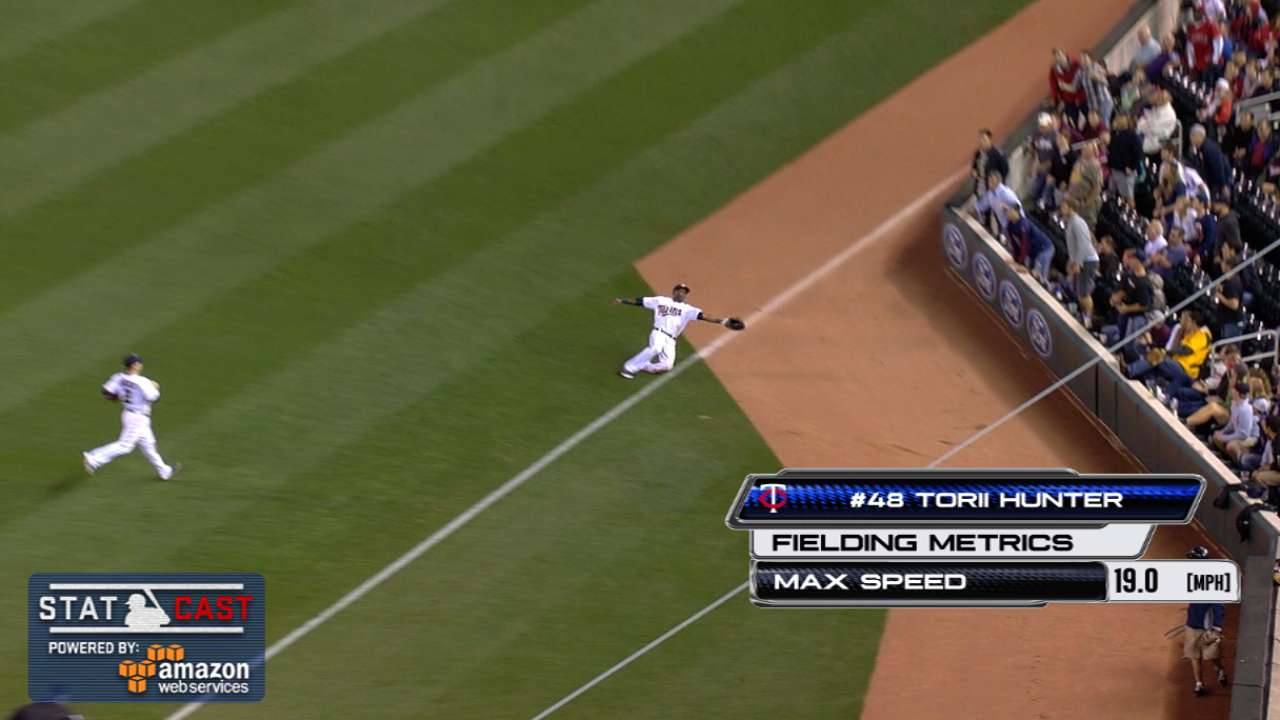 The Twins, however, have shown plenty of resiliency this year, as they bounced back from a 1-6 start early in the season and also didn't let their three-game sweep against the Yankees sink them, as they bounced right back to win six straight on the road.
"They've done it enough times this year," Molitor said. "It's a little bit different circumstances because we know guys are playing in an environment they're not used to. There's not a lot of experience here. But the guys who do have it seem to be stepping up, like Torii tonight, offensively and defensively. So you try to have short memories."
Hunter echoed his manager's feelings, as he also believes the Twins have displayed resolve, but now it's up to them to prove it again with a postseason berth on the line.
"I'm confident we'll put it behind us because we've been putting the losses behind us forever but right now we have to close out these games," Hunter said. "We can't have five runs and then lose. If you're going to make a push for the postseason we have to hold that off. You have to keep playing the game and have a little want."
Rhett Bollinger is a reporter for MLB.com. Read his blog, Bollinger Beat, follow him on Twitter @RhettBollinger and listen to his podcast. This story was not subject to the approval of Major League Baseball or its clubs.