Statcast: Lindor's cat-like reflexes save run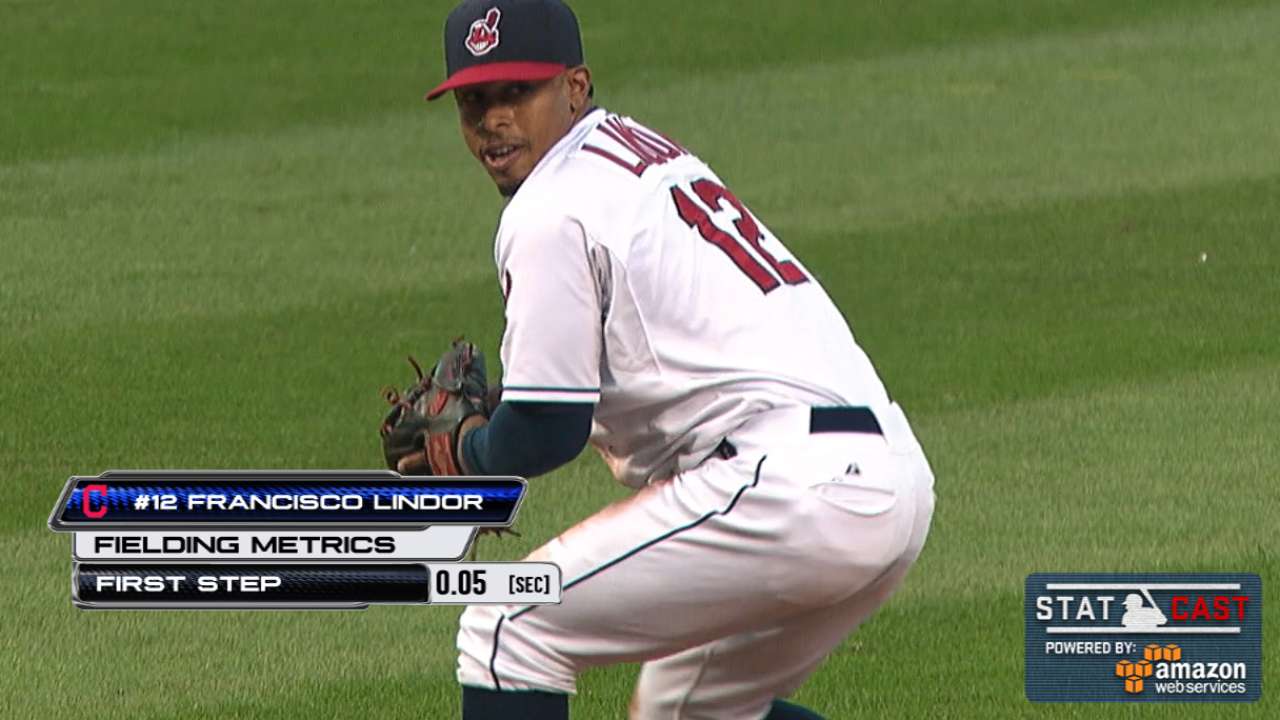 Along with placing himself squarely in the Rookie of the Year discussion with his torrid play of late, a certain Indians shortstop has also become a frequent subject of Statcast™ breakdowns.
Thursday was no exception, as the red-hot rookie put his cat-like reflexes on full display in making his latest run-saving defensive gem. Elsewhere, the Rays put on a baserunning clinic to produce a run against the Orioles, while a former perennial Gold Glove threat proved that he can still cover some ground in Minnesota.
Statcast™ will also take a look at three of the day's biggest home runs, from a moonshot in Chicago, to a grand slam by one of the game's biggest stars, to a home run that, literally, still has not come down, as of this writing.
Here's an in-depth look at each of those plays, courtesy of Statcast™.
Lindor's split-second reaction saves a run
Indians shortstop Francisco Lindor continued bolstering his Rookie of the Year resume Thursday, flashing his elite defensive skillset in the first inning against the Royals. With the Royals threatening to score the game's first run with a runner on second and two outs, Eric Hosmer ripped a shot toward the hole that jumped off his bat at a blistering 108.5 mph. Lindor, however, took his first step just .05 seconds after contact, allowing him just enough time to make a diving stop to his right. He then scrambled to his feet and fired an 83.7-mph throw that traveled 114 feet across the diamond and arrived just in time to retire Hosmer.
This is getting ridiculous. Another FANTASTIC play by #LindorROY at short to end the first. Wow.

— Cleveland Indians (@Indians) September 17, 2015
Rays hustle leads to a run
A pair of speedy Rays outfielders used heads-up baserunning to manufacture a run in the sixth inning of Thursday's game against the Orioles. With runners on first and second and two outs, Kevin Kiermaier chopped a grounder to first baseman Steve Pearce. Kiermaier reached a max speed of 20.9 mph as he sprinted down the first-base line, then slid into first base to avoid Pearce's diving tag attempt. While Kiermaier was beating out the infield hit, Steven Souza Jr. decided to round third and make a dash for the plate. He, too, topped 20 mph on the play, reaching a max speed of 20.5 mph before also sliding in safely around a sprawling tag attempt.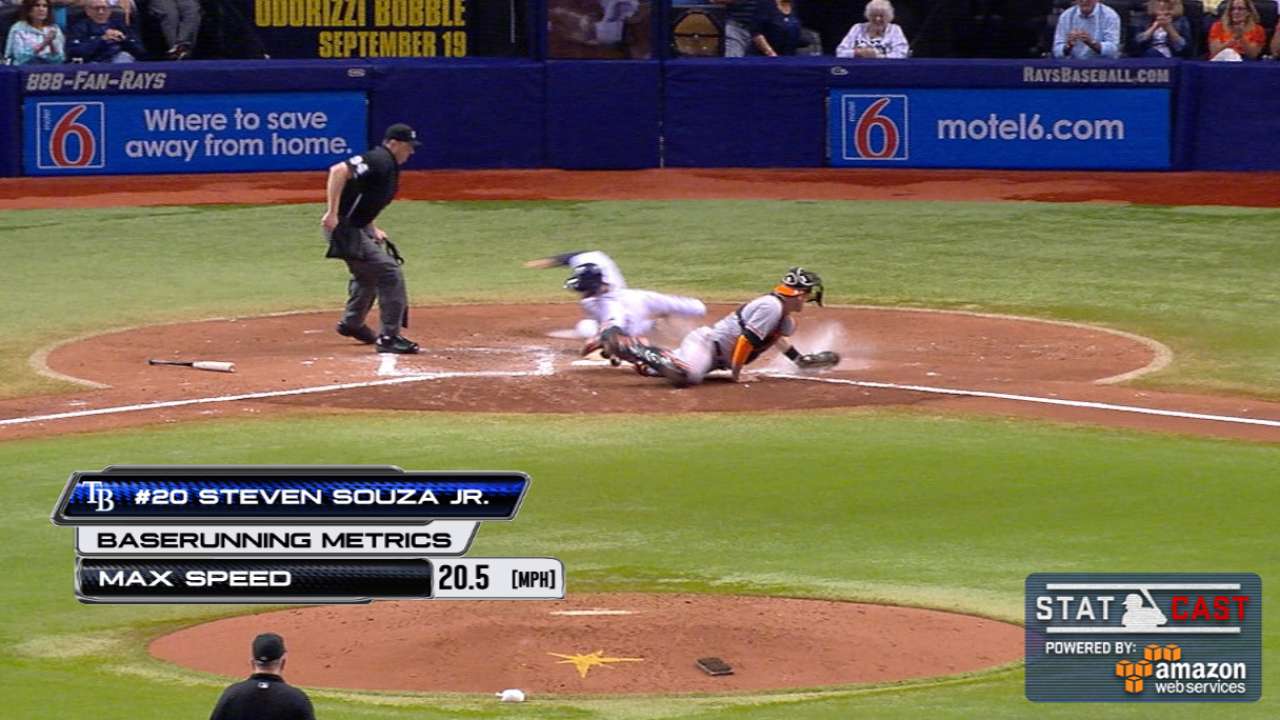 Olt tees off for no-doubter
White Sox first baseman Mike Olt hit a towering solo homer in the fifth inning of Thursday's 4-2 loss to the Athletics. The ball left Olt's bat a scorching 109.5 mph and traveled a projected distance of 448 feet before finally landing on the concourse beyond the left-field seats at U.S. Cellular Field.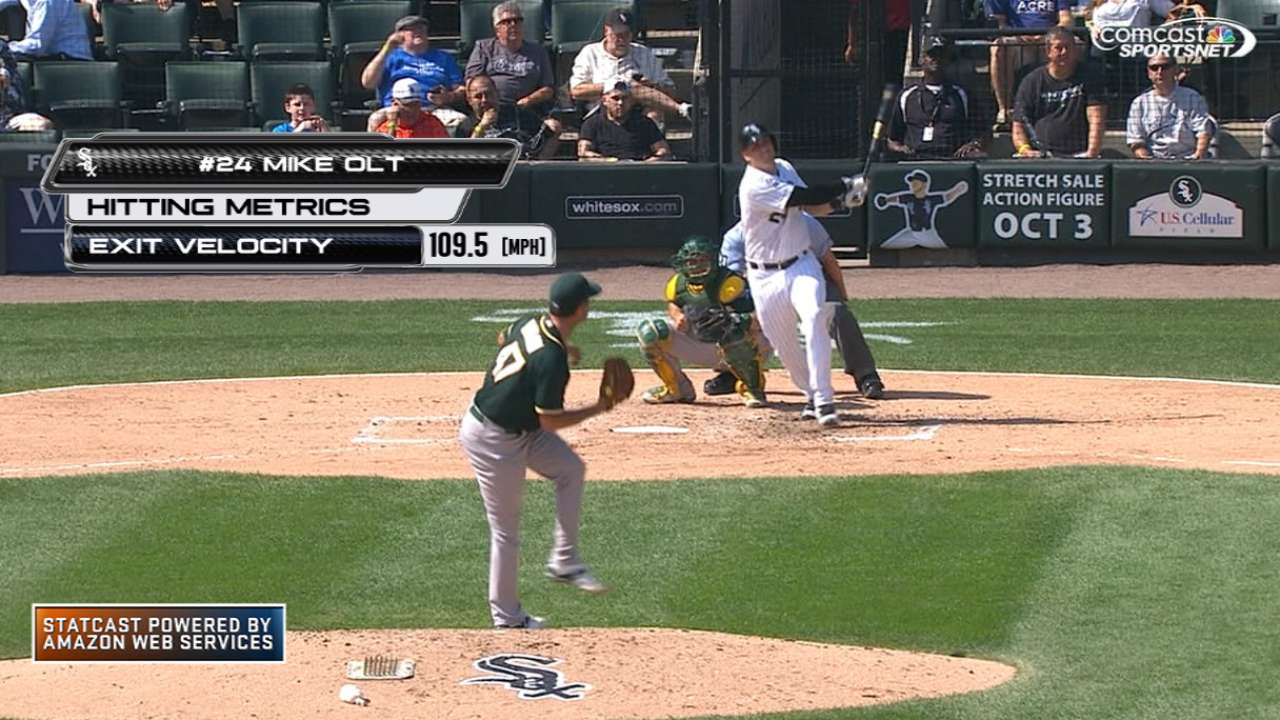 Trout kicks off two-homer game in grand fashion
Angels superstar Mike Trout crushed a go-ahead grand slam in the second inning of Thursday's crucial 11-8 comeback victory against the Twins. The first of two home runs for Trout on the night, the grand slam jumped off his bat at 107.8 mph and traveled a projected distance of 422 feet as it cleared the wall in one of the deepest parts of Target Field.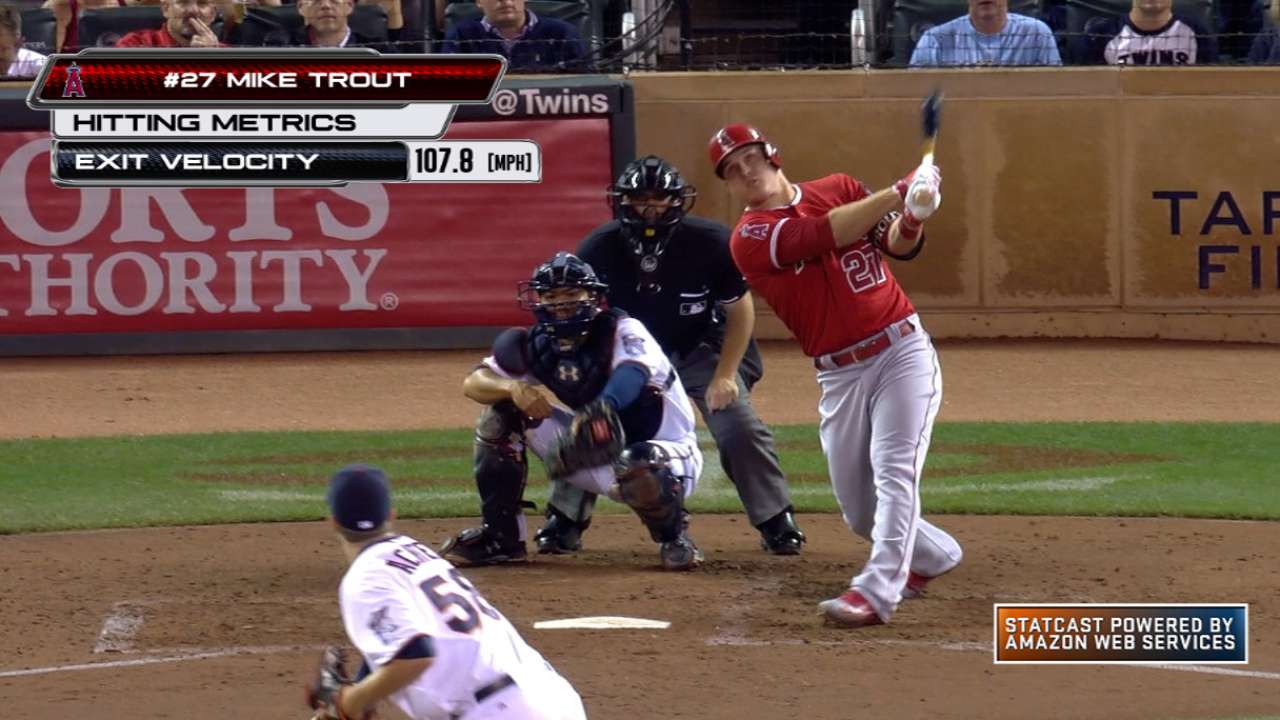 Jaso hits one that doesn't come down -- literally
For the second time in as many nights, a home run ball was lost in the Tropicana Field catwalks Thursday. The latest homer to have its path interrupted came courtesy of Rays catcher John Jaso, who struck a shot with an exit velocity of 104.7 mph in the fourth inning against the Orioles. Though it was ultimately halted when it collided with a catwalk, Statcast™ projects that it would have traveled 384 feet.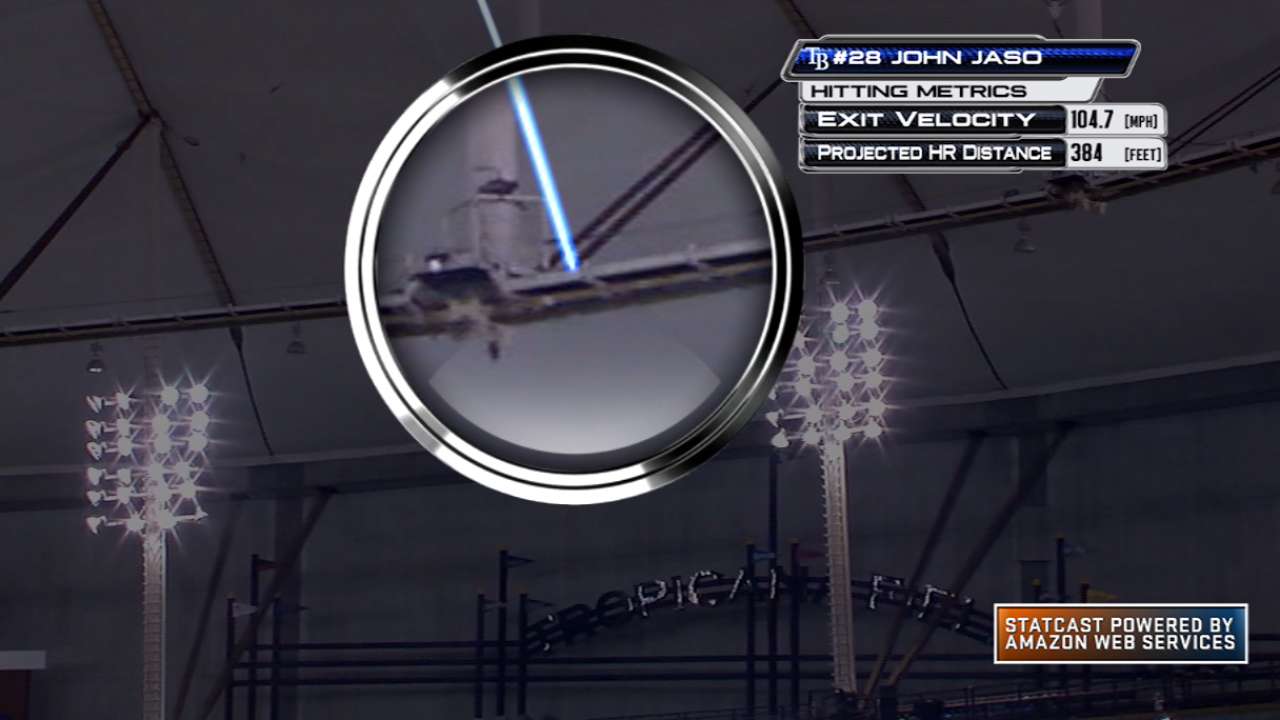 Hunter makes vintage sliding catch
Nine-time Gold Glove winner Torii Hunter showed that he's still got it Thursday, racing a long way to make a sliding catch in foul territory to retire fellow veteran Albert Pujols. The 40-year-old Hunter reached a max speed of 19 mph on the play before sprawling into foul territory to make the full-extension grab.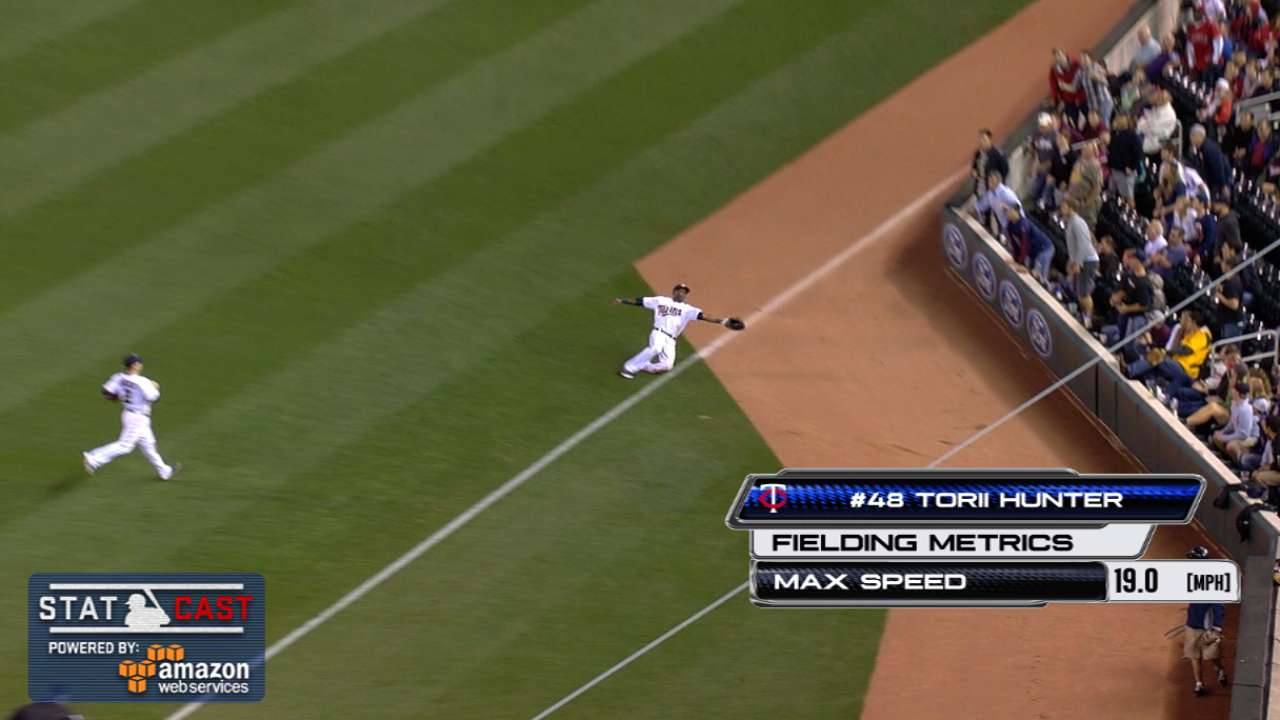 Paul Casella is a reporter for MLB.com. Follow him on Twitter @paul_casella. This story was not subject to the approval of Major League Baseball or its clubs.