Texas aims to stay 'locked in' after sweep
'We have to keep going out and play well,' Banister says of final stretch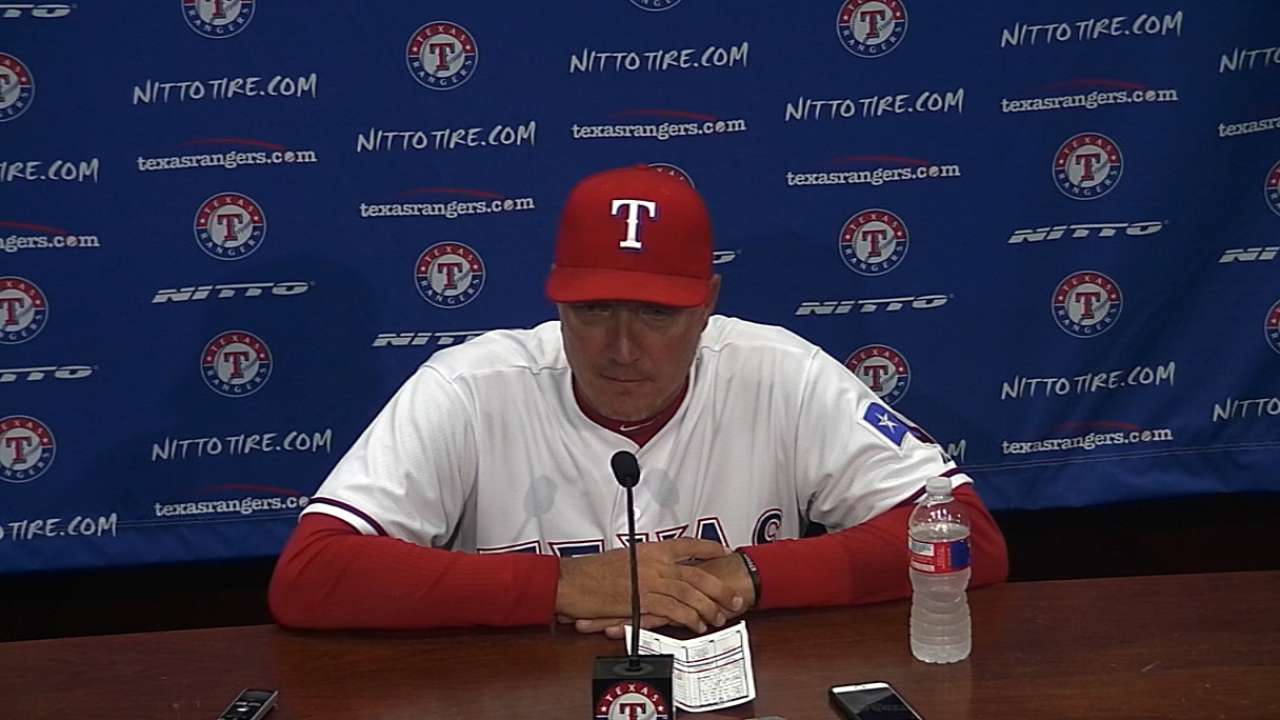 ARLINGTON -- The sweep is complete and that may have exceeded anybody's expectations for the Rangers coming into a four-game series with the Astros.
But Texas seemed to play with supreme confidence and the results were evident. The Rangers understand there are still 16 games left in the season, but they are now 2 1/2 games up on the Astros after an 8-2 victory on Thursday night.
It was the Rangers' first four-game sweep in two years and they have a three-game lead in the loss column.
"To sweep a four-game series against anybody is challenging," manager Jeff Banister said. "But against a ballclub of that caliber and the way they have played baseball all year long, it takes great focus, determination, things have to go your way. I believe our ballclub was focused, determined and locked in as we could be for four games. I believe these guys are as locked in as we can get them."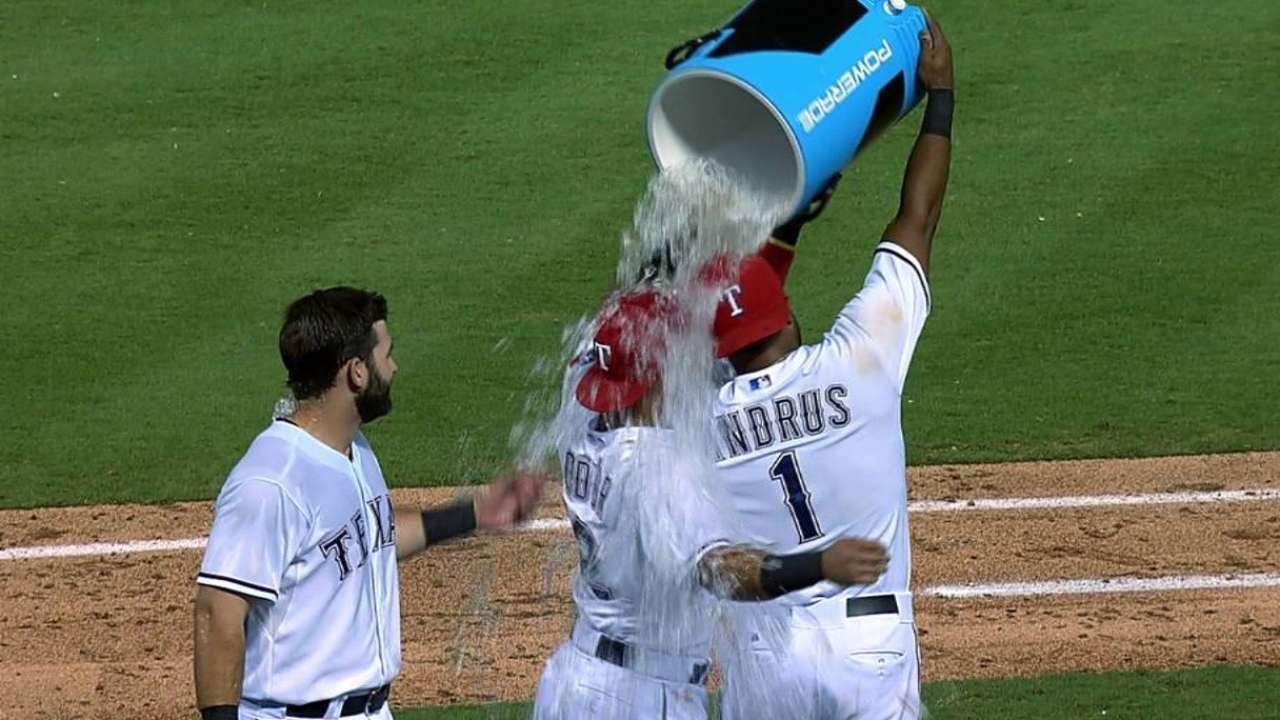 The Rangers began the series by winning two close games in the late innings. Then they pummeled the Astros, 14-3, on Wednesday and finished it off with another dominating performance on Thursday.
"It was a good series for us," outfielder Mike Napoli said. "We're trying to do that against everybody every day. Obviously, we knew they were in first place coming into the series but we're just trying to win the series and we happened to take all four of them. Yeah, we've got some momentum and we're playing good team baseball. We're getting good pitching and we're hitting the ball pretty well."
The Rangers outscored the Astros, 33-13, during the series. They hit .343 with a .400 on-base percentage and a .571 slugging percentage while hitting eight home runs. They hit .317 with runners in scoring position.
Their pitchers had a 3.25 ERA, holding the Astros to a .262 batting average and just two home runs. Their bullpen had a 1.74 ERA and the only two runs allowed were by Andrew Faulkner in Wednesday's blowout.
Rangers starter Colby Lewis held the Astros to two runs in six innings before Keone Kela, Sam Dyson and Ross Ohlendorf finished the job and the sweep.
"I think it's just typical of the clubhouse we have," Lewis said. "The guys are clicking and enjoying what's going on. We're really loose but when it is time to go between the lines, we're getting it done."
Outfielder Shin-Soo Choo said the Rangers' veteran experience made the difference during the series.
"Houston is a great team with a lot of young talent but we have more experience," said Choo, who had four hits on Thursday and went 8-for-16 in the series. "We know how to play the game and I think that's what we showed in the last four games."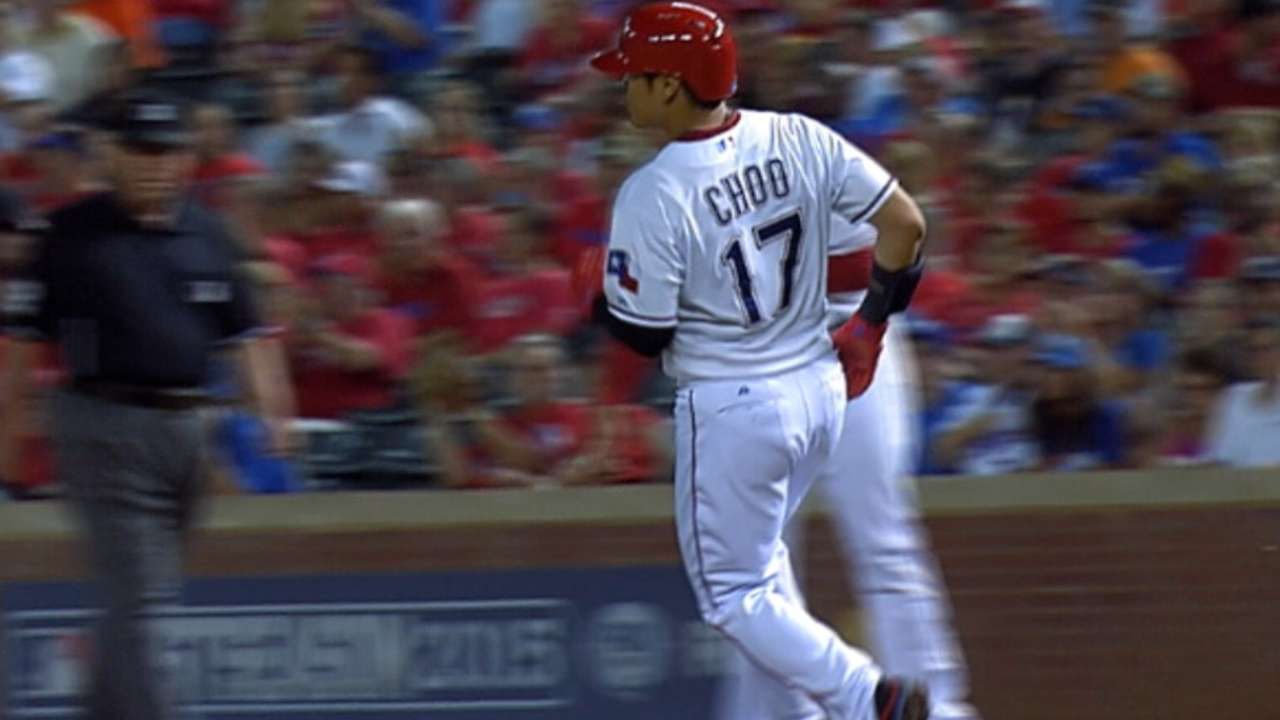 The Rangers have won seven straight against the Astros and are 12-4 against them this season. But the two teams still have one more three-game series next weekend in Houston.
"September is never easy," Banister said. "Chasing a pennant is never easy. It takes supreme focus. It's not looking up, you can't exhale. You celebrate the win but you have to get up the next day and do it all over again. You can't look back because somebody is coming after you.
"That team [Astros] over there has played too well all year to not continue to fight. They go back to their house where they play tough. We have to keep going out and play well."
T.R. Sullivan is a reporter for MLB.com. Read his blog, Postcards from Elysian Fields, follow him on Twitter @Sullivan_Ranger and listen to his podcast. This story was not subject to the approval of Major League Baseball or its clubs.