Bour saves his best for division foes
Of 18 homers, nine have come vs. NL East teams, including three-run shot to help beat Nats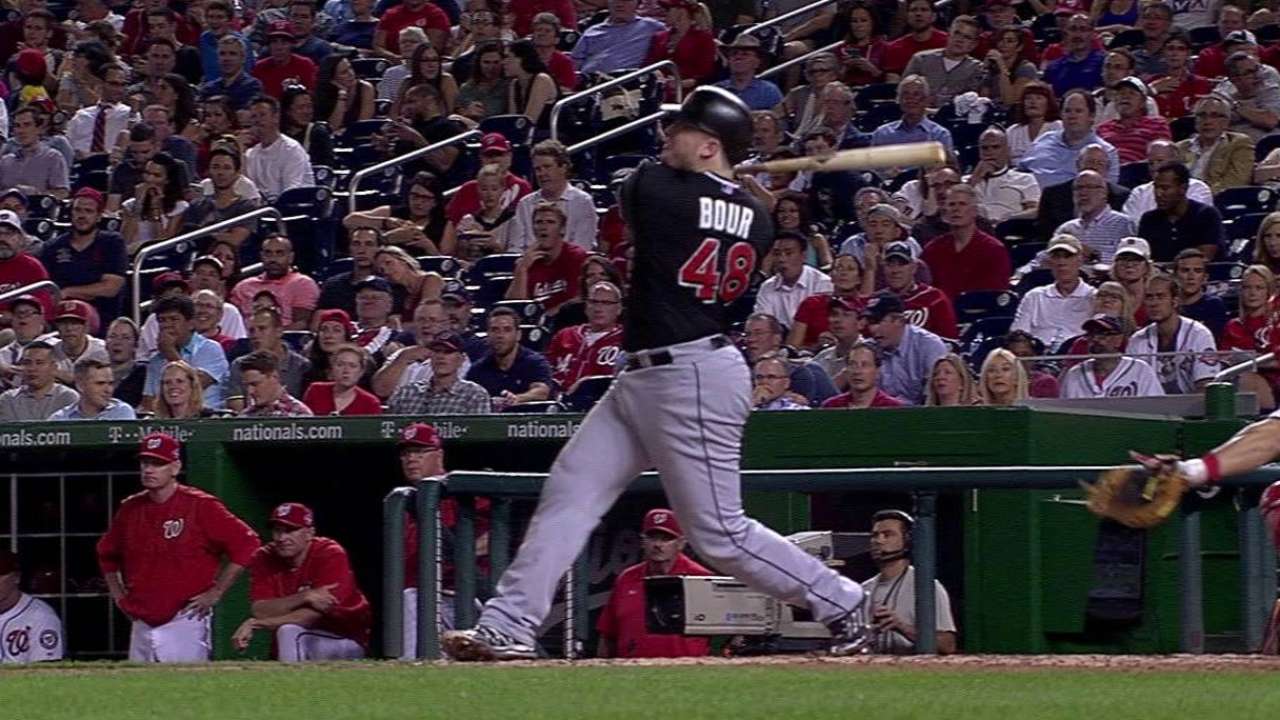 WASHINGTON -- The National League East has just about had enough of Justin Bour.
The first baseman's three-run monster of a home run on Thursday night that extended Miami's lead to four runs and proved the difference in the Marlins' 6-4 win over the Nationals was only the latest case.
"Wow. That was huge," manager Dan Jennings said. "To be able to put that three-run shot up there in that [four-run fifth] inning, it was tremendous."
The Marlins had already jumped out to a 3-2 lead in the fifth on Dee Gordon's sacrifice fly, but back-to-back hits by Christian Yelich and Martin Prado extended the inning and brought the 6-foot-4, 250-pound rookie to the plate.
"Those two-out hits get you to heaven," Jennings said. "They're sweet."
Bour belted a 94-mph fastball from Washington starter Tanner Roark deep over the right-field wall. The home run was his fourth against Washington this season, which counts for 22 percent of his total, despite only having 11 percent of his at-bats against the Nationals.
"Honestly, I just try to take the same approach," Bour said. "It doesn't matter what ballpark I'm playing in."
During Miami's road trip, which started in New York on Monday, Bour is hitting .313 (5-for-16) with a double, two homers, seven RBIs and three runs scored.
"He's a powerful guy, so if he can get the head of the bat on it, it can go a long way," Nationals manager Matt Williams said. "He's been playing regularly, he's getting more and more at-bats at the big league level and he's a pretty good hitter."
Bour's 18 home runs rank fifth in Major League Baseball for rookies. Nine of those blasts have come against the division, and his average, on-base and slugging percentage are best against NL East pitchers (.310/.358/.540).
"He just keeps swinging the bat," Jennings said. "He's making the most of his opportunity. It's great to see him drive the ball like that."
Jacob Emert is an associate reporter for MLB.com. This story was not subject to the approval of Major League Baseball or its clubs.