Make up ground with these two-start pitchers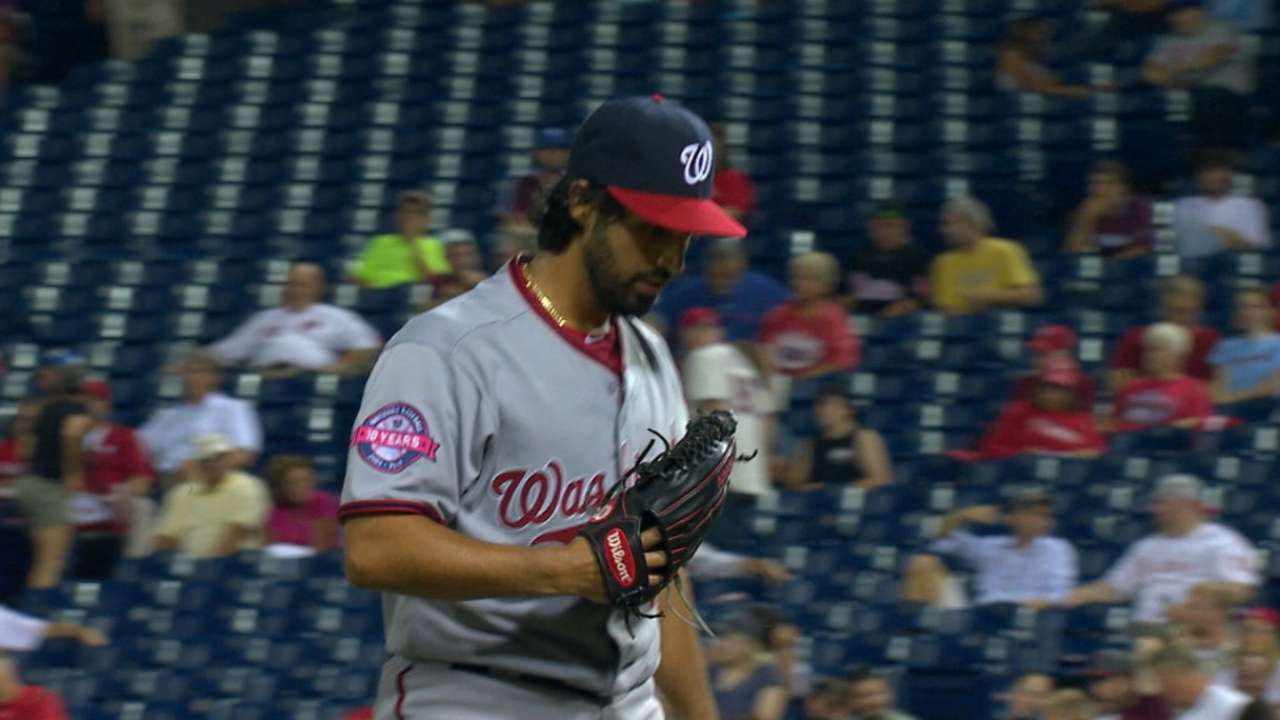 Looking to upgrade your fantasy starting rotation? Or maybe your primary goals are making up ground in wins and strikeouts? Then consider these pitchers, who are each slated for two starts in Week 25.
12-team mixed leagues
Gio Gonzalez (vs. BAL, vs. PHI)
Although Gonzalez has fallen short of expectations this season, his recent performance -- which includes a 1.47 ERA, a 1.09 WHIP and 26 strikeouts in 18 1/3 innings across his first three starts in September -- suggests that a strong finish to 2015 is well within reach. The Nationals southpaw sports a 2.46 ERA and a 1.29 WHIP in four combined starts versus the Orioles and Phillies this year, so he has a good chance to deliver a pair of quality performances next week. Patient owners who drafted Gonzalez and held onto him despite his earlier struggles are now being rewarded.
Luis Severino (@TOR, vs. CHW)
Unless you're in a very shallow mixed league, there's no way that Severino is still available. But if you are a Severino owner who is concerned about next week's matchup on the road against the Blue Jays since Toronto tagged him for six runs in just 2 1/3 innings last week, don't forget that Severino earned a quality start in his previous outing versus the Jays in Toronto. The 21-year-old righty is the kind of talent who can thrive against any lineup when he's on his game. Being that the White Sox rank 26th in the Majors in runs scored this season, pitching Severino is a risk worth taking.
Eduardo Rodriguez (vs. TB, vs. BAL)
Since allowing eight earned runs in his start against the Marlins back on Aug. 12, Rodriguez has pitched to a stellar 1.72 ERA and a 1.26 WHIP across his past five outings. The Rays rank last in the AL in runs scored this season, and while the Orioles are an above average offensive club overall, the Baltimore lineup has been a lot more productive at home (3rd in AL in runs) than on the road (13th in AL in runs).
Deeper mixed leagues
Jon Niese (vs. ATL, @CIN)
Niese was coming off four straight starts of at least five earned runs prior to his encouraging outing against the Braves his last time out, so those in 12-team mixed leagues are better off playing it safe by benching him until he shows more consistency. But the upcoming matchup against the Braves, the lowest scoring team in the Majors, is enough of a reason for owners in deeper mixed formats to consider starting the left-hander next week. That said, pitching Niese on the road against the Reds is a risky move, as Cincinnati ranks third in the NL in runs scored at home. Ultimately, fantasy owners will need to place a heavy emphasis on league context when deciding whether or not to start him.
Jimmy Nelson (@CHC, @STL)
With only one quality start in his past five tries, Nelson is more of a deep mixed league option for next week. Other unfavorable factors include his 4.76 ERA on the road compared to his 3.16 ERA at home and his 7.50 ERA in two starts against the Cardinals this season. However, the Brewers righty sports a 2.61 ERA and a 0.92 WHIP to go along with 25 strikeouts in 20 2/3 innings in three starts against the Cubs.
Robbie Ray (@LAD, @SD)
The fact that Ray is coming off a shaky outing against the Padres is certainly a concern. But the 23-year-old lefty has fared well in his three starts against the Dodgers this season, pitching to a 3.06 ERA with a 1.25 WHIP. Also, Ray has enjoyed far more success on the road (2.71 ERA, 1.19 WHIP) than at home (5.20 ERA, 1.56 WHIP), which bodes well for next week's pair of road starts.
All statistics are accurate through the completion of Wednesday's games.
Zach Steinhorn is a fantasy writer for MLB.com. This story was not subject to the approval of Major League Baseball or its clubs.