Rockies provide stabilizing force for solid Axford
Reliever rebounds from son being bitten in spring, enjoys full '15 after being with 4 teams in 2 years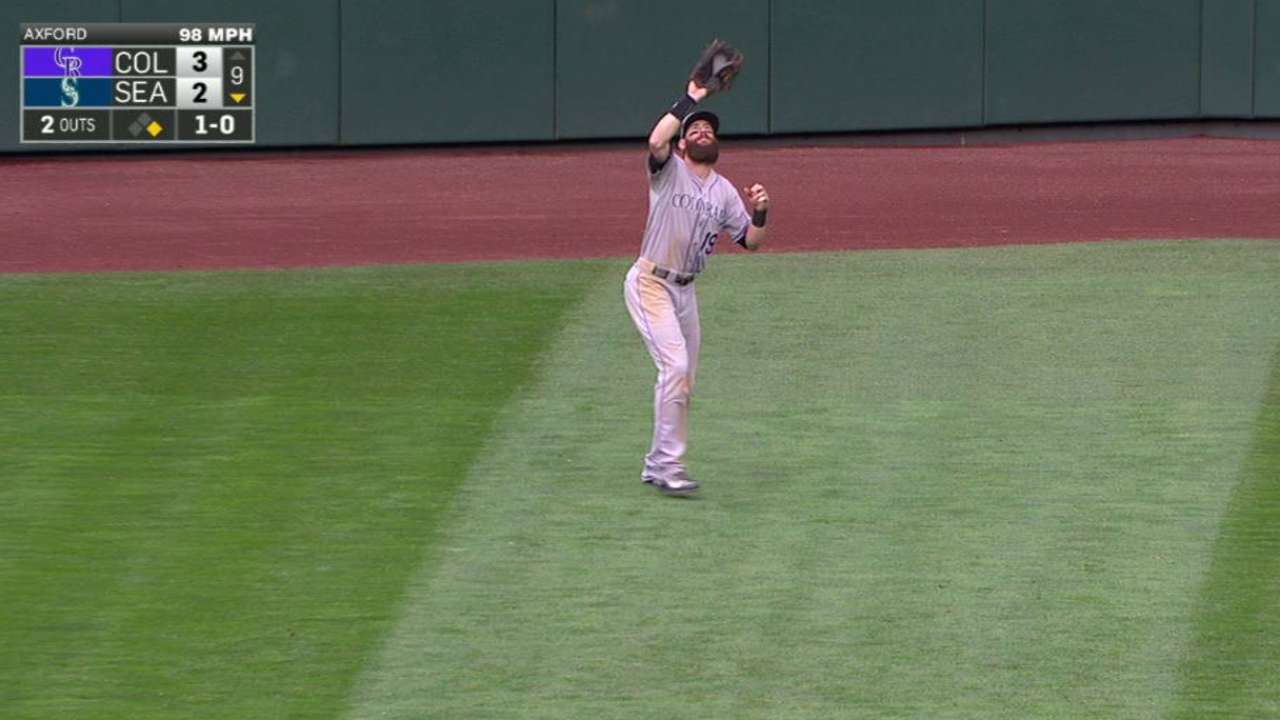 LOS ANGELES -- In a career and in a year when stability has been hard to come by, right-handed reliever John Axford found a measure of it with the Rockies this season.
The Rockies are the fifth team Axford has pitched for since 2013. He hadn't even settled in with his new team when, on March 25, his toddler son, Jameson, was bitten by a rattlesnake at the family's Spring Training home in the Scottsdale, Ariz., area. But through the rough personal year, Axford became the Rockies' closer and has had a solid season -- 4-5, 3.93 ERA and 23 saves in 29 chances.
That solid work, which included overcoming a dramatic month-long slump that saw him blow four saves and post a 9.69 ERA -- could lead to at least a little more peace of mind for Axford, 32, who pitched for the Brewers and Cardinals in 2013, and the Indians and Pirates last season. Indications are the Rockies will tender an offer to Axford this winter, his last one of arbitration eligibility.
"The Rockies have been great this year from top to bottom with everything that's gone on," Axford said. "I want to be back here and be part of the Colorado Rockies team that pulls together and goes back to the playoffs. That's something this team is capable of doing."
Rockies general manager Jeff Bridich will make the arbitration decisions after the season. But he spoke of Axford with the admiration befitting of a guy who will be depended on for stability in a bullpen populated with hurlers going through growing pains. Axford signed as a setup man, but he became closer after Adam Ottavino suffered a season-ending right elbow injury and emerged as the veteran stage-setter after LaTroy Hawkins was traded to the Blue Jays.
"It was important for him that he was able to rebound from that rough patch," Bridich said. "Together, we didn't let that spiral out of control. He's done a lot of great things in this game, pitching in some high-leverage situations for a long period of time.
"John has represented us well. He's represented the bullpen well. He's been a pro in every sense of the word. He was an important part of our back end and a stabilizing force over the course of a long season."
Manager Walt Weiss is even more impressed with Axford.
"He's had an outstanding year," Weiss said. "You think about the things he's had to deal with over the course of the season, it's pretty impressive the way he's performed."
Recovery has been gradual for Jameson, now 3. The latest landmark was Tuesday, when doctors declared the wound on his foot had closed to the point that it no longer needs to be constantly bandaged.
"It's big moments like that, which happen all the time, that are great," Axford said.
Now he plans for big moments on the field.
Over his last 11 appearances covering 13 2/3 innings, Axford converted 7-of-8 save opportunities, with a hard-luck blown save in Tuesday's 5-4, 16-inning Rockies victory over the Dodgers. Axford hopes to carry his work into next season.
"When you pull together as a group, it's so fulfilling to be a part of that and be in the organization for longer than just a couple of months -- now it's at least a year, and if it's going to be two years, that makes it that much better," Axford said. "Team unity is the biggest portion that I remember and love about my playoff teams. Being a part of that here would be special for me."
Thomas Harding is a reporter for MLB.com. Follow him on Twitter @harding_at_mlb, and like his Facebook page. This story was not subject to the approval of Major League Baseball or its clubs.