Cards' early surge gives Lackey nice cushion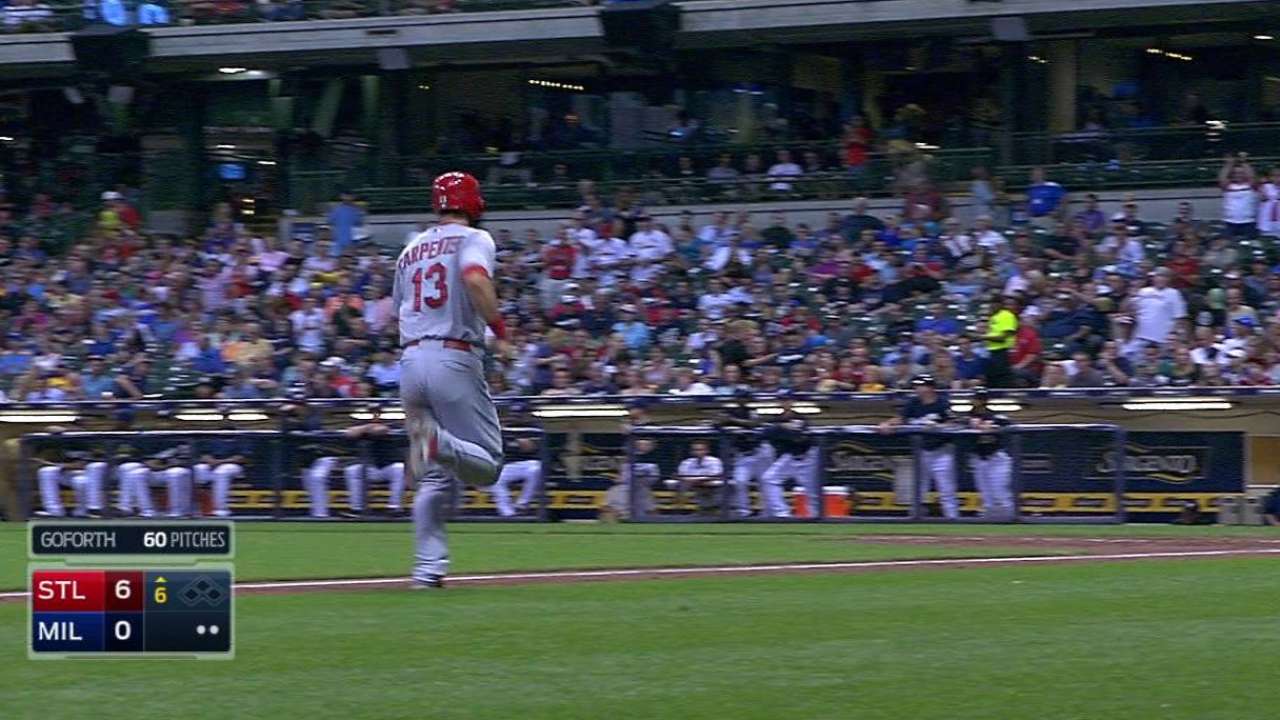 MILWAUKEE -- Before John Lackey broke a sweat on Thursday night, the Cardinals had provided him with a five-run lead. From there, it was cruise control for the veteran right-hander.
Lackey allowed the early offense to hold up by tossing seven scoreless innings, as St. Louis completed a three-game sweep of Milwaukee with a 6-3 victory at Miller Park. The Cards also increased their lead in the National League Central to five games, with the Pirates' 9-6 loss to the Cubs.
"Tonight the offense helped out a lot," Lackey said. "Any time you step out there with a lead, that's a nice feeling. I was trying to pound the strike zone and get those guys back in there to hit because they were really swinging the bats well."
Lackey got inning-ending double plays in the first and second innings, which put his pitch count at 19 heading to the third.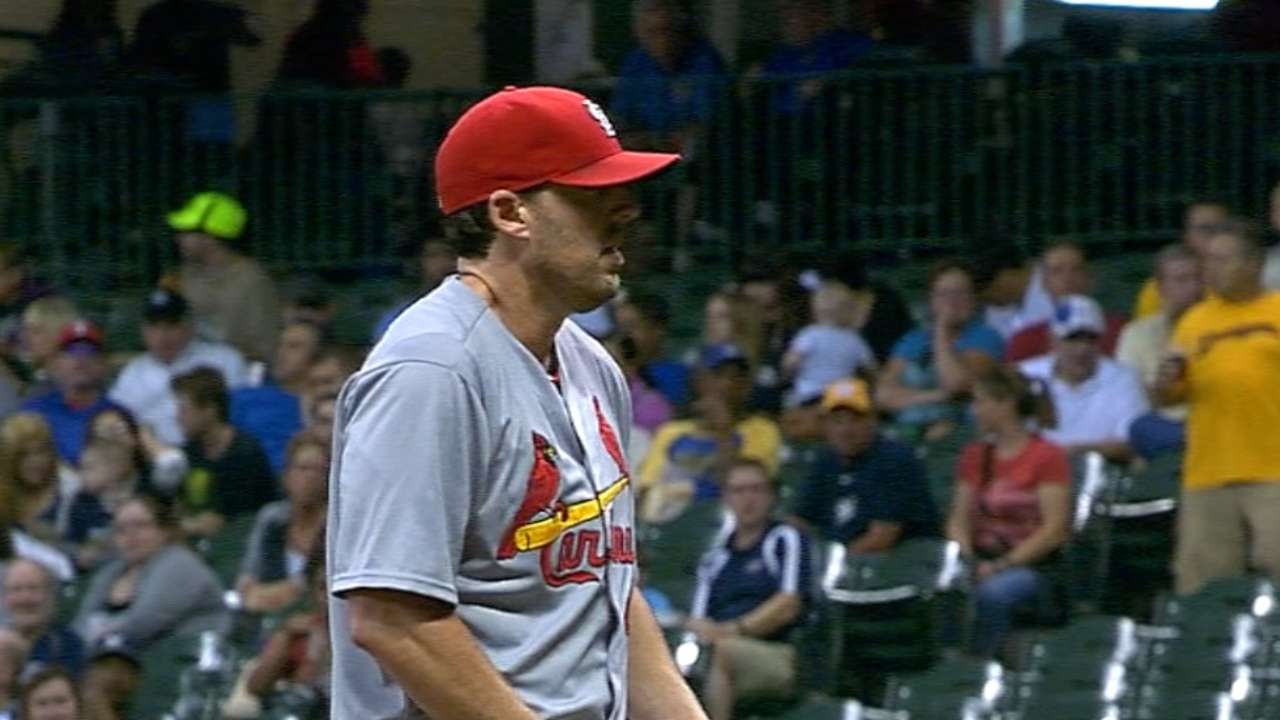 By then, the Cardinals were in complete control.
Matt Carpenter led off with a single and scored on a triple by Tommy Pham. After Jason Heyward tapped back to the mound, Jhonny Peralta hit a sacrifice fly to right to put the Cardinals up 2-0.
St. Louis added three more runs in the third inning, as Carpenter started the frame with a double and advance to third on an error by center fielder Shane Peterson. Pham followed with a shot that drilled Brewers starter Jimmy Nelson in the head. Nelson exited under his own power and sustained only a bruise.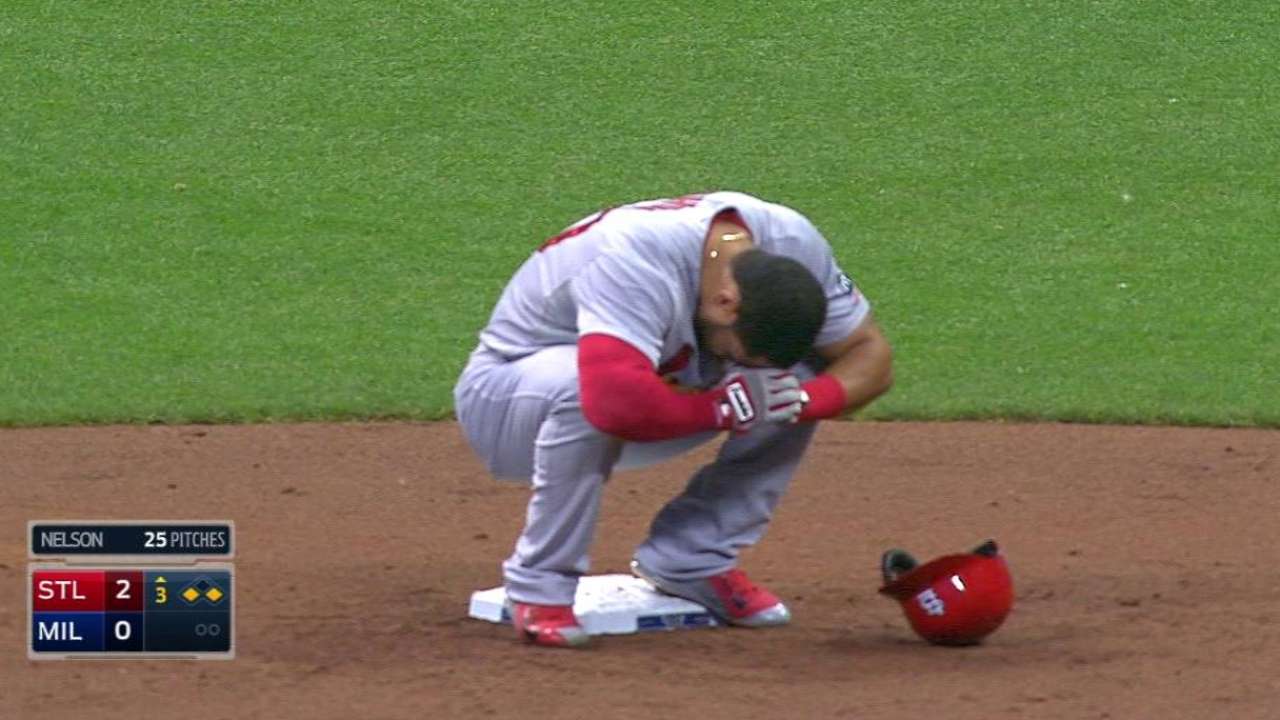 It went as a double for Pham, who then scored on a RBI single by Heyward. Peralta made it 5-0 with a double to score Heyward.
"It gives you a little breathing room," Lackey said of the early offense. "One pitch can't hurt you. You want to stick with your approach, but you get confidence going with a lead."
Lackey was able to work out of trouble in the fourth inning by getting Peterson on a weak popup to third with a runner on third base.
A single by Scooter Gennett and a walk to Elian Herrera put two on with none out in the sixth inning, but Lackey retired the heart of Milwaukee's lineup to strand both runners.
Lackey retired the final nine batters he faced and needed just 88 pitches to get through seven innings. After striking out 10 his last time out against Cincinnati, Lackey fanned eight on Thursday.
"That was one of his better starts," Cardinals manager Mike Matheny said. "We saw some very good fastballs ... He had everything working today. He had a good tempo. When he got guys on, he got double plays. It was just a very good outing.
Lackey sits at exactly 200 innings on 30 starts, two plateaus that speak to the durability of a starting pitcher. It is the first time the 36-year-old has reached 200 innings in a season since 2010 when he was pitching for Boston.
"Two hundred innings is something that's a big number," Lackey said. "I'm proud of myself for going out there and staying in games to give the team a chance to win."
Andrew Gruman is a contributor to MLB.com. This story was not subject to the approval of Major League Baseball or its clubs.