Weaver puts Seager incident, ejection to rest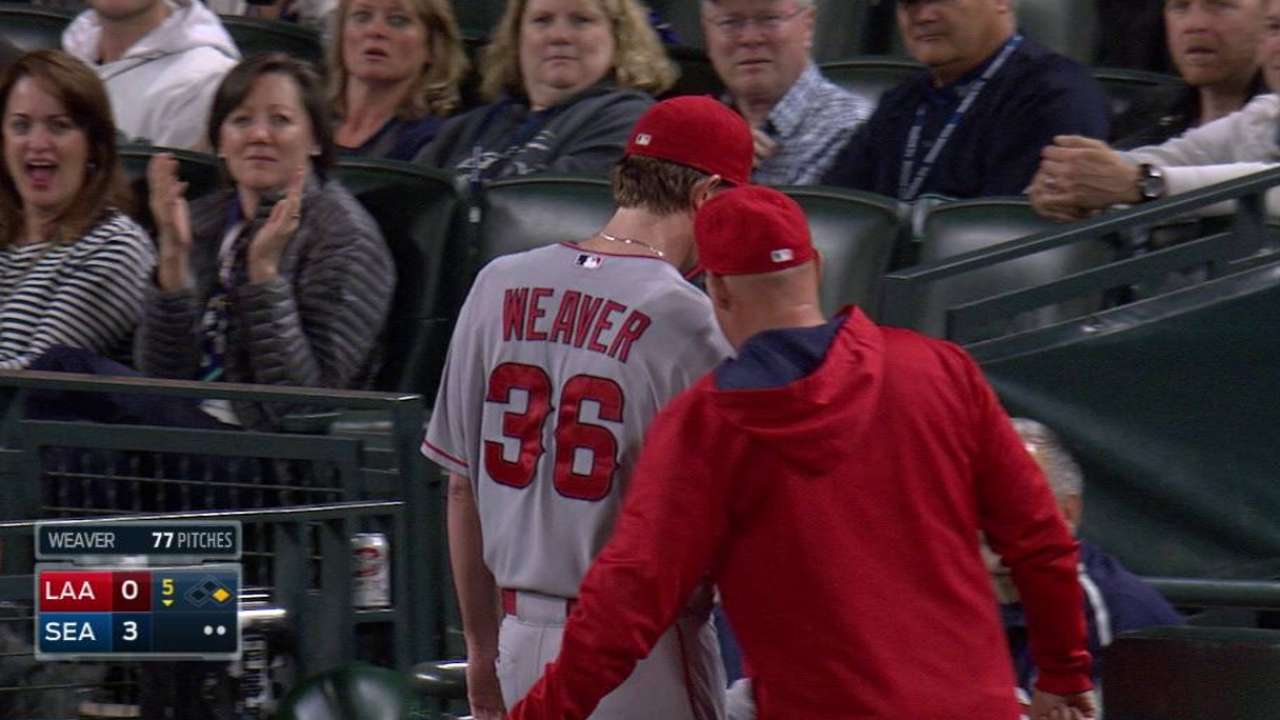 MINNEAPOLIS -- One day removed from an ejection after hitting Mariners third baseman Kyle Seager with a pitch in Seattle, Angels starter Jered Weaver seemed interested in putting the issue to rest.
In the fifth inning Wednesday, Seager had been getting settled into the batter's box, holding his hand up to ask for time when the two had words. Weaver hit him with the next pitch. Postgame, Seager said he thought Weaver had quit on his team.
"I was surprised he hit me because if you hit me there, it's pretty obvious what's going to happen -- he's going to be out of the game," Seager said. "I guess he was tired of pitching."
So, did Weaver have any thoughts about the comments?
"Nope."
Did he even see them?
"Nope."
Did he have any regrets?
"Nope."
Eventually, the 10-year veteran gave in.
"I don't even know who this kid is," Weaver said.
Weaver, like he said postgame Wednesday, maintained that the pitch was just a fastball that got away from him.
"I talked to [Mark] Trumbo two days before that and said, 'I haven't thrown a two-seamer in to a lefty with control in six months,'" Weaver said. "I've hit more guys in one year than I have in my entire career this year, so the control has not been as good as it has been in the past. Hence the five ERA."
In 142 1/3 innings, Weaver has hit 11 batters this year, a career high. His previous high was seven hit batsmen in 2013. And 23 starts into the season, his ERA rests at 4.74. If that holds, that would also be a career high.
Prior to Wednesday, Weaver had only been ejected once in 2011 for throwing up and in on Alex Avila after Carlos Guillen had admired a home run. He was suspended for six games for that incident. As of Thursday afternoon, manager Mike Scioscia hadn't heard anything of a potential suspension for his starter.
"I know Weave was trying to get a ball in on him for reasons of trying to get him out," Scioscia said. "There's nobody that gives more out there on the mound than Weave. It's neither here nor there."
Betsy Helfand is an associate reporter for MLB.com. This story was not subject to the approval of Major League Baseball or its clubs.