Hamilton celebrated as 'wonderful man,' 'icon'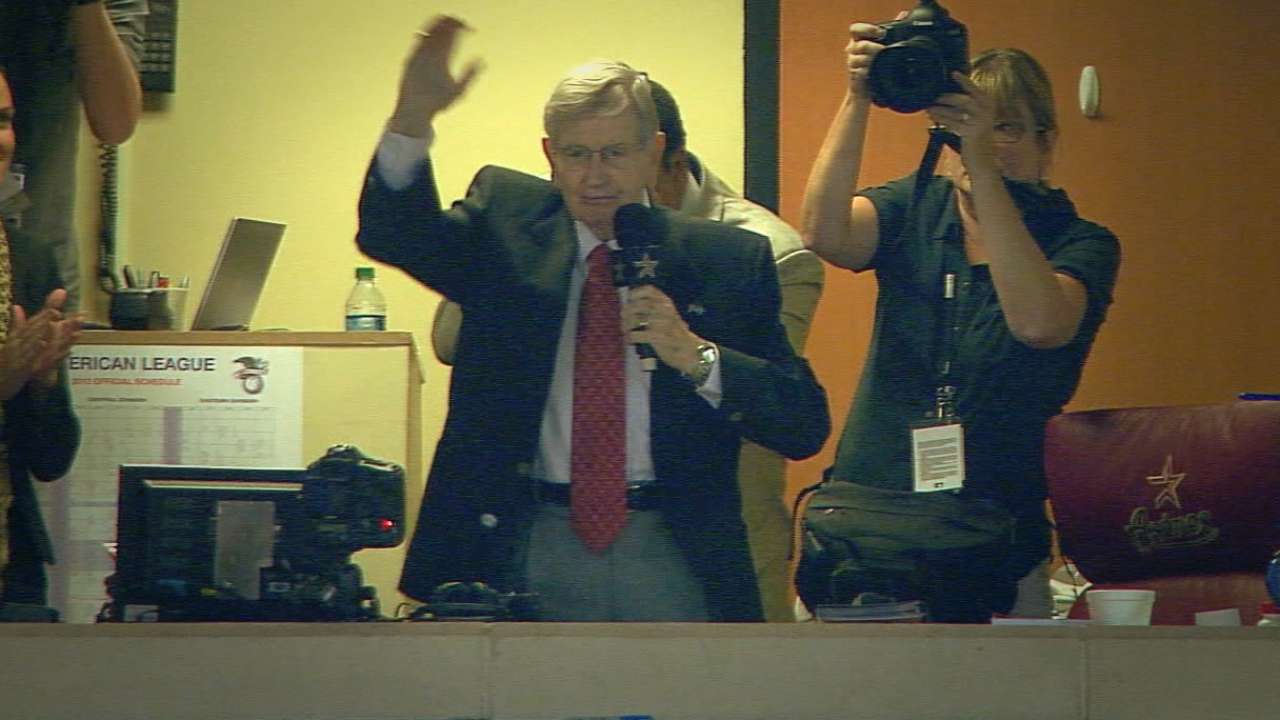 ARLINGTON -- The news of the death of legendary Astros announcer Milo Hamilton drew reaction from all corners of the baseball world. Hamilton passed away in Houston on Thursday at the age of 88 following a lengthy illness.
Hamilton, a Ford C. Frick Award winner in 1992, called Major League games for nearly 60 years with stops with the St. Louis Browns (1953), Cardinals (1954), Cubs (1956-57 and 1980-84), White Sox (1962-65), Braves (1966-75), Pirates (1976-79) and Astros, where he landed in 1985.
Remembering Milo: Many share memories
Along the way, Hamilton's familiar voice made him a favorite with fans as well as the players whose games he was broadcasting.
"He was a wonderful man who gave his life to baseball," former Astros slugger Jeff Bagwell said. "He treated me with respect. We had a tremendous relationship. He's one of the icons of broadcasting that the game has ever seen. His home run call of Hank Aaron was a big deal. That's all I've known was Milo to be the announcer. It's a sad day for baseball, but if he's in a better place, then good for him. I know he was struggling lately."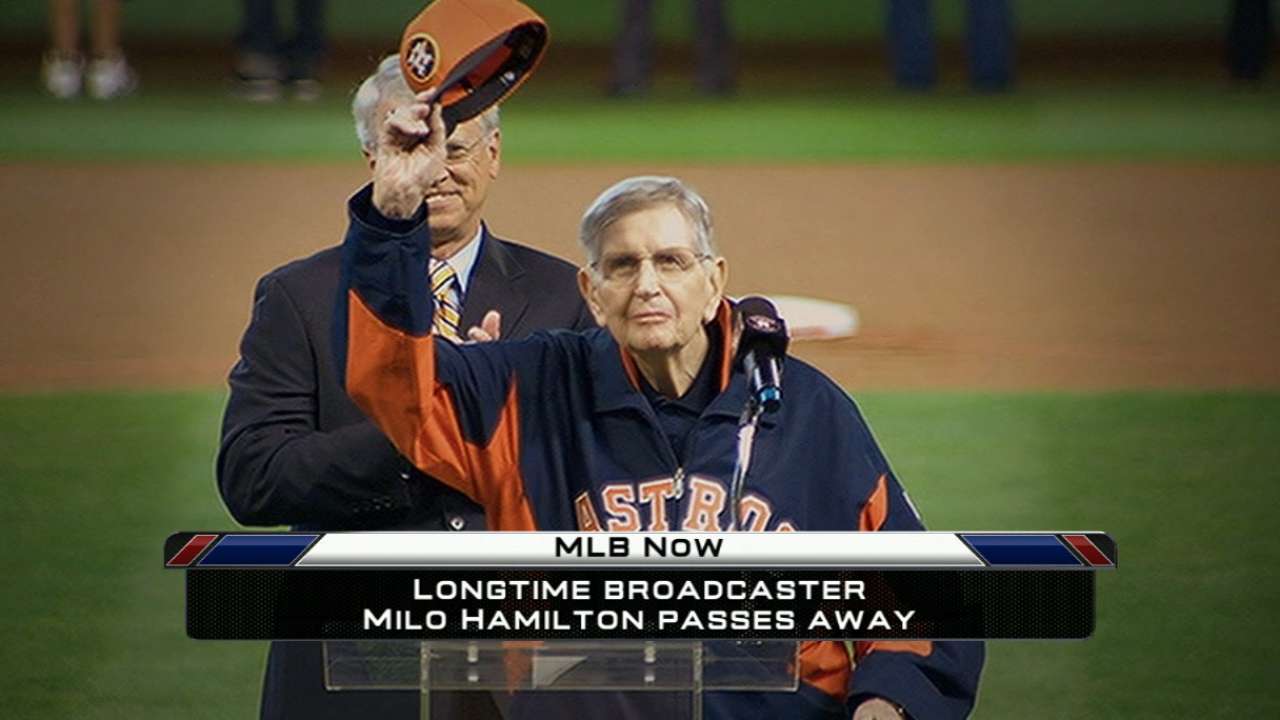 Hamilton called some of the most memorable moments in in baseball, including Hank Aaron's 715th home run in 1974. He brought to life some of the Astros' most unforgettable moments as well, including Mike Scott's division-clinching no-hitter in 1986, the Astros' first trip to the World Series in 2005 and Craig Biggio's 3,000th hit in 2007.
"The memories will remain, especially the great calls," Astros television announcer Bill Brown said. "Those of us who had a chance to know him really well can remember going out to lunch and dinner on the road with him, and he was a tremendous guy as far as putting together a meal for several people. He was great with hospitality."
Justice: Milo's rise was a uniquely American story
It was Hamilton who gave former Astros player and manager Phil Garner the nickname "Scrap Iron" while Hamilton was an announcer with the Pirates, who won the World Series in 1979 with Hamilton on the call. Garner and Hamilton often went hunting together.
"For me, Milo was part poet and part PT Barnum," Garner said. "He was a great ringmaster and he loved painting the prose of baseball. He had a special talent. I have wonderful memories of Milo off the field as well from our hunting trips. He was an absolute treasure."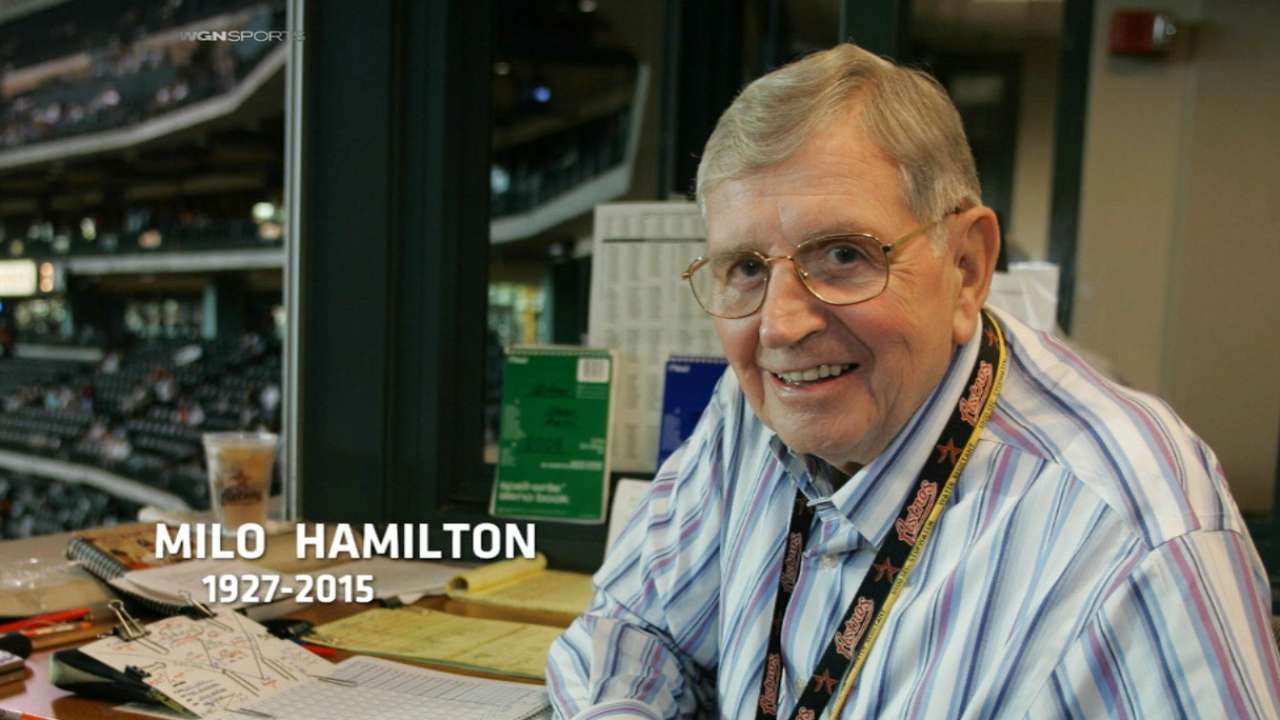 Former President George Bush, a loyal Astros fan, released a statement on Hamilton's passing:
"Barbara and I mourn the loss of Milo Hamilton, a genuine baseball icon, a Hall of Fame sportscaster -- and, happily for us, a good friend. In time, Milo was so endeared he became his own Houston institution, and the countless good causes he helped made him one of the brightest Points of Light we knew. It was hard for him, and indeed all Astros fans, when he stepped away from the booth in 2012 after his legendary career, but from this day forward we can take comfort that he will always have the best seat in the house. Holy Toledo, what a good man he was -- and we were fortunate to know him."
Brown said perhaps Hamilton's biggest talent was being able to rise to the occasion.
"He had a classic voice," he said. "It was a comfortable voice but it had an edge to it when there was excitement and he could portray that exciting event like nobody. All of his training came into play in the big moments. He knew how to build the drama and this was what he was so great at, painting the picture. He was talking one time about getting the ultimate compliment -- that was from a blind person who said, 'You really put me there.' That's the ultimate compliment for a radio announcer."
Brian McTaggart is a reporter for MLB.com and writes an MLBlog, Tag's Lines. Follow @brianmctaggart on Twitter and listen to his podcast. This story was not subject to the approval of Major League Baseball or its clubs.