Storen regrets actions that led to broken thumb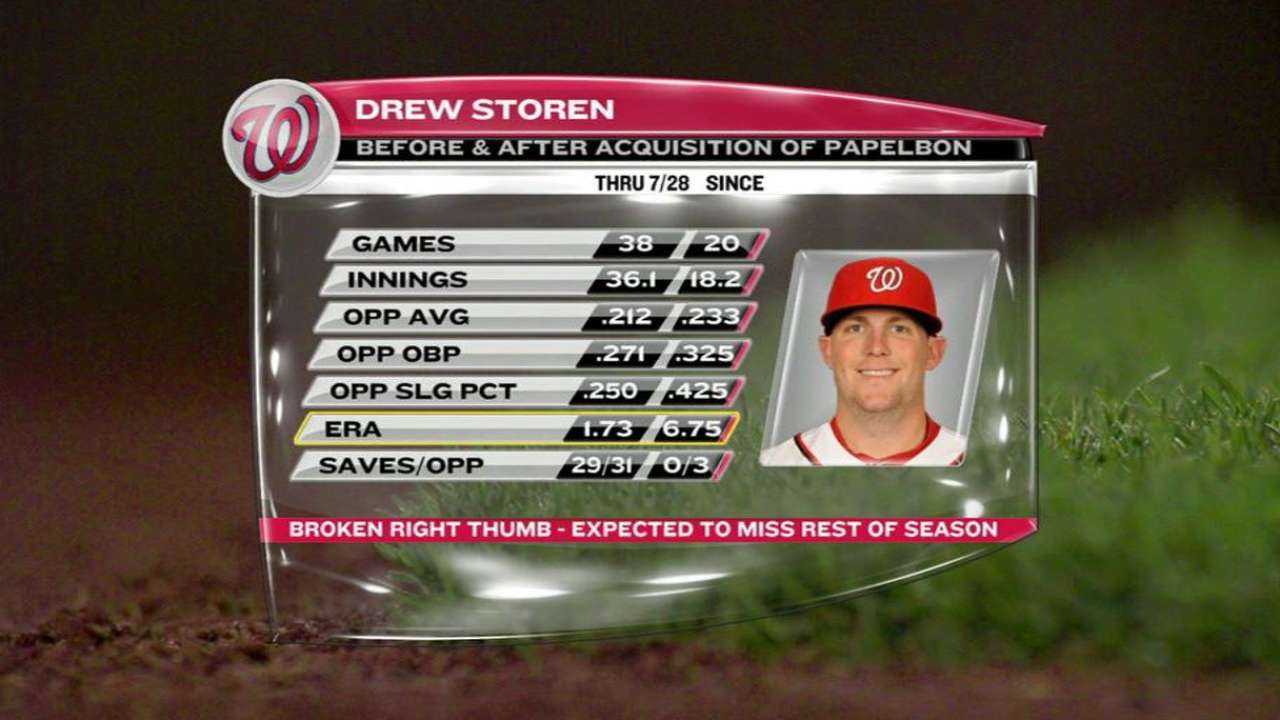 WASHINGTON -- Nationals relief pitcher Drew Storen expressed regret and frustration Thursday when discussing his self-inflicted broken thumb that has likely ended his season.
Storen suffered the injury after a rough outing against the New York Mets on Sept. 9. Soon after Storen allowed a go-ahead two-run homer to the Mets' Yoenis Cespedes in the eighth inning of an eventual New York win, the right-hander returned to the Nationals' clubhouse and slammed his locker shut. The impact resulted in the non-displaced fracture in his right thumb.
"Obviously, I was a little frustrated with my outing, but I had no intention [of causing harm]," Storen said. "I'm not the type of guy to punch a wall or do something like that. It's not what I was aiming for."
Storen was told that the recovery from the fracture could take four weeks, meaning that his 2015 campaign is likely done.
"It was tough, especially when you look at the timetable," he said. "It's not something that really heals all that quickly. It's been a frustrating year all around. It's tough news to take, but all I can do now is try to take care of it."
Storen converted 29 of 31 save opportunities while serving as the Nationals' closer for the first part of the season, but the right-hander struggled shortly after Jonathan Papelbon was acquired from the Philadelphia Phillies on July 28. The trade for Papelbon resulted in Storen being relegated to the eighth-inning setup man -- a role that produced mixed results.
Storen had a 6.05 ERA in the eighth inning this season, compared to a 1.62 ERA in the ninth. In his last 15 appearances, Storen allowed 13 earned runs in 13 2/3 innings.
"All around it's been a frustrating year," he said. "We've had ups and downs, we've had some parts of the team click at certain times and other parts not. For me, it's been a frustrating last month or so, and that's where I'm at."
Despite his late-season struggles, which manager Matt Williams attributes to poor command, Storen is optimistic that he will rebound upon his return.
"I'm confident in what I could bring to the table," Storen said. "I've been here for a while and I don't think this last month or these struggles -- that's not me. I've had some tough times, but at the same time, I've also come through and dealt with frustrating times and adversity and gotten through it and gotten better from it."
Storen has one year remaining on his contract and dismissed the possibility that he's played his last game with the Nationals. Instead, he said, he is focused on supporting his teammates for the remainder of the regular season. The Nationals entered play Thursday 7 1/2 games behind the first-place Mets in the National League East.
Ben Raby is a contributor to MLB.com. This story was not subject to the approval of Major League Baseball or its clubs.