Holliday easing his way back as pinch-hitter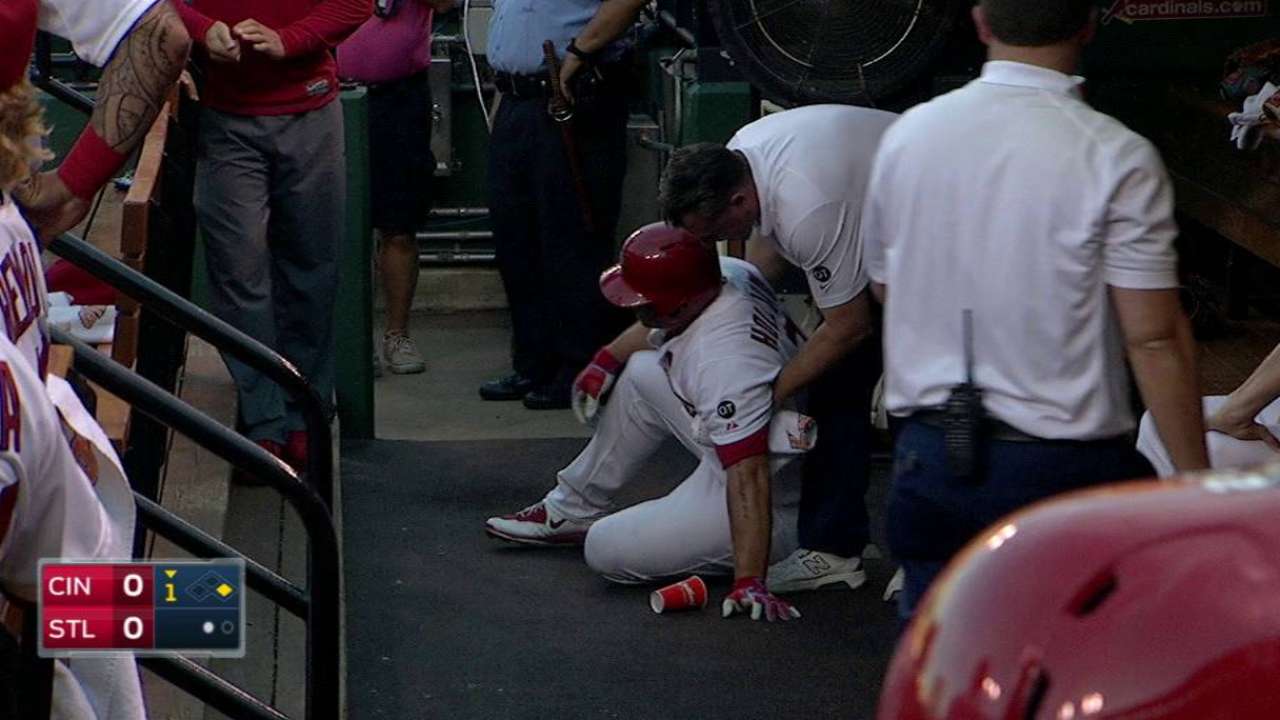 MILWAUKEE -- Cardinals slugger Matt Holliday has already experienced what can happen when he returns too soon from an injury, as he aggravated his right quadriceps strain less than three weeks after returning.
Although the outfielder was activated from the disabled list on Tuesday, Holliday will be limited to a pinch-hit role until he feels there's no risk of doing further damage to his quad. He batted for Matt Adams on Thursday night, striking out swinging to end the top of the seventh inning in the Cards' 6-3 win.
"I'm not interested in getting hurt again," Holliday said prior to Thursday's series finale with the Brewers. "So I'm not coming back until they tell me I'm not in danger of reinjuring it."
Holliday missed 31 games from June 9 to July 16 with a Grade 2 strain of his right quad. He returned on July 17 and played in 11 games before he aggravated the injury running to first base on July 29.
The Cardinals activated the 35-year-old from the DL prior to Tuesday's series opener with the Brewers.
Holliday was available to hit off the bench for the first time on Wednesday, but manager Mike Matheny opted to go with Adams in the only pinch-hitting situation of the Cardinals' 5-4 win.
"We're going to look for a good situation, realizing as soon as he gets on, we are probably going to need to use a runner," Matheny said.
Holliday ran the bases and took batting practice on Thursday, and he has been able to swing a bat while on the disabled list.
"I'd like to think being able to hit in the batting cage through most of it would help, but it is such a hard thing to explain," Holliday said. "I really don't know until I get out there and start seeing live pitching."
Matheny admitted the Cardinals are hesitant to rush Holliday back to an everyday role because the veteran left fielder has already aggravated the injury once.
"You learn a lesson and you try to make adjustment," Matheny said. "That's what we are watching right now. It creates some hesitancy on his part, which is understandable. We have to listen to what his body is saying and how he is responding, and what the medical team is saying."
Holliday still feels the injury when he runs hard, which led him to say he believes pinch-hitting is his only option for the time being.
The Cardinals have just over two weeks left in the regular season to determine whether Holliday will be able to contribute in an everyday role during the postseason.
"I don't want to go out there and baby it or not chase a fly ball or not be able to go to first to third," Holliday said. "I don't want to play in those conditions because it is hard to control that in big situations."
Yadi sits out finale
After striking out four times in a game for the first time in his career on Wednesday, catcher Yadier Molina was not in the lineup for the series finale at Miller Park.
Molina struck out in his final four at-bats on Wednesday.
"It is always tough [to take him out] because when he goes out there he makes a difference," Matheny said.
Molina is 0-for-9 with six strikeouts in the series against the Brewers. Prior to Wednesday, Molina had struck out three times in a game on just three occasions in his career. His last three-strikeout game was on Sept. 19, 2013, at Colorado.
Andrew Gruman is a contributor to MLB.com. This story was not subject to the approval of Major League Baseball or its clubs.