Bauer to bullpen as Indians shuffle rotation
With Kluber back, club to skip struggling right-hander for at least one turn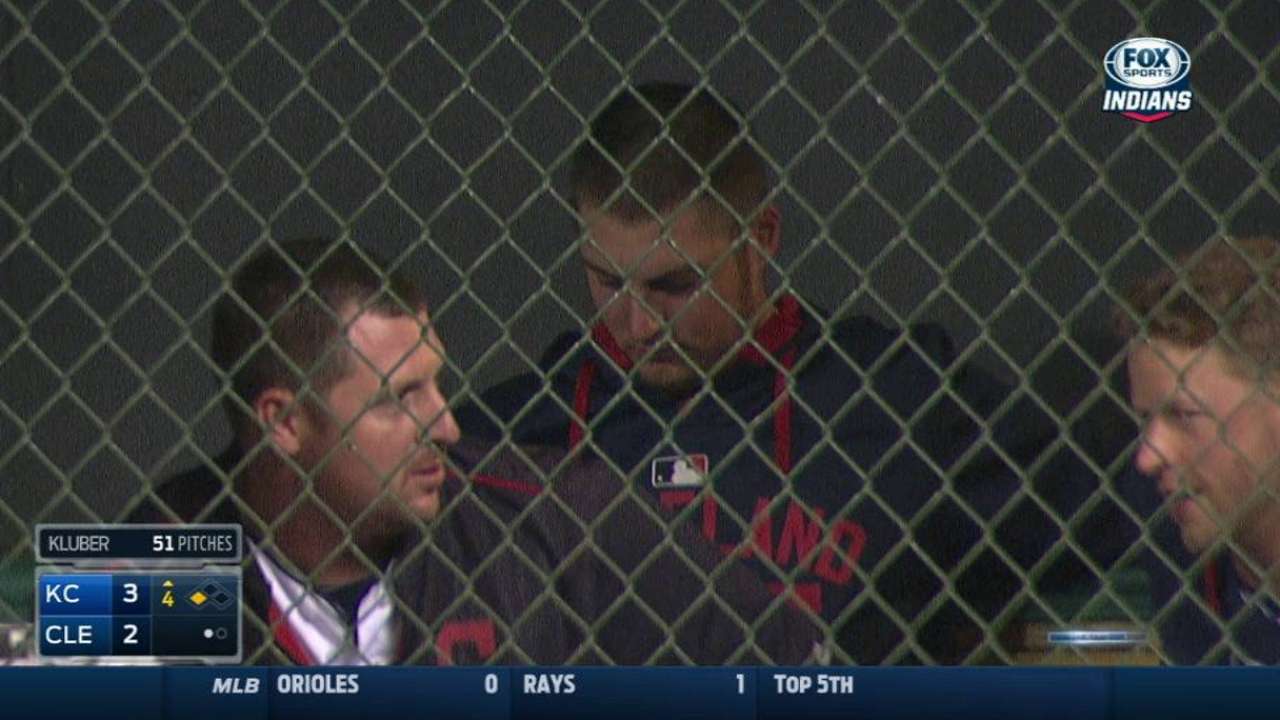 CLEVELAND -- Trevor Bauer will have ample time between starts to pore over what has gone awry in his recent outings for the Indians.
Prior to Thursday's game against the Royals, Indians manager Terry Francona announced that the struggling Bauer has been moved to the bullpen for the time being. Francona met with pitching coach Mickey Callaway on Thursday morning to determine the upcoming rotation, and they felt it was best to skip Bauer for at least one turn.
"We talked to Trevor and told him in the near future he'll be in the bullpen," Francona said, "and that we do envision him probably making starts this year. We don't know exactly when, so rather than him sit in limbo, we'll send him out to the bullpen, because I think it'll be good for him."
The Indians had the ability to shuffle the rotation due to a pair of rainouts last week that necessitated a doubleheader against the Tigers on Sunday, plus a scheduled off-day coming Monday. That, combined with the return of ace Corey Kluber from a right hamstring issue on Thursday, allowed the Tribe to pull Bauer out of the starting staff.
Following Kluber on Thursday, the Indians plan on starting Cody Anderson (Friday), Carlos Carrasco (Saturday) and Josh Tomlin (Sunday) in the upcoming weekend series with the White Sox. After Monday's off-day, Danny Salazar (Tuesday) and Kluber (Wednesday) are slated to start for the Tribe on the road in Minnesota.
On the season, the 24-year-old Bauer has gone 11-12 with a 4.71 ERA in 29 starts, in which he has 165 strikeouts and 76 walks in a career-high 168 innings.
It has been a tale of two seasons for the young righty, though. After posting a 2.94 ERA in his first 11 outings, Bauer has logged a 5.99 ERA in 18 starts. He has a 10.32 ERA in his last three starts (11 1/3 innings) and has lasted fewer than four innings four times in his past seven outings (7.63 ERA).
"I kind of think most of it comes back to his fastball command," Francona said. "When you can do that [well], I think things kind of feed off of that, or build off of that. You're always going to be able to, even on those tougher nights, not go 1 2/3, but maybe go four or five, and that's your tough night."
In recent weeks Callaway has tried to work with Bauer on altering his approach in terms of concentrating on the lower half of the strike zone and elevating by design when appropriate. Bauer recently declined comment on that process, calling it a "private matter" between him and the team.
Francona was asked Thursday if Bauer has been open-minded to Callaway's suggestions.
"That's ongoing," Francona replied. "The hope is that this can be a collaborative effort, and we've kind of told him that, 'For that to be, you have to buy into it.' And, I think that's an ongoing [process]. ... Not everybody's the same, and we certainly respect that. You just try to do the best you can."
Jordan Bastian is a reporter for MLB.com. Read his blog, Major League Bastian, follow him on Twitter @MLBastian and listen to his podcast. This story was not subject to the approval of Major League Baseball or its clubs.