Seager can vouch for Schebler's hunger
Dodgers' No. 12 prospect making most of audition with big league club
LOS ANGELES -- Corey Seager's face lit up when an interviewer's question wasn't about the rookie shortstop, but about the rookie outfielder.
Scott Schebler is also giving the Dodgers a September spark. In the shadow of the highly regarded Seager, Schebler has blasted three home runs in only 25 Major League at-bats. His .640 slugging percentage is higher than Seager's .617, albeit in a smaller sample size.
Schebler is happy to be here. Seager seems even happier for him.
"He doesn't get the credit; he's not on the magazine covers and stuff, but every year, he puts up the numbers and now he's here and I'm really pumped for him," said Seager, ranked by MLBPipeline.com as the Dodgers' top prospect and the No. 2 prospect in baseball. "He's everything you'd want in a teammate."
The fast-tracked Seager was a first-round pick out of Northwest Cabarrus High School (Concord, N.C.) in 2012, with stellar baseball bloodlines as the brother of All-Star Mariners third baseman Kyle Seager. He's got tools, an athletic 6-foot-4 build and can't-miss clippings. He's 21 and, with Jimmy Rollins injured, at least temporarily the starting shortstop of a first-place team.
By comparison, Schebler comes from the other side of the tracks. His bloodlines are notable (both parents are engineers), but you won't find them on Baseball-Reference.com. Schebler was drafted in the 26th round out of junior college two years before Seager. He was a multisport star at an Iowa high school that didn't have a baseball team playing spring ball. Actually, Schebler was better known for his football ability.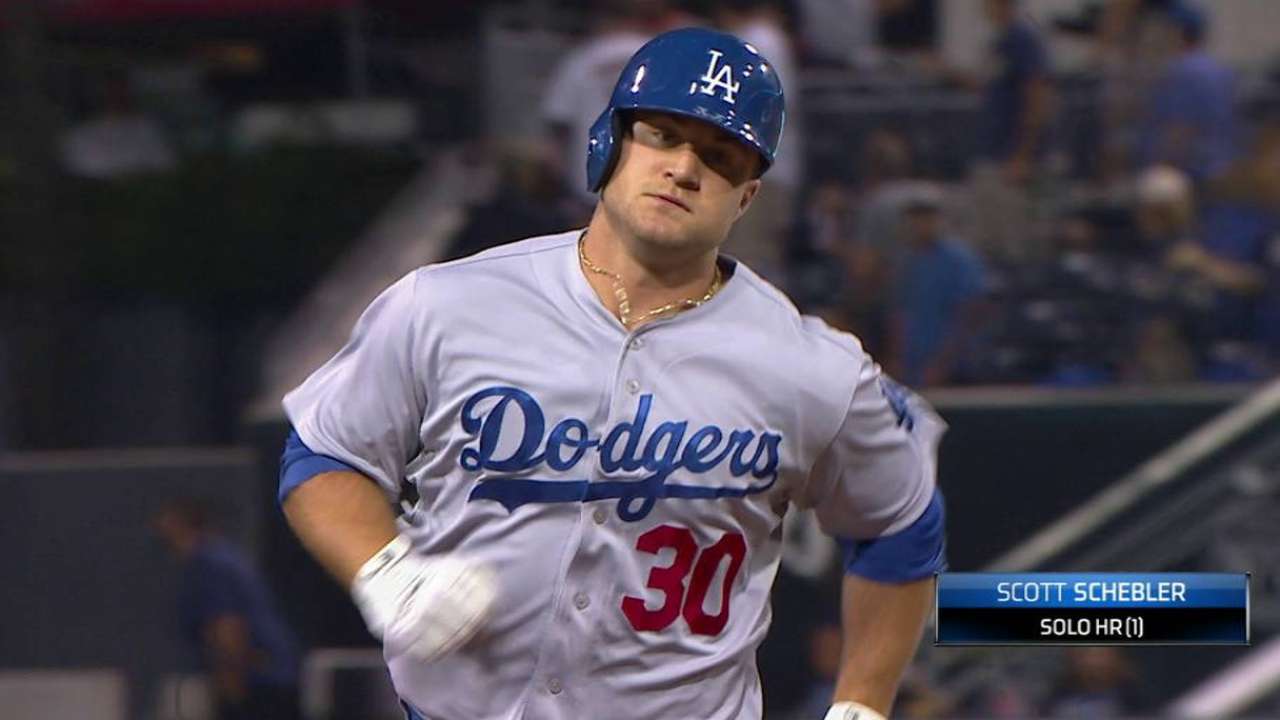 "My eventual JUCO coach, Dan Fitzgerald, told me baseball was my future," Schebler said. "Until my high school senior year, football was my sport. But my mom didn't want me to play football with all of that concussion stuff coming out. My coach really got my name out there. I really wasn't on the radar."
The Dodgers' No. 12 prospect, Schebler was taken as a "draft-and-follow" selection, then he was offered $300,000 to spurn Wichita State after his breakout summer in the Northwoods League in Wisconsin.
"Until then, I had never concentrated on one sport, so I never knew how good I could be," Schebler said. "I showed up at Rookie ball the same day as Joc Pederson. James Baldwin was on that club, and when I saw that he had every tool in the box, I thought that maybe I wouldn't have much of an opportunity. You always have a little self-doubt.
"But that was also the first time I realized that I was hitting right alongside of Joc and Baldwin, and that gave me the confidence that I was performing the same as their top guys. That was the turnaround for me."
Schebler said his underdog status is motivation.
"Maybe I have a chip on my shoulder, knowing I might only get one opportunity and they get four or five," Schebler said of the higher picks. "You're always searching for that little edge."
Seager said Schebler never displayed jealousy over the different hands they were dealt.
"He's way too genuine to be jealous; you could tell that's not how he was raised," Seager said. "When I moved up to the Cal League in 2014 and struggled, he was always coming up with ideas to try to get me through it."
Said Schebler: "Corey deserves everything he gets. Who am I to be jealous of him?"
Ken Gurnick is a reporter for MLB.com. This story was not subject to the approval of Major League Baseball or its clubs.