MLB.com Columnist
Hal Bodley
Yanks get taste of postseason in September
Six-game stretch vs. Mets, Blue Jays may define Bronx Bombers' season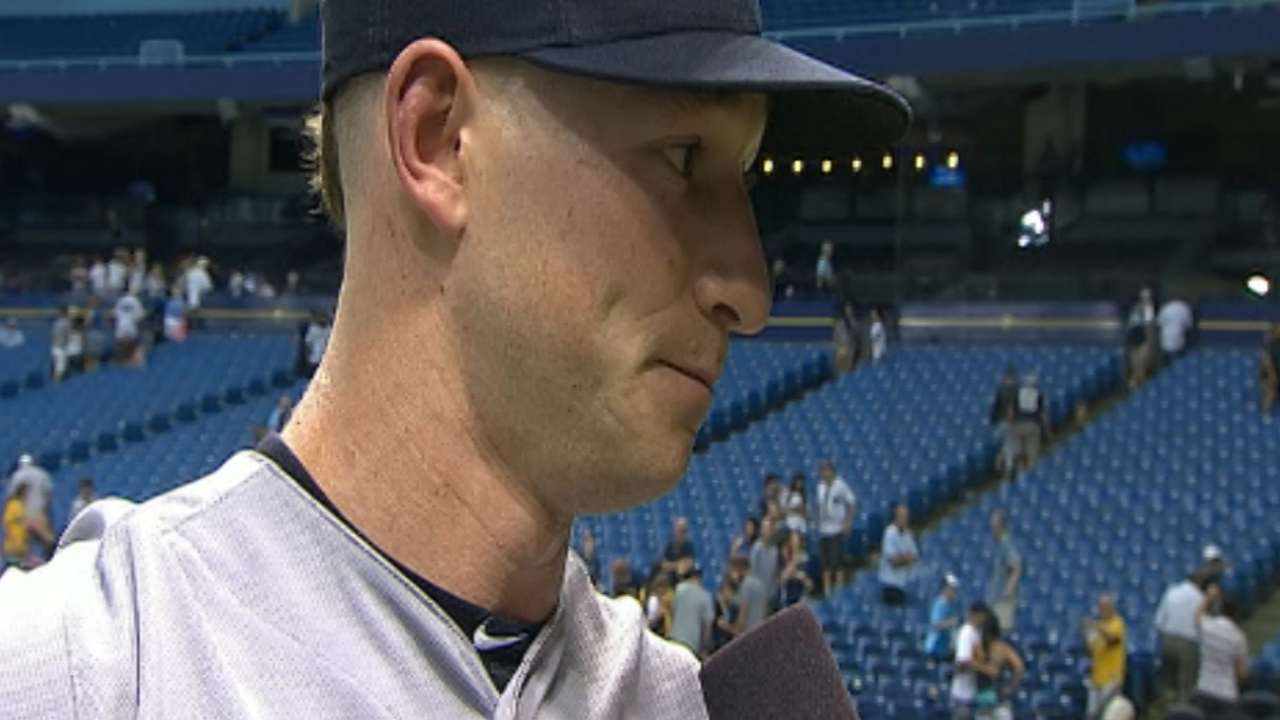 ST. PETERSBURG -- After a grueling summer-long journey of 145 games, the Yankees' season essentially boils down to the next six.
There are three weekend Subway Series games beginning on Friday at Citi Field against the Mets, the rejuvenated juggernaut that has stolen New York headlines from the Yankees. There's no love lost between the two.
And then follows a three-game set against the rampaging Blue Jays, who entered Thursday's series finale at Atlanta leading the second-place Yankees by three games in the American League East. They have turned Rogers Centre's atmosphere into one of the most electrifying in Major League Baseball.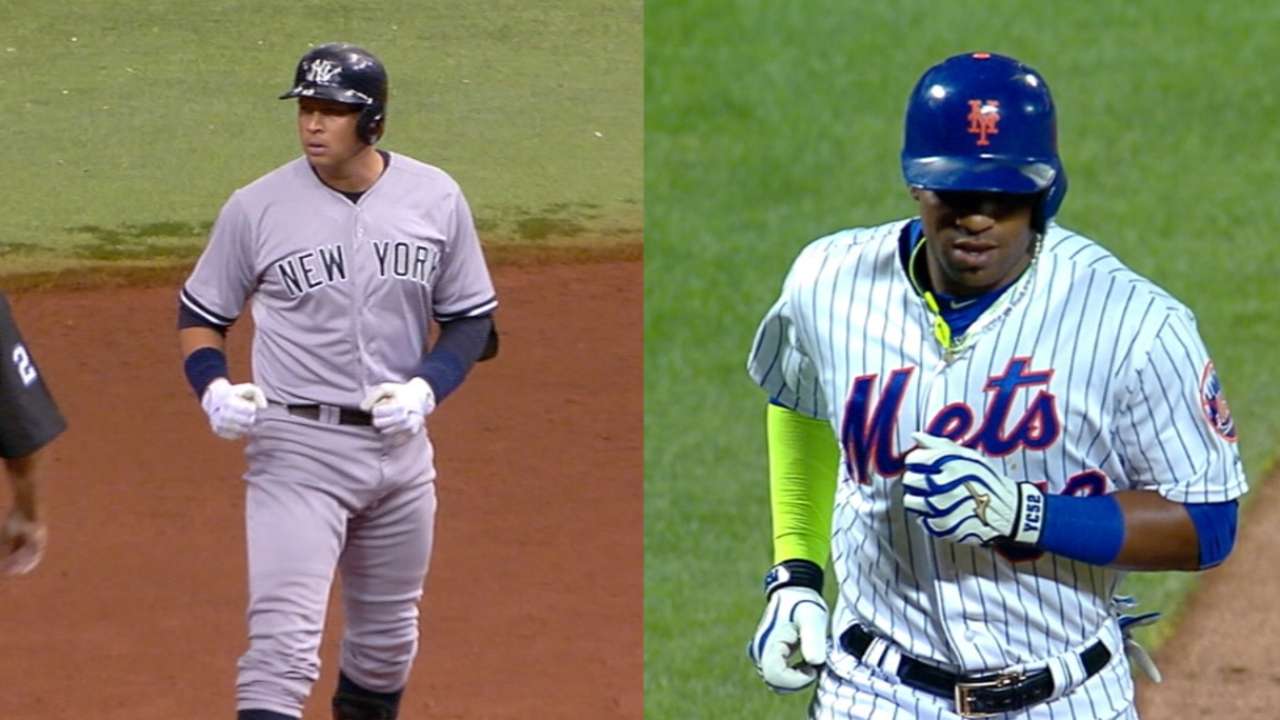 Just six games. Yes, the Yankees will have 11 remaining games after that against three teams with losing records, but how they do against the Mets and Blue Jays is likely to define their season.
Will they win their division, settle for one of the two AL Wild Card spots or miss the postseason for a third consecutive year?
"It's going to feel like playoff baseball, and that's probably a good thing," said Yankees manager Joe Girardi. "This time of the year, every game is a big game. There aren't a whole lot of days left on the schedule."
After defeating the Rays, 3-1, on Wednesday night behind a superb pitching performance by rookie Luis Severino, the Yankees remain three games behind the Blue Jays in AL East. They entered Thursday with a 3 1/2-game lead over the Astros for the AL's No. 1 Wild Card spot.
But …
"We have to do everything we can to win the division," Girardi said, concern on his face. "You just don't want to be in a one-game playoff."
"The Wild Card? It's dangerous," said Alex Rodriguez, shaking his head.
If the Oct. 6 AL Wild Card Game presented by Budweiser were played today, the Yankees would face Houston. And the Astros would most likely start their ace, AL Cy Young Award candidate Dallas Keuchel. Scary.
This is the fourth year since a second Wild Card spot was added to each league, creating a one-game face-off. The Kansas City Royals and San Francisco Giants won their respective Wild Card Games last year and met in the World Series, won by the Giants in seven games.
Yanks outfielder Carlos Beltran, then with the Cardinals, played in the first National League Wild Card Game, in 2012. St. Louis ousted Atlanta and won the NL Division Series over Washington before losing to San Francisco in a seven-game NL Championship Series.
"It's a tough situation, honestly, playing just one game," Beltran said. "Anything can go right, anything can go wrong. Against Atlanta, there was a controversial call. … Everything went crazy, but it worked for our benefit."
Pausing, Beltran added: "The Wild Card, it's tough, but it's a chance -- better than going home."
Yet if the Yankees play poorly against the Mets and Blue Jays, they could slip to third place in the AL Wild Card standings and miss the postseason.
Making their task more difficult this weekend is the fact that Rodriguez -- who, as their 40-year-old designated hitter, is a huge reason they've had such a surprising season -- won't be in the lineup. The DH, of course, isn't used in NL parks.
A-Rod leads the Yanks with 32 homers, and his 83 RBIs are second to Brian McCann's 87.
Limited to 44 games in 2013 due to two hip surgeries and held out of action last year because of a suspension, Rodriguez really hadn't played regularly since 2013. No one, including Girardi, expected him to contribute as much as he has. There were those who wondered if he'd even make it through Spring Training.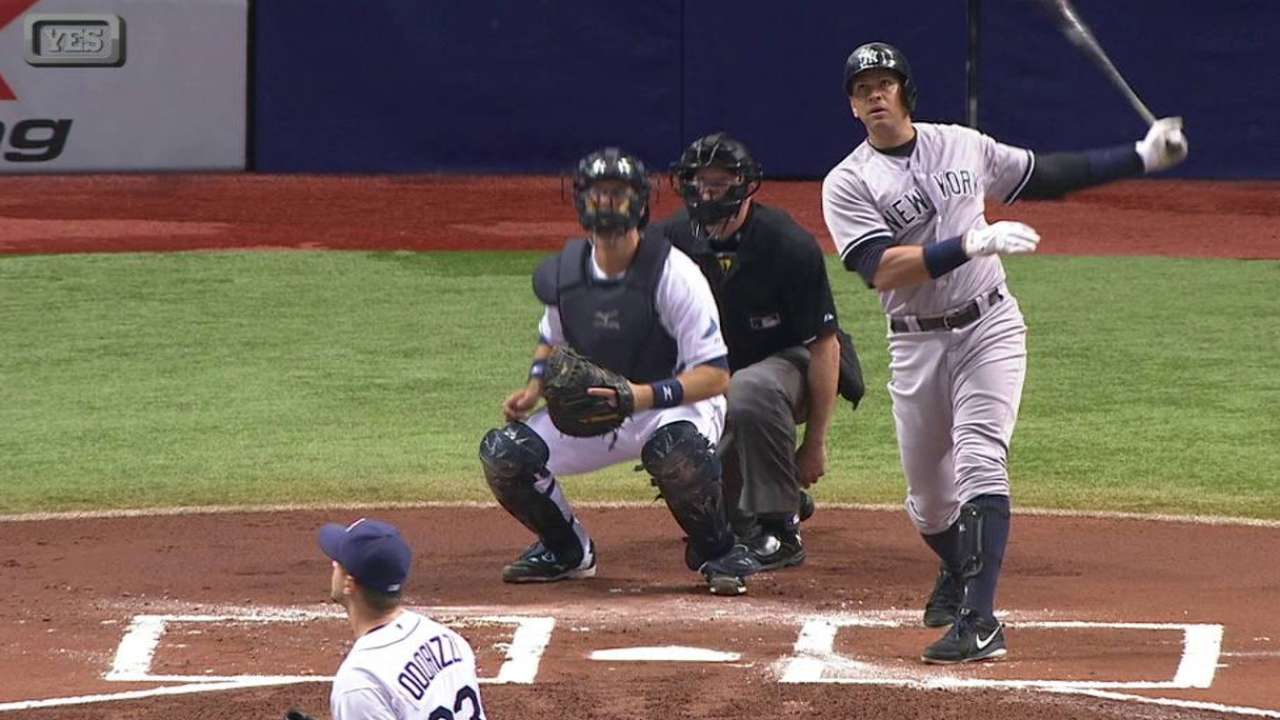 "I'm enjoying the moment," Rodriguez told me, matter-of-factly with a broad smile.
The Yankees are without first baseman Mark Teixeira, finished for the season because of a fracture in his right shin. His 31 homers and 79 RBIs will be hard to replace, but rookie fill-in Greg Bird, the club's No. 4 prospect, has drawn praise from Girardi -- and contributed.
Against Rays ace Chris Archer on Wednesday night, Bird gave the Yanks a 1-0 lead with a second-inning RBI double, and he launched a mammoth homer leading off the ninth. He has seven homers, 21 RBIs and a .505 slugging percentage in 29 games.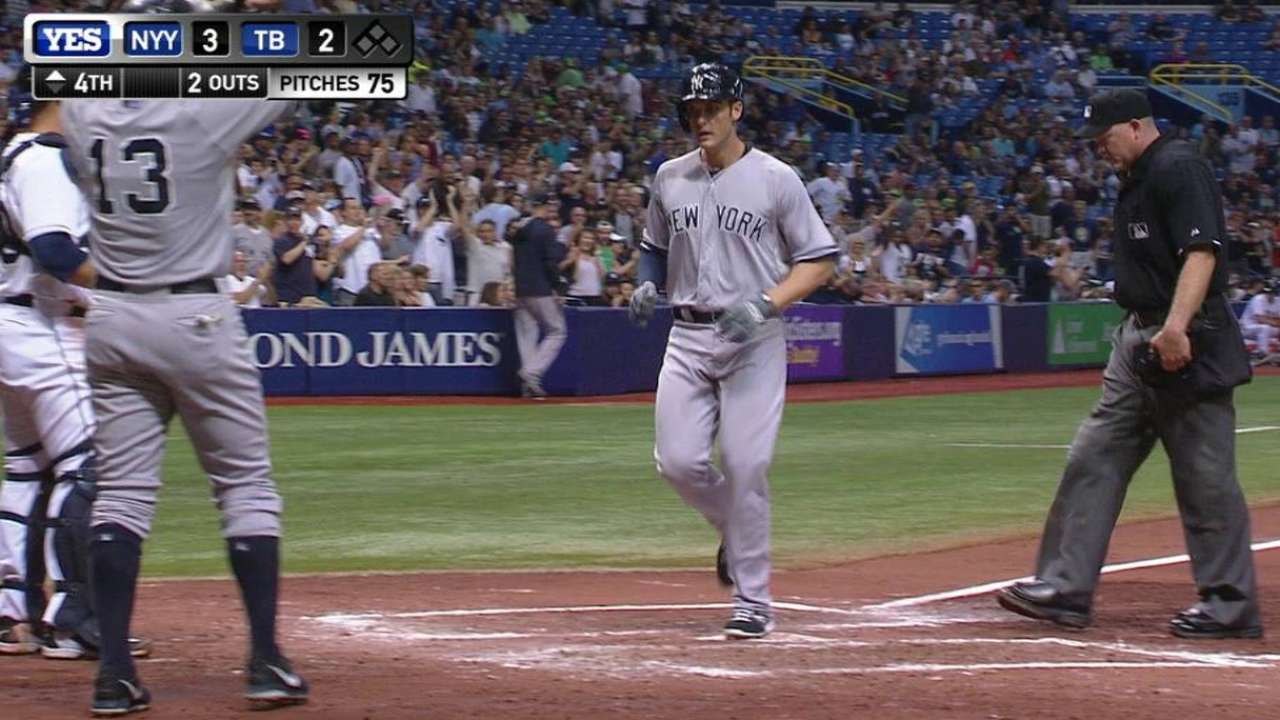 "He's done a really nice job for us in Mark's absence," said Girardi.
Beltran has gone to the postseason with the Astros, Mets and Cardinals -- and he played in the 2013 World Series with St. Louis against Boston.
"It's a great feeling when you know you have a chance to be in the playoffs and hopefully have a chance to win the World Series," Beltran said.
Not since 2006 and '07 have the Yankees and Mets both had a chance to play in the postseason this late in the year.
"For the fans, this type of series is huge," the 38-year-old Beltran said. "For us, as ballplayers, we concentrate on playing the games. We don't get caught up in the hype. It's really going to be a challenge [facing the Mets' outstanding young pitchers], but we feel confident in our pitchers."
Because the Mets and Blue Jays have been on such torrid streaks, "we have to bring our 'A' game," Beltran said.
Outfielder Brett Gardner expects an exciting series against the Mets.
"The last few years, I've loved playing over there at Citi Field," Gardner said. "I'm sure this weekend will be pretty electric. I look forward to the challenge."
When the season began, few expected the Yanks, saddled with high-priced veterans and an aging lineup, to be a contender. Yet, at one point, they were 18 games over .500 and for 41 days held at least a share of first place.
"We haven't viewed them as a surprise," said Rays rookie manager Kevin Cash. "When you look at their talent and the back end of the bullpen, they haven't been a surprise at all. They've gotten contributions from a lot of people.
"No one knew what Alex Rodriguez was going to provide. He's been huge -- right back to the power threat he's been his entire career. Can you name a more potent 1-2 combination at the top of the batting order than Jacoby Ellsbury and Brett Gardner?"
Bottom line: The Yankees don't want to settle for a Wild Card spot, but it's better than missing the party.
Hal Bodley, dean of American baseball writers, is the senior correspondent for MLB.com. Follow him @halbodley on Twitter. This story was not subject to the approval of Major League Baseball or its clubs.