MLB.com Columnist
Jonathan Mayo
10 prospects whose stock rose the most in '15
Schwarber, Matz among the young players who made the biggest leap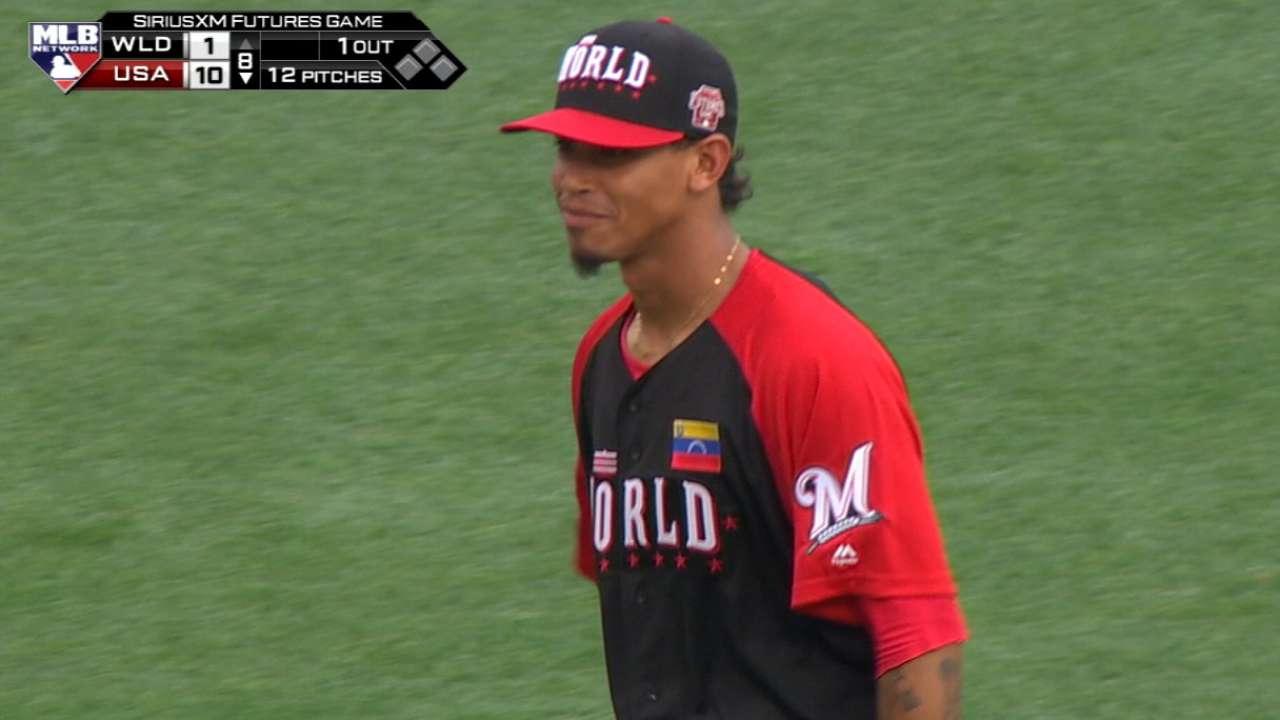 With the 2015 Minor League season wrapping up soon with the conclusion of the postseason, it's only natural to see a glut of end-of-year reviews and awards handed out.
It's a fine time to look back at the season that was, and to evaluate which prospects have seen their stock rise the most. Defining what it means to have taken the largest leaps forward is open to debate. It's not necessarily just a list of players who made the biggest jumps on the Top 100 Prospect list, though several of the five hitters and five pitchers highlighted below did exactly that.
More than just moving up the charts, though, the 10 prospects listed below have not only raised their stock, but also the expectations surrounding them heading into next year and beyond. Whether they leapt into the Top 20 or have made enough noise to make everyone realize there was more there than meets the eye, this group should have everyone excited to see what comes next in 2016.
Hitters
Kyle Schwarber, Cubs
Named MLBPipeline.com's Position Prospect of the Year, he surprised no one by being able to swing the bat. But anyone who says they thought the 2014 first-round pick would be this good, this fast, might have a bridge to sell. The No. 4 overall pick from Indiana made quick work of the Minor Leagues, playing just 147 games there and posting a combined 1.042 OPS. Schwarber has kept it up in the big leagues (.906 OPS as of Thursday), and the Cubs keep finding ways to get his bat into the lineup.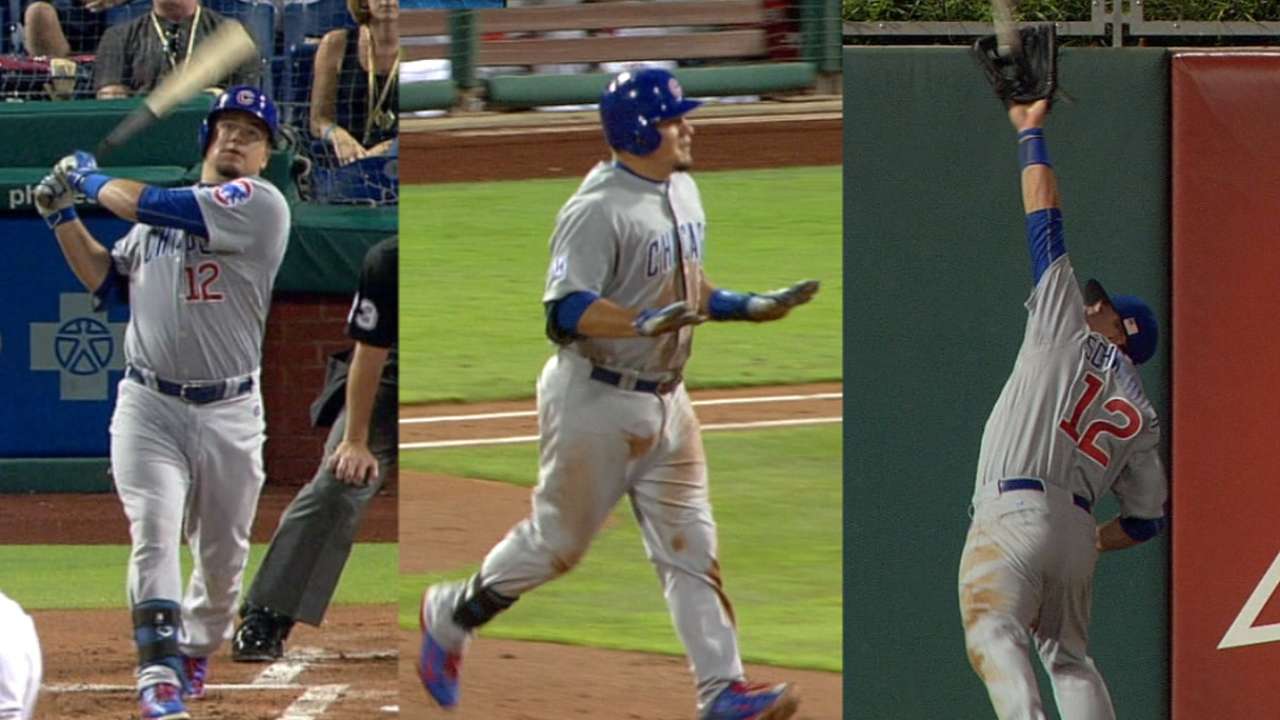 Orlando Arcia, Brewers
Arcia's breakout really started last offseason in the Venezuelan Winter League, where he swung the bat very well. Previously known more for his glove, his offense has come a long way. Playing at age 20 for nearly all of 2015, Arcia hit .307 at Double-A Biloxi, finishing with 157 hits. The surprising thing was that 52 of them were for extra bases. He also stole 25 bags while continuing to play outstanding defense at shortstop. No wonder Arcia went from No. 88 to No. 12 on the Top 100 in the re-rank earlier this summer.
A.J. Reed, Astros
Reed is the unofficial runner-up for hitting prospect of the year, and he would be the clear choice among those who spent all of 2015 in the Minor Leagues. The '14 Golden Spikes Award winner and hitter-pitcher standout at Kentucky has had no problems adjusting to being just a hitter in the pros. In his first full season, Reed led the Minors in home runs, RBIs, slugging percentage and OPS while finishing in fourth in both batting average and OBP. And he didn't simply benefit from the friendly hitting environment of Lancaster in the California League, as he batted .332/.405/.571 after getting promoted to Double-A Corpus Christi. Reed is probably under-ranked at No. 96 on the Top 100, and he has gone from No. 12 to No. 5 on the Astros' Top 30.
Bradley Zimmer, Indians
Another 2014 first-round pick who enjoyed a tremendous first full season, Zimmer earned a promotion from the Carolina League after hitting .308/.403/.493 with 10 homers and 32 stolen bases in 78 games with Lynchburg. While the move to Double-A Akron didn't go quite as swimmingly, he still showed an intriguing power-speed (more speed than anticipated) combination to finish the year with 16 homers and 44 steals. Zimmer has gone from being unranked to No. 28 as a result.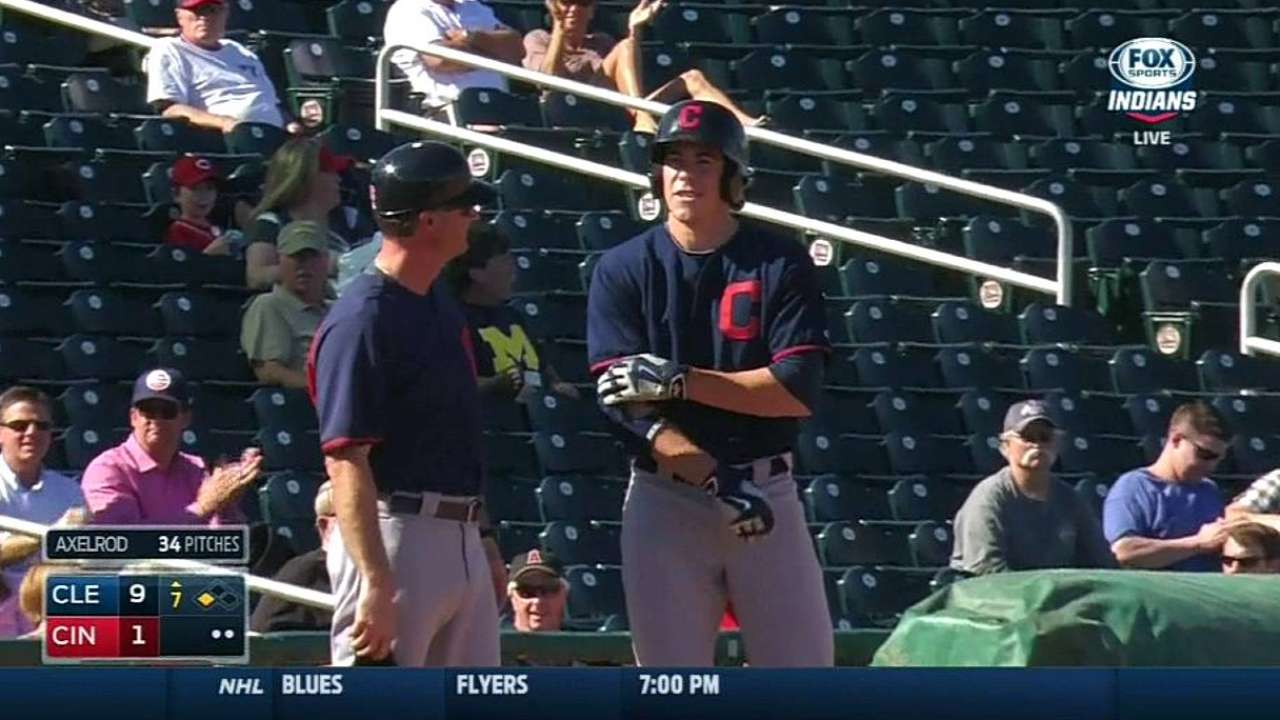 Rafael Devers, Red Sox
While Devers is still just 18 and is the farthest away from the big leagues in this group of hitters, it's hard not to like what he did in his full-season debut at Class A Greenville. Jumping from No. 96 to No. 13, the third baseman hit for solid average and showed off some developing power -- all while keeping his strikeouts down. Keep in mind Devers was 3 1/2 years younger than the average position player in the South Atlantic League.
Pitchers
Alex Reyes, Cardinals
The young right-hander wasn't ranked at the start of the season, and he is now at No. 18. That's because Reyes pitched well across two levels and reached Double-A Springfield at age 20. His 151 strikeouts were good for eighth in all of the Minor Leagues, and he got them in just 101 1/3 innings for a gaudy 13.4 K/9 ratio. Reyes also held hitters to a .191 combined batting average against.
Jose De Leon, Dodgers
It's hard not to like guys who miss bats. De Leon followed up his breakout 2014 by finishing fourth in the Minors with 163 Ks (12.8 K/9). He also only walked 2.9 per nine, and he held hitters to a .208 BAA, all while getting an early bump up to Double-A Tulsa and pitching while nearly 2 1/2 years younger than the average hurler in the Texas League.
Steven Matz, Mets
Matz pitched well in 2013, when he was healthy for the first extended period of time in his career. He backed it up in '14 by reaching Double-A Binghamton. This year, Matz stepped on the gas even harder, dominating -- mostly in Triple-A Las Vegas of all places -- across 105 1/3 innings. Then he continued getting outs and missing bats during his big league debut, erasing any straggling doubters. Matz is now rightfully considered one of the better young lefties in the game.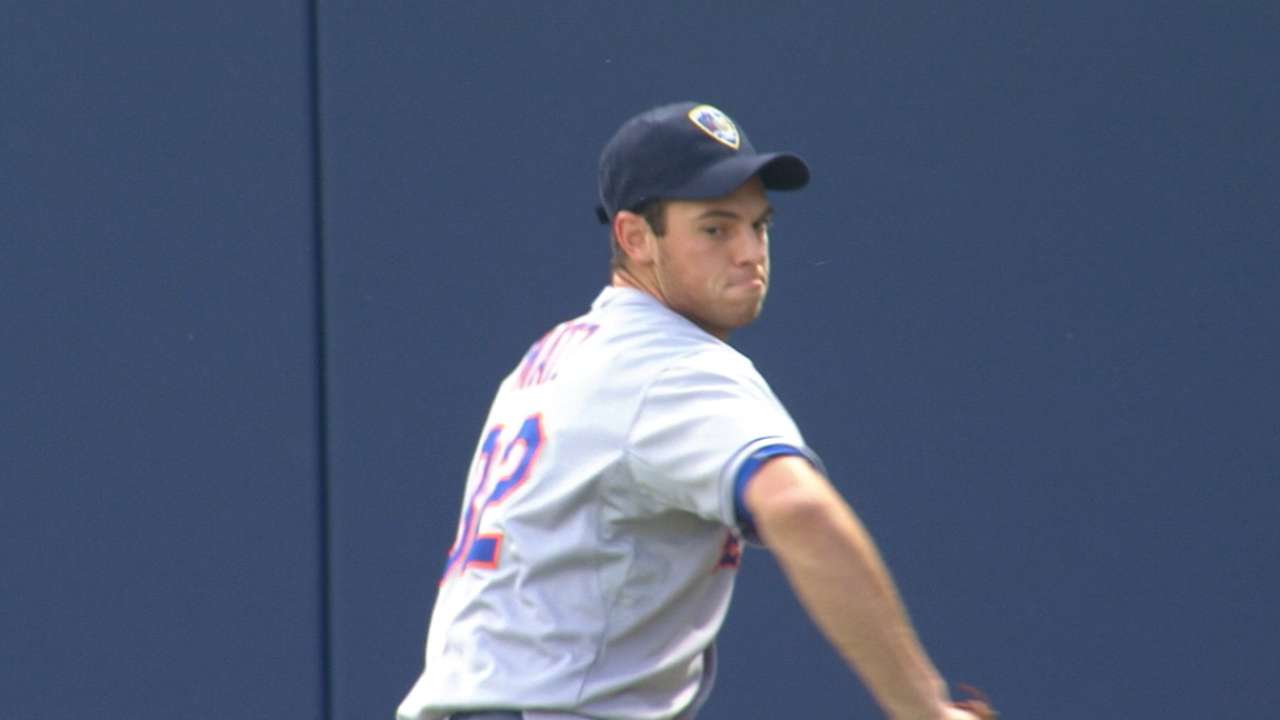 Brian Johnson, Red Sox
Johnson doesn't have the pure stuff Matz has, but he was as effective in the Minors, posting a 2.53 ERA in 96 innings with Triple-A Pawtucket before making his big league debut in July. Elbow tightness shut him down in August. It was the only thing to dim the light of Johnson's 2015 season -- one that saw him fly under the radar, yet still go from unranked to No. 42 on the Top 100.
Blake Snell, Rays
Snell was MLBPipeline.com's obvious choice for Pitching Prospect of the Year, and not just because he began the season with a scoreless innings streak of 46. The lefty kept it going, breezing through Double-A Montgomery and pitching well with Triple-A Durham as well to finish with a ridiculous 1.41 ERA -- a full half-run lower than his closest competitor. Snell was also tops with a .182 BAA, and he finished tied with De Leon in strikeouts. Unranked to start the season, Snell is now No. 44 on the Top 100.
Jonathan Mayo is a reporter for MLBPipeline.com and writes a blog, B3. Follow @JonathanMayo on Twitter. This story was not subject to the approval of Major League Baseball or its clubs.